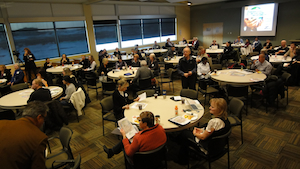 Picture from the Rocky View Symposium (click to enlarge)
Yes, yesterday was a great day and exactly what I needed. I got lazy over the holiday weeks as I began to plant roots and embrace routine. I remained busy, working on presentations and writing code, but I wasn't listening or reading, and I was beginning to feel a bit stale (which is not necessarily unpleasant). Brenda had to shove me out of the car at the Raleigh Airport on Friday, with me pleading, "Please don't make me go!"  It was a real scene 😉
But rediscovering why I love what I do happened quickly and simply yesterday morning as I shared, with Penny Milton, the limo ride from the Calgary Airport Hotel to the event venue.  Penny is the former CEO of the Canadian Association of Educators and currently semi-retired. The event we were both speaking at was a learning symposium organized by the Rocky View School District, and the theme was engagement, enrichment and empowerment.
Penny has been involved in a project that seeks to understand engagement and to find ways to promote it in Canadian schools. She told me that there seem to be three kinds of engagement,
Institutional engagement,
Social engagement, and
Intellectual engagement,
..the last of which being their major focus — the one that consistently scored lowest on the survey instruments that they developed.
Their findings fell into an x/y continuim of challenge and skills. The higher the challenge of the learning experience and the higher the skill sets required and developed, the more intellectually engaged the learner was. But what really wrinkled my brain was the methodology.  During our ride, Penny said that they found that if they shared the resulting survey data with the teachers AND THE LEARNERS, and facilitated conversations about engagement that included both groups, change seemed to occur much more rapidly and deeply. This is a powerful idea and something that I know a lot of educators are experiencing, as they invite learners into their planning and policy conversations.
Another idea that woke me up was shared by Dr. Dennis Sumara, Dean of the School of Education at the University of Calgary. He presented research about teachers and teaching, reminding us that the number one factor, hands-down, that determines success among learners is the teacher. But what I found interesting was what, according to Sumatra, made "good teachers." It is NOT..
Graduate degrees
High IQ/SAT
Extroverted nature
Politeness
Confidence
Warmth or
Enthusiasm
Although these are all important qualities, what seems makes good teachers is
A capacity to improvise
Participation in professional development
Deep learning (as a professional)
High complexity
A growth mindset
Expansive consciousness, and
High PCK (?)
I'll hope to expand on some of these qualities in a future blog entry.