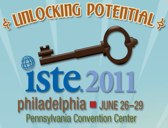 I got my notification email the other day from ISTE, concerning my conference proposals.  It was yesterday afternoon before I mastered my apprehension, and took a look.  "Cracking the 'Native' Information Experience" was rejected.  Drat and double Drat.  I spent the better part of last week working on that presentation — an important one, I believe.  It seems that we are spending a lot of time talking about 21st century learning, 21st century education, and 21st century skills, but not so much about what it actually looks like.  I'd wanted to talk a bit about 21st century pedagogies and suggest that our learners 'native' information experiences might be a good place to look for examples.
My backup proposal, what I'd hoped might be a second presentation, "A Gardener's Approach to Learning: Cultivating your Personal Learning Network," was accepted.  I'm a little disappointed, because this seems like an old topic, at least for folks who attend ISTE.  I could be wrong.  The folks at ISTE do know what they are doing.  So I guess I'll need to try to bring a different angle to the issue, something new in technique, approach, and justification.  I suspect there is still room.  Because as some of the Tweets I've gotten recently seem to indicated, back home, the idea of teachers acting like learners is still unconsidered and even, in some rare instances, considered an antithesis to their vision of teaching.
All that said, I am pleased and privileged to be on the speakers roster.  Reviewing the statistics on acceptances by strand I feel even more honored.
So, see you at ISTE in Philly.