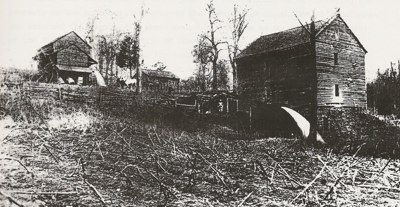 The Warlick Grist Mill(s), Lincoln County, North Carolina
I'm having great fun during these slow weeks of December, working on a personal project that been in the back of my mind for several years now. My uncle, George Warlick, wrote book in 2000 called What I Know about My Ancestors. It isn't very long, because there isn't that much to say. But he, and another uncle, Charlie (father of Tenet in Texas) have devoted much of their free time, over the years, researching the family tree and seeking out stories from our family's past.
My project has become, with Uncle George's permission, to format the spiral bound book that he printed up for family members ten years ago, into a more publishable form, "US Trade" size and "perfect bound." My blessing is the opportunity to re-read the pages, as I edit the mistakes made in the scanning of pages and the photocopied documents that I have transcribed with my own aching fingers.
It seems that my family (the Warlick tree) have been famers for generations. We do not know any thing about what the first Warlick did in Germany (or Switzerland) before coming over to the new world in 1729, and moving down to North Carolina, and receiving about 5000 acres of land from Governor Gabriel Johnston, representing "crazy" King George III. He and his family were pioneers in the western piedmont of North Carolina, and my father and his brothers still own four acres of the original land, that portion now heavily wooded.
My particular branch have not farmed in four generations (includes my children), although my grandfather owned and operated a seed and feed store from the time that he returned from World War I and then entered the service again, along with his daughther and my father in World War II. I understand now that he didn't particularly enjoy the work — always having wanted to be a school teacher (he did teach Greek and German for one year, prior to WWI).
The reason I'm writing about this, here, beyond than simply sharing the joy of learning about my heritage, is that I have been asked to speak at the Farmers Cooperatives Conference next week in Denver (who's to judge where fate takes us), and I'm wondering how I might use this farming heritage in my talk.
Any ideas?