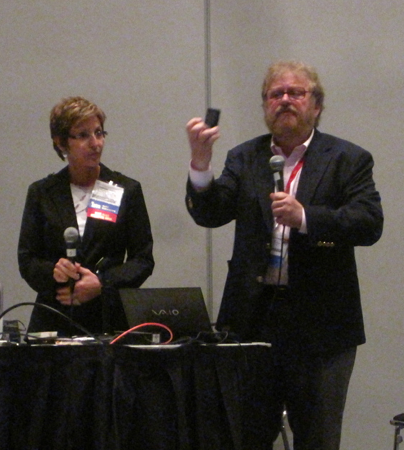 There are lots of reasons to attend an Elliott Soloway presentation. To get an energy fix is one of them. Another reason is to tap into an avenue of fresh ideas about contemporary ICT in the classroom. I attended "From Add-on Technology to Essential Technology: Constructing 1-to-1 Aware Curriculum" because of my interest in ubiquitous access to digital and networked information technology, and I know that Cathleen Norris and Elliott Soloway are smart folks who have immersed themselves in these aims for a long time.
I'm not a buyer of the hand-held solution. Although I think that there are some amazingly useful ways that smart phones and PDAs can be used in learning, I keep going back to what Nicholas Negroponte said when asked why he was promoting laptops when so many children in the developing world already have cell phones. He said that learning about the world should not be happening through a keyhole. This comparison possible comes from an observation he makes in his 1995 book, Being Digital, about an Admiral's preference to a large map, of a small computer display. ((Negroponte, Nicholas. Being Digital. New York: Knopf, 1995. 97-98. Print.))
That said, the takeaway from the Soloway and Norris session that I am already taking into other conversations is the distinction between essential and supplemental technology use. They made a compelling case that the research being done to assess the instructional benefits of technology that are looking at schools and classrooms where the technology is being used to merely supplement existing techniques, is not giving a true picture of the teaching and learning that those who advocate transformative technologies are calling for.
My iPhone and iPad are essential for me. They are where I go for the latest news from Afganistan or the Gulf Coast, movie showtimes, the weather forecast, or a synonym for "anticipation." Without them, I have to lay my hands on the daily paper, hope that my wife hasn't already put it in recycling, or that my son isn't currently using the local section, or that the whole thing isn't in the bottom of the bird cage already. The iAccess to the information that I need is essential.
Today, we are working, playing and living in a networked, digital, and information-abundant environment, and learning today requires tools that are essential for accessing, working and expressing ideas and knowledge within this environment.
Supplementing old-school does not prepare our children for their future.