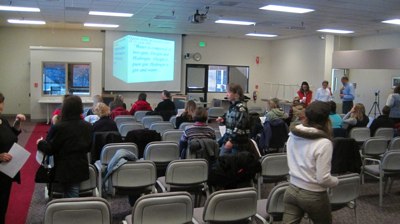 I'm pretty sure that, at this point, the learning had already started happening
I had a great couple of days, last week with folks in Loveland, Colorado, starting off with a wonderfully stimulating dinner conversation with some of the district's (Thompson School District) tech coaches. I wrote about it here. The next day (Saturday) started off with a keynote for area educators involved in a district initiative and other invited members of the local ed community — great to meet Jim Folkestad, from Colorado State University.
The keynote seemed well received and was followed by some closing remarks by the districts superintendent, Ron Cabrera. All was well until I spent forty-five minutes of casual conversation time with some of the districts administrators. First of all, being a conversational session, I tried to extract answers from the audience, going for conversation rather than Q&A — and it always makes me uncomfortable, not being the source of all answers. I admit it.
Then someone asked, how to get teachers on board with transforming their learning environments — and all eyes were on me. I launched into my position that although formal professional development opportunities are important — we will not be able to just workshop teachers into the 21st century. Then I touched on personal learning networks, trying not to give away too much, since that was the presentation I would be doing after lunch. I started to run through a process that I have suggested in previous blog entries, of starting with about four or five teachers, and introducing them, at-ready points, to a progression of Web 2.0 tools, starting with asking them to start blogging about their daily experiences.
Heads started shaking, almost immediately. Now these administrators were there because they chose to spend there Saturday with other educators exploring technology. So they were not looking for excuses — which is often the case. They saw real barriers to what I was suggesting, which was particularly disconcerting, since I'm just started that chapter in my current book project on PLNs. They rattled off a string of challenges facing their teachers, foremost being Colorado's high stakes tests.
It's forced me to table my writing for a few days and think through how to promote personal learning in your education community. I'm actually wondering if it might it be unrealistic to be expecting all teachers to take on the role of "Master Learner." There's just too much of the instructional industrial complex that's standing in the way. It's one of many reasons why high stakes tests are actually harmful to our children and their opportunities.
Mainly, I am telling this story because of a link to a recent Alfie Kahn article, to be published soon in Education Week, Debunking the Case for National Standards. He does a much better job than I of making the case.
Also, contributing to my current mood is Chris Lehmann's wonderful keynote address at the '09 NYSCATE conference. One of the big takeaways from Lehmann's words was this paraphrasing:
While our students can do so much more as active learners than ever before, we are measuring their learning in the oldest and most limiting ways possible.
Another one that resonated with me was his comments about project-based learning, a concept that nearly everyone agrees with and subscribes to. But he said that if a teacher is applying projects to meet standards and improve or maintain test scores, then it isn't project-based learning.
It's doing projects along the way. …The work that students are doing is the most important thing, not the answers they can put on the test.
Powered by ScribeFire.