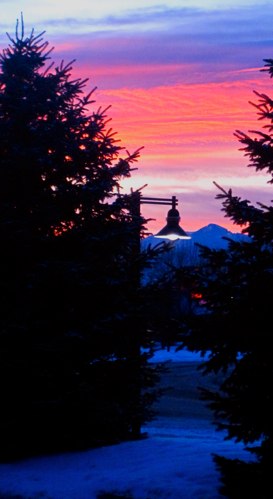 I took this picture, walking out to the car last night.
I know that some keynote speakers do not do this as a general rule, because it is "work," and I understand this position, but one of the best parts of my job is getting invited to dinner by local district ed tech leaders or conference organizers the evening before the event.  Granted, I'm not always excited about it, when I've been traveling all day and I'm tired.  But I'm always (ALWAYS) energized and I'm always going back to my room with something I didn't know before.
Last night it was with four folks of the Thompson School District, in Loveland (love´-lund), Colorado, just south of Fort Collins.  Diana (sorry if I get the names wrong) is experiencing her first Colorado winter, a former eMints coach from Missouri.  She shared a lot about the structured eMints approach, and the adaptability that is enabled by their constant collaborations.  Jenny comes from the media side and is with redefining the school library and asking all the right questions.  Monica Monika is one of the most innovative and open educators I've met — and courageous.  In a district that has things fairly locked down (like most), she's convinced the PTB to open her classroom and ask her students to bring their computers to class and integrate (students are asked to integrate the tech).  And then Kellie Bashor, the district technology integration coordinator, did what good leaders do — she listened.
I think that the high point for me was when Diana was asked what she would be presenting tomorrow (today) at the district's staff development event.  She said, "It's Not the Same Thing it was Going to be a Few Minutes Ago."  That is the perfect title for a conference presentation, and I got her permission to use it.
One of the stats I'll be including in my keynote this morning is that only a few years ago, the world was doubling technical knowledge every two years.  At some point, during 2010, knowledge will be doubling every 72 hours.  The the test answers are going to be changing.  We need to get rid of the high-stakes tests.  They are irrelevant, counter-productive, and harmful to our children and their future.
In a time of change, we should not be asking, "Did you learn this?"
Instead we should be saying, every day,
"Show me what you've learned!  … and surprise me!"
I think it's going to be a good day.
Powered by ScribeFire.