This continues to be an amazing trip — if only because I left home last Friday and have yet to get on an airplane. I love it. Yesterday, I was lucky enough to catch the Acela high speed train back from Boston to NYC, arriving at 8:00. The hotel is on a fairly shady street, so I stuck to my room last night, forgetting to e-mail my brother with a breakfast restaurant suggestion. A little surprised that a New Yorker would ask a North Carolinian for restaurant suggestions in NYC. I'd caught sight of a dinner on my walk up from Penn Station, but couldn't remember the name this morning.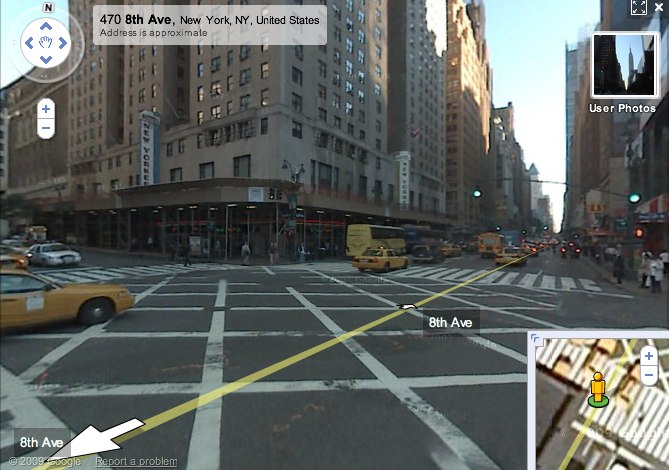 The Tick Tock Dinner, as seen from Google Street View.
So, and this is a first for me, I pulled up Google Maps, found Penn Station. Then I switched to "Street View," retracing my walk, and there it was/is the Tick Tock Dinner, just beneath the Hotel New Yorker. It's OK. I'm not ashamed of being old enough that this stuff still AMAZES me.
It was an excellent day at Nobles and Greenough School yesterday for their Emerging Technologies Conference. I was a little intimidated by the fact that their last two keynotes were Alan November and Will Richardson. But the day went off well, made new friends, and was very pleased to witness Liz Davis' first large audience presentation/keynote, which she did with Tom Daccord — obviously seasoned at this sort of thing. She was at ease, funny, highly expressive (which is important on a stage), and passionate. She did GREAT.
However — and the point of this blog — during my afternoon session about on-demand, in-time, on-going, and casual professional development, a young man, from the predominantly private school audience, politely interrupted to ask,
"In our efforts to improve the community's image of teaching as a profession, does it benefit us to openly utilize this social information environment, which is not formally published, is un-vetted, in unrespected in some communities." (a liberal paraphrasing of the question)
There was a lot that I could spout from the Web20 koolaid. But what's tricky is that we all have our own vision of the profession and makes it a profession — and it isn't right for me to intrude on his vision with my own.
So what does this messy new information landscape that I'm suggesting we make significant use of, do to the profession? Please comment!
But here's a paraphrasing my answer — or what I was trying to convey.
"I believe that the professional educator, today, must engage in this open and global conversation. We should blog (or whatever), reflecting on our experiences and our profession. We should actively and generously share what we're learning, contribute to the conversation and the the growing body of knowledge, and we should invite other stakeholders into the conversation where appropriate. Our professional and personal image should become dependent on the quality of our communications, the logic and validity of our ideas, the threads of connection with the ideas of others, and our knowledge built from success and failure.
Powered by ScribeFire.