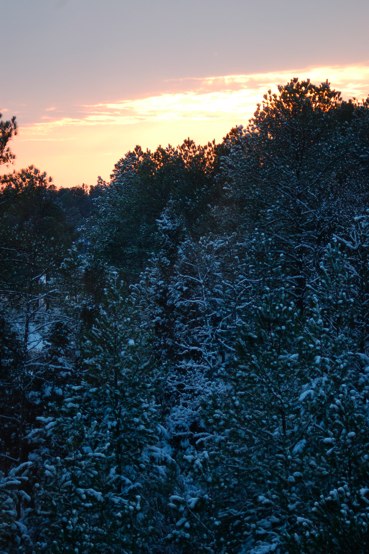 Sunset outside the Hilton over snow capped trees
I started out this morning about 17 miles closer to my final destination than we'd originally intended. With the major snow Raleigh got yesterday (reportedly 6 inches), we decided to get me a room near the airport for the night — so that I could rely on the Hilton shuttle driver to get me the final mile at 5:00 in the morning, instead of Brenda having to drive me 18 miles at 4:00 in the morning.
I'm not very happy about it, because I was supposed to be at home for a full 24 hours, before setting out again, and I won't be back until next Wednesday.
At any rate, its time to turn forward to a week of excitement. It starts in San Francisco with the TRLD conference (Technology, Reading, and Learning Diversities). It's an interesting conference that I've been a part of several times. What's unique is that everyone comes out. Everybody, it seems, has a learning disability, and this is where they talk about it. There's also a lot of cool assistive tech and the conference, in a sense, is like a family. A lot of the people who attend come back every year. Spending a few days in San Francisco also has its appeal.
Then I'm rushing back to the east coast for one day of Educon. As a writer said last year, in an article about FETC, Florida's blockbuster conference, "All the cool people are in Philadelphia, at Educon." I want to be where the cool people are.
Then, it's the train down to Virginia for an heads of school conference put on by the Virginal Association of Independent Schools. Really looking forward to that one (See What is the Purpose of Education).
Getting ready to board, so I'll post this now. More to come, I'm sure…
Powered by ScribeFire.