If you haven't read part 1 yet, then click on back and give it a scan. If you've already read it, then you are ready for part 2 — the really good part.
A while back, Karl Fisch (of Did you Know fame), an educator in suburban Denver Colorado, sent out an invitation to a number of education bloggers to come and sit in on a project he was conducting at his high school — a discussion with Daniel Pink. Here is how it worked:
Daniel Pink broadcasted his presence into the school's library using Ustream. There students, who had already read A Whole New Mind, ask Pink questions about the book. Yesterday's conversations were about design, one of the six aptitudes described in the book.
Ustream offers a chat panel, so many of the outsiders who were watching from afar used this chat feature to post comments and to hold conversations in plain view of the students.
The teacher, Ms. Smith, also set up a blog for the event and installed ConverItLive on a blog post dedicated for the day. The students, as they were paying attention, engaged in interviewing Dan, and monitoring the chat on Ustream, posted their insights on ConverItLive.
I mistakenly thought that that's where the invited bloggers were supposed to be, so my comments were posted there.
Now, up front, this is almost too many channels. It is too much to monitor and react to. So I picked the channels that suited me best (audio and video of the interviews) and responded through CoverItLive. The rest slipped past me. But that's OK.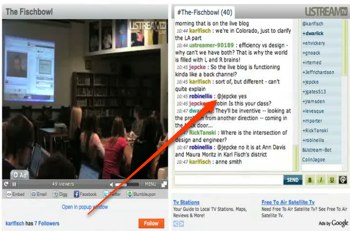 The Ustream page, right panel serving as chat space for visitors. [click to enlarge]
You see, what's new, and cool, and so much in the spirit of 2.0 about this experience is that it is about conversation, and about conversation being turned into content. It was easy to record Dan's answers and the audio (and video) of the students' questions. But to have the students (and visitors) engaged in a parrellel, even subterranian conversation about what's happening in the open air and to have that conversation available for later reference and work, seems extremely powerful to me.
CoverItLive window [click to enlarge]
Students are not being taught. They aren't learning to be taught. They are learning to listen and respond, to sythesize and to share, read, work, and reword.
It seems to me that a clever follow-up activity might be to have the students each work up a concept map of the interview, and then pick out comments made by students and visitors related to each element of the map, assembling it all into a logical and valuable information product (report, slide deck, presentation, web site, etc.)
Anyway, you can see the videos of the sessions at Karl's Ustream channel, The-Fischbowl. Just scroll about 2/3 down the page and click out the video clips. You can also read the students' CoverItLive transcrip at Ms. Smith's blog page. Of special interest are the comments posted later by the students.
It strikes me that this activity represents a lot of what many of us have been talking about with Learning 2.0. The walls of that library were transparent yesterday. Students were connected, engaged, working, and producing. I'll likely be talking about this some more.
Powered by ScribeFire.