I'm getting to do a lot more sitting at the Austin, Texas TechForum.  It's the beginning of the conference, and Sheryl Nussbaum-Beach is starting her keynote address about student passion.  As a note, I'll be uploading this regularly with my own comments in italics — and also my native misspellings and awkward wording.
Just played the welcome to the Human Network video, which sets a good stage or springboard.
Phrases
Its a brand new day with news ways of getting things done.
People subscribe to people not magazines I like that
We have already moved beyond the "New Blooms."
You precious little thing! Just had to add that one.
Schools are institutions of indoctrination (quote from a college professor)
It's not business as usual. It's business as unusual.
It's about learning to be, not learning about.
Sheryl just shared an interesting distinction that students made during her conversations with students, that she wanted her teachers to teach, not just deliver information (write on the board).
Trend 1 — Social and intellectual capital are the new economic values of the world economy.
When teachers were asked to list the technologies they had used during the year, they were then asked to flag the activities that students had their hands on — it was only 50%.
She's making the point, as did Keven Hogan, that such change has happened recently in spite of a constraining edupolitical environment.
She says that Web 3.0 is here.  I'm not really sure we know what Web 3.0 is or is going to be.  The new version shouldn't be able to be predicted.  But that's just me.
Sheryl just shared a video that was produced by Lisa Duke's students at First Flight High School on the Outer Banks.  Lisa started out making it a teacher directed assignment, but the students took it over, made the video, went out and advocated that the money that had been approved in 1994, be spent to replace a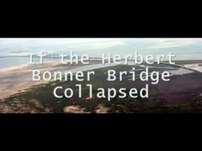 bridge to the Outer Banks that is one of the most at-risk bridges in the US, connecting over 40,000 people to the country — an area that is regularly threatened by hurricanes.
Here's the Video.
Powered by ScribeFire.