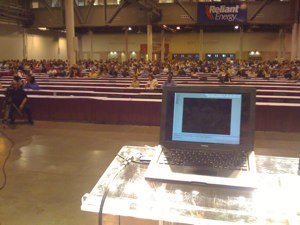 This was, hands down, the largest hall I've ever presented in. It doesn't look like it, but there were nearly 2,000 people out there.
It was a good day in Houston yesterday.  Transportation even worked.  With a rental car place a short walk from the airport hotel, I was able to rent a small car for $60 (including insurance), plus $8 worth of gas; instead of a $120 cab fare into the city and back.
I got to the Reliant Convention Center a couple of hours early, and enjoy the magnificent hospitality of the central office folks for the Houston ISD before my keynote.  Particularly, I met a Mr. Cruise.  Apologies for not remembering his first name, and I can't find him in the HISD directory. But he told me about two programs that he is involved in that intrigued me to the point of sharing here — at 4:34 AM 😉
First of all, like North Carolina, HISD is experience the challenge of attracting enough new teachers to the district to fill their yearly needs.  They, like NC, are having to even go the Central America and Europe to recruite.  Cruise is involved in a program to develop teacher leadership in the schools.  They are finding, like many of us, that it is not necessarily the less than professional salaries that teachers receive, that is driving them from the classrooms, nearly as much as it is the condition of the job.
I've said many times that teachers choose this profession because they want to succeed.  But their measure of success is not the same as the governments, and they often clash, costing educator's their professional integrity.  One of HISD's strategies is to cultivate leadership among the teachers in their school, not to groom future administrators, but to build sustanable teaching and learning cultures in their schools. [Image (("55:366 – February 28: Teach." Emtboy9's Photostream. 28 Feb 2008. 7 Aug 2008 <http://flickr.com/photos/justageek/2300396608/>. ))]
Another program that intrigued me is action research. Educators are being trained to perform research studies within their schools to explore and discover problems and the often hidden causes of those problems.  He told me about one school, that, by most measures was a success, but not a resounding success.  They'd not been able to make Exemplary Status.  They discovered, through their action research, that devoting more resources to ESL learners in grades K-2 would would bring all students up to a more even keel.
He said that when folks at the central office learned of this, their response was that, "We could have told them that."  But the difference was that the school invested itself in learning the problem, and, as action researchers, were more intune with the probable solutions.

On another note: I'm sure, over the coming weeks and months, I'll be seeing a lot more presentations and workshops at the conferences that I work, on writing grants.  Not all — but many of the states I'm working in are experiencing crippling budget cuts.  I'll never forget the principal of my children's high school telling us how their central office was mandating this list of expectations, but simultaneously saying that there was no money for them — that you have to apply for grant money to pay for them.  It's a question I've asked before,
"Why has education in America, institutionalized begging?"
It occurred to me this morning — what if our classrooms received all of the resources they needed, by virtue of being a future investing, citizenry inspired, government service.  What if the grant money was going to the students to conduct their own action research?
2? Worth!