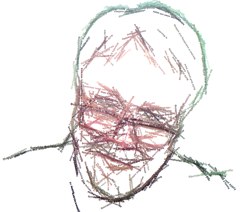 Click to Enlarge
I'm trying something new with my keynotes.  Usually, I kick things off by trying to find something funny to say — usually about my southern'ness.  But in the spirit of my frequent demands that we, as educators, model ourselves as master learners — that we bring something into our classrooms everyday that we just learned — I'm trying out a little three or four minute demo or explanation of something I've learned in the last 48 hours.
Yesterday, it was an article from the Boston Globe, referring to an upcoming paper being published in Nature Neuroscience about how Magicians have understood for years, something that neuroscientists are just now beginning to discover.  Co-authored by five practicing magicians, the paper describes our body's literal limits in how it perceives the world.  For instance, it claims that our optic nerves are capable of the visual resolution of a typical cell phone camera.  Yet we see the world so much more clearly.
It's our minds.  Our minds fill in the blank spots, building the richness of it, and our minds can be fooled.  Enter magicians, who are experts at tricking our world building attentions away from the reality building activities happening up their sleaves.
This Textorize was made with the Mac download app
I'm not really sure I did that one justice in three minutes.  This morning, during some explorations of a topic I'll likely be blogging about soon, I discovered a tool called
Textorizer
.  It's a clever hack, created by Max Froumentin, at
lapin-bleu.net
.  Simply used the online version to point to an image, paste in some text, tweek some of the configs, if you want to experiment, and "Textorize!"  See above.
There are also downloadable apps for Windows, Linux, and Mac OS X.  Initially, I wanted to slip this one into my "Nearly No Practical Applications What So Ever" drawer.  But after playing with it, I found myself thinking about what I wanted to say with it.  With only a little time, I chose my current standard profile photo.  But a spent a little time finding Education Revolution's Manifesto, 25 Rules to Live By as my text.  Students could find appropriate photos to the poem they just read, and mix them together.
They might like this, here in Houston.