I haven't had my blog editor out much lately. So it surprised me a bit to find that the interface for Deepest Sender has changed since I upgraded to Firefox 3.0. Fun! Last week had me on the road for most of the time, returning home with my first cold of the year. It astounds me that I went through the entire winter without a single cold, and then I get one in Savannah, Georgia in June.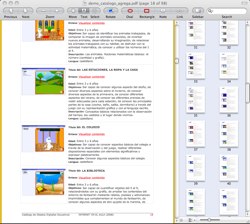 This is a screen shot from the Agrega catalog, a 98 page PDF document. [Click to enlarge]
I hope that
Stephen Downes
has a healthier time in Madrid this week, where he'll be part of the
European LAMS Conference
, and where he suspects
Agrega
will be part of the conversation. A Creative Commons article by Jane Park, defines Agrega as..
..Spain?s new educational digital object platform, ?which consists of a central repository and other autonomous repositories which have educational content for non-university level centres.? [catalog]
Its emphasis is on content creation and development for primary and secondary educators by providing a space where various digital content of Spain?s Civil Service and the private sector are joined. The project seeks to promote internet in the classroom by "expand(ing) the pool of online educational content available to Spanish educators and students, particularlly in the fields of finance educaiton and teacher training."

Here is a link to a Google translation of the About page from the Agrega site, which includes some interesting tutorials on Internet education, including some take-offs on Commoncraft video techniques. See What is Agrega? (?Que es Agrega?) video.
Agrega also seems intended to support Plan Avanza, the goal of which, according to the European Urban Knowledge Network, hopes to increase the volume of economic activity related to Information Technologies up to 7% of the GDP in 2010.
If any readers from Espania can give us more insights about this project, please comment.