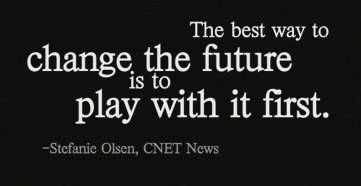 A quote from the World Without Oil promotional video
Too late, I caught up with an e-mail from Norm Sutaria about a resource that would have come in quite handy for my video games presentations this week, in Bismarck. It's a recent blog post in Jeff Cobb's
Mission to Learn
blog,
26 Learning Games to Change the World
. They are all serious games aimed at exposing students to some of the critical problems that face people around the world, including malaria, famine, nuclear proliferation, and congress (not a joke).
One game, World Without Oil is about the first 32 weeks of a global oil crisis. It launches with the fictitious announcement that gas, at the pumps, now costs $4.00 a gallon.
Sutaria also suggested ICED (I Can End Deportation), which he'd just learned about at the Games for Change Conference.
Thanks, Norm!