As I explore language for describing 21st century skills, I frequently come up with the word resourceful. This is one of the coolest stories I've read in a long time and an amazing example of resourcefulness. Brought to my attention by Tim Holt at Intended Consequences, an unsighned band, from Manchester England, wanted to make a music video for one of their original songs. However, as is common among groups trying to break into the big-time, Get Out Clause, couldn't affort to hire a film crew.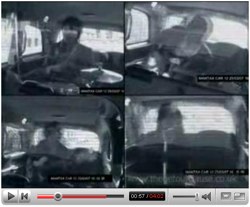 Sequence of video shot on a London Bus
So, they resourcefully solved the problem by performing their song on the streets of London, home to more security surveillance cameras than any other city in the world. ((
Rotenberg, Marc. Limit Camera Surveillance."

USA TODAY

1 Aug 2005: Editorials. <http://www.usatoday.com/news/opinion/editorials/2005-08-01-oppose_x.htm>
)) The group set up its equipment and performed in 80 locations (including on a bus) in front of the ubiquitous CCTV cameras. After they'd finished, they petitioned the organizations who owned the cameras for the footage, under the UK Data Protection Act, Britain's equivalent of the Freedom of Information Act.
According to the band, about a quarter of the companies complied, most saying that the tapes had been deleted. However, they retrieved enough footage to assemble the music video, using a consumer video editing program. ((Chivers, Tom. The Get Out Clause, Manchester Stars of CCTV." Telegraph.co.uk May 8 2008 <http://www.telegraph.co.uk/news/newstopics/howaboutthat/1938076/The-Get-Out-Clause%2C-Manchester%27 s-stars-of-CCTV-cameras.html>
))
You can watch the video on YouTube.