This post was live-blogged, so please excuse typos and awkward wording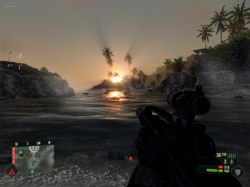 This is a typical avatar, and this is a typical user…funny, picture of Keith Richards. First game that was in any way immersive was Stellar. Compare that to Crysis, a new, nearly photographic quality virtual world game. Avatars! Exploring & Building Virtual Worlds on the Internet by Bruce Damer is a book about the history of virtual worlds. The top players are:
The Wannabee's
Keep your Eyes on
OpenSim – Open Source Software
Cobalt
Multiverse is working on a concept related to pear to pear sharing, where you can move easily from world to world with one avatar.
Educationally?
Mark designed a vritual expo to promote cross-cultural understand of students from around the world. It's a wheel looking thing where each spoke goes out to a pavilion of a country, with teleportation doors that take you to regions of, say Canada.
Also created a virtual art gallery with mockups of famous art work, clickable to web paes about the works of art.
MarsBase 2021 is a quest about the first scouting mission to Mars with problems to be solved, by students who are working together.
SciCenter/BioLearn is also in Active Worlds where student can conduct experiments.
River City Project has been very successful, a simulation of a small town with some health issues, and students study the environemnt to find the cause.
Quest Atlantis has students working to recapture the wisdom of ancient Atlantis.
Global Kids Project has students in SecondLife in the Teen Grid.
Now Mark is showing a video of a possible project a student might do about Van Gogh's Stary Starry Night, with Don Mclain playing in the back ground. It's a Machinima of the building of something. One wall, copied to another wall and another. Now various shapes are being made, but evidiently he's put an affect on the video to make it look paint-brushed — amazing. It's becoming a village — perhaps the villae from the painting. Trees are now being makde, and a back drop.
Excellent presentation!