This is more of a diary entry than anything else. Yesterday was a good day and exhausting. I did the opening keynote address, which came to about and hour and forty minutes, and then a roundtable conversation with about fifty Colorado Springs educators. On the spectrum of ed 1.0 and ed 2.0, I'd say that these folks are out ahead with momentum, partly due to the leadership of the school district. At lunch I was exhausted, with three more roundtables to do. I was worried. But as each session started, with anywhere from thirty to fifty in attendence, my energy returned as ideas started to bounce around in those highschool classrooms. And I'll add what a treat it was to be working in high school classrooms. Information everywhere with posters and all kinds of memorabilia — and Greatful Dead posters too.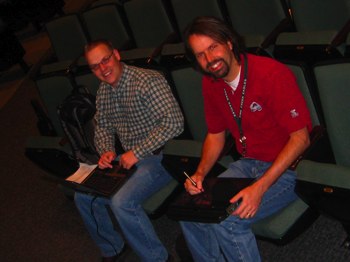 Early Bird Front Row Live Bloggers
I'm especially greatful to Nancy White, the Media Services Director for the Academy District 20. We had some conversations about the roll and function of a virtual librarian for a virtual high school. Sometimes I feel like this puzzle of figuring out school 2.0 (for lack of anything else coming to mind to call it) is actually a huge egg with a really hard shell, and I just can't penetrate that shell for answers. I look for soft places in that shell, and our conversation about what a librarian/cybrarian might do for a virtual school really felt like a soft place. Still working on that one.
I also got a chance to voice some of my quandary about social networks, as someone asked me to share my opinions yesterday. I went ahead and spilled the beans, what I'm really thinking, for the first time — leaving the room absolutely silent. I guess I'd better think about it some more 😉 Or maybe it's the altitude.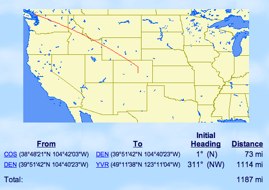 Today, I fly up to Denver and then on to Vancouver, where Ian Jukes will pick me up at the airport and take me on a tour of, what's been described to me as one of the most beautiful cities in North America. Can't wait, though I'm not sure my energy level will continue to stand up to the very active mind of Mr. Jukes. I'll watch his opening keynote tomorrow morning and then will have a day to figure out how to follow him on Thursday.
With the biggest part of a major writing project behind me, I'm in the mood to build something, and I'm thinking of doing a re-work of Hitchhikr using WordPress as the shell. I'm not sure I can do it, within the WP framework, but I'd be most thankful for having the layout done for me, and a choice of themes, keeping it as simple as possible.
I think I'll start that now!