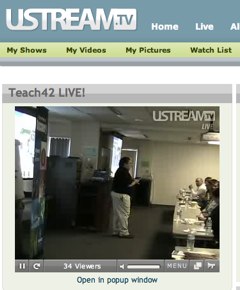 Steve Dembo presenting through USTREAM
Yesterday, I got to sit by the fire in Starbucks, in the enviable position of being close to the warmth and the electricity. With my new USBConnect card from AT&T, I no longer have to sit by the drafty east door to sip from Panera Bread's free WiFi.
My word processor was up, capturing my nearly sequential stream of thoughts, when up pops Twitter, from Steve Dembo. He's getting ready to present a session at a regional conference in Pennsylvania. Against my better judgment, I click the link and find myself watching his last minute preparations, along with five or six other Twitterphiles, then seven, then eight. I login and settle for the long run, Steve talking about Digital Natives, digital immigrants, and a new leveling information environment. Not much that was new to me, but Dembo's style was a joy to watch. Not relaxing, but a joy!
Somewhere between 22 and 59 virtual attendees, the chat conversation became more of a focus point for me, as lurkers were commenting less about where they were from (PA, TX, SC, Perth, Shanghai) and more about the topics of Steve's presentation, each shining a slightly different light on the idea, each giving me a different way of looking at it. A sudden small and fragile network was becoming a temporary branch of my Personal Learning Network.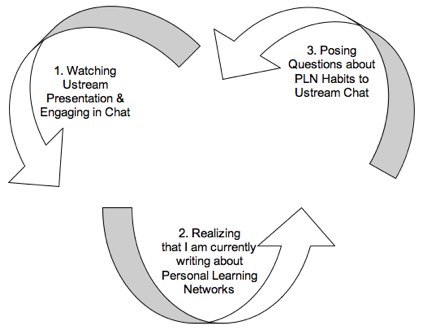 This is the kind of cycle that makes me a bit dizzy
Then it occurred to me that Personal Learning Networks (PLNs) was exactly what I was writing about at that moment. What a coincidence. So I started writing down, into my current writing project, the real time experience of learning from this sudden PLN. So I commented into the USTREAM chat that I was writing about PLNs and asked some questions about their network learning habits.
Makes me dizzy to think about it.
So why is this important? Is there really anything new here? Well, of course We've been engaged in personal learning networks — for ages. It consisted of our family, friends, colleagues, preachers, teachers, librarians, public libraries, personal libraries, our various subscriptions, and visits, meetings, and conferences. It's what we've grown up with, so there was little reason to diagram it.
So is it technolust — want-a-be wizards celebrating their newest incantations? I do not know about others, but I'd have to admit a certain amount of this in myself. Part of my impressions about all of this come from my clear memories of laying in the evening autumn grass, watching the earliest satellites pass over the sky, when I was a young boy. Today's new avenues of communication do amaze me.
What is new are an array of information and communication technologies that are vastly expanding our range of contact and facilitating logical threads of connection between people, connecting them, not because of geography and culture, but because of their ideas. We talk about Personal Learning Networks so that we can draw this expanding suite of applications together into a context that makes sense to other educators.
Otherwise, they're just a bunch of tools.
OK, going to watch a stream of Gourmet Geeks… fried potatoes with pepper and garlic, dumplings, an omelet, and tomatoes and pancakes! I may have misheard the tomatoes part!
Blogged with the Flock Browser