Andrew Keen's Statements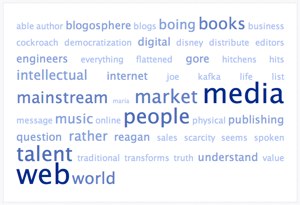 David Weinberger's Statements
Last Thursday, I posted my notes from Andrew Keens presentation at the Ontario Library Association conference in Toronto. What's in that blog are some fairly word-for-word quotes from his address, where I think he drew some unfair and one-sided conclusions from valid and very well delivered arguments.
Last night, while preparing for today's presentations, I ran across a Wall Street Journal article that included the transcript of a recent debate held between Andrew Keen (The Cult of the Amateur) and David Weinberger (Clue Train Manifesto[co-authored], Small Pieces Loosely Joined, and Everything is Miscellaneous).
It would be interesting to make lists of the words that are included in one debaters tag cloud that did not show up in the other's and then try to draw conclusions.
Of course, there's no real short cut to just reading the debate 😉