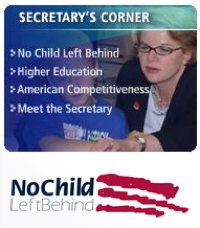 First of all, what are the three red markings to the right of "No Child Left Behind?" They probably represent something important and positive, but it looks to me like something scratched out — like a student wrote something down, and the teacher scratched it out. Probably just the cynical side of me breaking loose for a moment. You may not even get to read this 😉
Our (U.S.A.) Secretary of Education has posted four questions for citizens to answer from their perspectives as administrators, parents, teachers, students, entrepreneurs, or business leaders. I've heard about the questionnaire on several occasions, but only when Steve Hargadon announced yesterday that he was posting them on the Classroom 2.0 Network for our consideration and conversation that I finally took a look. He's posted four forum threads, one for each of the questions. The DoEd also has the questions posted on their web site, and a web form for use to submit our answers (limited to 1000 characters) for their consideration.
As is my nature, and in my continuing efforts to keep this blog pumping, I'm posting my <1000 character answers here.
In what ways has technology improved the effectiveness of your classroom, school or district?


In the schools I see as a parent, I would say that technology has not improved their effectiveness. My children have gone to good schools with good teachers, and they have learned their subjects well. They have been educated based in 19th and 20th century standards. They can read well, calculate well, memorize well, and write passably well.

What is missing from their education is a sense of context. They know history, health, and science but they do not understand them. They know how to pass tests, but they are not so good at solving real problems. Appropriate uses of technology could help by making them exposers, explorers, experimenters, and discoverers.

The analytical problem solving skills they have learned happened on their own time, through interactions with each other and through bedroom technologies, mostly video games.

I fear that in most schools this question is unanswerable — because we have not come nearly far enough to draw any meaningful conclusions.

Based on your role (administrator, parent, teacher, student, entrepreneur, business leader), how have you used educational data to make better decisions or be more successful?

Today, data is used primarily to compare schools, not to compare what our students have learned to what we'd hoped they had learned. When I taught, I gave tests and adapted my teaching to what I learned from those tests. I do not see much evidence of technology being used to these ends in the schools I come in contact with as a parent.

Again, a long way to go yet before we can answer this question in any meaningful way.

In what ways can technology help us prepare our children for global competition and reach our goals of eliminating achievement gaps and having all students read and do math on grade level by 2014?


I think that global "cooperativeness" should be our goal. But that aside, I think that technology empowers teachers and learners. It provides a real window on the world that we are teaching our children about, and appropriately used, it gives them first hand access to that world where they learn by becoming explorers and experimenters, problem solvers and communicators.

Learning is personal, and the windows that connect learners with what they wish or are required to learn, must also be personal.

It seems that challenged learners, who are empowered with personal access to the world, will want to learn. Challenged learners who are disempowered by seat time, taught to, programmed, and scripted delivery, will not want to succeed.

What should be the federal government's role in supporting the use of technology in our educational system?

The federal government should invest heavily in research, to figure out what it is that children learn better with a computer, connected to the Internet, researching, collaborating, analyzing and manipulating, experimenting and exploring, and producing knowledge — and what is it that they learn better sitting in a classroom led by a teacher. We should restructure the school day appropriately to those findings.

The federal government must also assure that every student achieve literacy skills relevant to today's information landscape, that reading, writing, and arithmetic are ONLY foundations to that literacy, not the sole definition of it.

The federal government must also assure that every learner have personal and convenient access to today's information landscape, meaning that every learner have a computer and broadband access to the Internet.

This is a national problem!
2¢ Worth!