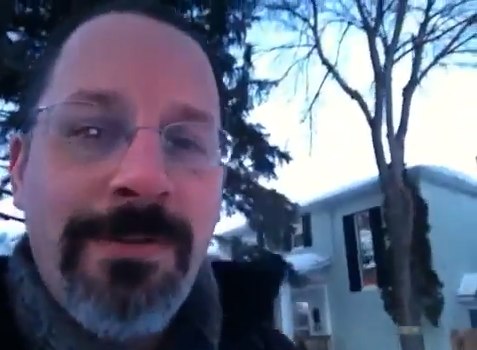 Darren Kurpatwa delivering his WhileWalking episode 73
My friend, Darren Kuropatwa, mentioned me in one of his "WhileWalking" video reflections, referring to one of the conversations we had at Educon last week. I love his new reflections series for many reasons, not the least of which is the delightful sound of Canadian snow crunching as he walks.
In that conversation, on the last day of Educon, he told me about how students were using Google docs in preparing their presentations and how convenient it was that Google built in an image search tool that returns only Creative Commons licensed media and even includes citations for the images that can be pasted into the document.
I was less than thrilled about this and Darren, in his reflection, wonders why. He's asking if there is a relationship between my reluctance about Google's bundled services and why many educators resisted their student use of calculators decades ago. It's an excellent question, which I guess is why it occurred to Kuropatwa, while tundra-walking.
There is a very real relationship between the emergence of calculators in the early 1970s and the rise of the World Wide Web, dynamic search engines, and smaller useful information tools like Creative Commons licensers and citation generators. But to understand why I feel Darren's described scenario is, in ways, counter to the mission of education, I need to briefly define that mission, as I see it.

A sliderule like the one I used as a high school student
A continuing factor in my own reflections is the fact that from my time as a high school student to the waning years of my career as an educator, the tools for working with information have advanced from sliderules to tablet apps – an astounding revolution in information and communication technologies, from sticks to chips. Our mission is to prepare our children for jobs, lifestyles, tools, processes, problems and goals that we can hardly imagine. We're preparing them for the unimaginable.
I am certain that their lifestyles will be (is) fueled by the daily practice of learning and that the mechanisms of that learning will be constantly and sometimes rapidly evolving.
Many of us were fairly certain that calculators would be a prevailing information processing tool in our students' future, as we know that our children's future will continue to afford them a vast and dynamic aggregation of information – that also obliges them to new and interesting ethical responsibilities.
Each of these advances in information and communication technology warranted a role in our children's formal (and informal) education.
Now, my objection to Darren's scenario has little to do with Google's purported desires to dominate the world of information, or even the fact that Google has made research, production, and attribution easier – as was implied in several tweeted responses to Darren's post. We should probably be concerned about the dominance of one company in any realm of interest, but there's nothing wrong with "easier."
What concerns me is how these tools might be packaged to help children do school work, at the expense of helping them learn to use information to do real work.
If Texas Instruments had created a curriculum-friendly calculator, one designed to help children learn math, as apposed to using math to work numbers, then I might have had the same objections – though I can't confidently speak for the 22-year-old me.
What I believe today is that our children need to be developing a learning lifestyle, with the skills and habits of utilizing a tumultuously shifting and advancing information environment and the unimagined opportunities that an unwritten future provides. This is the mission of education.
Darren has invoked the best word for my thinking, that learning should be be "deliberate," as deliberately authentic as possible.
Kurpatwa, D. (Performer) (2013, February 7). Whilewalking 73: Should we be deliberate?.WhileWalking. [Video podcast]. Retrieved from http://www.youtube.com/watch?
Before Educon's conversations begin, we get to spend the day at the Science Leadership Academy (SLA), attend an evening panel discussion at The Franklin Institute (see Pulver) and see the opening keynote address – this year it was Philadelphia's new Superintendent, Dr. William Hite.
..and I'll say here that among the many regularly scheduled annual educator learning events, Educon's unconference is probably the richest experience, anywhere, anytime. This is not to say that regular conferences with presenters and keynote speakers are not valuable. They are essential, because they facilitate opportunities for learning that Educon does not. But to listen to smart people and to be able to push and pull on what they are saying, well, it just wrinkles my brain.
Master photographer, Kevin Jarrett, captured this picture of me and Joyce Valenza catching up.
One of the greatest features of Educon is the chance to catch up with friends, whom we see almost daily in the networked eduverse, but with whom we rarely get to shake hands, huge, and enjoy extended conversations, unconstrained by 140 characters limits – and that's not to say that we ever get to finish our conversations at Educon, because there are always new ones that attract our attention.
We also get to visit classes and talk with SLA teachers. I especially enjoyed talking with Matt VanKouwenberg, about his engineering classes. His process reminded me of the vocational education classes I took in high school, how we all learned many of the same lessens by working on distinctly different projects. He told me that each class starts with a few minutes of sharing, where each student or team reports on where they are, barriers they are facing, and what they are learning (think the first five minutes of each episode of LA Law). He said that it often surprises the students to discover the similarities in what they learn, regardless of what they are working on.
I also enjoyed talking with one of my favorite SLA teachers, Meenoo Rami, an English teacher. Rami teaches a class about Storytelling, which appears to be not about fiction writing, but about how we use stories as a device for communication. I think that this is an often overlooked tool for expressing ourselves, even by many of us who are supposed to be master communicators. Too often I hear keynote and featured speakers simply telling us what to believe, rather than helping us discover our own beliefs through plot and surprise. Never underestimate the power of a good surprise.
Near the end of the Friday night panel discussion, Pulver said that, "The future is unwritten!"
When considering our challenges as educators and the future challenges of our students, we must come to believe that anything is possible. We're not preparing our children for the 21st century. We're preparing them for the age of opportunities, when almost any problem can be solved and almost any goal can be accomplished. This affects so much that is involved in formal education.
[click to enlarge]
While claiming my best seat
(its that hearing thing)
for one of the first conversations, and reflecting on Friday's panel and Saturday morning's keynote, I quickly drew up the diagram on the right. Even though, at the highest levels, we'd all deny it, our job, now, is to prepare our children to take tests. Education has become a competitive endeavor, pitting nation against nation, state against state, district against district… and the point system for that competition is test scores.
This implies a purpose behind education that has little to do with an age of opportunity. Instead students learn to read in order to follow instructions and to learn in order to fit in to someone else's competitive machine. To be ready for an age of opportunity, children must learn to read so that they can learn to do something that they couldn't do before and to learn in order to make their own machine.
One of the greatest ah ha! moments of the event, was when Philadelphia Schools Suerpentendent, Dr. William Hite said, "Today, teachers do not need to be content specialists nearly as much as they need to be context specialists."
2/7/13 - Gerry Roe posted a comment to this article, asking for the data source on this infographic. The designer did not include the data, which in my opinion, renders the graphic useless. Ryann has not yet commented below. She's busy with her other job and her graduate work.
I did some googling and found three tables with identical data, but none of those documents sited valid sources. I am leaving the graphic up as an example of the critical importance of the basic literacy practice, "Ask questions about the answers that you find."dfw
Taxes are a constant debate among politics. Everyone wants lower taxes, but few people think about why taxes are necessary. Before you show this infographic, challenge each student to find five unique uses for tax money, and imagine what the world would be like without the government having that money.
This infographic shows that the US and Japan have the highest taxes in the world. Why do these two countries need such high taxes? What do each of the countries listed use their taxes on. What is their national debt like? How did they rack up these debts? Make sure your students understand why taxes are necessary, and brainstorm ways for the government to come up with the necessary funds without taxes.
Blog: http://visual.ly/world-tax-comparisons
The Solar System is very complicated. A classic science project is to create a representation of the Solar System, but it is nearly impossible to create a fully accurate representation. According to this infographic, the sun would be the size of a large bouncy ball, the largest planet, Saturn, would be the size of a marble, and the rest of the planets would be around the size of a grain of sand. On top of that, planets are varying distances apart, and travel at drastically different speeds.
This infographic gives a great, accurate, demonstration on the speed, size, and distance of each planet. There are three options that can be flipped through, that show how different the planets are. Challenge your students to discover the reasons for these differences. With science as advanced as it has become, challenge your students to use research methods to find out why some planets travel at different speeds, and what made different planets different sizes.
Blog: http://visual.ly/solar-system-0
Crash Course is back with a brand new series! You may remember I've posted videos from their World History and Biology series before. The Green brothers are at it again with this new series focusing in on US History. They have quite the library built up of these videos now so there's no excuse to go take 20 minutes and learn something. Do it now!
Here's a neat little video where an astronaut answers a student's question about staying clean in a "weightless" environment. It's kind of funny how difficult it is to make a presentation when all the items you show will just float around you when you're done with them. Makes me wish all informercials were forced to take place on space stations.
« go back