In my new situation of retired educator (or semi-retired educator. I can't really decide), I find myself paying less attention to Twitter and more to friends and relatives on Facebook.  But this morning, when I started my computer and Twitteriffic flashed up, I scanned through the most recent tweets from my long-time and famous educator friends – and my eye landed on one by Doug Peterson  actually a retweet of Miguel Guhlin's,
The Deconstruction of the K-12 Teacher is a March 25 article in The Atlantic written by Michael Godsey, a "veteran high-school English educator."  Asked by a college student about the prospects of becoming a public-school teacher, he writes,
I never think it's enough to say that the role is shifting from "content expert" to "curriculum facilitator." Instead, I describe what I think the public-school classroom will look like in 20 years, with a large, fantastic computer screen at the front, streaming one of the nation's most engaging, informative lessons available on a particular topic. The "virtual class" will be introduced, guided, and curated by one of the country's best teachers (a.k.a. a "super-teacher"), and it will include professionally produced footage of current events, relevant excerpts from powerful TedTalks, interactive games students can play against other students nationwide, and a formal assessment that the computer will immediately score and record.
To that, I say, "poppycock!" How's that for post-career reflection and rejection of the ideals that I seemingly promoted for the last 20+ years? But the fact is that I never promoted such a future for the classroom and find the arrangement to be personally revolting and counter-productive to what I believe the purpose of education to be.
It's an interesting question and one that many of us have challenged ourselves and each other with, "What is the purpose of school." Here's a good answer, in my opinion – Why School by Will Richardson and what is described in Invent To Learn, by Sylvia Martinez and Gary Stager.  But here is my ready answer that is short and to the point.
The purpose of school is to prepare our children for adult life during the next 70 to 80 years.
Life doesn't happen on a video screen and it can't be simulated with a game.  Goddey's "fantastic computer screen" will help as will the games and video clips from top thinkers on TED.  In fact, they are essential.  But the fallacy is the assumption and fear that technology replaces the teacher.
To be sure, nobody in education, but those in the darkest recesses of denial, believes that the role of the teacher is not changing.  The shift from "content expert" to "curriculum facilitator" is certainly happening – and it should.  But NOTHING, my most loyal readers, IS EVER THAT SIMPLE.
A phrase like "sage on the stage to guide on the side" is intended as an idiom to focus the attention of experienced professional educators who already grasp the changing conditions that are reshaping school.  It is not an all-encompassing description of the future of classroom instruction.  Frankly, while reading Godsey's advice to his student, I saw no need for classrooms at all – and that's the last thing I'd want to see for my grandchildren and their children.
We have to acknowledge that there is a powerful cabal that desires and promotes just the scenario described by Mr. Godsey.  They fancy an education system that spends its billions on their videos, games, tutorials and assessment products, instead of unionized public school teachers.  Products, whose service can be measured (test scores), can be marketed.
In my mind the most preposterous statement in the whole article is the advice of a superintendent, aired on NPR, "If you can Google it, why teach it?"  ..and this gets back to the question, "What is the purpose of school?"  If education's objective is to equip our children with facts that they can recall on state test day, then I would agree with the superintendent's statement.  But if its purpose is to prepare our children for adult life, then the job of the teacher is to help learners to understand what they've Googled and develop the essential literacy skills and habits of questioning, analyzing and assigning context to the Googled information.
What we can predict about life in the next 70 to 80 years is almost nothing, beyond the timeless practices of responsibility, compassion and providing value to the community.  It will continue to be a time of rapid change, inventions that redefine how we accomplish our goals and discoveries that challenge our beliefs and philosophies.
The common core subject of every classroom today should be learning to learn.
And this brings us back around to Michael Godsey's apparent fear that his college earned knowledge of literature has become obsolete.  Our classrooms still require experts.  But experts today are no longer known for knowing all there is to know about a subject.
Today's experts are known for being highly skilled at learning and relearning the ever growing and often changing knowledge about their subject.
This is the notion of expertise that teachers need to model and that students need to see every day, the essential and constant practice of contextual learning-skills / learning-literacies.
Adult life is about learning.
In my efforts to write this book about the history of educational technology (as I have witnessed it), I'm finding myself doing more reading than writing. I guess that's normal for book-writing, though it surprises me since I am typing this mostly from my own recollections.
This morning, in my reading, I learned a new word.  It's mesofacts.  These are facts that, when learned, seem to be dependable, longterm and applicable truths – when in fact, they are likely to change within a lifetime, and often within a few years.
In his Harvard Business Review article, Be Forwarned: Your Knowledge is Decaying  Samuel Arbesman relates an example, a hedge fund manager saying in a conversation, "Since we all know that there are 4 billion people on the planet…"  4 billion people is what I learned when I was in school, and it still surprises me when I heard that it was up to 6 billion and now 7 billion.
Arbesman says that these mesofacts are far more common than we realize.  It makes me wonder about how much of what we are expecting our students to memorize, will simply not be true in their adulthood, and may even be problematic.
This all supports something that I heard someone say a few years ago.
Any question, whose answer can be googled,
should not be on any test.  
Another epiphanic statement, which may or may not be attributable to John Dewey is,
If we teach today's students as we taught yesterday's,
we rob them of their tomorrow.
Another word I learned is scientometrics.  Its the study of the shape of how knowledge grows and spreads through a population.
Arbesman, S. (2012). Be forewarned: Your knowledge is decaying. Harvard Business Review, Retrieved from https://hbr.org/2012/11/be-forewarned-your-knowledge-i
For the last several years, I have been opening my keynote addresses by describing something that I've learning in the last 24 hours. It was usually something that I'd run across on my iPad (Flipboard), or a conversation I'd had, or some other striking something that caught my eye.  Today, it would likely be the Olkaria IV Geothermal Power Plant just brought on line in Kenya with the assistance of Germany's continued development of green energies.  I first learned about the plant from the Kenyan cab driver who took me from the St. Louis airport to my hotel yesterday.
But no story today.  The first reason is trivial though not insubstantial.  It's time.  I'll only have 45 minutes for my opening talk.  It's usually closer to an hour.
The second reason is more important.  It is my audience; school librarians, students of library science, and supporters and administrators of school library programs.  I'm not launching into a demonstration of personal learning because librarians and their libraries are almost entirely about person learning.  Their patrons explore, examine, experiment and discover – in much the same ways that we all conduct our essential learning outside of school.
These authentic learning experiences are way to rare in the classrooms of our schools, and this is due not to the best intentions, reflections and inventiveness of our teachers.  It is my country's continue obsession with market motivated and industrial methodology of public education.
My wife and I are buying a house in the Shelby area, so that we can spend more time with both of our parents and have a larger place for family gatherings.  
We're very happy with the house, except that we can't get reconnected, the DSL line that the previous owners enjoyed.  I've spent many hours on the phone with AT&T  mostly on hold, or desperately trying to navigate their menu system, or listening to the scripts recited over and over again by the sales and support staff. The story seems to be that DSL is simply not (no longer) available to our house.
Time Warner will not serve the house, apparently because there are not enough houses on our street.  The next street over, more populated, has had Time Warner for quite some time.  
Being an early adopter of iPhones and iPads, I have been able to keep unlimited data plans on both of them.  
I also have an AT&T hotspot device that provides WiFi for me via a local cell tower, up to 5Gb per month.  So I went to the AT&T store last night to get its data plan upgraded to 20Gb.  It seems that the only way that I can change the plan on that device is by also changing the plans on my iPhone and iPad, giving up my unlimited data there.  AT&T seems more interested in providing less service, not more nor better.
We are probably going to go with a Verizon product that will provide WiFi and Ethernet, via a cell tower, 20Gb.
The reason I burden you with this is my wondering,
"What if our roads were handled like this, as a service to customers rather than citizens?"  
"What if there weren't enough people living in my area to result in enough profit for the road company to lay a road?"
"How would my children get an education, if they couldn't go to school?  How would I get my work done, if I couldn't get to work?  How could we shop for essentials, if we couldn't get to the store?"
You get my point.  Our Internet connection has become as important to us as our roads.  Yet service depends on the convenience and profitability to AT&T and Time Warner.  What's worse is that North Carolina it is now agains the law for municipalities to establish and provide Internet service to its citizens, thanks to the hundreds of thousands of dollars of compaign contributions from the telecommunications industry.
So what do you think?
Two 2×4 Lego bricks, of the same color, can be put together in 24 different ways.  Three can be connected 1,060 different ways.  Six can be combined in 915,103,765 different ways.  ..and, of course, children (and adults) have enthusiastically assembled them in nearly as many.  It's when useful and reliable resources can be used in so many ways that creativity is invited.1
The best use of Legos, in my humble opinion, never involved lessons or even instructions.  You do not sit down and teach children how to creatively make stuff by clicking Lego bricks together.  You simply given them the bricks and let them play.
Might we achieve more inventive-minded students, if we could redesign curriculum to simply give our children the prescribed resources of mind, and then encourage and free them to play, construct and learn.  One example occurs to me, something that I witnessed in Fredericton, New Brunswick, Canada many years ago.
In early 2007, I participated in a provincial conference there and in addition had an opportunity to visit some of the area schools with my friend and NB educator, Jeff Whipple. At the time, the entire province was engaged in some pretty innovative initiatives.  I wrote about that visit here and here.
I was overwhelmingly impressed with everything that I saw in the schools around Fredericton, but the visit that came to mind as I started thinking about Legos was Chad Ball's civics class.  He had decided to approach it in an entirely different way that year, based on a summer morning brainstorm.  Rather than present the content to his students in teacher mode, he simply made it available to them, the vocabulary and concepts of Canadian government, mostly through a wiki.
Students were then assigned to work in groups, to create a new political party.  They were to develop a platform, write speeches and even establish a mascot and logo – and required to appropriately and effectively utilize every vocabulary word and every concept of Canadian government in the process.  Chad taught in consultant mode, though he reported that he api;d often refer students to classmates who seemed to have a handle on the concept or practice. 
On the day of our visit, Mr. Ball had asked, on the class wiki, if there might be ways to extend the project.  Even though the posting initially evoked complaints from some of the students, within a half hour there were 102 comments on his posting, mostly suggesting ways that they might take their political parties to the next level.2
This style of teaching and learning is about empowerment, not compliance,
because learners are given access to building blocks,
..and invited to build something.
1 (2014). Brick by Brick: Inside Lego [Television series episode]. In Inside.Bloomberg TV.
2 Warlick, D. (2007, March 23). A Day of being Overwhelmed. . Retrieved July 21, 2014, from http://2cents.onlearning.us/?p=946
I just woke with a start.  Did I just miss the ISTE14 ADE (Apple Distinguished Educators) photowalk yesterday?  A quick Googling from my office (next to my bedroom) and I see that the event isn't until next Saturday.  Most years I've been blogging by now with recommendations for ISTE novices, about what gear to take and how to behave.  But not this year.  I'll be mostly taking it easy at home, taking pictures, taking walks, riding my bike, playing with the dog (my daughter's studying in Europe and we've got the dog) and working on a slew of personal projects.
Will I miss ISTE14?  Well, I'll certainly miss the photowalk.  Last year's walk around San Antonio was phenomenal, especially because of the talented and ingenious photographers I followed around — both the gear geeks and the artists.
I'll also deeply miss EduBloggerCon, now called something else (HackEd), where educators go to learn from each other.  I'd planned, for a while, to attend only the photowalk and HackEd, but figuring the cost and how much I'm enjoying becoming a homebody, I finally decided to forego Atlanta this year.  I can't accurately say how many NECC/ISTEs I've not missed, but it's more than 20.
I'd like to say one thing here, about why I'll be at home on ISTE week – and I've written about this before   I submitted two presentation proposals.  
One was a standup and teach presentation about games and pedagogy.  It was accepted. 
The other was a very strange interactive performance (see NCTIES), designed to provoke the audience to self-examine their personal ideas about information and communication technologies and education.  It was rejected.
Look!  The best learning that I have done, was not taught to me.  The best learning came from a challenge, or curiosity, or an intriguingly inventive plot – and it involved a conscious and resourceful re-examining of my own knowledge and ideas.
Have fun at ISTE14 and question your learning.
I've been working through a major overhaul of Class Blogmeister and as a matter of reference, just pulled up its Google Analytics report.  There were few surprises, such as a decline in its use over the years — which I was actually encouraging for a time.
What did surprise me was a review of the operating systems that were accessing the 10 year old classroom blogging site (see below).  Windows continues to hold a substantial lead with 57.33% of the hits.  But second and third are what caught my eye.  
iOS has overtaken Macintosh OS for the number two spot.
..and then there was a not-to-be-ignored 6% for Android.
I guess what truly strikes me is that CB is essentially a data-entry activity, if I might be forgiven for using such an archaic term.  It's about typing.  What sorts of subtle biological evolutions are going on, that our children can type so much on an often hand-held glass surface?
Google Analytics for Class Blogmeister, Visits by OS for the past month
The National Science Teachers Association (NSTA) will be holding a conference this week in Charlotte, The Queen City of North Carolina. It is both ironic and opportune for science teachers, from around the country, to converge on my state to celebrate science education and to learn more about their chosen passion and techniques conveying it to their students.
I had planned to explain this event's importance as part of my address to the audience. But, alas, I'll have only 45 minutes, so will be getting right to business. Instead, I'll explain it all here, sitting in a Raleigh coffee shop, and proud to be a citizen of this state that owes so much of its recent success to science and education – and a state that desperately needs to be snapped out of its stupor.
Dazed by $80,000,000 worth of campaigning in 2012 ("Follow the money," 2012), we have witnessed an arrogant government, in effect, vilify science and education. Helping to spur this backward thinking is John Droz, a retired real-estate investor and fellow with the American Tradition Institute (which is tied to fossil fuel interests). In a recent presentation [a Droz slidedeck] to the General Assembly, he called smart meters "fascism in a box" and environmentalism a "new world religion backed by the United Nations." Among his cited sources were,
Whistleblower, the monthly magazine companion of WorldNetDaily a website that promotes conspiracy theories about topics such as President Obama's citizenship; Quadrant, a conservative Australian magazine that was involved in a scandal over publishing fraudulent science and the Institute for Creation Research a Texas outfit that rejects evolution and promotes Biblical creationism and the notion that "All things in the universe were created and made by God in the six literal days of the Creation Week." (Surgis, 2013)
Also carrying some influence is John Skvarla, the newly appointed Secretary for the state's Department of the Environment and Natural Resources. He apparently believes that oil is a renewable resource, saying "The Russians for instance have always drilled oil as if it's a renewable resource, and so far they haven't been proven wrong."
And then there are the legislators of 20 coastal counties, where developers have been stifled by the notion of sea level rise. So to make things better for developers, They introduced a bill that outlaws the rise of the sea, or at least how it's measured. From House Bill 819, Section 2.
10 (e) The Division of Coastal Management shall be the only State agency authorized to
11 develop rates of sea-level rise and shall do so only at the request of the Commission.
12 These rates shall only be determined using historical data, and these data shall be
13 limited to the time period following the year 1900. Rates of sea-level rise may be
14 extrapolated linearly to estimate future rates of rise but shall not include scenarios
15 of accelerated rates of sea-level rise. Rates of sea-level rise shall not be one rate
16 for the entire coast but, rather, the Division shall consider separately oceanfront and
17 estuarine shorelines. ("Coastal management policies," 2011)
This whole business prompted comedian, Stephen Colbert to say on the air, "If your science gives you a result you don't like, pass a law saying the result is illegal. Problem solved."
The dramatic decline in Tobacco farming in North Carolina, illustrated in this graphic (North Carolina Department of Agriculture), has meant an enormous hardship for rural NC. As part of Raleigh's efforts to find a new cash crop, the Biofuels Center of North Carolina was established five years ago, researching, developing and testing a variety of crops biomass crops.
The now defunct Biofuels Center of North Carolina web site
The center closed its doors last week. The General Assembly cut the center's entire $4.3 million budget. In the words of Steven Burke, the centers CEO,
"The center, a growing biofuels community statewide, and companies considering new facilities here share dismay that North Carolina has visibly pulled back from the nation's lead state biofuels agency and from long-term commitment to comprehensive biofuels development." "No longer pursuing advanced biofuels with a focused, comprehensive strategy will lessen opportunity to create rural jobs, strengthen agriculture, and create an enormous biofuels and biomaterials sector."
There's not much that a few thousand science teachers can do, except to be mindful that science is neither fact nor theology. It's a way of looking at the world, observing, hypothesizing, predicting, testing, evaluating and adapting. It is both personal and social, and following someone else's standards for what's to know (to be taught) is as repudiating to what science is as outlawing the results.
I look forward to seeing many of you at the NSTA conference this week in Charlotte. I'll be in Convention Center, Ballrooms C&D at 2:00 on Friday afternoon.
Follow the money. (2012). Retrieved from http://www.followthemoney.org/database/state_overview.phtml?s=NC&y=2012
Surgis, S. (2013, February 7). Climate conspiracy theorist returns to NC legislature, warns of threat from science 'elite'. [Web log message]. Retrieved from http://www.southernstudies.org/2013/02/climate-conspiracy-theorist-returns-to-nc-legislature-warns-of-threat-from-science-elite.htm
(2011). Coastal management policies (House Bill 819). Retrieved from North Carolina General Assembly website: http://www.nccoast.org/uploads/documents/CRO/2012-5/SLR-bill.pdf
North Carolina Department of Agriculture & Consumer Services, North Carolina Agricultural Statistics. (n.d.). Crops: Highs & lows, stocks & storage, biotech, varieties, floriculture, county estimates, fruits & vegetables. Retrieved from website: http://www.ncagr.gov/stats/2012AgStat/Page061_098.pdf
Brenda (my wife) and I are having a continuing "conversation" about photography.  She's a purist, a once passionate photographer in the age of film.  Like many things, she set aside her passion for picture-taking for motherhood.  Yet, she continues to have an opinion about what's good photography and what's…
Bottom line, digital processing of photos is not photography.  She wants the photos to look like photos and the other stuff can be enjoyed by people who enjoy.. well, "other stuff."
I've been trying to figure out how to explain to her the joy I have playing with the photos that I take, using a variety of computer applications, to continue to make the picture – and I think I've found an angle.
It started a while back when I was watching a photography podcast, a session about HDR (High Dynamic Range) (see this previous article). The speaker said that,
"HDR enables the photographer to capture what it was that inspired the taking of the picture."
The more I thought about it, the more sense this statement made.  You see, when I look up this mountain, the house, and the distinct cloud formations above it, I'm struck by both the distance and the closeness, the sheer quantity of ground, covered by giant spruce trees standing before me and the changing hues that all seem eager to claim their place, I am overwhelmed by the awesomeness of it – and I aim and snap.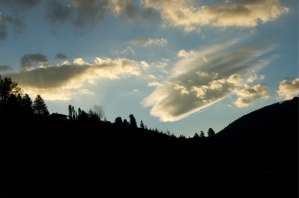 The original photo, where the brightness of the sky and clouds darkens the mountain-scape
Two more exposures, an over exposure (light) and an underexposure (dark)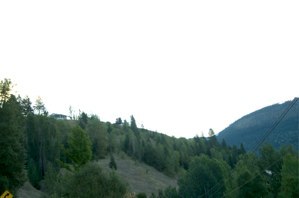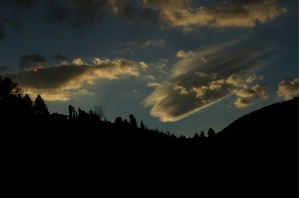 The software combines the three photos, and enables me to bring through the qualities of each that recapture what it was that inspired me to snap the photo.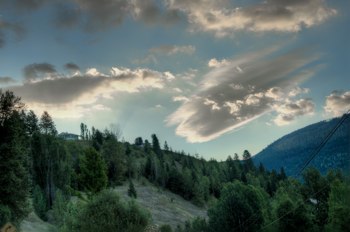 I can even push some of the qualities beyond their reality to make a picture even more interesting, and perhaps more inspiring.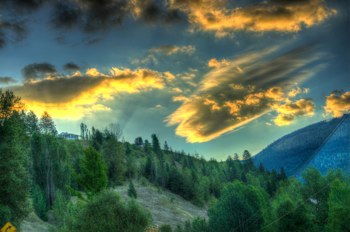 But, when I finally display the photo on my computer screen, it comes out pretty much as it was, though not as I saw it. My mind, you see, saw more than my eyes did.  It saw the multiple distances, the sunlight swimming through millions of spruce needles, the warmth in the clouds and coolness in the mountains' shadows.  My mind amplified the vibrant colors and registered that the scene was only part of a 360º panorama of sameness and diversity.  
My brain made the vision something that no camera could adequately capture, both functionally and technically.
But, when I take three different photos of the scene, at three different exposures, and load them all into my HDR software (Photomatix), I can bring out specific qualities of each exposure, overlap them, bleed them through and accentuate, approaching the vibrance and space that inspired me to aim and snap.  I can also exaggerate qualities creating a surreal version of the image, perhaps making interesting something that simply wasn't to start with.
Now, there's a reason why I tell this story here.  I use to have a bulletin board in my classroom that read, "This classroom is a lens through which you can see the rest of the world," and I meant it.  But there was only so much of the world that I could show my students through 5+ year old textbooks, a 1948 world map, and three cracked chalk boards.  To be sure, there was not a lot more I could have done with more recent textbooks, a brand new map and shiny new white boards.  The purist would say that I was doing my job, and perhaps doing it well.  I was playing my role – educating my students and teaching them skills.
It was also during those first years of teaching that I started paying attention: to the news, to people who weren't students or teachers, to science (became fascinated by quantum physics), to geography (we owned the book, Europe on $10 a Day (now Europe on $85 a Day) and dreamed of summers, vagabonding across the old continent).  I came to realize just how exciting and mysterious and vibrant the world really was, and was inspired to become a better teacher and better lens for my students.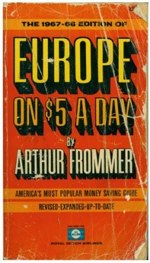 Closest that I could come. It's so hard to find pictures of things that predate the World Wide Web.
But, I couldn't do it.  I went back to the classroom, continuing my traditional role as teacher, expecting my students to sit still, pay attention, and remember.  My passion as a lecturer wasn't nearly enough.
Here we are today, with a new kind of classroom.  Our personal learning devices give us access to networked, digital and overwhelmingly abundant information.  We are no longer teaching from information scarcity.
Are we now teaching in a time when we can HDR our classrooms.  Might we finally capture and share what it was about our world experience, that inspired us to teach.  Might we even exaggerate hues and contrasts and blend colors in weird ways.  Can we make knowledge flow and glow and grow and cause learning to energize our children – rather than steal it from them.
Can we push reality into our classrooms and inspire our learners to become members, participants, and shapers of their future? – and ours?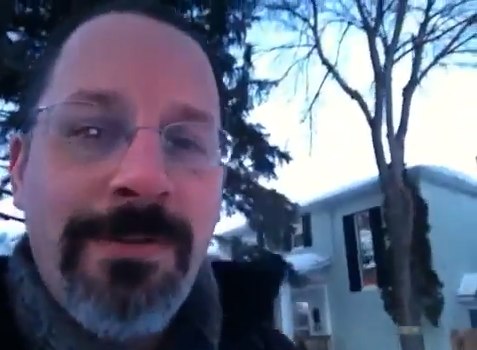 My friend, Darren Kuropatwa, mentioned me in one of his "WhileWalking" video reflections, referring to one of the conversations we had at Educon last week. I love his new reflections series for many reasons, not the least of which is the delightful sound of Canadian snow crunching as he walks.
In that conversation, on the last day of Educon, he told me about how students were using Google docs in preparing their presentations and how convenient it was that Google built in an image search tool that returns only Creative Commons licensed media and even includes citations for the images that can be pasted into the document.
I was less than thrilled about this and Darren, in his reflection, wonders why. He's asking if there is a relationship between my reluctance about Google's bundled services and why many educators resisted their student use of calculators decades ago. It's an excellent question, which I guess is why it occurred to Kuropatwa, while tundra-walking.
There is a very real relationship between the emergence of calculators in the early 1970s and the rise of the World Wide Web, dynamic search engines, and smaller useful information tools like Creative Commons licensers and citation generators. But to understand why I feel Darren's described scenario is, in ways, counter to the mission of education, I need to briefly define that mission, as I see it.

A continuing factor in my own reflections is the fact that from my time as a high school student to the waning years of my career as an educator, the tools for working with information have advanced from sliderules to tablet apps – an astounding revolution in information and communication technologies, from sticks to chips. Our mission is to prepare our children for jobs, lifestyles, tools, processes, problems and goals that we can hardly imagine. We're preparing them for the unimaginable.
I am certain that their lifestyles will be (is) fueled by the daily practice of learning and that the mechanisms of that learning will be constantly and sometimes rapidly evolving.
Many of us were fairly certain that calculators would be a prevailing information processing tool in our students' future, as we know that our children's future will continue to afford them a vast and dynamic aggregation of information – that also obliges them to new and interesting ethical responsibilities.
Each of these advances in information and communication technology warranted a role in our children's formal (and informal) education.
Now, my objection to Darren's scenario has little to do with Google's purported desires to dominate the world of information, or even the fact that Google has made research, production, and attribution easier – as was implied in several tweeted responses to Darren's post. We should probably be concerned about the dominance of one company in any realm of interest, but there's nothing wrong with "easier."
What concerns me is how these tools might be packaged to help children do school work, at the expense of helping them learn to use information to do real work.
If Texas Instruments had created a curriculum-friendly calculator, one designed to help children learn math, as apposed to using math to work numbers, then I might have had the same objections – though I can't confidently speak for the 22-year-old me.
What I believe today is that our children need to be developing a learning lifestyle, with the skills and habits of utilizing a tumultuously shifting and advancing information environment and the unimagined opportunities that an unwritten future provides. This is the mission of education.
Darren has invoked the best word for my thinking, that learning should be be "deliberate," as deliberately authentic as possible.
Kurpatwa, D. (Performer) (2013, February 7). Whilewalking 73: Should we be deliberate?.WhileWalking. [Video podcast]. Retrieved from http://www.youtube.com/watch?