I'm not sure why this photo came up when I search Flickr for Hacker. But it serves the purpose, appearing to be elements of a location, hacked together, probably using Photosynth. (( Valino, Tzu Kwan. "Hall." Smallcaps' Photostream (Flickr). 11 Jan 2006. Web. 7 Oct 2009. <http://www.flickr.com/photos/smallcaps/85423715/>. ))
I see that a few people are blog-posting their sesson proposals for ISTE 2010. So here is the opening description for the session I am proposing. I'll also be delivering this presentation as a luncheon keynote next week for the TEC SIG Fall Meeting in Austin — got to hurry up and finish it.
Cracking the "Native" Information Experience
The ringing proclamation at ISTE 2010 will be "Integrate Technology." There is a lot of value in this mantra, but it is the response of a generation of teachers who grew up without computers, mobile phones, and the Internet. It all looks like technology to us.
To our students, it is merely the road ways of their daily and minute-by-minute travels and the tentacles of their nearly constant hyper-connectively. It is the hands and feet that take them where they want to go. Believing that our youngsters carry their mobile phones around with them because it is their technology of choice is a poor reason to desperately carve out ways of using mobile tech in our lessons. They carry their phones because that is where their friends are — and their is nothing new about youngsters wanting to be where their friends are.
What is new is the nature of their interactions and the culture that they have grown out of their hyper-connectivity. Cracking the Native Information Experience will seek to reach beyond the technology, identifying and exploring the unique qualities of our students' outside the classroom activities. What is the code that makes their video games, social networks, and texting so ingrained in their lives, and how might we crack that code.
The code itself comes from work that I did with a group of teachers in Irving, Texas, a school district that has operated, since 1997, based on students having ubiquitous access (1:1) to networked, digital, and abundant information. In an online collaborative activity we identified and then factored down the elements of their students information activities that seemed to result in active learning, as opposed to the passive learning their predecessors had endured.
Powered by ScribeFire.
I leave today for an eight-day tour that has me in Richmond, Lynchburg, suburban Boston, New York, and those are the ones I remember. What's remarkable is that I do not get on a plane until the last day. Cars, trains, cabs, subways — I love it.
I wanted to add this one thing to my blog before I get back to the one remaining writing deadline I'm struggling with and starting to plan the brand new keynote I've promised for the 1:1 conference in Pennsylvania week after next.
I was scanning through USAToday on my phone and found this article, Eco-games help kids to do good.
The first of three described is "The Greens." Created by WGBH and partly funded by National Geographic Educational Foundation, the site offers 11 episodes (webisodes), "..short video stories -that cover a wide variety of issues about living 'green.'"

Featuring cousins Izz and Dex, the site presents real-life eco issues through the eyes of these hip teens. In the most recent episode called That's a Wrap, Dex unwraps a large present with numerous smaller boxes inside to discover that the sender has given him a small notecard stating that a tree has been planted in his honor. Wryly, Dex notes: "But you have probably used a whole tree with all these boxes and wrapping paper."
Time to get back to work, but look at the article and check out the other two games, "Elf Island," a virtual world where the player is an elf and "Emerald Island," another virtual world entered as animals.
Tweeted yesterday that during a pilot project in Portugal involving 8 and 9 year olds setting up virtual businesses in Active Worlds, they were encouraged to call their avatars, their "toys."
I just discovered a Tweet-reply from VWassessments (Kathy Landerson).
Interesting -in SL -"avatar", in WoW players call them "toons" & have main & alts, in Muxlim Pal -it's ur "pal", in Spore ur "creature" (Landerson)
I wonder how your term for your game puppet affects your relationship with the player identity and/or the player's relationship with the game?  I'm sure somebody's researching that.
For that matter, how does the students relationship with a end product affect his or her relationship with what's being learned — or how well it's being learned?
I always preferred being the race car.
Landerson, Kathy. 11 Apr 2009. Online Posting. Twitter. Web: 13 Apr 2009.
Powered by ScribeFire.
Powered by ScribeFire.
I am still working on this article on virtual worlds in education, an ran across this report from January 26, 2009. According to Virtual Worlds Management, more than 200 youth-oriented worlds are currently live or in development. This is an increase from 150 known youth-oriented virtual worlds in August of 2008.
I pulled the listing into a spread sheet and did a little inquiry. Here are some of the things I found:
38 of the virtual worlds products are explicitely intended for children six and younger.
Two are being developed in Australia, 2 in Belgium, 8 in Canada, 2 in China, 3 in Denmark, 4 in Finland, 2 in France, 4 in Germany, 3 in Israel, 5 in Japan, 4 in Korea, 2 in Spain, 2 in Sweden, 14 in the UK, and 126 in the U.S.
One is in Alpha, 10 are in closed beta, 36 are in open beta, 7 are in concept, and 26 are under development. Most of the rest are live.
"200+ Youth-Oriented Worlds Live or Developing." Virtual Worlds Management. 2 Feb 2009. Show Initiative, LLC. 26 Jan 2009 <http://www.virtualworldsmanagement.com/2009/youth-01-26-2009.html>.
Powered by ScribeFire.
I had one of those singular experiences last night, which, as often happens, began with a simple request to do something that initially sounded simple, from a friend who is far from…
My friend, Kevin Jarrett, with whom I presented last year at an administrators conference in New Jersey, wrote a while back asking if I would appear in Second Life™ for an ISTE event.  Well I can appear in Second Life just fine.  It involves wisps of smoke and thunder — though you can't really hear the thunder.
I agreed, only to learn later that this was a pretty involved, organized, and very well scripted affair — ISTE Eduverse Talks, done through a partnership between ISTE (International Society for Technology in Education) and SLCN.TV, a virtual television network in Second Life.  I knew that this was serious (more serious than I usually plan to be) when they wanted to make an appointment at the studio for a sound check the week before.
Kevin & Me posing for the virtual camera (link)
At least, no one was openly blogging from the front row — though I suspect that there were a lot of stiff left knees (link)
You may be able to tell that I tatoo'ed my virtual face with a picture of my real face.  The nose just doesn't seem to fit well. (link)
Kevin looking sharp (link)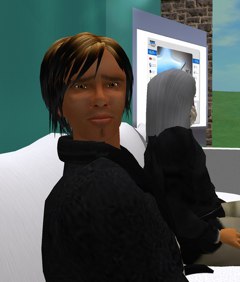 I'm pretty sure that Steve bought his hair. (link)
Not one to keep the fun to himself, I recommended Steve Dembo as another guest for the show, and he took it all in stride.  I, on the other hand, always get nervous when someone says, "You're on   in      '3′    '2′     '1′…"
Steve Dembo with son & Kevin Jarrett at Educon…
Kevin was the host, and I have to say that he looked good in his maroon shirt, white tie, and virtual biceps.  During the event, he, for some reason, wasn't rez'ing on my display, and so all I saw was a gray outline with two glowing eyes — kind'a spooky.
Questions concerned a recent article on personal learning networks (pdf), that I wrote for Learning & Leading, and some of my earliest experiences with virtual worlds, MUDs and MOOs (MUSEs, MUSHes, etc.)  Steve then came in with conversations about his work with Discovery Educator Network and their community building successes.
We closed speculating together about the future of virtual worlds, especially in education.  My take is that we probably haven't imagined it yet — what this is all going to become.  I am convinced, however, that it isn't going to replace anything.
I am also pretty sure that what ever the future holds, it will happen as a result from an intersection between our students' experiences with these worlds out side the classroom, and our experiences as teachers, curriculum developers, and caring, creative adults.  It will happen with our openness to their perspectives.
Tags: warlick, education, technology, elearning, virtualworlds, iste, eduverse talks, slcn.tv
I'm probably a bit late with this, and only have a few minutes, but I got this news release this morning (5:15AM GMT+3) and am very excited about the potentials.  I got the link from MIT Press Journals intern, Johna Picco, announcing IJLM, The International Journal of Learning and Media.  Here is a snipit from the release and a link.
MIT Press, in cooperation with The Monterey Institute for Technology and Education (MITE), is pleased to announce the publication of the first issue of The International Journal of Learning and Media (IJLM). A first of its kind, the journal is devoted to examining the intersection of media and learning in multiple contexts… Facebook | The MIT Press
The first issue includes the following titles and more:
Learning: Perring Backward and Looking for Forward in the Digital Era
Childhood: Changing and Dissonant Meanings
Why Virtual Worlds Can Matter
Let Everyone Play: An Educational Perspective on Why Fan Fiction is, or Should Be, Legal
I cant' wait…  Read it here.
Tags: journal, warlick, digital, elearning, mit
I have right fond memories of my time at the Naace 2008 conference in Torquay, England, this time last year. This is partly because both Brenda and Martin went with me, train'ing through the country side, the day we spent in St. Ives, and the nearly 24 hours we spent learning the subways of London. Then there was the part that was the hospitality of the folks at the conference. Honestly, I felt so far behind where those folks were, not so much from practicality as in the direction and momentum for change for schools in that country.
Last year, the Rt Hon Jim Knight MP, Secretary of State for Children, Schools and Families, presented the opening keynote from Second Life™. I was blown away by the (political) courage involved in that. This year, he'll be interacting with conference attendees via Twitter. I can't help but believe that when our department of education (not just edtech) is interacting directly in the conversations of in-the-trenches educators in U.S. schools, we might, then, start seeing progress and momentum.
Naace 2009 is taking place right now, and I've added Twitter tracking to Hitchhikr. Naace can be followed at http://hitchhikr.com/?id=410.

From the convention center web site
Speaking of U.S. conferences, North Carolina's ISTE affiliate, NCTIES (use to be NCAECT) starts their conference tomorrow, here in Raleigh. I'll be working all three days, and spending the night at home
Keynotes will be Vicki "Cool Cat Teacher" Davis and Meg "Writer" Ormiston. Invited speakers include:
I didn't have to be invited. I'll be doing some of my regulars, a pre-conference workshop on PLNs and my virtual worlds session. However, I'll be doing a new one, called The Foundational Structure for Learning 2.0, and I'm still working on it. Also, for fun, Will Richardson and I will be doing a conversational (unconference) session together, back by popular demand from a similar session two years ago.
NCTIES can be hitch hiked to at: http://hitchhikr.com/?id=408
Anyway, it will prove to be an adventurous three days of conferencing in Raleigh, named for Sir Walter, the great British colonizer, and watching Naace, this year in Blackpool, England.
Powered by ScribeFire.
I'm on my way to Burlington, Vermont, leaving the balmy climes of North Carolina, where it is 20 (-7C). First thing this morning, it was -1 (-18C) in Burlington. I have my furry Russian hat, which I bought about 10 years ago and have only worn three or four times.
I worked with the same Vermont group last fall, talking about contemporary literacy, and left feeling far less than successful. Vermont has some fantastic things going on, and has given more freedom than most to educators who are exploring emerging opportunities. What I remember fondly was the early days of Web 2.0, when there were only a handful of educators who were coming to understand it, and for the rest, it was brand new. It was a sweet spot, where virtually everyone was learning something brand new from you, and they were all learning the same thing.
The sweet spot's gone. When I worked with that autumn audience in Vermont, a significant number of the participants were already familiar with the concepts and many were already using them. I added very little that they didn't already know. There were more who were just beginning their journey toward rethinking their schools and classrooms. But I felt really bad about those savvy souls — until I read their back channel discussions.
It amazed me, and deeply impressed me how they had turned the event into an extremely valuable experience. I know that I learned a lot from their conversation, and was able, I hope, to contribute more through my insertions — after the transcript was converted over to a wiki page.
I was just reminded of a back channeling event I facilitated many months ago, that got hijacked by three teachers who filled the channel with their favorite '80s wreslers. Regardless, the conversation continued as some of the more savvy educators skipped out onto Twitter and even Ustream, inviting even more participants into the room.
It all makes me wonder what this might mean to future, more porous classrooms. As we stop resisting the networks, shielding our classrooms as sealed containers, designed to hold and protect both learners and that which is required to be learned — I wonder how porous classrooms might reshape themselves by the actions of the students. Might, in such classrooms, active differentiated instruction techniques become practically obsolete. Might free learners, engaged in a lifestyle of curiosity, inquiry, experimentation, and construction; supported by professional master learners, make education less an ordeal and more a habit.
All that said, tomorrow will see much more challenging ideas from me … and even more opportunities for back channeling.
Powered by ScribeFire.
PBS Teachers have organized what appears to be a scavenger hunt on Second Life™. The intro reads,

Need a stress breaker or are you stuck in the house due to all the white stuff everywhere? Log in to Second Life and play the Happy Holiday Hunt with PBS Teachers!
Clues will be posted via Twitter, so you just need to follow PBSTeachers. Set up an account on Twitter, if you you do not already have one, login, and then go to http://twitter.com/pbsteachers and click [Follow]. Yesterday's clue was, "Remember the Alamo! More details about this clue at: http://tinyurl.com/8kesdd." Today's is, "This is the only man-made structure that can be seen from space.http://tinyurl.com/9nk4mz."
You can participate in the game by following these instructions:
Following http://twitter.com/PBSTeachers for Grid-wide clues
Joining PBS Teachers Connect in SecondLife Group in-world
Joining PBS Teachers online at www.pbs.org/teachers
Uploading your SecondLife Grid snapshots and related PBS resources on PBS Teachers in Second Life Ning (http://pbsteachersinsl.ning.com/)
Learn more about PBSTeachers' Holiday Hunt at their Ning site at:

http://pbsteachersinsl.ning.com/
Powered by ScribeFire.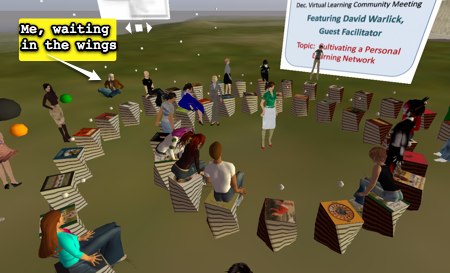 People are starting to show up — that is, avatars are starting to gather.
Last night was interesting — and you know what the old Chinese wise man said.  It was a new experience for me, to present to an audience of Avatars in Second Life, and I want to thank Lisa Perez and the AASL – ISTE SIGMS learning community for the invitation.
The challenges were many for me, as a person who is not exactly at home in the virtual realms.  First of all, the participants were avatars, appropriately dressed and polite (no giant yellow ducks), but puppets none the less.  Now multiply any discomfort by a million when you consider that most of the people who are driving the avatars in front of me were actually out-of-body, experiencing the event from many different angles.  I wondered earlier this morning if it would help to reflect this element of the experience by having ghosts of the avatars appear in varying degrees of transparency.  Although I would have had a more accurate sense of the environment I was speaking into, the spook factor put that thought out of my mind in a nanosecond.
A large part of the event was to be handled as discussion, which was also challenging to me.  The few folks we got on with voice worked out well, I thought, and was especially pleased to have Peggy Sheehy expand on a new blog she is authoring for the teachers in her school.  I do not know how many people were sitting around me, but I found the chat to be advancing to fast to gain any usefulness from it.
Of course, none of this was bad or in any way a barrier to the potentials of virtual environments as learning places.  The communication is different.  It is multidimensional.  The are avenues of dialog that I haven't even explored yet.  I want to do this again, and with this experience behind me, I have a better sense of how to structure things.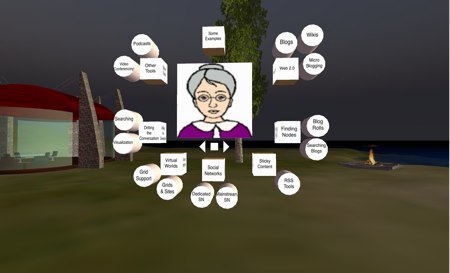 A floating & Interactive Concept Map
For instance, I spent a better part of yesterday morning (and the day before) re-acquainting myself with Linden Scripting Language, a fairly accessible programming language that you can use to design function into the objects you have built.  I've found it useful lately, to include concept maps in my online handouts, as I am coming to depend much less on presentation software in my face-to-face presentations.  I wanted to take that to Second Life, but rather than a static graphical arrangement of signs, I needed it to build as I presented the ideas.  To the left, you can see what it looked like during a trial-run on ISTE Island earlier in the day.
It started with the image of Ms. Coolbeans surrounded by small dots.  As I approached each of the concepts, I could click the appropriate dot, and it would expand into the box or cylinder for "Web 2.0," "Finding Nodes," "Sticky Content," etc.  Once expanded, participants could click the boxes to launch a web page, which aggregated related web sites out of my Delicious account.
I had also figured out how to have each expansion of a box advance the slides in the middle (Ms. Coolbeans being the initial slide).    But I neglected to protect the buttons that came with the free script that I hacked.  So people kept advancing the slides on me, and I eventually ignored them and relied solely on my magnetic voice.  No wonder I didn't sleep well last night.
You have to get swept up into the vortex of this thing to access the content.  Not terribly practical to me, but it turns content into a place, and I think that this has potential.
The best thing I could have done was to have folks break out into logical groups, and Lisa Perez and I discussed the possibilities before people started showing up.  There really weren't the facilities available to do that, making me wish I had acted on an impulse I'd had earlier in the day.  The picture to the right is something that I took several months ago on ISTE Island.  I do not remember the event or even the topic.  But I do remember how the presenter was able to turn his content into place, that avatars/agents had to actually go to.
My wish is to take the eight-legged concept map, and turn it into a building with eight wings.  At the end of each wing would be a room where people could meet and talk about blogs, wikis, and microblogging; or techniques for growing your PLN; or tools for mining the conversation.  If I'd had this, then I could have sent groups of avatars to the various wings to share what they know and what they want to learn.  There could be slides, signs, and perhaps even dynamically aggregated blog postings related to the topic.
I'd like to build a PLN Pavilion.  Does anyone know where there might be some space for this?
Powered by ScribeFire.