I remember one particular week when my daughter was trying to learn the nine types of nouns for English class. She would be tested at the end of the week on her ability to label them in given sentences. Although she was a serious and conscientious student, my daughter struggled with some types of learning, especially memorization. She spent evenings that week, heroically and sometimes tearfully trying to distinguish common nouns from proper nouns, from collective nouns, from verbal, compound, abstract, concrete, countable and uncountable nouns.
Meanwhile, with our attention firmly directed to our her efforts, our son was left to his own devices. He was less academically challenged, but far less serious about school work and spent that week playing a newly-rented video game. Without the manual, he had to trial-and-error himself into the game's dynamics. He failed and succeeded, made observations, formulated hypotheses, tested his hypotheses and constructed a mental toolbox of strategies so that he could play the game and save the damsel or slay the dragon – or whatever the goal was.
That week of watching my daughter struggling while my son played left me wondering, "Who was engaged in the learning that might be most appropriate for their future? Was it my daughter, who struggled to memorize the qualities of nine types of nouns, or my son, who was teaching himself how to play a complicated video game?"
I saw McGonigal's keynote last night, through the din of subdued Bogger Cafe murmurings. It was a fun presentation with lots of useful information, especially the statistics. But I was certain that the last time I saw her, McGonigal had a British accent. I'm old. Forgive me.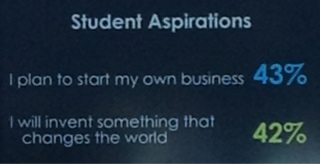 One set of numbers that I thought were especially telling described student aspirations — that 43% of students want to start their own business and 42% plan to invent something that changes the world. Is it the job of formal education to support our children in these aspirations, or indoctrinate them with the harsh reality that they will work for someone else, follow instructions and fit in. I suspect that a lot of the products in the exhibit are designed for the latter.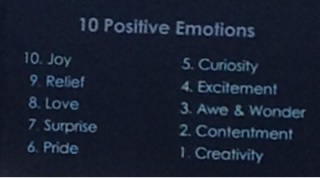 Another compelling part of the presentation was a listing of the 10 positive emotions that result from playing games. Although I am certain that there were many educators in the audience who needed to see that video games are not, necessarily, the root of all evi — I watched the keynote, wondering if Jane McGonigal was speaking to group of game designers, is this the presentation she would be giving? How playing games affects children is useful. But what would truly help me is understanding the mechanisms that evoke those emotions. How do games do it — and how might formal learning experiences pull those same triggers.
Of course, what was most fun was the MMTW, that is Massively Multiplayer Thumb Wrestling. I won't tell you how I did, but it might be my next book.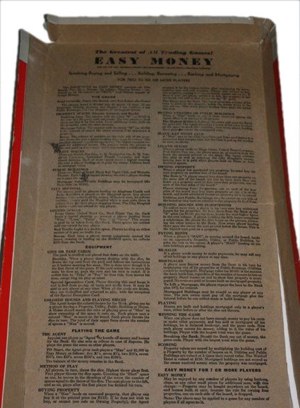 Rules, in game play, are traditionally static — printed on the lid of the box. Is this so in real life? How many innovations are rule-changers?
I had the opportunity last week to participate in a conversation that was arranged by ISTE, exploring some of the potentially pivotal emerging issues in the ed tech and broader education domains. I was asked to go first, as I would not be able to stay long — and was consequently put on the spot, to think quickly, and clearly articulate ideas to some really smart people. So I blubbered something about a niche for some new and compellingly relevant digital and networked learning platform that will so effectively, efficiently, and elegantly facilitate all of the education philosophies that we are all so urgently trying to describe that it will change education as we know it.
Peggy Sheehy, being Peggy Sheehy (and rightly so) intercepted my fumbled explanation, campaigning for games as an integral part of that platform. I understood where she was going, said so, and she acknowledged it — because we've had the conversation before.  But there is a frustrating problem with Peggy's mission.  Most people still see games as play and learning as work — and although many of us have become convinced of the learning potentials of video games  and begun to promote their use, the game is still what happens after the teaching.
Periodically, I'm asked to do a presentation called "Video Games as Learning Engines," which is an introduction to video games (mostly for non-gamers) and an attempt to show how games are actually a form of pedagogy.  Yet, I suspect that what most attendees are actually looking for directories of flash-based educational games designed to help students master their multiplication facts or identify parts of speech. Those games are certainly out there, but they do not interest me.
One of the lingering mysteries that continues to intrigue me, in the waning years of my very long career, is what makes it a game — or more to the point, what makes it fun? ..and can we unfold the elements in such a way that they become handlebars in that learning platform I was trying to describe, from which we can hang more engaging learning experiences for our students.
I guess that a learning platform, integrated with games and play would be characterized by
More
Less
•
Surprise
Predictability
•
Rules that change, can be changed and are inability
Static and constraining
•
Focus on accomplishing personal goals
Focus on achieving institutional goals
•
Frequent, meaningful and empowering rewards
Scheduled, symbolic rewards
For instance, one interesting quality of the games our children play is that they do not require you to learn the rules before you play the game. Learning about roles and rules is part of the playing, and they are often a surprise that has to be earned.  They're a secret. In solving a puzzle or simply exploring, the player finds a magic coin, potion, or relic.  As a result of the find, she is endowed with new powers of flight, invisibility, or speed. The powers are a surprise and they change the rules.
Ewan McIntosh recently described a very simple but explicit illustration of this, concerning a school he is working with in Sydney, Australia.  There is a fairly nondescript and unreferenced book in a classroom that when moved, releases a switch that turns on a light.  Students find it by exploring the environment.  They explore because they expect to find secrets.  It's an example of what McIntosh calls Secret Spaces, one of Seven Spaces of Technology in School Environments (watch the video).
So what if this learning platform held hidden information switches, such that when a student references a particular document in his work, he is suddenly endowed with new powers, an opportunity to visit previously blocked resource or tool, or an invitation to formally explore a topic of personal interest, or awarded points or admin rights to further configure his profile page with options and colors that were not available before.
What if curriculum was an adventure, and learning was the reward?
When I was young I played baseball and football (wasn't fast enough for basketball and couldn't jump with a flip). Soccer hadn't arrived in small town America yet, and rugby was just another word for football, we thought — and we didn't even know that football was just another word for soccer. But I digress.
I played these two sports. I knew their rules and developed skills based on those rules — and played them for years. We also played Checkers, Go Fish, and hours and hours of Monopoly. We learned the rules and played the same rules for the duration of our childhoods. The rules didn't change.
Fast forward to my children, the millennials. My son was telling me about a brand new video game he's purchased. It is another immersive world game with its own set of rules, goals and game dynamics. This particular game is a sequel to another game whose rules he can only deduce since he's never played it.
My point is this. I and my generation grew up playing a highly defined and culture-defining set of games, whose rules stayed constant and stayed with us. My children's generation is growing up constantly learning new games, learning new rules, and achieving new goals. If this observation is correct, what are the implications. Does this contribute to some of the uniquenesses of this generation, both good and bad.
And I wonder if having to constantly cultivate new leaning schemes and communities to adjust to new information environments is exactly the kind of childhood necessary for inheriting a rapidly changing world.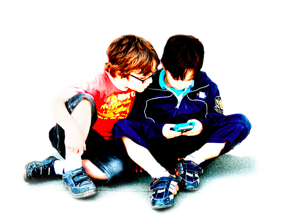 Theme photo from the presentation…
I'm in Eden Prairie Minnesota today opening up a conference whose principal question is, "How do we create a culture of learners that thrive in the 21st century?" I will be doing an adapted version of a presentation that is most often called, "Cracking the 'Native' Information Experience," where I identify and illustrate a number of qualities of our children's outside-the-classroom information experiences. Those qualities are,
That the experience is responsive,
It provokes conversation,
It inspires personal investment, and
It's guided by safely-made mistakes.
This presentation culminates with a set of transformative questions that might guide teachers (librarians and administrators) in creating learning experiences and environments that are more relevant to our learners 'native' information experiences and skills.
I may have posted these before, but I've come to the conclusion that it is perfectly ok to repeat yourself in your own blog.
Classroom Teachers:
How might I alter this assignment or project so that it "Responds" to the learner? How can the experience "Talk Back?"
How might I plant barriers within the assignment that force learners to "Question" their way through — to value the "questions" not just for "answers?"
How can I ban silence in my classroom, provoking "Conversation" with my assignments and projects, expecting learners to exchange ideas and knowledge?
How can I make their learning worth "Investing" in? How might the outcomes of their learning be of value to themselves and to others?
How am I daring my students to make the "Mistakes" that feed the learning dialog?
Teacher Librarians:
How can I make my library "Respond?" How can I make it "Talk Back?"
How might it become a place that evokes "Questions" — not just answers?
How can I ban silence, provoke "Conversation," and expect patrons to explicitly exchange knowledge?
How can I make this library a place that inspires "personal Invest"?
How am I daring my students to make the "Mistakes" that feed the learning dialog — expanding and enriching the information experience?
Administrators:
How does the learning here "Respond" to the learner? How does the learning "Talk Back" to the learner and to the community?
Have my classrooms banned silence? Do the learning experiences "Provoke Conversation" by expecting learners to exchange knowledge?
Are my classrooms places that student "Questions" as much as their answers?
How do the learning environments in my school inspire learners to invest their time and skills for something larger?
How are learners being dared to make the "Mistakes" that feed the learning dialog and how am I a part of that dialog?
Most of this blog post was written several days ago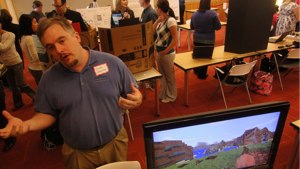 Lucas is explaining how fifth graders are using Minecraft to develop writing skills
This morning, the first info-bit to really start my motors was this Twitter post from

@dwarlick Please elaborate about Pender County and Minecraft. I'd love to hear your opinion on this.
..which resulted from a tweet that I posted from the MEGA meeting at the Friday Institute yesterday.

Pender County's using Minecraft with 5th graders. Why am I not surprised? #ncsu_mega
Pender County is one of the quieter, flatter, more humid and scarcely populated counties in North Carolina. It consists of seven towns, none of which have you heard of, including two beach communities on the Onslow Bay. But they've got some interesting things going on in their schools. I've written about Lucas Gillispie before. He's a young educator and a gamer — and one of a handful of teachers who have been, for the past couple of years, asking, "Might I use this video game experience to reach some of the harder-to-reach students in my school?" Teaming up with New Yorker, Peggy Sheehy, and now others, Gillispie is exploring the potentials of using multiplayer role-playing video games to help learners develop problem solving, collaboration and reflection skills, and to become story tellers.

| | |
| --- | --- |
| | Markus Persson (cc) by Navaboo |
So, at yesterday's MEGA meeting, he had a booth set up demonstrating Minecraft, and talking about fifth graders who are using this tamer (my supposition) video game to develop some of the same skills. For those who are not in the know, and I learned this from my son, Minecraft is currently being developed by Markus (Notch) Persson, a Swedish game developer who left gainful employment to work independently. With proceeds from the hundreds of thousands of paying Minecraft players, he has formed the company, Mojang.
The game is a 3D sandbox-style game where you mine for materials or resources and use them to build stuff. More recent versions of the game involve health points and other game dynamics, but it remains, essentially, a sandbox.
I asked Lucas where this gaming activity belongs in an elementary school, and after giving some really good answers from a rethinking how we do schools perspective, he finally said, language arts. They have only started this with 5th graders, but their plan is to have students play, build, experience the adventures and then write to audiences about those experiences.
Cool!

Pano of one room of exhibits at MEGA Mtg – May 4, 2011
Also, this is my first test of Blogsy, a blog editing app for the iPad. I like it!
Here are some fairly rough notes from a workshop I attended on video games in education, presented by Lucas Gillispi. My comments are boxed and italicized.
On top of everything else that was new to me with this session, I got to operate an Alien computer.
I'm sitting in a session about World of Warcraft, being facilitated by Lucas Gillispie, from Pender County Schools (far eastern part of the state). His blog is EduRealms, where he talks about games and learning. Lucas has worked with Peggie Sheehy, who started with SecondLife and is now exploring the learning that happens in games like World of Warcraft. Their guild in WoW is Cognitive Dissonance.
"Education needs a Cataclysm," he says. There's double entendra here. See this. In the traditional classroom, its about teacher, textbook, and workshops. WoW has built-in resources, fan sites, blogs, facebook, and twitter feeds, WoWWiki (second largest wiki in the world), custom apps, etc.
I wonder how many of those game-resources would work for formal learning. – dfw
In formal education, mastery must occur within allotted "seat time." Achievement is constant in games such as WoW. The traditional classroom is about "No Talking!" In the game it's about collaborating and sharing. Everyone's talents bring something to the team. Slackers will fail and will fail their team. Guilds provide a larger community. Plus the game is differentiated. You choose the style of play (learning) that works for you. "World of Warcraft players crave assessment," rather than dread it. In the traditional classroom, failure is punitive. In games, failure is expected. Failing at a quest means you re-try, as often as needed.
So what makes it engaging. Gee says that its in your regime of competence — hard but doable. (see this summary of Gee's principals of learning.)
So "What if school was more like a game?" Gamification is term being used to make. Look at Epic Win, as a way of turning everyday tasks into a game.
Hmmm! But isn't school actually like a game? Students who do well are not always your brightest and most resourceful, but they're the ones who play the game well. I'd rather suggest that we change the rules of the game, and perhaps even the rule of the schooling game, to include some of the pedagogies of WoW and other compelling and deep games. – dfw
Gillispie and team were recently contacted by a philanthropic organization from Washington state who'd been watching what they were doing through his blog and twitterings. They asked him to submit a proposal for funding for gaming laptops (Alienware). "look kids," he'd told the students, "Here's someone who is paying attention to you and what you are doing."
It occurred to me, then, that Pender County is not, to these students, the same place that their parents grew up. For many of them, it was a padded world that was effectively insulated from the outside world (I speak from experience from having grown up in a similarly rural area.) Because of their experiences with WoW and other networked learning experiences, Pender County is a gateway to a much broader and richer world. ..and that richer world is available to them, even if they choose to always live in their rural community.
The theme of their project is "A Hero's Journey." Students are "Heros," teachers are "Lorekeepers," and grades are "experience points." Interesting that experience points, which are is almost like currancy that is accumulated. You start out your experience with the game as a poor and weak character, gaining in strength and skill, resulting in more wealth.
A question immersed from the conversation that I think was quite important. Why do we not grade our students in the very same way? Why have we not always graded our students in the same way? Why not have grades (or what ever we'd call it) that reflect learners growing wealth of knowledge and skill, rather than measuring discrete sub-knowledge and sub-skills? We couldn't answer that question. – dfw
Here are some of the things they are doing as part of the class:
Character Tweets: Students tweeted from the perspective of non-player WoW characters. They're projecting into another character and determining perspective For instance, there's a girl who wonders a specific road selling bread. What does the world look like to her.
Propaganda/Ads: Students used photo editing to create ads aimed at WoW characters.
Research and argumentative writing: So what would happen if Hobbit characters (which they're required to read) were living in WoW.
Fan Fiction: Writing a story from inside the plot of the game.
Very cool session!
This lady's been pestering me for weeks, leaving voice mails,… I had talked with her once and told her to go ahead and send me links, but no promises. Then, upon getting home from Ohio yesterday, there was another voice mail, and not remember the woman's name or voice, I called back. Tired from a day canceled flights and re-routing, I said that I am not that interested in specific educational video games, or what's increasing student achievement (which I take as code for test performance), nor what Arne Duncan says about what Planet 429 is doing for youngsters in Chicago — but send me the links to your videos again and I'll see if I have time.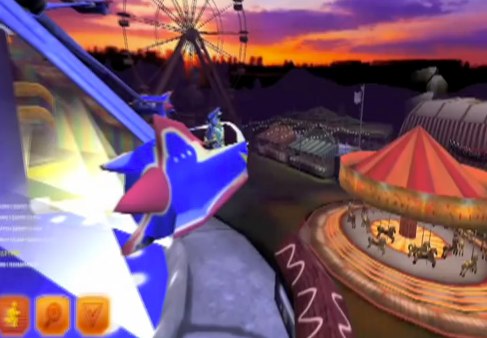 A screen shot from one of the videos. The aliens need help…
Well this morning, I looked and have to confess to being somewhat impressed with what are obviously promotional videos. I was especially taken by some of the phrases from the students, such as "This is education! — education on the edges of your seats."
The basic plot is Worldsplorers, who have come to explore Planet 429, which is Earth. They've landed near a carnival and learners help them with the use of simple machines. The main purpose is reading comprehension, as learners must read messages, signs, and instructions in order to learn to fashion simple machines to help the aliens — using reading as a "working" skill.
It's one of the themes I'm talking about a lot these days, students learning to use reading, writing, and grammar as working skills — not just something that you do for the teacher.
Again, I am impressed with what is obvious promotional materials. More digging would be necessary if you want to explore this product. But even though specific games still do not interest me that much, what I think would be interesting is how this sort of activity will be transferred into the real world. Do we plug our children into these virtual experiences and then unplug them and become satisfied when they score better on the government tests?
How do we transition from these purely virtual experiences into the game of life and authentic accomplishment?
On a similar note, AMD, the Sunnyvale semiconductor company, has awarded $115,000 grant to the Boys & Girls Clubs of America. The plan is to implement Club Tech: Game Tech in a number of cities where members, boys and girls, will create video games for change. According to a MarketWatch article,
The grant supports AMD's signature education initiative, AMD Changing the Game, a program that encourages teens to learn critical STEM (science, technology, engineering and math) skills and become more globally conscious citizens by developing digital games with social content. ((Greenlaw, Catherine. "AMD and Boys & Girls Clubs of America to Offer Game Technology Program to Hundreds of Youth Club Members." 17 May 2010: n. pag. Web. 20 May 2010. <http://bit.ly/8XHC8r>.))
AMD is also providing $60,000 to install four technology centers at BGCA sites in Washington, D.C.; Orlando, Fla.; Bellevue, Wash.; and Sunnyvale, Ca.
This is the sort of thing that interests me, not just helping students to learn skills as working skills, but putting students to work unitizing those skills — from classroom pedagogy, to practical real-world practice.
Photo of Stewart Buterfield taken at Web 2.0 Expo 2007 by Scott Beale ((Beale, Scott. "Web 2.0 Expo 2007." Flickr. 18 Apr 2007. LaughingSquid, Web. 16 Feb 2010. <http://www.flickr.com/photos/laughingsquid/464170886/>))
Mashable featured a fairly long progress review (Glitch: Flickr's Stewart Butterfield Explains His Ambitious Online Game) for a game that is due for launch in late 2010, Glitch. Behind this game's are Flickr co-founder, Stewart Butterfield and other alum, and someone from Digg — forming a company called Tine Speck. This appears to be a return to the gaming world for some of these folks, since the Flickr technology was originally intended to be a feature of an MMO (massively multiplayer online game) called Game Neverending. The photo sharing application proved to be more feasible, and the company scrapped the game. ((Graham, Jefferson. "Flickr of idea on a gaming project led to photo website." USA TODAY 28 Feb 2006: n. pag. Web. 13 Feb 2010.))
Here is a short description of the game posted on TechVibes, on February 9 — Not really intended to whip folks who are my age into a frenzy of excitement.
It's called Glitch because in the far-distant and totally-perfect future, the world starts becoming less and less probable, things fall apart, the center cannot hold, and there occurs what comes to be called the "glitch" — a grave danger of disemprobablization. This results in a time-traveling effort at saving the future, going back into the minds of eleven great giants walking sacred paths on a barren asteroid who sing and think and hum the world into existence and … you know what? You'll probably just have to wait and play the game (( Lewis, Rob. "Stewart Butterfield reveals Glitch." TechVibes. Techvibes Media Inc., 9 Feb 2010. Web. 13 Feb 2010. . ))
What intrigues me about this, or at least my understand of the game (and the initial intent of Game Neverending) is its cross platform nature — and not in the traditional sense.  It's how the game appears to play across a variety of technologies, game systems, web browsers, cell phones, etc. It appears that aspects of the game that might be played via SMS and other mini games that you might play with an iPhone app to build up your avatar. It seems to more closely mimic the real operation of social by players' ability to invite the game into multiple avenues of communication and information processing.
Which brings me around to education. School is a closed environment.  It is as closed as we can get away with. Classrooms are closed. You go to class to learn Math or Science or Social Studies, but the only thing that comes out the door is the textbook, closed and stowed in a bookbag and hopefully the homework assignment, jotted down in a notebook. Science does not flow out through conversations in the hall, on the school bus, between the bookcases in the library, nor even in the Teacher's Lounge (in my experience).
What if there were a way that we could, through a game (and I use that term loosely), cause curriculum to bleed through the walls of our classrooms and even the confines of our campuses? Butterfield says that he wants Glitch to be "as permeable as possibles." That's what I imagine, schools and classrooms that are as permeable as possible, so that learning leaks out — not that we're losing it, but because we've stopped trying to contain it, allowing learning to grow, to network, to fertilize other learning.
Making this work, of course, would be very complicated, and it would take some pretty unique creativity. But I'm wondering about a commercial opportunity, or open source collaboration, to develop a package that overlays a schools curriculum with some sort of ARG (alternate reality game), along with game master instructions, social network plugins, a variety of barcoded clue stickers that can be planted, etc. Seems like some hard-fun learning.
Powered by ScribeFire.
I'm not sure why this photo came up when I search Flickr for Hacker. But it serves the purpose, appearing to be elements of a location, hacked together, probably using Photosynth. (( Valino, Tzu Kwan. "Hall." Smallcaps' Photostream (Flickr). 11 Jan 2006. Web. 7 Oct 2009. <http://www.flickr.com/photos/smallcaps/85423715/>. ))
I see that a few people are blog-posting their sesson proposals for ISTE 2010. So here is the opening description for the session I am proposing. I'll also be delivering this presentation as a luncheon keynote next week for the TEC SIG Fall Meeting in Austin — got to hurry up and finish it.
Cracking the "Native" Information Experience
The ringing proclamation at ISTE 2010 will be "Integrate Technology." There is a lot of value in this mantra, but it is the response of a generation of teachers who grew up without computers, mobile phones, and the Internet. It all looks like technology to us.
To our students, it is merely the road ways of their daily and minute-by-minute travels and the tentacles of their nearly constant hyper-connectively. It is the hands and feet that take them where they want to go. Believing that our youngsters carry their mobile phones around with them because it is their technology of choice is a poor reason to desperately carve out ways of using mobile tech in our lessons. They carry their phones because that is where their friends are — and their is nothing new about youngsters wanting to be where their friends are.
What is new is the nature of their interactions and the culture that they have grown out of their hyper-connectivity. Cracking the Native Information Experience will seek to reach beyond the technology, identifying and exploring the unique qualities of our students' outside the classroom activities. What is the code that makes their video games, social networks, and texting so ingrained in their lives, and how might we crack that code.
The code itself comes from work that I did with a group of teachers in Irving, Texas, a school district that has operated, since 1997, based on students having ubiquitous access (1:1) to networked, digital, and abundant information. In an online collaborative activity we identified and then factored down the elements of their students information activities that seemed to result in active learning, as opposed to the passive learning their predecessors had endured.
Powered by ScribeFire.
keep looking »