I suspect that many more of us, today, travel to distant lands, more frequently, than ever before. So where do we go?
MasterCard has just released its Top 20 Global Destination Cities for 2013. Many will not surprise you, but some, perhaps, may. Here is an infographic that shows the top ten.
It might be useful to ask students to research one of the top cities, and/or the tourist attractions that draw people. Why do we go there? What interests us about them? Is it leisure, interest, adventure, or something else? An interesting research and report project with practical value, producing infographics to convince community members to visit their destination of choice.
Brenda (my wife) and I are having a continuing "conversation" about photography.  She's a purist, a once passionate photographer in the age of film.  Like many things, she set aside her passion for picture-taking for motherhood.  Yet, she continues to have an opinion about what's good photography and what's…
Bottom line, digital processing of photos is not photography.  She wants the photos to look like photos and the other stuff can be enjoyed by people who enjoy.. well, "other stuff."
I've been trying to figure out how to explain to her the joy I have playing with the photos that I take, using a variety of computer applications, to continue to make the picture – and I think I've found an angle.
It started a while back when I was watching a photography podcast, a session about HDR (High Dynamic Range) (see this previous article). The speaker said that,
"HDR enables the photographer to capture what it was that inspired the taking of the picture."
The more I thought about it, the more sense this statement made.  You see, when I look up this mountain, the house, and the distinct cloud formations above it, I'm struck by both the distance and the closeness, the sheer quantity of ground, covered by giant spruce trees standing before me and the changing hues that all seem eager to claim their place, I am overwhelmed by the awesomeness of it – and I aim and snap.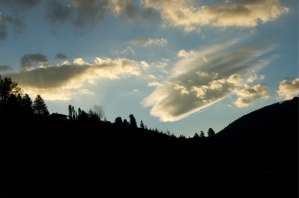 The original photo, where the brightness of the sky and clouds darkens the mountain-scape
Two more exposures, an over exposure (light) and an underexposure (dark)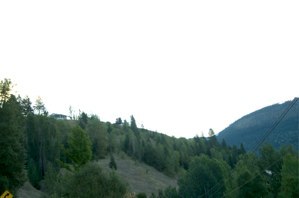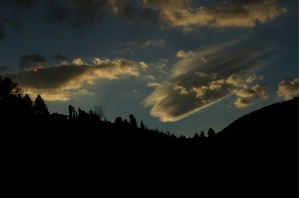 The software combines the three photos, and enables me to bring through the qualities of each that recapture what it was that inspired me to snap the photo.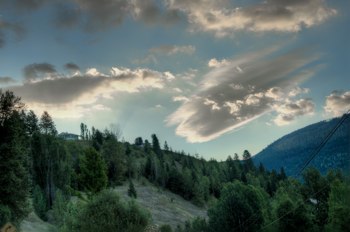 I can even push some of the qualities beyond their reality to make a picture even more interesting, and perhaps more inspiring.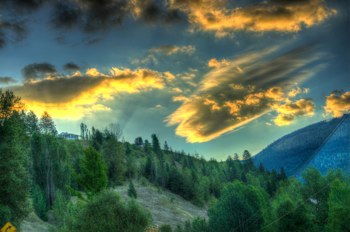 But, when I finally display the photo on my computer screen, it comes out pretty much as it was, though not as I saw it. My mind, you see, saw more than my eyes did.  It saw the multiple distances, the sunlight swimming through millions of spruce needles, the warmth in the clouds and coolness in the mountains' shadows.  My mind amplified the vibrant colors and registered that the scene was only part of a 360º panorama of sameness and diversity.  
My brain made the vision something that no camera could adequately capture, both functionally and technically.
But, when I take three different photos of the scene, at three different exposures, and load them all into my HDR software (Photomatix), I can bring out specific qualities of each exposure, overlap them, bleed them through and accentuate, approaching the vibrance and space that inspired me to aim and snap.  I can also exaggerate qualities creating a surreal version of the image, perhaps making interesting something that simply wasn't to start with.
Now, there's a reason why I tell this story here.  I use to have a bulletin board in my classroom that read, "This classroom is a lens through which you can see the rest of the world," and I meant it.  But there was only so much of the world that I could show my students through 5+ year old textbooks, a 1948 world map, and three cracked chalk boards.  To be sure, there was not a lot more I could have done with more recent textbooks, a brand new map and shiny new white boards.  The purist would say that I was doing my job, and perhaps doing it well.  I was playing my role – educating my students and teaching them skills.
It was also during those first years of teaching that I started paying attention: to the news, to people who weren't students or teachers, to science (became fascinated by quantum physics), to geography (we owned the book, Europe on $10 a Day (now Europe on $85 a Day) and dreamed of summers, vagabonding across the old continent).  I came to realize just how exciting and mysterious and vibrant the world really was, and was inspired to become a better teacher and better lens for my students.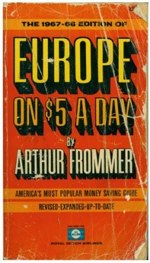 Closest that I could come. It's so hard to find pictures of things that predate the World Wide Web.
But, I couldn't do it.  I went back to the classroom, continuing my traditional role as teacher, expecting my students to sit still, pay attention, and remember.  My passion as a lecturer wasn't nearly enough.
Here we are today, with a new kind of classroom.  Our personal learning devices give us access to networked, digital and overwhelmingly abundant information.  We are no longer teaching from information scarcity.
Are we now teaching in a time when we can HDR our classrooms.  Might we finally capture and share what it was about our world experience, that inspired us to teach.  Might we even exaggerate hues and contrasts and blend colors in weird ways.  Can we make knowledge flow and glow and grow and cause learning to energize our children – rather than steal it from them.
Can we push reality into our classrooms and inspire our learners to become members, participants, and shapers of their future? – and ours?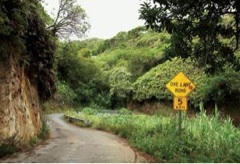 I found this photo on the Internet. I was to scared to stop and take a picture.
I do not believe I have ever, EVER been as frightened as I was yesterday driving between Kahului and Kapalua on the Kahelili Highway. It was mostly one lane, mostly on the side of the mountain and mostly unmaintained – no guard rails. There were yield signs all along the road, but no intersections.
When you encountered traffic, and could find room to let them pass, the wave you got from the driver was that of sweat-on-the-brow relief, especially from folks who appeared to live in the area. What surprised me were the venders tucked back in the hollows, in brightly painted old panel trucks, selling fresh vegetables, fruit and probably industrial grade sedatives.
I got about a quarter of the way to Kapalua, where the rational side of my brain yelled, "Turn back!" But the terrified, knuckles clawing at the lava rock walls said, "Hell No! I'm not going through that again, no matter how far I have left to go." Fortunately, about a third of the way there, it turned back to two lane.
Now that I've read up on the road, I count my self partly lucky and mostly stupid!
Have you ever attended a conference or had another learning experience that haunted you. By that, I mean it lingers, following you, in the shadows, rising in your thoughts at unexpected times, and surprising you with a, "Boo!" What haunts you is that you don't know why. There's a room with a closed door, and the answer's in there. You approach the door, and you can hear people in the audience screaming, "Don't open the door, stupid!"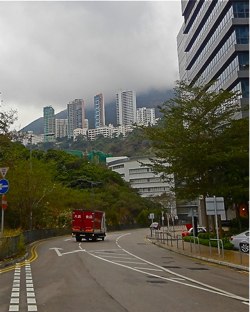 This was the scene outside my hotel. There was a real Emerald City quality to the place.
At this point, I've not opened the door, though it occurs to me that I often find my conclusion when I sit down and write. It may have been a simple combination of the exotic. A mixture of tropical flora, chilly temperatures, steep and forbidding mountains next to the dozens of enormous freighters I watched moving intoVictoria Harbor during my walks between the conference site and my hotel — which was exotic by its own right.
It could have been the attendees, mostly educators from International schools from throughout Asia and even Indonesia. Teacher-adventurers is the best phrase I can come up with to describe these educators who have decided to live and work at the edges of their worlds.
Or was it the other speakers, such as Chris Smith, whom I've known for more than 10 years and whose career has paralleled mine in several ways.  Yet he, an Englishman, has settled in northern Thailand.  Or Stephen Heppell, who is strange in so many ways that simply draw you in. You want to ask, "Did his eyes just twinkle?" And you feel like he has just opened at your feet a sack of toys, playthings you've never seen before, ideas and suggestions that are so compelling that you feel as though you are a beginner teacher again.
Stephen Heppell
Yes! Writing this is helping me to uncover the spook — that and the fact that conference organizer, Paul White forwarded a link to the student performance we all watched with wonder on the last day.
What haunts me is what learners can accomplish in an environment that is unfamiliar, through the tension that is caused when gravity is slightly off center, in a place that seems just a little dangerous in it unfamiliarity and exoticness.
Watch the video, recorded by Chris Smith, and ask yourself, "What if I, comfortable at home and in routine, had to up and follow this."  My spook was that I had to get up and follow these talented youngsters!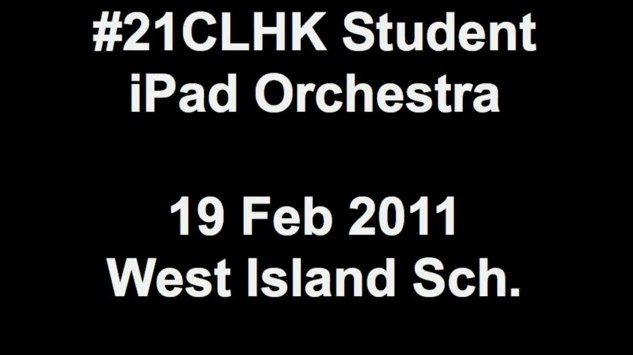 Taken over North Carolina, July 29, 2010
It's like dreaming — so real, until you're back on your feet and navigating your terrestrial world. But when I'm in the air, flying above the clouds, it is a different place, so removed and foreign from the environment that nurtured by growing. I've mentioned before that I was already middle-aged the first time I flew in an airplane.
But I was reminded of the magnificence and beauty this morning, when I slide my pocket Canon's SD card into my MacBook Pro, and downloaded about 40 shots of Chris Lehmann's keynote yesterday (I find I can get at least one good picture when I just lay down on the shutter button and let it go, click, click, click, click…)
I took several pictures of the cloud, from the plane window yesterday as we'd started our initial descent into Raleigh. It was a thunder boomer and there were lots of other thunder boomers in the area, though we had a conveniently clear corridor into RDU.
The sun, which had already passed beneath the horizon was evidently still high enough that it still shown directly on the very top of the cloud, producing this gold crown.
Sometimes I just have to shake my head at what molecules, atoms, and subatomic particles can shape themselves into. It's magic!
It all started with ISTE, and interesting is one of many discriptors that might be applied. I've already said almost enough about the congpference formally known as NECC.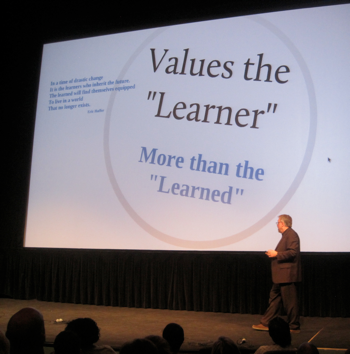 Speaking to school leaders at the NPLI in NYC
After a wonderful week at home, I headed up to New York City for the National Principals Leadership Institute. Here, leadership teams from a criss the US and Canada gathered to talk about leadership and to answer three questions.
how might I describe these times?
What are the imp,ications to education?
what does it mean to me as a school leader?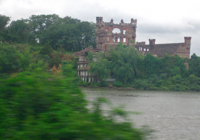 A ruin on the Hudson I was lucky enough to capture from the moving train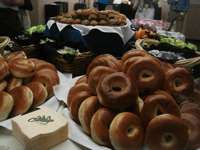 Nothing more need be said here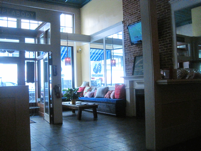 Where I found a delicious pulled pork omelet while waiting for my room at the Peabody
Participants worked in mixed teams, formed by the event staff, spending part of each day loosening to speakers and the rest of the day working together on the questions and the ultimate presentation of their answers. Among others, the institute invited soledet O'Brien of CNN, legal activist Cornell West, and students of local performing arts high schools. The day after my presentation, they were to visit local institutions, including a hospital, police department, and Panasonic, one pf the sponsors of the event.
From NYC, I took a train up the Hudson River to Syracuse, for the Central New York 21st Century Conference, three days of presentations and discussion work. Organized by several of the Onondaga-Cortland-Madison BOCES, the group listened to Ken Kay, formerly of The Partnership for 21st Century Skills, Bernie Trillin, author of 21st Century Skills: Learning for Life in Our Times, Yong Zhao, myself, and Debra Adams Roethke, of Henrico County Schools. The challenge here, for me, was to follow two of the most successful articulators of 21st Century skills and Zhao, who speaks so compellingly and authoritatively about many of the same ideas that I discuss.
Today, I am finally in Memphis, for the Lausanne Laptop Institute, perhaps the premier laptop (1:1) event in the nation and beyond, as evidenced by the number of attendees coming in from Asia, Europe, Africa, the Middle East and South America.
This is one of those very unique conferences, the quality of which I first saw when I keynoted the state ed tech conference (ACTEM) in Maine a number if years ago. It took me months to realize what was different — what that quality was, even though it was really quite obvious. It was a prevailing sense that anything/everything that was being suggested, introduced, taught, or discussed at that conference could be taken back to the schools and implemented.
The educators here to Memphis are coming from schools where ubiquitous access to networked, digital and abundant information is assumed. It is a part of the culture of the school. This is a huge distinction in a world — in a country — where most students are still learning via information and communication technology that was invented in the 15th century, and that's if the budget cuts haven't limited access to textbooks.
- Posted using BlogPress from my iPad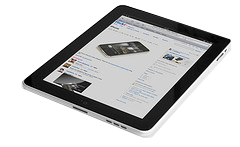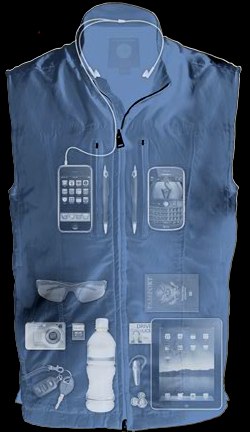 X-Ray View of the Scottevest.
One of the most continuous and vexing conversations that I have with myself is about how I am going to pack for this trip? I learned many years ago not to check luggage. It introduces an uncontrolled variable into the success of my work and an unnecessary addition to the stress of navigating my way from home to job and back.
But what I end out with is an airline compliant roller-board that is so densely packed and heavy that I'm constantly deal with strained elbow from whipping it up onto the conveyor belt at security, and a continuous (and person) quest for the perfect computer bag — one that facilitates the necessities of work and connectedness, yet prevents me from packing the erroneous and weighty devices that I want to take but never get around to using.
I may have found the solution, the ScotteVest. Those who've seen me present may have seen my poking fun at wearable computing — the clear plastic computer jacket from MIT and cell phone that you wear on your fingers. But this may actually be practical, a 22 pocket vest that will carry — well watch the first video.
What's more, it's iPad compatible.
Here are some videos that illustrate the many features of the Scottevest:
So what might we see as the definitive fashion statement at ISTE this year?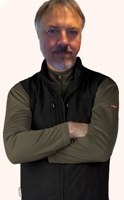 Added later: Evidently, Scott Jordan, of ScotteVest is fairly social media-concious. I started following some of the video links, clicked back to the web site, and found a fairly rich web of social connections, including Facebook, a Blog with associated vlog, a YouTube channel, twitter, LinkedIn, a Flickr site, and MySpace.
What was especially interesting was a video conversation he had with Apple. Jordan upload a video to YouTube demonstrating some of the problems he was having with his iPad. Shortly after he posted it and received a number of comments from viewers who were having the same problem, he was contacted by a tech person at Apple who walked through a few things, and then excused himself saying that he would have to schedule a time to get back and go through the issues in more detail — and would Jordan mind making his video private. He did did, thanking the tech and praising Apple for its responsiveness. He got an email back from the tech guy saying he was having difficulty in scheduling a time and to be patient — and then nothing. Jordan put the video back up along with a followup video bringing us put to date.
I did not follow the thread any further, but it's simply another example of the drama of social media and customer relations that are (and I don't use the term very often) transparent.
Well, my vacation is over. I leave for the airport in a few hours on United Airlines (gear under my arm) for Lexington, Kentucky, by way of Chicago.
It's been glorious to be at home, enjoying salad lunches and evening walks with Brenda, working into a routine, starting a new book (somebody shoot me), and upgrading Citation Machine — bringing both APA and MLA schemes into compliance with the latests editions of their respective writing manuals. I'm going back to the speaking regiment without regrets of having wasted my time off — though we really do need to work in a vacation some where, some time. Dreams of Nova Scotia are falling with the mercury.
Flickr Photo "Melbourne Espresso Book Machine" by Joanna Penn
Just a couple of things I've run across in the last few days. According to a WIRED September 17 article, there are suggestions that we turn Google around and re-print the millions of dusty old books that the search engine company has spent so much time, energy, and argument scanning so that they are digitally available to us over the network. A number of booksellers have purchased their own $100,000 Espresso Book Machine, capable of printing, on demand, a 300 page book with color cover in about 4 minutes.

That means you can stop into the Northshire Bookstore in Manchester, Vermont, and for less than $10, custom-order your own copy of Dame Curtsey's Book of Candy Making, the third edition of which was published in 1920 and which can only be found online for $47.00 used. ((Singel, Ryan. "Google Lets You Custom-Print Millions of Public Domain Books." WIRED 17 Sep 2009: n. pag. Web. 18 Sep 2009. <http://www.wired.com/epicenter/2009/09/google-books-publish-on-demand/>.))
I wrote about a similar practice in February of 2008 (Reading the Old in the Old Ways of Reading) using any of the on-demand publishing services to print your choice of ancients, and are lots of ways of describing this as a long-tail game-changer. But I especially like that this technology can enable local bookstores to compete more effectively with Amazon.com.
In a similar vein, I ran across this September 17 USAToday article, This HP Printer doesn't Need a PC to Print Stuff from he Web. ((Baig, Edward C. "This HP printer doesn't need a PC to print stuff from the Web." USAToday 17 Sep 2009: n. pag. Web. 18 Sep 2009. <http://www.usatoday.com/tech/columnist/edwardbaig/2009-09-16-baig-hp-web-printer_N.htm>.)) I can see several worthy niches for a device like this, but what seemed especially exciting was installing a row of these things your textbook storage room.
<sarc>You simply connect to a specially designed widget produced by your textbook publishers, and with the push of the start printing the very latest up-to-date editions of your currently studied chapter of your state board of education adopted science textbook. If there occurs the discover of a new planetoid orbiting beyond Neptune, then you simply ask your students to toss their chapters on the Solar System and have your school secretary print out new ones. This just makes too much sense…</sarc>
Powered by ScribeFire.
My friend, Janice Friesen, recently spent five weeks traveling throughout the Mediterranean. Her husband is a religious studies scholar, and I assume this had something to do with the trip. As part of the experience, Janice (an instructional technologist in Austin, Tx.) kept a blog describing what they were seeing and learning. Before leaving, she invited social studies classes to monitor and discuss what she was writing.
I've read through parts of it, post excursion, and it's fascinating. The Mediterranean an area of the world that I have only glanced at (Barcelona, 1997), but would love to tour.
What's more, I see this sort of thing as a potentially motivating way to get students to talk about and challenge themselves to learn more about a region — by reading travel blogs. When covering Roman life, the class might read those entries and then generate some questions from what Janice has seen and been motivated to write about. Then, through discussion, the questions can be refined into research tasks and then, perhaps, personal blog writing, about digital tours.
You can read Janice's blog at: http://2009-odyssey.blogspot.com/
Powered by ScribeFire.
Trains are so unpredictable in the South.  My understanding is that the freight lines own the tracks.  So if a freight train comes through, it has the right-of-way, and the passenger trains must move to a side rail and wait.  We were six minutes late leaving Raleigh and nearly two-and-a-half hours late arriving in Washington.  No complaints, though.  Flying could have been worse, and I was much MUCH more comfortable.  Business class — sixty-two bucks.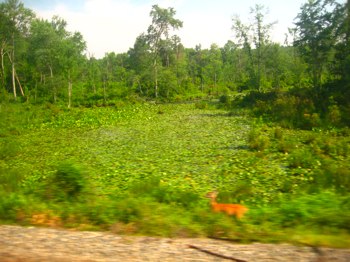 Click the Image to Enlarge
I mostly worked and took pictures out the window, and here's an interesting one.  In northern Virginia, the tracks were bordered by marshes, topped with fresh green lily pads.  I took lots of shots, trying to get a good one, and if you look at the bottom and slightly right of center on this one, you'll see that I captured a fawn.  Not all that unusual.  We see them in our back yard at home near the middle of the city.  But it was one of those iPhoto surprises.
Another surprise was the fairly intense rain (and hail) storm that decided to erupt as I got (walking) a half-mile from the hotel.  Fortunately, I got under an awning with my luggage.  Unfortunately, it was with about six panhandlers.  But after I ran out of quarters, we settled back and enjoyed the occasion.
But I'm here now — and EduBloggerCon starts in just a couple of hours.
Also, I'm trying a web-based blog editor called WriteToMyBlog.  You can see if it works…
keep looking »