At this moment, I'm sitting in my hotel room in Silver Spring, Maryland, and continuing to think #beyondthetextbook. I will likely continue to grow this particular blog entry as the next two days progress at the Discovery Communications Headquarters, just a couple of blocks away.
But right now, I thought I would post some links to blog entries I've written over the past few years on the subject of "what's on the other side of the textbook."
Also, the other day, I asked readers to come up with a simile for the other side of textbooks, "It will be like a…" Here are a few that plucked my imagination.
The TB of the future will be like a..
like a quest
like a production studio
like an extension of our brains
like a reality game
like a video playlist
like swiss army knife
like a personal assistant
like a platform that provokes conversation
like a holodeck
like a choose your own adventure story
like a Palantir
map for a learning journey
like an interaction engine
like a Matrix up-link
like an aggregator that searches and updates content
more like a word problem than a calculation problem
More to come!
I have been invited to participate in Discovery Education's Beyond the Textbook Forum.  I feel quite honored, especially as I've scanned the names of other folks who are attending.  It will be a special treat to spend some time with Steve Dembo and David Jakes, two talented thinkers and conference speakers.
One thing that struck me about this event is the title.  When talking about my dissatisfaction with print-based textbooks, I often ask, "What will textbooks evolve into?"  This implies some assumptions, that textbooks, as we know them, will simply morph into something else that acts like a textbook.
The title of this event seems to be asking what the other side of textbooks might look like — and the opportunity of this wide open idea fascinates me.
We've been assigned to use our blogs and Twitter to solicit from our readers some ideas about what we might find on the other side of textbooks.  As a teacher, I need a simile.  I need to be able to say,
"The learning device(s) that our learners will walk into their classrooms with will be more like a ________________.
So, if you don't mind, would you think for a moment about this task and fill in the text box above with no more than 150 characters that complete the sentence. You'll notice that I've changed your question a bit, "..will behave more like a…"
If you would like to expand on your thoughts, please feel free to post a comment.
Added at 12:17 PM two days later – Here is a word cloud from the similes that have already been posted.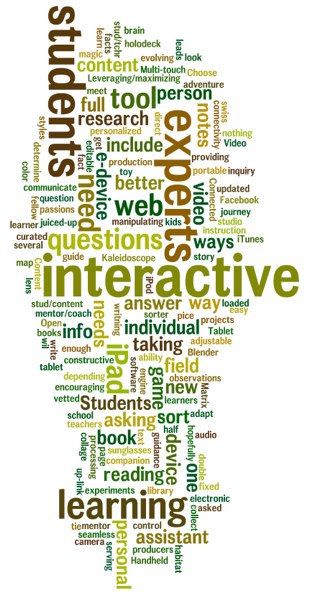 A couple of weeks ago, I started a blog post recalling a course that I once took as part of my Masters degree. The 1992 course was about developing applications using dBase (look it up). The buzz in tech circles at the time was about Gopher, Veronica, FTP, and something brand new called the World Wide Web. The course was mostly programming – and I loved it. I suspect that many of my classmates (mostly educators in the same degree program) were not so thrilled nor the least bit interested in programming.
The gist of this story concerns the final exam.  A couple of weeks before the end of the semester, I sent an email to the professor suggesting that real programmers, as they worked, almost certainly did not rely on memory alone. They had reference books open on their desks so that they could look up various obscure coding options and syntax that might help them solve problems peculiar to the task at hand.
"Shouldn't we be tested the same way, with the book open on our desks?"
He bought it, announcing at our next class meeting that, "Thanks to Mr. Warlick's suggestion," the exam would be open book. "Cheers!" He added that he was changing the exam appropriately. "Silence." I suspect that some of my classmates felt more confidence with the memory of the solutions to problems they had studied.
I got my "A."  But it occurs to me now that the difference between the exam given and the one intended, was that we ended out not being tested on what we knew – that is to say, just what we'd been taught.  Instead, it tested us on what we could do with what we'd learned.
I initially intended for this story to promote open book or open content learning. But I want to come at this from a different angle, owing partly to several pre-Educon blog articles I've recently read.  You see, if I were to take the originally planned dBase test today, under the originally intended conditions (memory only test), then I would fail it miserably — and I would probably be none-the-worse for the knowledge I'd lost.
However, if I were to sit down and take the test the professor actually administered, with appropriate reference materials available to me, I would probably do respectably well — even 20 years later.
My point is this. What should we, as educators, really care about? Is it just what students can recall at the end of the year or the course? or is it what they can do and whom they will be 20 years later?
If it's the long haul that we are about, then I wonder, as we write our final exams for the students in our class – or end-of-year state tests, shouldn't we be willing to ask ourselves, "Can I reasonably expect these children to be able to pass this test 20 years from now?"
If the honest answer is, "No!" then we're just playing a game.
…Posted using BlogsyApp from my iPad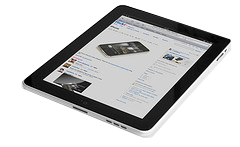 After keynoting the recent SchoolCIO Leadership Summit and then facilitating their "Digital Content" discussion cadre, I was asked to compile some of the highlights of our case studies and conversations into a 100 word scenario for the SchoolCIO Magazine's followup articles. The word limit made the task feel like a job.  But it is in that sort of efficient deconstruction, reflection, and reconstruction process that we gain new insights — that I learn.
One of the linchpin moments of the recent SchoolCIO Leadership Summit was when one of the attendees, in a rather off-handed remark, said — and I paraphrase:
We should not simply be transitioning from print to digital content.

We should be facilitating a transformation from an old and obsolete way of teaching and learning to a new and more relevant way of preparing our children for their future.
This remark brilliantly packaged a lot of the issues that had been struggling with for quite some time.  It suggests that we take a step or two back and shift our focus away from a new device for content delivery and refocus on something much broader and suggestive of how the game is changing.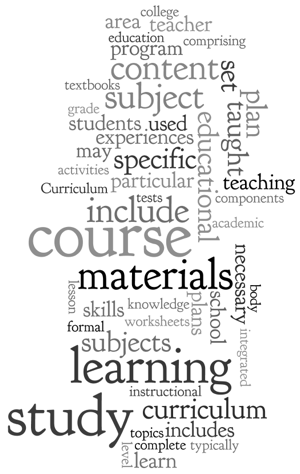 A 50 word cloud, generated by Wordle, compiling more than 20 definitions of curriculum from the Internet
The word Curriculum comes to mind as one way of labeling this broader view. Admittedly, the word is fairly slippery, already having different meanings to different people — even among professional educators. Formal definitions range from a zoomed out departmental view, "..the subjects comprising a course of study.." to a closer micro perspective, "..a predefined series of learning events designed to meet a specific goal." Scan the word cloud to the right.
But as I worked through my notes from the Summit, struggling with the language for my scenario, it occurred to me that a precise and universally accepted definition of curriculum simply has not been very important. Teachers had the textbook; a physical, reasonably durable, easily understood (and operated), dependable, and trustworthy tool that was carefully designed for instruction by experts. We had a practical point of focus that rendered curriculum, as a term, lighter than air, floating to a high and misty place, where its Latin lineage evoked a classical aura to the profession. At least that's the way I see it.
Today, the textbook, consisting of printed pages glued or sewn together and bound in covers, is obsolete.  I believe that its role as the central, dominant, and trusted tool for instructional delivery is been based on a myth and is equally obsolete.  Our information landscape has morphed into something that is larger, more dynamic and vibrant, highly personal and yet broadly shared — and almost entirely unforeseen.
This new info-environment has radically changed how we learn.
Therefore, it must also radically change the practices of teaching and the institution of education.

This is the last book that I bought in order to learn to do something (2000). Today, the idea of buying a book to learn a new programming language seems ludicrous. If we're not buying textbooks to learn after school, then why should we force them on our children's learning?
As the textbook (in the form that I used it in the 20th century) declines, becoming only one optional component of an expanding and shifting array of resources and opportunities, the role of teacher will change.
This notion of  crafting learning experiences by orchestrating webs of content, tools, opportunities and connections implies a broad, partly informed, partly intuitive, and largely personal act of crafting curriculum. It happens as a result of education; experience; professional conversations; research; information resources, tools, and skills; a connection to the community; a genuine caring for children and their self-fulfilling future success; and a professional obligation to be a constant learner and model that practice.
This vision of teachers as curriculum curator is inconsistent with a central and arrogantly authoritative blueprint for everything that learners need to be doing for hours, days, and years of their childhoods and youth.
Curriculum should empower learning, not merely guide and filter teaching.
By relying on teacher currated curriculum over state-adopted textbooks, the transformation we may well see is a shift from classrooms of compliant students to environments of skilled, resourceful, and habitual learners.
…Posted using BlogsyApp from my iPad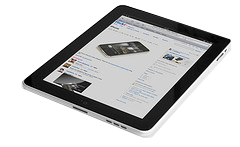 ---

I spent Monday this week in Allen, Texas, just north of Dallas. It was with the Lovejoy ISD and I was the kickoff for their beginning of school professional development, which will include Daniel Pink and other icons. By the way, it was the best thing about being named one of Technology & Learning Magazine's Big 10 this year. While there are a thousand other ed tech folks who would be at least as appropriate on that magazine cover as me, I now have my own iconic Caricature. (see right)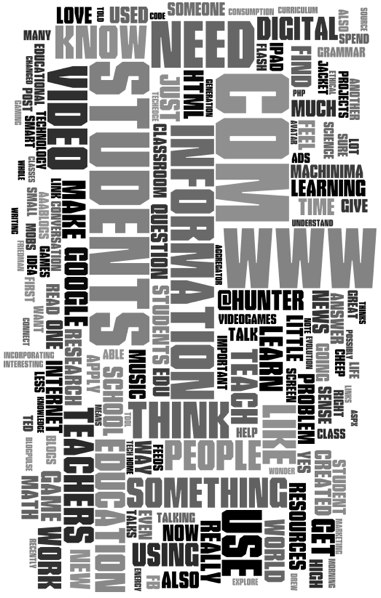 Word Cloud from Blackchannel Transcript
I've just finished going through the very lengthy
backchannel transcript
from my day in Texas and it was a long and action packed sequence of comments. It always is when there are youngsters in the audience. One young fellow, a rising high school freshman, came up during one of the breaks and told me about how he had become fascinated by the auction houses in
World of Warcraft
and found himself researching and learning about macro and micro economics. I asked the audience of mostly teachers when they learned about macro and micro economics. Unanimously, it was college.
But the main thing I'd like to comment on here is a backchannel statement made by one of the teacher participants. He or she wrote in reference to a brief discussion about digital textbooks:
The digital textbook will be the learning management system (spelling corrected)
I have no argument with this statement. I believe that the digital textbook (digital curriculum) will have some elements of learning management and that it should. However, as a guiding definition, this approach concerns me. It seems to me that a much more inclusive and innovative approach is to say,
The digital textbook will be a learning empowerment system
It's part of a theme, "control," that came up several times during session discussions, backchannel, and during conversations I had at lunch.  Self-righteous complaints abound, that teachers just want to control the classroom.  But let's get it straight. When teachers are held accountable to a highly itemized and defined set of instructional standards, then there is a legitimate need to manage (control) the learning in productive ways. In my opinion, however, managed learning is not in the best interests of todays children who live in rapidly changing times. Empowered learning and the freedom to "do" with their learning seems, to me, to be a much better approach as we redefine the tools and environments for formal education.
I proposed a conversation for the EduBloggerCon last Saturday, part of ISTE 2011. The title was something like "How Might Social Media/Networks Help to Redefine the Textbook?" From the digital votes that it got prior to the event, I'd assumed that the conversation would not make the cut, and so I did not finish up the Google Forms activity I had planned for kicking off the conversation. So I was surprised not only that it was scheduled as one of the first conversations, but also scheduled to be repeated during the afternoon. Someone made a mistake!
Anyway, I was able to hobble together the Google Forms activity, thanks to the immense patience of my un-audience, which resulted in this blog post of a few days ago.
The state of the textbook is such a huge and timely topic that I was not able to focus the conversation specifically on the implications of a next textbook's socialness. But one issue that did emerge in both conversations what what we call future textbooks, that aren't books? It's always seemed like a trivial issue to me, because the English language is full of terms that no longer apply directly to their original meaning. For instance, the word manufacture use to mean to make by hand.
One likable idea came out of the afternoon session from a teacher who uses Moodle as the basis for her classroom instruction. She calls it her digital curriculum. I like it because it describes what we're talking about in a way that leaves nothing out — though the otherwise useful term, digital, is somewhat limiting.
What I like most about this concept of a teacher designed, produced, and maintained assembly of resources and tools is that there is little that's new about it. I have never asked the question before, but suspect that if I were to ask an audience, "How many of you do not use textbooks in their classes?" a significant number of hands would go up — and even more if I were to ask about their textbook being merely a supplement to the teachers collected curriculum.
There are two problems here, however, one of which I didn't get a chance to ask during the unconference, and the second occuring to me on a few minutes ago.
Number one, what about the first year teacher? For how many of us was our textbook the life raft that saved us from drowning in the unexpected complexities of our first couple of years of teaching? This was certainly true for me. ..and somehow, using somebody else's digital curriculum might not hold quite as much air as an industry structured hardcover-bound curriculum (textbook).
I often suggest to higher ed folks that their job is to prepare future teachers for the first five years of their career, and to make sure that they have the contemporary literacy skills to continue to self-develop within their profession. A significant and pivotal part of this might be the construction of their first year digital curriculum, something that they can carry with them into their job interviews.
But this solution, in itself, causes the second problem. You see, never again, could a principal meet you, a seven-year social studies teacher, in the mail room, two days before the students arrive for their first day of school, and say, "Mr. Warlick, I've got you teaching 8th grade math this year."
You see,
a teacher,
carrying a self-made digital curriculum,
is a powerful thing!
A Kevin Jarrett Photo of Elizabeth Davis
Several days ago I submitted a proposal for an EduBloggerCon unconference session asking how social media and social networking might help to define digital (next) textbooks. To help seed this conversation I asked folks, via Twitter, from the train on Friday, to share some defining characteristics of old paper printed textbooks. As the responses flew in, I combined and edited them into more positive descriptions such as standards aligned, focused, unbiased, durable, etc.
Next I created a Google Form survey that asked unconference participants to read a characterization statements about old textbooks and write in comparative characterizations of next textbooks. For instance, if Old textbooks are NARROWLY FOCUSED then Next textbooks are…
This morning I culled through the responses, mixing, matching, and editing them together into a defining set of comparisons.  Admittedly, this listing reflects my own biased sense of where textbooks are going.
Old Textbooks
Next Textbooks
•
Old textbooks are STANDARDS-ALIGNED.
Next textbooks will be synaptically aligned to the learning needs and experiences of their users.
•
Old textbooks are CENTRALLY-AUTHORITATIVE.
Next textbooks will establish authority as part of the learning practice.
•
Old textbooks are SAFE & COMFORTING.
Next textbooks will demand and provoke new learning (and teaching) through surprise.
•
Old texbooks are STABLE.
Next textbooks will be fluid, dynamic and ever adapting to learning experiences and shifts in the world, about which we are learning.
•
Old textbooks are ERRORLESS (error ignorning).
Next textbooks will admit errors and will socially self-correct.
•
Old textbooks are NARROWLY FOCUSED.
Next textbooks will be broadly focused through logical and interdisciplinary connections and by adapting to the behaviors of their users.
•
Old textbooks are UNBIASED (self-proclaimed).
Next textbooks will admit their multi-bias, and will invite and share reader interpretation.
•
Old textbooks are PERSONAL/ASOCIAL.
Next textbooks will invite and facilitate conversation and, in appropriate ways, adapt and grow through the conversational behaviors of their users.
•
Old textbooks are MANUFACTURED.
Next textbooks will be co-created, cultivated, and grown by learners and master-learners.
•
Old textbooks are DURABLE BY THEIR RESISTANCE TO CHANGE.
Next textbooks are durable by their adapting flexibility.
•
Old textbooks are HEAVY.
Next textbooks will weightlessly make themselves available to any learner, anywhere, anytime.
•
Old textbooks are VISIBLE.
Next textbooks will glow, grow, and flow, seamlessly reflecting the world through the eyes of a learning community.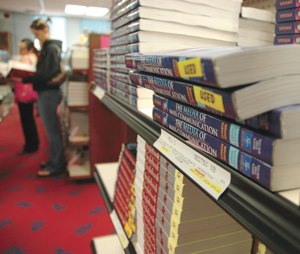 Earlier this week, I wrote about a guest-authored Mashable blog post, 6 Reasons Tablets Are Ready for the Classroom. The author, a representative of McGraw-Hill, seemed to be saying (and these are my words) that perhaps the textbook industry is ready to go tablet (digital) — the fact of which I am not so sure. In my post, I critiqued the six reasons and I also engaged a bit in comments discussion at Mashable — and I took a bit of heat for suggesting that the textbook industry may actually be a useful part of the formula for textbook 2.0. But let me accentuate the "may" part of that statement.
Yesterday, Mashable author, Sarah Kessler, wrote "The Case for Making Online Textbooks Open Source," where she drew attention to programs at MIT and Carnegie Mellon that post lectures and other course materials online for free. She also shared an infographic (not linked) that compares the cost of traditional textbooks to open source course materials. (More about the Infographic, and its authors below — and don't miss that part).
Kessler also described two barriers to the success of open source textbooks. She wrote that
..textbook authors must agree to have them distributed online without charging royalties — something that may work well in the software world, where engineers often work on projects while keeping a day job, but typically avoided by writers who put their sweat equity into one book at a time.
The question this raises in my mind is, "How many authors actually make a living as authors, doing it as a full-time job?" I suspect that the number is quite low, compared to the totality of books continuing to be published today. Most, like myself, write in order to subsidize our incomes and/or enhance our day jobs. It's something that we do on the side, like a number of my college professors who wrote their own textbooks and had them stocked in the college bookstore for us to buy.
Kessler continued that
..books for K-12 classrooms must meet state standards, and most states don't have procedures in place for approving open source textbooks.
OK, Why? Why do states have to approve textbooks? I know that part of it is to assure quality with regard to the state' educational objectives. But I thought that at least in part, it was about the ability to buy in bulk and negotiate discounts? Am I wrong?
If i am not wrong, and the word "free" is inserted into the formula, does the need for bulk purchasing go away. And if quality is the issue, why do you need to create a system for evaluating instructional materials at the state level, when a system is already in place — teachers. Why can't we trust teachers to select the instructional materials they need for their learners in their classrooms?
Here are six reasons why we don't need textbooks.
We have the Technology (still shamefully inequitable)
…and I'm not just talking about iPads. Many teachers tell me that they have completely dropped their textbooks, replacing them with their ever evolving and growing Moodle or Blackboard sites. This makes a lot of sense to me — textbook as platform to be populated by the very teachers who will use them. Does such a platform already exist? Please comment.
We have the Content
What textbooks do is to take knowledge, that's written someplace else, and present it in a way that satisfies the needs of the consumer. Can't teachers respectfully and with regard for the law select, shape, mash and mix existing digital content into modules or learning objects for their learners. Might we even see commercial modules, produced by what use to be the textbook industry, that can be selected and purchased, for a nominal fee, from an app store style of content market place.
We have the Expertise
…in every town and every school and classroom. Out of a hundred high school teachers in the U.S.,

only two has less than a bachelor's degree.
52 of them have at least a master's degree.
53 of them have taught for at least 10 years and
24 of them have taught for more than 20 years. ((United States. Percentage of public school teachers of grades 9 through 12, by field of main teaching assignment and selected demographic and educational characteristics: 2007-08. Washington: , 2009. Web. 20 May 2011. <http://nces.ed.gov/programs/digest/d09/tables/dt09_070.asp>.))

That is an enormous reservoir of knowledge and experience.

We have the Environment for Community
No one needs to do it alone. It's not open source because it's free. It's open source because it's free to be improved — by a community. Many programmers have contributed to the development of Firefox, and many more have developed extensions that add new functionality. Following the same model, communities of teachers can contributed well researched and carefully designed modules for portions of their curriculum (or standards if you insist) that they know well and about which they are especially passionate. Then they can collect models from other teachers and assemble them into the platform, constantly re-evaluating the materials, editing them, adding new ones in, deleting old and less effective ones out.
Learners should be a Part of the Process
How many of us assemble our own library of digital resources (bookmarks) and make the curation of that library a part of our working process? How many of us do it well? Might content curation become a 21st century skill that learners should be developing as part of their formal education? Should students be guided in growing their own digital textbooks into personal digital libraries?
And It's about Basics
— reading, writing, and arithmetic. But I'm thinking of an expanded version that reflects an increasingly networked, digital, and info-abundant world. Do textbooks, from the bookstore reflect today's prevailing information environment? No! But do digital textbooks, that are stamped "Approved" by some government agency, reflect an increasingly dynamic information environment and rapidly changing world any better? I think not! Teachers should be collecting, evaluating, editing and assembling their own textbooks, because it requires them to practice and talk about the contemporary literacy skills of a digital and networked information landscape — in front of their learners.
And finally, that last one, number six, brings us back to the Infographic. Here's the url (http://goo.gl/2ICIE) to the graphic. I'm not linking to it and you shouldn't either. The graphic compares the cost of various configurations of textbooks and the savings of going open source. But as I examined the graphic, I began to get that irritating twitch that happens when what I'm reading seems to be trying to convince me of something rather than inform me. The numbers were rather precise, but there were no sources given. At the bottom was the statement, "All data based on current averages" and a list of web sites, none of which seem to include the data displayed on the graphic. Doing some URL disconstruction, I got out to the hosting web site, Onlineschools.org (ols), and that domain, onlineschools.org, seemed familiar.
Doing more digging, I found a comment, in the original Mashable blog post by Canadian teacher David Wees linking to this blog post by California educator Dan Meyer's. In the blog post, Meyers uncovers how ols uses infographics like this and lists of the "100 top teacher blogs" or "100 top Administrator Blogs" to get bloggers like me to link to them, getting ols to the top of Google searches performed by people who are looking to get degrees without classrooms. This way, ols gets to becomes a link in the cash cow that online education appears to have become, and sometimes with the help of fraudulent practices. So don't link to ols, and do link to Dan Meyers.
If you have other resources or ideas regarding the evolution of the textbook, please comment.
I caught this guest-posted blog entry in Mashable last night, as I was taking one last look at my Flipboard on my way to bed. ..and I typed a reply to a comment that was rather more terse than it should have been and that typically is my nature. But the issues are so important to me, that I thought I would post a longer response here.
The guest author was…
Vineet Madan is Vice President of McGraw-Hill Higher Education eLabs, which works with colleges and universities, professors and students along with technology partners to develop innovative, cutting-edge digital educational tools to improve the way instructors teach and students learn.
After citing an Apple oriented blog post on the success of Reed College's iPad pilot (here is a link to the FastCompany article), Madan posed the question, "As we wrap up the first post-iPad school year, do we know enough to make the "fad, fail, magical" call? ..and gave six reasons why his answer is, "I think so."
"1. Tablets Are the Best Way to Show Textbooks."
Flickr (cc) photos from the Stanford EdTech
My initial response to this "reason" is, "Well yeah!" From a textbook publisher's point of view, computers are far superior in their delivery of content when you factor in audio, video, and the ability to digitally highlight, annotate, and directly access a dictionary. This all looks great on the exhibit hall and works well in the classroom. But the mere delivery of content is an extraordinarily and dangerously limiting lens through which to seek the ideal learning device.
"2. Classrooms Are Ready for Tablets"
In my opinion, Madan did not make an effective case here, as evidenced by this comment on the Mashable blog post
..everyone knows that people will do inappropriate and not school related things on the tablet.
From the author's argument, the reason should have read, "Tablets are ready for the classroom," and I couldn't agree more. But a classroom filled with curious minds and practically unrestricted access to a web of content and connections to each other is an entirely different place from what most instructors are accustomed — and restricting access to content and conversation are the antithesis of modern learning.  So I would say that many, if not most, classrooms are not ready — and this is something that we need to fix very quickly.
"3. Tablets Fit Students' Lifestyles"
The argument here seems to be that students are lazy, weak, don't like to pay attention, and shouldn't rely on classmates to support their learning. But that said, I agree with the reason. Our learners in, while outside the classroom, are accustomed to rich, responsive, provocative, rewarding, and forgiving information experiences that practically define pedagogy. Learners should be engaged in similar experiences in their more formal learning environments.
4. Tablets Have the Software to Be Competitive
The more bristly part of me wants to dissect the meaning of <em>competitive</em>.  But instead, I will admit that I am not nearly knowledgeable enough about the vast array of apps available for iOS and Android devices.  My sense is that we still have a long way to go, and simply acknowledging that an iPad will work with Blackboard misses the far more interesting question.
Can Blackboard adapt to and leverage the potentials of a mobile learning landscape?
5. Tablets Integrate With Education IT Trends
It is true that tablet computers operate well within the cloud computing environment that seems to be emerging on many college campuses and increasing in the K-12 arena. But the question remains, are those cloud environment empowering learning and merely facilitating teaching? This may seem like a senseless question, but it isn't.
6. Tablets Are Becoming More Available
This is probably true, if the iPad is the fastest selling gadget of all times. I must admit some surprise at the number of iPads I see at conferences, especially events for school and district administrators, and the device is barely a year old. But this is a non-issue to me. It isn't education's job to wait for availability. If mobile information and communication technologies are the most appropriate platform for preparing the next generation for their future, then it is education's job, and the job of the society that employs it, to assure that those ICT's are there — regardless of budget constraints.
I was too harsh in my comment last night. I seemed to completely dismiss the textbook industry, and that was unfair and unfortunate. I believe that we need their expertise and even their incentive to help reshape teaching and learning. But our efforts must not be limited to trying to make textbooks digital. Instead, we need to learn how a digital learning environment redefines and completely reshapes the textbook in a way that reflects how today's environment is redefining what it means to be educated.
Education, as we most often see it, is designed to teach students how to be taught.  Today, being educated means having a broad and effective sense of the world, how it works, and its heritage.  But perhaps even more importantly, being educated requires the learning literacy skills involved in living a learning lifestyle — having been taught how to teach yourself.  Textbooks need to be platforms for generating curiosity, passion, and habitual learning.
NPR calls him an education "technology leading light." Some who know Gary Stager might rather call him an education "bold of lightning," inspiring some and irritating others. Regardless, what ever Gary says, we listen to it — and National Public Radio (NPR) was listening yesterday.
The issue was India's recently announced $35 Tablet for Education, and NPR heard it when Gary tweeted…
Newsflash: India invents schools so its children have a place to store their useless "$35 laptops." #vaporware ((??Stager, Gary. 24 Jul 2010. Online Posting to Twitter. Web. 29 Jul 2010.))
Contacting him as a source for his story (A $35 Tablet For Education? Cost Isn't The Only Factor To Consider)?, NPR contributor, Wright Bryan, asked Gary to expand on the tweet. I'll let you read what he said in the article, which is pretty much what his readers would expect when a fully charged Gary Stager faces any initiative that short-changes learning for the sake of being able to say, "Look how we're advancing education so cheaply."
I want to point you to a part of his statement that really nailed it for me. This short paragraph shows why Gary is so much more of a contributor on Twitter than I am — he can put in a few striking words a quality of ideas that expand my own thinking regarding topics that take me an hour to express on a stage.
He says that a computer,
..especially if it's the only one we can be sure they (students in India) have access to, must be capable of making the poems, musical compositions, movies, radio programs, simulations, video games, scientific breakthroughs and acts of civic participation that we know children are able to create with the right software, support, time and high expectations. ((?Bryan, Wright. "A $35 Tablet For Education? Cost Isn't The Only Factor To Consider." All Tech Considered 28 Jul 2010: n. pag. Web. 29 Jul 2010. .))
Boom!
Learning is Work!
..because, today, Work is Learning!
In case you are not reading the comments, last night Gary Stager provided this link to an open letter from Nicholas Negroponte (the visionary behind the the One Laptop Per Child) project.  It was sent to the Times of India.  You can read the text here.
« go back
—
keep looking »