Circuite Scribe
If you are a follower of this blog, then you're aware that I am employing both of my children to curate their own teacher resource blogs (Infographic-A-Day & Vid-A-Day), and that I syndicate them into 2¢ Worth.
One, posted by Martin the other day, really caught my attention (Circuit Scribe, the new way to teach and use circuits). It's an ink, developed at the university of Illinois, through which electrical current can be carried. Their (electroninks) intent is an innovative way to help youngsters come to understand circuits. They doodle their circuit ideas with Circuit Scribe pens, lay components on their drawings, and throw the switch.
Part of what intrigued me about the project was our education community's growing interest in helping students learn by making things – with tools, wires and code. This product is such a threshold-free approach to learning circuit design.
The other thing that provoked me to comment here is my son – and I hope that Martin doesn't mind my bringing his personal experience into this. You see, Martin is incredibly talented at becoming an expert in areas that interest him. Many of you know that he is a celebrated master musician. But he constantly surprises us when he suddenly can talk with us about that never seemed of interest to him before, such as some old movie we've just seen.  He's telling us about the director, actors, academy award nominations, related works and stories about its production. He's especially fond of the Coen brothers and Wes Anderson.
He can also tell you almost anything about the NBA and is currently learning a lot about the NFL, via his fantasy football league. He is definitely not the athletic jock type (band geeks were big on campus in his high school) and has never expressed any interest in sports until recently.
To the point of this writing, I find it interesting that my son zoomed in on this video about Circuit Scribe. You see Martin dropped out of the computer science program of one of our state universities, because he hated programming – and I think I know why. They were not teaching him to doodle. I don't mean literally draw his programs with conductive ink. They weren't helping him learn to code the way I learned to code. He was being made to learn programming in the same way that I was taught grammar. It was about memorizing proper syntax, instead of learning to make computers do interesting and useful things.
My children will both find their intersections of play, purpose and passion, and it will (hopefully) be something they can make a living at.
..and they'll do it in spite of the "test-prep" curriculum that dominated their childhoods.
Note: Ramble and snark quotients: +99
When I was a student, I was taught to scratch paper. I scratched lines and loops and did it well or poorly, properly or improperly. I hide all of my scratched paper in my notebooks until it was time to give it to my teachers, who measured its correctness by marking what was incorrect.  If there was no incorrectness, then a got a 100 or an "A" ––––– 100 what? "A" what?
The hope was that if it was ever necessary for me to write, in order to communicate across time or space, I would remember enough correct scratching to be coherent and compelling.
When I graduated from high school, writing was still a "just in case" skill.  A sizable portion of my class went to work in one of the local textile mills, planning never to ever have to scratch anything again that was any more important than a shopping list.  
This is an profoundly inefficient and disrespectful way to educate free people.
To say, "One day you'll need to know this," is to admit appalling lack of commitment and creativity.  This is especially true when insult to injury is what's not said, "You'll need to know this for the government test in May."
What conjured this internal conversation in me was a brief exchange in the backchannel transcript from a National Science Teachers Association conference in Charlotte a couple of weeks ago.  Diane Johnson tweeted:
..to which I commented in the transcript wiki,
Stop Integrating technology. Instead, integrate networked, digital and abundant information. It changes what it means to be literate, and it empowers learning. Empowered learners are better than engaged learners. - dfw
That last sentence came from something that David Jakes said at ISTE last year in San Antonio.  He said,
"We need to shift from a focus on'Engagement' to focusing on 'Empowerment.'" (Jakes, 2013)
I, in my schooling, was neither engaged nor empowered, as I learned to scratch paper.  Of course, there were those who were engaged, or acted engaged.  They scratched eagerly and more correctly than I did, because they received more 100s and As.  I don't know how their scratching was better than mine, because I never saw it.  I couldn't learn from their example, because their scratches were hidden in notebooks as well.  It had no more value or power than mine did.
I don't scratch any more.  I write.  I put words to paper or to screen, and clarify their meaning with punctuation and capitalization, because I am writing to someone for some purpose.  
I'm still learning to write better. I question what I write and I Google things like, "proper placement of commas in sentences" or "italics quotation marks  and titles." I also use an array of digital tools to help me spell and choose the best words – tool that my teachers, 50 years ago, could not have imagined.  Their notions of our future needs and opportunities did not reach much further than cotton mills and the college that the "engaged" would attend – as well as a few of us who were not "engaged."
Today, engagement has become one of our most earnest pursuits, because we're teaching children who are accustomed to being engaged. 
  ..and we continually ask, "How do I measure engagement?" 
You can't, at least in any way that even suggests the quality of learned.
But empowerment can be measured.  You do it the same way that our value is measured after we leave classrooms, teachers and textbooks behind.  Learners demonstrate what they've learned, by what they're empowered to do with it – what they produce, the problems they solve, the goals they accomplish.  Look at a produced video, crafted animation, clear and compelling article, or a creatively designed and marketed bird house, and you can see what was learned.
It's not clean.  It's not clinical.  But what does precision grading mean when the names of state capitals, the chemical symbol for magnesium and the proper placement of the comma can all be Googled.  Why are we so pressured to test our children's ability to live without Google.
Lets face it.  The only ones who want this for our children are those who would politicize and monetize education.
Jakes, D. (2013, June). In Steve Hargadon (Chair). an unconference discussion. A conversation that was part of Hack Education Iste 2013, San Antonio, TX. 
We know why we became teachers. If it wasn't the reason, then it's why we remained teachers. It's..
Seeing the light bulb go off. I think that's why any teacher gets into teaching, because that's the best feeling, seeing them so interested and engaged and finally getting it … and knowing that you made a difference. (Stancill, 2013)
"Seeing the light bulb go off."
That's how Haley Brown describes it. She's a seven-year elementary school teacher in Raleigh, who has just accepted an administrative position – with a homebuilder. According to the October 24 Raleigh News & Observer article, Haley says that testing has not only robbed her of her emotional and professional energy, but also robbed her students of meaningful learning. Teacher assistants have been laid-off (state legislation), the workload keeps growing, and she has received only one raise and a 1% cost of living increase in her seven years.
It's not an uncommon story, but one that has gained traction because of the note her husband, Matt, handed her, when she'd made her decision. Haley was so thankful for her husband's support that she posted the note on her blog, earning 1,200 likes on Facebook. As the letter continued to resonate with some many people, Matt sent it to the N&O, and they published it as an opinion piece. As of this week, it is the most popular story page on the paper's web site for 2013. It's been read more than a half million times.
Does this really matter. Is anyone noticing? North Carolina is a right-to-work state, so there's no teachers union and teachers don't strike. They just slip away. Who cares?
There is a new story out there. It's made up of lots of characters, plots and sub-plots, but it's not been assembled yet.
This weekend, I'll be attending the ReinventEd Unconference at Black Mountain SOLE, in Black Mountain, North Carolina. It's going to be one of those learning events that's driven by questions, not authorities, and no small part of its appeal comes from the fact that its organizer is Steve Hargadon.
My greatest wish is for a new narrative about education – a new and complete story that will resonate not only with passionate educators, but also with anyone else,
..who's willing to listen.
Stancill, J. (2013, October 23). A husband's support for his teacher wife becomes a viral sensation.Raleigh News & Observer. Retrieved from http://www.newsobserver.com/2013/10/23/3306958/a-husbands-support-for-his-teacher.html
My daughter texted me yesterday morning, wanting to meet at the coffee shop to talk about an article she'd just discovered. She texted me the URL, http://goo.gl/pFc39Z. It's not a recent article and is actually one of Valerie Strauss' (The Answer Sheet) reprints of a blog article [link/pdf], written by Marion Brady (veteran teacher, administrator, curriculum designer and author).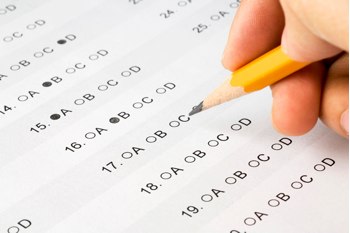 The article concerned a forth-term Florida district school board member, a friend of Marion's, who had taken a version of the Florida Comprehensive Assessment Test (FCAT) for 10th graders.  After taking the test, the board member called Brady, and this repeatedly re-elected board member, who helps to oversee 22,000 employees and a $3 billion budget and claims to be "able to make sense of complex data related to those responsibilities," said that he "hadn't done well."
He confessed that he wasn't confident about any of the 60 math questions, "but managed to guess ten out of the 60 correctly."  On the reading test, he got 62% of the questions right.  In an email to Brady, his friend wrote,
It might be argued that I've been out of school too long, that if I'd actually been in the 10th grade prior to taking the test, the material would have been fresh. But doesn't that miss the point? A test that can determine a student's future life chances should surely relate in some practical way to the requirements of (that) life. I can't see how that could possibly be true of the test I took.
Strauss later identified and interviewed the school board member, and reported on that interview in "Revealed: School Board member who took standardized test."
My daughter, who is certified to teach elementary grades and high school history, but has given up finding a teaching job (2008 recession followed by recent school staff cuts imposed by our state General Assembly [see]), expressed outrage.  She is currently struggling to score well enough on the GRE to get into the graduate school of her choice.
That Florida school board member's experience suggests a question that we are still not asking in any substantive way.  We eagerly, actively, and obsessively ask,
"What kind of teaching best practices lead to higher standardized test scores?"
We are not asking,
"How do higher scores on high-stakes standardized tests lead to satisfying, successful and productive lives and a better world?"
Brady says that decisions about how we assess teaching are,
..shaped not by knowledge or understanding of educating, but by ideology, politics, hubris, greed, ignorance, the conventional wisdom, and various combinations thereof. And then they're sold to the public by the rich and powerful.
How many of us, productive and successful adults, would willingly and confidently take our state's high-stakes standardized test, especially if our freedom to move forward was based on passing those tests?  
What would our legislative bodies look like, if a requirement for serving elected office was to pass the same tests that they impose on their 15 year old children?
This article has also been written about here:
Actor, Joseph Gordon-Levitt also posted a link to the article 
here
.