Note: Ramble and snark quotients: +99
When I was a student, I was taught to scratch paper. I scratched lines and loops and did it well or poorly, properly or improperly. I hide all of my scratched paper in my notebooks until it was time to give it to my teachers, who measured its correctness by marking what was incorrect.  If there was no incorrectness, then a got a 100 or an "A" ––––– 100 what? "A" what?
The hope was that if it was ever necessary for me to write, in order to communicate across time or space, I would remember enough correct scratching to be coherent and compelling.
When I graduated from high school, writing was still a "just in case" skill.  A sizable portion of my class went to work in one of the local textile mills, planning never to ever have to scratch anything again that was any more important than a shopping list.  
This is an profoundly inefficient and disrespectful way to educate free people.
To say, "One day you'll need to know this," is to admit appalling lack of commitment and creativity.  This is especially true when insult to injury is what's not said, "You'll need to know this for the government test in May."
What conjured this internal conversation in me was a brief exchange in the backchannel transcript from a National Science Teachers Association conference in Charlotte a couple of weeks ago.  Diane Johnson tweeted:
..to which I commented in the transcript wiki,
Stop Integrating technology. Instead, integrate networked, digital and abundant information. It changes what it means to be literate, and it empowers learning. Empowered learners are better than engaged learners. - dfw
That last sentence came from something that David Jakes said at ISTE last year in San Antonio.  He said,
"We need to shift from a focus on'Engagement' to focusing on 'Empowerment.'" (Jakes, 2013)
I, in my schooling, was neither engaged nor empowered, as I learned to scratch paper.  Of course, there were those who were engaged, or acted engaged.  They scratched eagerly and more correctly than I did, because they received more 100s and As.  I don't know how their scratching was better than mine, because I never saw it.  I couldn't learn from their example, because their scratches were hidden in notebooks as well.  It had no more value or power than mine did.
I don't scratch any more.  I write.  I put words to paper or to screen, and clarify their meaning with punctuation and capitalization, because I am writing to someone for some purpose.  
I'm still learning to write better. I question what I write and I Google things like, "proper placement of commas in sentences" or "italics quotation marks  and titles." I also use an array of digital tools to help me spell and choose the best words – tool that my teachers, 50 years ago, could not have imagined.  Their notions of our future needs and opportunities did not reach much further than cotton mills and the college that the "engaged" would attend – as well as a few of us who were not "engaged."
Today, engagement has become one of our most earnest pursuits, because we're teaching children who are accustomed to being engaged. 
  ..and we continually ask, "How do I measure engagement?" 
You can't, at least in any way that even suggests the quality of learned.
But empowerment can be measured.  You do it the same way that our value is measured after we leave classrooms, teachers and textbooks behind.  Learners demonstrate what they've learned, by what they're empowered to do with it – what they produce, the problems they solve, the goals they accomplish.  Look at a produced video, crafted animation, clear and compelling article, or a creatively designed and marketed bird house, and you can see what was learned.
It's not clean.  It's not clinical.  But what does precision grading mean when the names of state capitals, the chemical symbol for magnesium and the proper placement of the comma can all be Googled.  Why are we so pressured to test our children's ability to live without Google.
Lets face it.  The only ones who want this for our children are those who would politicize and monetize education.
Jakes, D. (2013, June). In Steve Hargadon (Chair). an unconference discussion. A conversation that was part of Hack Education Iste 2013, San Antonio, TX. 
Yesterday, Tim Holt wrote "Why I am At a Science Conference," describing his work at this week's Conference for the Advancement of Science Teaching (CAST), and why it is so important that we edubloggers and techspeakers should be sharing our messages into other communities of interest, science teachers for instance. I agree. I've tried, for years, to get into social studies conferences. When I succeed, it's to do a concurrent session, and only 12 teachers showed up. It's part of the nature of the profession, that we owe our professional identity to our particular area of specialty.
I have keynoted foreign language conferences, library conferences, administrator, and even book publisher, real-estate developer and farmer conferences. Perhaps the most receptive to my particular message are school boards conferences. But Tim is right. Little of this actually makes it into classrooms, especially the "Common Core" classrooms.
Part of my Kerbal Space Program Diary
One of my early attempts into orbit, achieving a spectacular fall after a 35 meter ascent.
At about 26 Kilometers, my Kerban pilot decided to do a space walk. Alas he locked his keys in the capsule and burned up during the descent.
These three Kerbans made it into an orbit whose apogee was around 1.4 million kilometers and perigee was somebody's basement on the far side of Kerbal.
Holt referred to the fact that I too will also be speaking to Science teachers this week, in Charlotte, at one of the regional conferences of the National Science Teachers Association – and my efforts to tailor my presentation to that audience. I admit some concern about speaking to science teachers, because I taught social studies, and my examples tend to be more social studies oriented – though I would maintain that any good social studies teacher is also teaching science, math, health, literature, and everything else. It's all societal.
Tim mentioned me because of a string of posts I made to Facebook and Twitter yesterday, reporting my progress in playing with Kerbal Space Program, a sandbox-style game that has the player designing, building, and flying space craft, on missions from the planet Kerbal. It's been fun, regardless of my immigrant clumsiness with video games – though I am experiencing some pride in finally getting a manned (well a Kerban-piloted) space craft into orbit. It cost the lives of 12 fellow kerbans and several billion $kerbols worth of hardware.
Holt writes,
And although (David's) message is VERY general, it is at least a start. He is trying to tailor the message to the audience by demoing the Kerbal Space Program online game (https://kerbalspaceprogram.com) so good for him. But those opportunities are few and far between.
These opportunities rare and priceless. ..and forgive me if I seem overly sensitive and even defensive, but there is nothing general about this. The message is singular and it is revolutionary. It has nothing to do with, "Look, here's something that you can do in your classroom with technology." It is,
"Look, here's what many of your students are doing outside your classroom. It's fun, but it's work. It's hard work. And it is entirely about learning. The energy of our students' youth culture is not based on how high you can jump or fast you can run. It is neither wit nor the appealing symmetry of your face. The energy of their culture is the ability to skillfully and resourcefully learn and to inventively employ that learning."
My message is that children are entering our classrooms with learning skills that, although based on long understood pedagogies, they are skills that we are too often ignoring and sometimes even handicapping. When I say that we "chop their tentacles off," it's not about cutting them off from technology. We're amputating their access to the learning skills that they are so effectively developing outside our classrooms – their avenues to personally meaningful accomplishment.
Perhaps those of us who have chosen to pursue education technology or have been seduced by its potentials are in a unique position to notice our children's 'native' learning skills – more so than science or social studies teachers. But we all must be careful to shed the glow of tech, and get right down to the point of being educated in this time of rapid change.
It's not about being taught.
It's about becoming a learner.
Panelists included Will Richardson, Kathy Cassidy, Darren Cambridge, Jessie Woolley-Wilson & David Warlick. Other kickoff panels include: 21st Century Classroom Management, Making It Count-Integrating Formal and Informal PD, From Connection to Collaboration & Connected Leadership.
I had the honor of being part of one of Connected Educators Month's kickoff panels last week, one called "Personalized Learning Kickoff."  I strike through the ized part of the title, because parts of our conversation suggested a difference between personal learning and personalized learn.  I went into a deeper discussion of this distinction in "Individualized Instruction Vs. Personal Learning".
The panel, which was hosted by Darren Cambridge and led by Will Richardson  was one of the kickoff events for Connected Educators Month.  You can find archives of all of these panels here.
I don't particularly look forward to these things because my hearing is so poor.  It takes me a majority of brain's computing cycles to translate the mess that I hear and the tiny facial and body cues from Collaborate's video screen into a semblance of what the speaker actually said.  
Because this leaves me less than confident, I try to have lots of notes that I can readily call on without too much difficulty. ..and since I put so much time and thought into notes, I thought I'd post it all here.  
Potential questions are bold and my ideas are red.
What is the difference between personal and personalized learning?
The problem with professional idioms is that the phrase becomes an entity until itself.

People can hang on them what ever notions they have of its meaning.
They can say "personalized learning" and "personal learning," and 

? think they're talking about the same thing, 
? because the phrase has come to mean more than the words that make it.

My opinion: A distinction needs to be made between ? learning that happens because of what's done to the learner (personalized/individualized), and ? learning that happens because of what the learner deliberately and resourcefully does (personal)
"Personalized" describes to me something that is done to, designed or produced for, or imposed on the student.
Reference Blog Posts: ? Individualized Instruction Vs. Personalized Learning ? Are They Students or Learners
Individualized instruction?  Differentiated Instruction?  Passion-based?
Individualized and differentiated instruction are a personalization of instruction by the teacher.

It's top-down
Its targets are external standards that often mean little to learners.
Not to say that instruction doesn't not have its place. A good lecture, educational game or even drill and practice activity are wonderful things, when appropriate – when needed!

Personal, passion-based learning starts with the learner, not a set of external standards.

It comes from the learner's frame of reference, personal goals and passions; and it is future-oriented. Too many "standards" are past-oriented.
However,

we, educators, need to learn to inspire learner passions that are relevant to-, or create a healthy context for- our children's culture, environment and their time

.
How can we create the conditions for personal learning to flourish in classrooms and schools?
It's something that has to start small because it's about generating school & classroom culture

It's mostly a shift in the prevailing conversation from teaching & instruction to curiosity & learning.

"I learned this yesterday!"
"How did you learn that?"
"This is how I learn something new every day!"

Turn the workload over to the learner. Learning becomes more active and teaching more passive
Stop asking for the right answer, and instead, ask for an answer that works – and then ask the learner, "Why does that work?"
Invite the use of

Google
Wikipedia
Blogs & Twitter
As long as the learner can defend his answers

Chris Lehmann talks about a powerful question we educators don't ask enough:
What roles do networks play in personal learning?
Personal learning is not new. It comes from observing, thinking and playing – with intent.
Networks have expanded what we can observe, changed our point of view, and created an astoundingly more interactive board on which to play.
Growing up, I had…

Some books, Life magazine and Boys Life magazine.
A set of Compton's encyclopedias (black & white) (1961)
A small public library.
Limited TV & Radio programming.

Today I have

Wikipedia
The World Wide Web
Youtube
Netflix
My aggregators
..and it's in my pocket!
It's a time of no unanswered questions…
The work is

finding the answers that work

!

My context has exploded
Because of networks

How I learn has changed, and
Why I learn has changed (bigger context)
How can we help teachers and students move from just being connected to experiencing meaningful and productive connections? 
We make them responsible (not for the learning so much as what they can do with their learning)

We cut-off the paper and ask teachers to produce more and more of their own digital teaching materials, and we facilitate sharing.
We provide real audiences for our children's learning.

We ask children and even their teachers to publish and demo
We use our school and classroom websites to invite the community into our classrooms, to see

What and
How their children are learning and
What they are learning to do with they're learning.

We give them permission to "Get it wrong" by asking them "Why they think that's right?"

By asking them to defend their learning

We ask children (and teachers) to surprise us, to show us something we've never seen before.
What are appropriate roles for social media?
We start off by saying that there should not be a list of appropriate uses for social media.
It depends entirely on

what's being learned,
how it's being learned,
who's learning it and
Why
and who's facilitating it.

Social media's like any other kind of media. It has to be

Resourcefully identified,
Judged, and ? Utilized,
..to answer a question, solve a problem or accomplish a goal.  If it leads to success, then it's appropriate.

The Question should be,

"Is the answer appropriate to the question?"
"Is the solution appropriate to the problem?"
Not, "Is that the appropriate source?"
How do you encourage students to invest in their own "personal learning?"
You help them to understand that learning is empowering.
This is partly a result of passion-building.
But more, it's about helping them to own their learning

To write and publish a book that gets placed in the school & local public library
To produce a video essay that's posted on the school web site, uploaded to YouTube, and picked up by the local Cable TV Channel
To interview the children of recent history (The Great Depression, WWII, the race to the moon, a world without Nintendo) and teach (enlighten) the rest of the class.
To create playlists of students compositions, slideshows of their art work, and ask them to talk about the science, mathematics, social studies and healthful living involved in them.

You dare them to surprise us.
How important is it to have educators and leaders modeling personal learning?
It's not a learning culture, unless everyone's learning.
Students should know us by "What we're learning!"
We speak of education in the language of individual learning and personal growth, but schooling as it is largely practiced is about conformity and external assessment.  Are there larger pedagogical shifts that ultimately will need to precede true personalized learning?
End this obsession with measuring learning and comparing schools.  It will lead to the death of public education.
Embrace the fact that today 

It isn't what we know that's the same as everyone else that brings value to the endeavor. 
Innovative accomplishment comes from what we know and can do that's different.
Closing thoughts
We, as educators, need to think about the learning that we do and have done since we stopped being students.

What have we learned?
How have we learned it?
and Why?
and invent ways to make classroom learning mirror real-world learning.  It takes skills that all our children will need.

In a time of rapid change, being a learner has become more important than being leaned!
In a school that practices learning culture

Teachers model learning,
Students learn to teach themselves, and
The School educates the community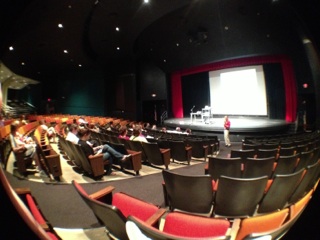 One of several sessions conducted that day (and the day before) by the high school principal for parents about the 1:1 program
I am home from a grueling couple of days in Eldridge, Iowa, where I spoke to parents and community members of the North-Scott School District and then to the faculties of the junior and high schools. North-Scott is implementing a one to one program for secondary schools, and the superintendent and school board members thought it might help for me to deliver a couple of kickoff presentations. They'd seen me at the Iowa Association of School Boards conference a few months earlier. I must have been in the zone that day, because I'm spending a good bit of time in Iowa in the next few months. No other explanation.
First of all, the community session enjoyed an excellent turnout. Too often, when I volunteer to do these things, I'll get only a dozen or fewer parents show up. Just too much else going on. But the seventy-some people who showed up were engaged and put me through rich and progressive Q&A afterward. There was a lot of concern about how teachers were going to learn to implement the devices and how they were going to keep up.
The next day, the principals and ed tech staff did something that I haven't seen before. They ran and EdCamp-style event between the two presentations I delivered, three sets of concurrent sessions, which the teachers defined in the auditorium and one of the principals typed into a Google Doc schedule. Then they all walked up, took pictures of the schedule with the phones and set out to learn from each other.
I have to confess that I was a little skeptical about this experiment. Most EdCamps are attended by teachers who are already pretty Web 2.0 savvy and committed to the whole value-of-the-audience thing. But I've never known of this type of unconference PD being imposed on a group of teachers. These guys surprised me. I spent some time in about a third of the conversations, and they were active, rich with questions and answers, entirely focused on learning, and most had at least a couple of people who had experience with the topic at hand. All of the teachers were engaged and seemed truly appreciative.
I have spoken to lots of faculties, who were told to be there and I often get the sense that my goal is to get the clueless to get one, a clue. But lately, that whole thing seems to have changed. The clueless seem to be very much in the minority, and they are paying attention to their colleagues who have knowledge and attitude.
It was a hard couple of days for me, but incredibly rewarding and encouraging.
In the past I have done word counts from ISTE's conference programs to illustrate topic trends, especially during the early days of the social web. Its fairly unscientific,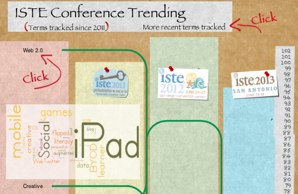 ISTE Conference Trending - an HTML5 Animated Infographic
because there are lots of factors that determine the verbiage of session descriptions, especially for a conference as discerning as ISTE.
This year, I decided to do the same, but also use the activity as an opportunity for playing around with Tumult HYPE 1.6, a Macintosh app for creating HTML5 animations. From their web site:
Tumult Hype's keyframe-based animation system brings your content to life. Click "Record" and Tumult Hype watches your every move, automatically creating keyframes as needed. Or, if you'd prefer to be more hands-on, manually add, remove, and re-arrange keyframes to fine-tune your content.
As is often the case, I probably payed more attention to pushing the tech, than perfecting the communication. This was a learning experience, after all. Take a look and see what's trending down and what few topics are trending upward. Click [here] to see the animated infographic.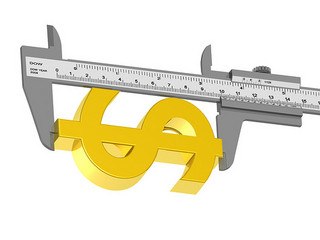 It's a must-read, the text of (Hack Education) Audrey Water's recent speech to a Canadian audience in Alberta last week.
I do not recommend its reading as a curtsey to Canadian education thought leaders, as much as to point out a disturbing trend that is not limited to the ongoing education conversation.
This is something of a personal rant, but it has confounded me, the support that many of my country's poor and aging pay to political elements whose legislative activities serve the rich and powerful — until I realized that there is a narrative being told that in America anyone can become rich and powerful and that we should all protect our potential membership in that club.
In other words, if you aren't willing to be the first to monetize it, then you shouldn't expect to be part of the pitch.
Shame on us!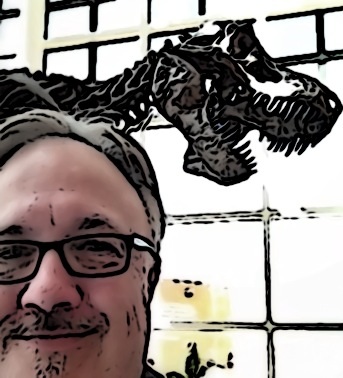 OK! This was Wyoming. So there were dinosaur skeletons everywhere.  Tyrannosaurus on the right and Warlickosaurus on the left.
During my presentation, Finding 'It' on the Net, at the WyTECC conference the other day, someone asked in the backchannel,
"How do we get educators to understand that students (should) have the freedom of using the Net during class?"
It's what I love about being able to visit the chat transcript and comment on the attendee's observations and questions. It extends the conversation and broadens the learning – including my own.
I seems that one way to convince reluctant teachers might be to ask that they imagine their classrooms with really smart students, and imagine the energy that they would generate – and then help them to understand how the Internet is becoming an extension of our/their own brains. Ask them to think of the things that they do today, that they aren't smart enough to do without the Net. I'd have no trouble doing that.
If students can lookup and evaluate information on the Net and on the fly during classroom work and classroom discussions, extending their own brains, then it may elevate the class, not to mention empower the learners.
I appreciate all of the valuable feedback so many people gave me regarding the initial posting of "The Game of School," my first animation with a message. I've decided to post it on the original blog article and re-date it to the present. The original blog text follows.
As I ease into retirement (over the next five to ten years), I'm giving myself permission to learn some new skills that I always wanted to try my hand at, but never made the time. One is learning to create animations.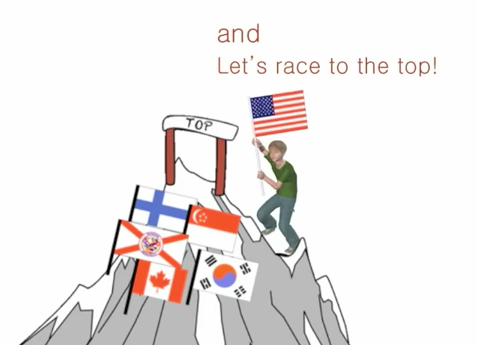 Here is my first attempt at an animation with a message. Its message is based on a blog post I wrote for Smart Blogs a few months ago but never got around to reposting here. This is version 4.1 5.0 of the video, which has been edited and re-rendered MANY times and will likely be rendered many more times.
I'm learning!
To create this video, I used Apple Keynote for the text flow, Poser Debut for the character animation, iMovie 11 for the video editing and iSequence on the iPad to produce the music.
Enjoy! ..and let me know what you think…
Before Educon's conversations begin, we get to spend the day at the Science Leadership Academy (SLA), attend an evening panel discussion at The Franklin Institute (see Pulver) and see the opening keynote address – this year it was Philadelphia's new Superintendent, Dr. William Hite.
..and I'll say here that among the many regularly scheduled annual educator learning events, Educon's unconference is probably the richest experience, anywhere, anytime. This is not to say that regular conferences with presenters and keynote speakers are not valuable. They are essential, because they facilitate opportunities for learning that Educon does not. But to listen to smart people and to be able to push and pull on what they are saying, well, it just wrinkles my brain.
Master photographer, Kevin Jarrett, captured this picture of me and Joyce Valenza catching up.
One of the greatest features of Educon is the chance to catch up with friends, whom we see almost daily in the networked eduverse, but with whom we rarely get to shake hands, huge, and enjoy extended conversations, unconstrained by 140 characters limits – and that's not to say that we ever get to finish our conversations at Educon, because there are always new ones that attract our attention.
We also get to visit classes and talk with SLA teachers. I especially enjoyed talking with Matt VanKouwenberg, about his engineering classes. His process reminded me of the vocational education classes I took in high school, how we all learned many of the same lessens by working on distinctly different projects. He told me that each class starts with a few minutes of sharing, where each student or team reports on where they are, barriers they are facing, and what they are learning (think the first five minutes of each episode of LA Law). He said that it often surprises the students to discover the similarities in what they learn, regardless of what they are working on.
I also enjoyed talking with one of my favorite SLA teachers, Meenoo Rami, an English teacher. Rami teaches a class about Storytelling, which appears to be not about fiction writing, but about how we use stories as a device for communication. I think that this is an often overlooked tool for expressing ourselves, even by many of us who are supposed to be master communicators. Too often I hear keynote and featured speakers simply telling us what to believe, rather than helping us discover our own beliefs through plot and surprise. Never underestimate the power of a good surprise.
Near the end of the Friday night panel discussion, Pulver said that, "The future is unwritten!"
When considering our challenges as educators and the future challenges of our students, we must come to believe that anything is possible. We're not preparing our children for the 21st century. We're preparing them for the age of opportunities, when almost any problem can be solved and almost any goal can be accomplished. This affects so much that is involved in formal education.
[click to enlarge]
While claiming my best seat
(its that hearing thing)
for one of the first conversations, and reflecting on Friday's panel and Saturday morning's keynote, I quickly drew up the diagram on the right. Even though, at the highest levels, we'd all deny it, our job, now, is to prepare our children to take tests. Education has become a competitive endeavor, pitting nation against nation, state against state, district against district… and the point system for that competition is test scores.
This implies a purpose behind education that has little to do with an age of opportunity. Instead students learn to read in order to follow instructions and to learn in order to fit in to someone else's competitive machine. To be ready for an age of opportunity, children must learn to read so that they can learn to do something that they couldn't do before and to learn in order to make their own machine.
One of the greatest ah ha! moments of the event, was when Philadelphia Schools Suerpentendent, Dr. William Hite said, "Today, teachers do not need to be content specialists nearly as much as they need to be context specialists."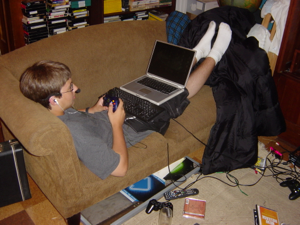 Plugged in with iPod, head set to communicate with game guild members, game controller, game keyboard to text players without broadband, and a laptop for IMing.
Several years ago, I wrote a blog article describing a picture that I'd taken of my son, in the TV room, wrapped up in his "technology." I'm including the picture here, since he is no longer a minor and I can no longer so easily peak in on his techventures.
In the article I suggested that it wasn't technology that defined his experience nearly as much as it was the information that he was playing with. It continues to be a central theme of my work, that it's a new information experience we should be facilitating for our learners, not simply applying technology to old teaching pedagogues.
A few days ago, an old friend from my state agency days, John Spagnolo, gave me reason to revisit that article, when he commented with some questions that got me to thinking.
Among them was:
How have "smartphones" and cellular connectedness changed the nature of information over the past 8 or so years since this was written?
I think that one significant change that has occurred over the past seven or eight years, is that I, and many other seasoned adults have, for various reasons, begun to utilized this networked, digital and abundant information environment. I often say to friends, as I slip my phone back into my pocket, that we live in a time of no unanswered questions. The answer is almost certainly waiting in our pockets or on our laps. My cellular iPad has become a welcome and valued companion as my wife and I drive across North Carolina to visit with family and old friends. It helps us to continue conversations about the news, movies, the best route around Charlotte and settle minor arguments.
For my son and daughter, I suspect that their use of these connective tools has not changed significantly over the past several years. They cultivate networks of friends and acquaintances, which have probably grown with my daughter, whose interested have expanded, and grown smaller with my son, whose interests have narrowed and become more focused. They use Twitter more and Facebook less, and are probably more likely to be interacting with friends via a specific application, such as a game or Pinterest category.
I also wonder if, in many instances, we might be finding more creative ways of using this new info-landscape than our children.
Spagnolo also asked,
How does your son connect to and interact with his information today?
I suspect that both of my children interact with information more through games and through specific applications. I was so terribly disturbed a few years ago when smart people started suggesting that the Web was dead, that apps were changing the way that we used the Internet. But apps have certainly changed the way that my children use information and I find myself preferring to use Amazon and Craigslist apps instead of their respective web sites.
Apps have become an intriguing new avenue of economy, that I've suggested to me son, where people are making a living by designing highly specialized and compelling tools for using and playing with information.
Finally, he asked,
Has the nature of information influenced the emerging "appropriate technologies" like the digital learning object called an iBook?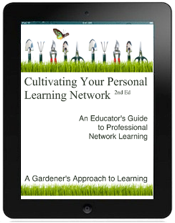 My knee-jerk response is, "Not nearly enough." This current push toward digital textbooks, urged on by our Secretary of Education, concerns me. I worry that we're engaged in a race to modernize schooling, rather than a sober and thoughtful imagining and designing of learning materials and practices that are more relevant to today's learners (ourselves include), today's information landscape and a future that has lost the comforts of certainty, but become rich with wondrous opportunities.
What I enjoyed, though, about my experience in publishing an iBook was learning to hack some features into the book that were not part of Apples general instructions for using their publishing tool. This is the ultimate opportunity of digital learning objects and environments, that they can be hacked into new and better learning experiences by information artisans who see what's there and what it can become.
keep looking »