Circuite Scribe
If you are a follower of this blog, then you're aware that I am employing both of my children to curate their own teacher resource blogs (Infographic-A-Day & Vid-A-Day), and that I syndicate them into 2¢ Worth.
One, posted by Martin the other day, really caught my attention (Circuit Scribe, the new way to teach and use circuits). It's an ink, developed at the university of Illinois, through which electrical current can be carried. Their (electroninks) intent is an innovative way to help youngsters come to understand circuits. They doodle their circuit ideas with Circuit Scribe pens, lay components on their drawings, and throw the switch.
Part of what intrigued me about the project was our education community's growing interest in helping students learn by making things – with tools, wires and code. This product is such a threshold-free approach to learning circuit design.
The other thing that provoked me to comment here is my son – and I hope that Martin doesn't mind my bringing his personal experience into this. You see, Martin is incredibly talented at becoming an expert in areas that interest him. Many of you know that he is a celebrated master musician. But he constantly surprises us when he suddenly can talk with us about that never seemed of interest to him before, such as some old movie we've just seen.  He's telling us about the director, actors, academy award nominations, related works and stories about its production. He's especially fond of the Coen brothers and Wes Anderson.
He can also tell you almost anything about the NBA and is currently learning a lot about the NFL, via his fantasy football league. He is definitely not the athletic jock type (band geeks were big on campus in his high school) and has never expressed any interest in sports until recently.
To the point of this writing, I find it interesting that my son zoomed in on this video about Circuit Scribe. You see Martin dropped out of the computer science program of one of our state universities, because he hated programming – and I think I know why. They were not teaching him to doodle. I don't mean literally draw his programs with conductive ink. They weren't helping him learn to code the way I learned to code. He was being made to learn programming in the same way that I was taught grammar. It was about memorizing proper syntax, instead of learning to make computers do interesting and useful things.
My children will both find their intersections of play, purpose and passion, and it will (hopefully) be something they can make a living at.
..and they'll do it in spite of the "test-prep" curriculum that dominated their childhoods.
Note: Ramble and snark quotients: +99
When I was a student, I was taught to scratch paper. I scratched lines and loops and did it well or poorly, properly or improperly. I hide all of my scratched paper in my notebooks until it was time to give it to my teachers, who measured its correctness by marking what was incorrect.  If there was no incorrectness, then a got a 100 or an "A" ––––– 100 what? "A" what?
The hope was that if it was ever necessary for me to write, in order to communicate across time or space, I would remember enough correct scratching to be coherent and compelling.
When I graduated from high school, writing was still a "just in case" skill.  A sizable portion of my class went to work in one of the local textile mills, planning never to ever have to scratch anything again that was any more important than a shopping list.  
This is an profoundly inefficient and disrespectful way to educate free people.
To say, "One day you'll need to know this," is to admit appalling lack of commitment and creativity.  This is especially true when insult to injury is what's not said, "You'll need to know this for the government test in May."
What conjured this internal conversation in me was a brief exchange in the backchannel transcript from a National Science Teachers Association conference in Charlotte a couple of weeks ago.  Diane Johnson tweeted:
..to which I commented in the transcript wiki,
Stop Integrating technology. Instead, integrate networked, digital and abundant information. It changes what it means to be literate, and it empowers learning. Empowered learners are better than engaged learners. - dfw
That last sentence came from something that David Jakes said at ISTE last year in San Antonio.  He said,
"We need to shift from a focus on'Engagement' to focusing on 'Empowerment.'" (Jakes, 2013)
I, in my schooling, was neither engaged nor empowered, as I learned to scratch paper.  Of course, there were those who were engaged, or acted engaged.  They scratched eagerly and more correctly than I did, because they received more 100s and As.  I don't know how their scratching was better than mine, because I never saw it.  I couldn't learn from their example, because their scratches were hidden in notebooks as well.  It had no more value or power than mine did.
I don't scratch any more.  I write.  I put words to paper or to screen, and clarify their meaning with punctuation and capitalization, because I am writing to someone for some purpose.  
I'm still learning to write better. I question what I write and I Google things like, "proper placement of commas in sentences" or "italics quotation marks  and titles." I also use an array of digital tools to help me spell and choose the best words – tool that my teachers, 50 years ago, could not have imagined.  Their notions of our future needs and opportunities did not reach much further than cotton mills and the college that the "engaged" would attend – as well as a few of us who were not "engaged."
Today, engagement has become one of our most earnest pursuits, because we're teaching children who are accustomed to being engaged. 
  ..and we continually ask, "How do I measure engagement?" 
You can't, at least in any way that even suggests the quality of learned.
But empowerment can be measured.  You do it the same way that our value is measured after we leave classrooms, teachers and textbooks behind.  Learners demonstrate what they've learned, by what they're empowered to do with it – what they produce, the problems they solve, the goals they accomplish.  Look at a produced video, crafted animation, clear and compelling article, or a creatively designed and marketed bird house, and you can see what was learned.
It's not clean.  It's not clinical.  But what does precision grading mean when the names of state capitals, the chemical symbol for magnesium and the proper placement of the comma can all be Googled.  Why are we so pressured to test our children's ability to live without Google.
Lets face it.  The only ones who want this for our children are those who would politicize and monetize education.
Jakes, D. (2013, June). In Steve Hargadon (Chair). an unconference discussion. A conversation that was part of Hack Education Iste 2013, San Antonio, TX. 
We know why we became teachers. If it wasn't the reason, then it's why we remained teachers. It's..
Seeing the light bulb go off. I think that's why any teacher gets into teaching, because that's the best feeling, seeing them so interested and engaged and finally getting it … and knowing that you made a difference. (Stancill, 2013)
"Seeing the light bulb go off."
That's how Haley Brown describes it. She's a seven-year elementary school teacher in Raleigh, who has just accepted an administrative position – with a homebuilder. According to the October 24 Raleigh News & Observer article, Haley says that testing has not only robbed her of her emotional and professional energy, but also robbed her students of meaningful learning. Teacher assistants have been laid-off (state legislation), the workload keeps growing, and she has received only one raise and a 1% cost of living increase in her seven years.
It's not an uncommon story, but one that has gained traction because of the note her husband, Matt, handed her, when she'd made her decision. Haley was so thankful for her husband's support that she posted the note on her blog, earning 1,200 likes on Facebook. As the letter continued to resonate with some many people, Matt sent it to the N&O, and they published it as an opinion piece. As of this week, it is the most popular story page on the paper's web site for 2013. It's been read more than a half million times.
Does this really matter. Is anyone noticing? North Carolina is a right-to-work state, so there's no teachers union and teachers don't strike. They just slip away. Who cares?
There is a new story out there. It's made up of lots of characters, plots and sub-plots, but it's not been assembled yet.
This weekend, I'll be attending the ReinventEd Unconference at Black Mountain SOLE, in Black Mountain, North Carolina. It's going to be one of those learning events that's driven by questions, not authorities, and no small part of its appeal comes from the fact that its organizer is Steve Hargadon.
My greatest wish is for a new narrative about education – a new and complete story that will resonate not only with passionate educators, but also with anyone else,
..who's willing to listen.
Stancill, J. (2013, October 23). A husband's support for his teacher wife becomes a viral sensation.Raleigh News & Observer. Retrieved from http://www.newsobserver.com/2013/10/23/3306958/a-husbands-support-for-his-teacher.html
Panelists included Will Richardson, Kathy Cassidy, Darren Cambridge, Jessie Woolley-Wilson & David Warlick. Other kickoff panels include: 21st Century Classroom Management, Making It Count-Integrating Formal and Informal PD, From Connection to Collaboration & Connected Leadership.
I had the honor of being part of one of Connected Educators Month's kickoff panels last week, one called "Personalized Learning Kickoff."  I strike through the ized part of the title, because parts of our conversation suggested a difference between personal learning and personalized learn.  I went into a deeper discussion of this distinction in "Individualized Instruction Vs. Personal Learning".
The panel, which was hosted by Darren Cambridge and led by Will Richardson  was one of the kickoff events for Connected Educators Month.  You can find archives of all of these panels here.
I don't particularly look forward to these things because my hearing is so poor.  It takes me a majority of brain's computing cycles to translate the mess that I hear and the tiny facial and body cues from Collaborate's video screen into a semblance of what the speaker actually said.  
Because this leaves me less than confident, I try to have lots of notes that I can readily call on without too much difficulty. ..and since I put so much time and thought into notes, I thought I'd post it all here.  
Potential questions are bold and my ideas are red.
What is the difference between personal and personalized learning?
The problem with professional idioms is that the phrase becomes an entity until itself.

People can hang on them what ever notions they have of its meaning.
They can say "personalized learning" and "personal learning," and 

? think they're talking about the same thing, 
? because the phrase has come to mean more than the words that make it.

My opinion: A distinction needs to be made between ? learning that happens because of what's done to the learner (personalized/individualized), and ? learning that happens because of what the learner deliberately and resourcefully does (personal)
"Personalized" describes to me something that is done to, designed or produced for, or imposed on the student.
Reference Blog Posts: ? Individualized Instruction Vs. Personalized Learning ? Are They Students or Learners
Individualized instruction?  Differentiated Instruction?  Passion-based?
Individualized and differentiated instruction are a personalization of instruction by the teacher.

It's top-down
Its targets are external standards that often mean little to learners.
Not to say that instruction doesn't not have its place. A good lecture, educational game or even drill and practice activity are wonderful things, when appropriate – when needed!

Personal, passion-based learning starts with the learner, not a set of external standards.

It comes from the learner's frame of reference, personal goals and passions; and it is future-oriented. Too many "standards" are past-oriented.
However,

we, educators, need to learn to inspire learner passions that are relevant to-, or create a healthy context for- our children's culture, environment and their time

.
How can we create the conditions for personal learning to flourish in classrooms and schools?
It's something that has to start small because it's about generating school & classroom culture

It's mostly a shift in the prevailing conversation from teaching & instruction to curiosity & learning.

"I learned this yesterday!"
"How did you learn that?"
"This is how I learn something new every day!"

Turn the workload over to the learner. Learning becomes more active and teaching more passive
Stop asking for the right answer, and instead, ask for an answer that works – and then ask the learner, "Why does that work?"
Invite the use of

Google
Wikipedia
Blogs & Twitter
As long as the learner can defend his answers

Chris Lehmann talks about a powerful question we educators don't ask enough:
What roles do networks play in personal learning?
Personal learning is not new. It comes from observing, thinking and playing – with intent.
Networks have expanded what we can observe, changed our point of view, and created an astoundingly more interactive board on which to play.
Growing up, I had…

Some books, Life magazine and Boys Life magazine.
A set of Compton's encyclopedias (black & white) (1961)
A small public library.
Limited TV & Radio programming.

Today I have

Wikipedia
The World Wide Web
Youtube
Netflix
My aggregators
..and it's in my pocket!
It's a time of no unanswered questions…
The work is

finding the answers that work

!

My context has exploded
Because of networks

How I learn has changed, and
Why I learn has changed (bigger context)
How can we help teachers and students move from just being connected to experiencing meaningful and productive connections? 
We make them responsible (not for the learning so much as what they can do with their learning)

We cut-off the paper and ask teachers to produce more and more of their own digital teaching materials, and we facilitate sharing.
We provide real audiences for our children's learning.

We ask children and even their teachers to publish and demo
We use our school and classroom websites to invite the community into our classrooms, to see

What and
How their children are learning and
What they are learning to do with they're learning.

We give them permission to "Get it wrong" by asking them "Why they think that's right?"

By asking them to defend their learning

We ask children (and teachers) to surprise us, to show us something we've never seen before.
What are appropriate roles for social media?
We start off by saying that there should not be a list of appropriate uses for social media.
It depends entirely on

what's being learned,
how it's being learned,
who's learning it and
Why
and who's facilitating it.

Social media's like any other kind of media. It has to be

Resourcefully identified,
Judged, and ? Utilized,
..to answer a question, solve a problem or accomplish a goal.  If it leads to success, then it's appropriate.

The Question should be,

"Is the answer appropriate to the question?"
"Is the solution appropriate to the problem?"
Not, "Is that the appropriate source?"
How do you encourage students to invest in their own "personal learning?"
You help them to understand that learning is empowering.
This is partly a result of passion-building.
But more, it's about helping them to own their learning

To write and publish a book that gets placed in the school & local public library
To produce a video essay that's posted on the school web site, uploaded to YouTube, and picked up by the local Cable TV Channel
To interview the children of recent history (The Great Depression, WWII, the race to the moon, a world without Nintendo) and teach (enlighten) the rest of the class.
To create playlists of students compositions, slideshows of their art work, and ask them to talk about the science, mathematics, social studies and healthful living involved in them.

You dare them to surprise us.
How important is it to have educators and leaders modeling personal learning?
It's not a learning culture, unless everyone's learning.
Students should know us by "What we're learning!"
We speak of education in the language of individual learning and personal growth, but schooling as it is largely practiced is about conformity and external assessment.  Are there larger pedagogical shifts that ultimately will need to precede true personalized learning?
End this obsession with measuring learning and comparing schools.  It will lead to the death of public education.
Embrace the fact that today 

It isn't what we know that's the same as everyone else that brings value to the endeavor. 
Innovative accomplishment comes from what we know and can do that's different.
Closing thoughts
We, as educators, need to think about the learning that we do and have done since we stopped being students.

What have we learned?
How have we learned it?
and Why?
and invent ways to make classroom learning mirror real-world learning.  It takes skills that all our children will need.

In a time of rapid change, being a learner has become more important than being leaned!
In a school that practices learning culture

Teachers model learning,
Students learn to teach themselves, and
The School educates the community
My daughter texted me yesterday morning, wanting to meet at the coffee shop to talk about an article she'd just discovered. She texted me the URL, http://goo.gl/pFc39Z. It's not a recent article and is actually one of Valerie Strauss' (The Answer Sheet) reprints of a blog article [link/pdf], written by Marion Brady (veteran teacher, administrator, curriculum designer and author).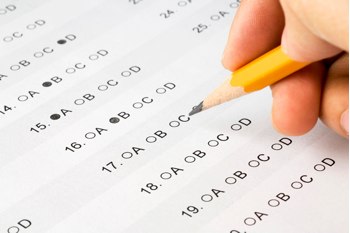 The article concerned a forth-term Florida district school board member, a friend of Marion's, who had taken a version of the Florida Comprehensive Assessment Test (FCAT) for 10th graders.  After taking the test, the board member called Brady, and this repeatedly re-elected board member, who helps to oversee 22,000 employees and a $3 billion budget and claims to be "able to make sense of complex data related to those responsibilities," said that he "hadn't done well."
He confessed that he wasn't confident about any of the 60 math questions, "but managed to guess ten out of the 60 correctly."  On the reading test, he got 62% of the questions right.  In an email to Brady, his friend wrote,
It might be argued that I've been out of school too long, that if I'd actually been in the 10th grade prior to taking the test, the material would have been fresh. But doesn't that miss the point? A test that can determine a student's future life chances should surely relate in some practical way to the requirements of (that) life. I can't see how that could possibly be true of the test I took.
Strauss later identified and interviewed the school board member, and reported on that interview in "Revealed: School Board member who took standardized test."
My daughter, who is certified to teach elementary grades and high school history, but has given up finding a teaching job (2008 recession followed by recent school staff cuts imposed by our state General Assembly [see]), expressed outrage.  She is currently struggling to score well enough on the GRE to get into the graduate school of her choice.
That Florida school board member's experience suggests a question that we are still not asking in any substantive way.  We eagerly, actively, and obsessively ask,
"What kind of teaching best practices lead to higher standardized test scores?"
We are not asking,
"How do higher scores on high-stakes standardized tests lead to satisfying, successful and productive lives and a better world?"
Brady says that decisions about how we assess teaching are,
..shaped not by knowledge or understanding of educating, but by ideology, politics, hubris, greed, ignorance, the conventional wisdom, and various combinations thereof. And then they're sold to the public by the rich and powerful.
How many of us, productive and successful adults, would willingly and confidently take our state's high-stakes standardized test, especially if our freedom to move forward was based on passing those tests?  
What would our legislative bodies look like, if a requirement for serving elected office was to pass the same tests that they impose on their 15 year old children?
This article has also been written about here:
Actor, Joseph Gordon-Levitt also posted a link to the article 
here
.
I was scanning through one of my favorite Infographics blogs a feed of infographic-related tweets this morning, taking quick peeks at a variety of projects for design ideas, when I hit this one, "20 Resume Power Words." There was nothing about the design that caught my eye, so I swiped on to the next one. But then, about three graphics later, my mind finally registered on some of the words, and I backed up to look a little more closely.
Conceptualized
Trained
Built
Introduced
Strengthened
Directed
Persuaded
Forecasted
Projected
Assessed
Set goals
Promoted
Oversaw
Improved
Adapted
Solved
Initiated
Planned
Managed
Increased

On second glance, I realized that there was not a one of these words that any good teacher couldn't "use in a sentence" to describe what he or she can do or has accomplished.
If this list can truly energize your resume, then you can get a better job!
Ok, there is no better job than teaching.  There is no more exciting profession, and it's going to – trust me – get a lot better.  But there are jobs that will, right now, earn you more respect, more support, more hours for lunch, more chances to travel, less stress, less emotional chaos, and in many states, a lot more money.
Ask any sales rep, engineer, plant manager, product designer, or copy writer to conceptualize for, train, build for, introduce to, strengthen, direct, persuade, forecast and project for, assess, set goals for, promote, oversee, improve, adapt to, solve for, initiate, plan for, manage and increase the performance of
Twenty-five 13 year-olds.
'nough said!
Brenda (my wife) and I are having a continuing "conversation" about photography.  She's a purist, a once passionate photographer in the age of film.  Like many things, she set aside her passion for picture-taking for motherhood.  Yet, she continues to have an opinion about what's good photography and what's…
Bottom line, digital processing of photos is not photography.  She wants the photos to look like photos and the other stuff can be enjoyed by people who enjoy.. well, "other stuff."
I've been trying to figure out how to explain to her the joy I have playing with the photos that I take, using a variety of computer applications, to continue to make the picture – and I think I've found an angle.
It started a while back when I was watching a photography podcast, a session about HDR (High Dynamic Range) (see this previous article). The speaker said that,
"HDR enables the photographer to capture what it was that inspired the taking of the picture."
The more I thought about it, the more sense this statement made.  You see, when I look up this mountain, the house, and the distinct cloud formations above it, I'm struck by both the distance and the closeness, the sheer quantity of ground, covered by giant spruce trees standing before me and the changing hues that all seem eager to claim their place, I am overwhelmed by the awesomeness of it – and I aim and snap.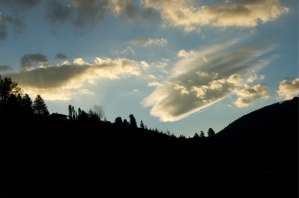 The original photo, where the brightness of the sky and clouds darkens the mountain-scape
Two more exposures, an over exposure (light) and an underexposure (dark)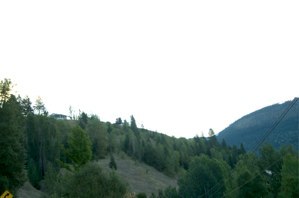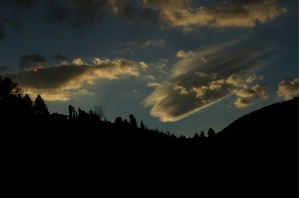 The software combines the three photos, and enables me to bring through the qualities of each that recapture what it was that inspired me to snap the photo.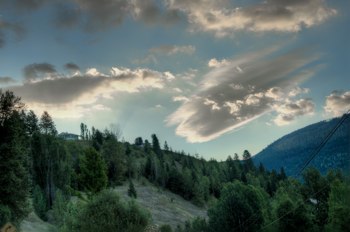 I can even push some of the qualities beyond their reality to make a picture even more interesting, and perhaps more inspiring.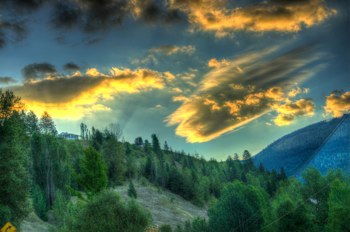 But, when I finally display the photo on my computer screen, it comes out pretty much as it was, though not as I saw it. My mind, you see, saw more than my eyes did.  It saw the multiple distances, the sunlight swimming through millions of spruce needles, the warmth in the clouds and coolness in the mountains' shadows.  My mind amplified the vibrant colors and registered that the scene was only part of a 360º panorama of sameness and diversity.  
My brain made the vision something that no camera could adequately capture, both functionally and technically.
But, when I take three different photos of the scene, at three different exposures, and load them all into my HDR software (Photomatix), I can bring out specific qualities of each exposure, overlap them, bleed them through and accentuate, approaching the vibrance and space that inspired me to aim and snap.  I can also exaggerate qualities creating a surreal version of the image, perhaps making interesting something that simply wasn't to start with.
Now, there's a reason why I tell this story here.  I use to have a bulletin board in my classroom that read, "This classroom is a lens through which you can see the rest of the world," and I meant it.  But there was only so much of the world that I could show my students through 5+ year old textbooks, a 1948 world map, and three cracked chalk boards.  To be sure, there was not a lot more I could have done with more recent textbooks, a brand new map and shiny new white boards.  The purist would say that I was doing my job, and perhaps doing it well.  I was playing my role – educating my students and teaching them skills.
It was also during those first years of teaching that I started paying attention: to the news, to people who weren't students or teachers, to science (became fascinated by quantum physics), to geography (we owned the book, Europe on $10 a Day (now Europe on $85 a Day) and dreamed of summers, vagabonding across the old continent).  I came to realize just how exciting and mysterious and vibrant the world really was, and was inspired to become a better teacher and better lens for my students.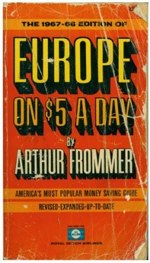 Closest that I could come. It's so hard to find pictures of things that predate the World Wide Web.
But, I couldn't do it.  I went back to the classroom, continuing my traditional role as teacher, expecting my students to sit still, pay attention, and remember.  My passion as a lecturer wasn't nearly enough.
Here we are today, with a new kind of classroom.  Our personal learning devices give us access to networked, digital and overwhelmingly abundant information.  We are no longer teaching from information scarcity.
Are we now teaching in a time when we can HDR our classrooms.  Might we finally capture and share what it was about our world experience, that inspired us to teach.  Might we even exaggerate hues and contrasts and blend colors in weird ways.  Can we make knowledge flow and glow and grow and cause learning to energize our children – rather than steal it from them.
Can we push reality into our classrooms and inspire our learners to become members, participants, and shapers of their future? – and ours?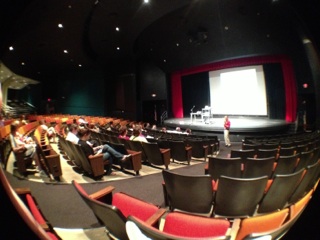 One of several sessions conducted that day (and the day before) by the high school principal for parents about the 1:1 program
I am home from a grueling couple of days in Eldridge, Iowa, where I spoke to parents and community members of the North-Scott School District and then to the faculties of the junior and high schools. North-Scott is implementing a one to one program for secondary schools, and the superintendent and school board members thought it might help for me to deliver a couple of kickoff presentations. They'd seen me at the Iowa Association of School Boards conference a few months earlier. I must have been in the zone that day, because I'm spending a good bit of time in Iowa in the next few months. No other explanation.
First of all, the community session enjoyed an excellent turnout. Too often, when I volunteer to do these things, I'll get only a dozen or fewer parents show up. Just too much else going on. But the seventy-some people who showed up were engaged and put me through rich and progressive Q&A afterward. There was a lot of concern about how teachers were going to learn to implement the devices and how they were going to keep up.
The next day, the principals and ed tech staff did something that I haven't seen before. They ran and EdCamp-style event between the two presentations I delivered, three sets of concurrent sessions, which the teachers defined in the auditorium and one of the principals typed into a Google Doc schedule. Then they all walked up, took pictures of the schedule with the phones and set out to learn from each other.
I have to confess that I was a little skeptical about this experiment. Most EdCamps are attended by teachers who are already pretty Web 2.0 savvy and committed to the whole value-of-the-audience thing. But I've never known of this type of unconference PD being imposed on a group of teachers. These guys surprised me. I spent some time in about a third of the conversations, and they were active, rich with questions and answers, entirely focused on learning, and most had at least a couple of people who had experience with the topic at hand. All of the teachers were engaged and seemed truly appreciative.
I have spoken to lots of faculties, who were told to be there and I often get the sense that my goal is to get the clueless to get one, a clue. But lately, that whole thing seems to have changed. The clueless seem to be very much in the minority, and they are paying attention to their colleagues who have knowledge and attitude.
It was a hard couple of days for me, but incredibly rewarding and encouraging.
Brenda and I had to pleasure of attending a send-off event for area (Raleigh, Durham, Chapel Hill) high school graduates who will be entering their first years at our alma mater, Western Carolina University. The whole "going off to college" thing has certainly changed, since my day of packing my clothes in a backpack and tossing it and a wooden crate of books into the back of my Fiat and hoping that it makes it up the mountains to Cullowhee. (Point in fact, I attended the local community college for two years, and one and a half years at East Caroline University before going to WCU.)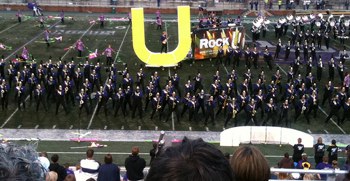 Unfortunately, none of the youngsters there were familiar with Western Carolina's celebrated and accomplished 300+ instrument marching band
We were there last night to congratulate the youngsters, 15,000 applicants and just less than 1,500 admitted, and wish them luck, since only 35.1% of incoming freshmen at North Carolina public universities graduate in four years. It is encouraging, though not comforting to parents, that 59.1% gradate within six years ("College completion," 2012).
The second reason that I attend these things is to count the number of alum who graduated before I did.  I counted one, by six years.  admittedly, It did take me six years to get my four year degree – for a wild variety of reasons.
At the beginning of the organized part of the event, led by WCU admissions and alumni officials, the youngsters were asked to introduce themselves, name the high schools they graduated from and their majors.  All graduated from Raleigh, Chapel Hill and Durham high schools, plus one from a school in up-state New York and one from somewhere in Florida.  Surprisingly, only two said, "Undecided" when reporting their majors, with a majority aiming for carriers in criminal justice, psychology, broadcasting, and one sociology.
Out of about 30 entering WCU freshmen from the Research Triangle of North Carolina, not a single one hopes to become a teacher.
Even though I am outraged, I am not surprised.
College completion. (2012, March). The Chronicle of Higher Education, Retrieved from http://collegecompletion.chronicle.com/college-stats/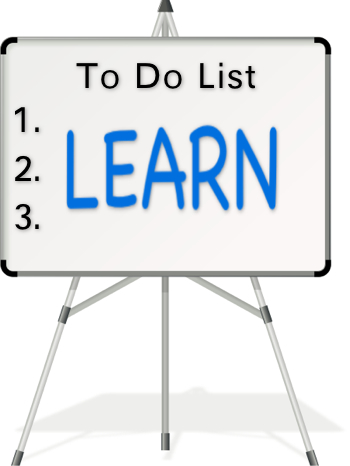 Many months ago I spoke at a leadership conference in Vancouver. When the event was over, officials with the British Columbia Principals and Vice Principals Association, held an invitational gathering of school leaders from throughout the province to create a new document establishing leadership standards for principals and vice principals.
To help them prepare for the upcoming conversations, seven relevantly accomplished professionals were invited to spend eight minutes each sharing their insights about school leadership and culture. They included a former superintendent, international educator, a director of education for a large Canadian school district, a developmental psychologist, executive director of the (Canadian) National Staff Development Council, president of a large chain of grocery stores, a professor of sociology ––– and me.
As I explained here (Warlick, 2012), I was fortunate to have been the last to speak – addressing literacy and learning-literacy. It was one of those singular learning experiences for me, sitting on the stage, listening to these really smart people, and changing the outline of my short talk with just about every idea set forth. I watched as my own presentation morphed into something different, articulate, and –– awesome.
So, with the 2013-2014 school year gearing up, and my own education career spinning down*, I thought I would spend some bits here expanding on each of the items that seemed to spontaneously appear on my iPad that afternoon.
A school that practices learning-literacy is a school where:
The distinctions between teacher and student begin to blur.

In a time of rapid change, when new jobs emerge and fade faster than any education institution can respond and lifestyles change with a globally connected cross-cultural conversation, literacy becomes something bigger. It no longer seeks to make readers. It makes master learners, people who can successfully learn, unlearn, and relearn. **

In this environment innovation becomes a commodity, the ability to resourcefully learn becomes the defining foundation of literacy, and the principal goal of formal education is to produce learners. In this environment pedagogies shift from best teaching practices to best learning practices.

Of course teaching does not go away and neither does a good lecture. but no teacher will deny that we all learned what we teach better, after we started teaching it, than we did as students in the classroom. Teaching is a potent learning skill. Therefore, perhaps one of the best ways that we can help our children to become skilled learners is to practice learning in front of them, and one of the best ways for children to learn, is to teach.

This means, for instance, becoming comfortable using technologies in your classroom, with which you are not comfortable. Demonstrating and talking about your process for figuring it out, or even asking for help from students becomes a life-size illustration of adapting to change – being a master learner.

There is less reliance on textbooks and authority, and more reliance on the work of learning.

Our information landscape has changed: in what it looks like, what we look at to view it, how we find it, where we go to find it, what we can do with it, and how we communicate it. We all engage in content generating conversations through blogs, twitter, YouTube, and what ever is to come. We can no longer believe it, simply because it was written down. We are more than information consumers today. We are participants.

I learned to assume the authority of the information that I encountered. I was taught with approved textbook, in academically managed libraries and by teachers whose position was based on their learnedness. Questioning the information that I encountered was not encouraged. It was unnecessary.

Today, habitually questioning content is required. It is a foundation of being literate. To become literate, students should learn within an information environment that exemplifies today's information landscape, where discussions of an idea's validity become part of learning the idea. We must learn to be responsible participants.

There is a natural convergence between the rich information skills of literacy and numeracy, and the information and data that define the content areas.

Information is increasingly networked, digital and abundant (overwhelming). Each of the qualities are new and they expand what it means to be literate. If you agree that learning is at least a major part of why we become literate today, then knowing how to employ these new qualities, in order to learn, are basic literacy skills.

At this writing, I am creating an infographic that tells a story about how today's North Carolina General Assembly came to be and what it cost. Because information is networked, I am able to find, evaluate and select information about campaign spending and its sources that would not have been practically available to me in the past.

Because that information was digital, I can capture that information, translate, organize, manipulate and interpret it using tools that didn't exist when I graduated from high school.

Because information is abundant (we are all overwhelmed by it), I am using graphic design and publishing tools that didn't exist when I left classroom teaching, trying the practically convey my findings in a visually clear and compelling message.

There is a physics to today's information landscape and accomplishing goals relies, in no small way, to the ability to harness these laws of digital behavior to invent solutions to brand new problems.

Teachers teach from new learning, as master learners.

When my grandfather was in college, molecules were defined as, "The smallest part of any substance which possesses the characteristic properties and qualities of that substance, and which can exist alone in a free state." (Webster's revised unabridged, 1913) By the time my father was in school, atoms were defined as "A particle of matter so minute as to admit of no division. Atoms are conceived to be the first principles or component parts of all bodies." (Webster's revised unabridged, 1928) I learned about electrons, protons and neutrons while my children learned about quarks and other strange particles. Today, we're reading about future computers that will operate on the behaviors of quanta.

The answers to the test questions are changing.

According to a 2010 Bowker report, 2009 saw 1,829 new books published in the U.S. about agriculture. 5,131 new books were published about computers, approximately 9,000 each about business and education. 14,281 brand new books were published about history – new knowledge about history. As we gain more access to information and to each other, the new knowledge that we generate as a society not only astounds us, but it is forcing us to redefine what it means to be educated. We have rapidly moved from a world of information scarcity to information abundance, and an education is no longer measured by what you can remember, but what you can learn and what you can do with what you've learned.

Teachers, who teach solely from their university experience do a disservice to their learners. Teachers should model themselves as habitual and resourceful learners, and skilled artisans of what they've learned. We must walk into our classrooms out of today, not from the day that they graduated.

Digital Footprints become a central part of the school's culture, building evolving personal and school identities based on learning and "doing" with the learning.

When I built the nation's first state department of education website, there were probably less than 100 parents in the entire state who could access it. But today, institutions are identified by their web sites. Some sites have become institutions unto themselves – Wikipedia, Amazon.com and Google.

When most of our children's parents think about the institutions that support them in their daily endeavors, they recall URLs instead of building facades. They expect to interact with their world through the World Wide Web. They expect to have the same digital access to the schools their children attend and the teachers who manage their classrooms. It has evolved from the exception to an expectation.

This is an enormous opportunity for education, to be able to communicate with and even educate the communities that they serve. We can distinguish ourselves, present ourselves for judgement and tell new stories about education, teaching and learning not through bureaucratic methods of measurement, but by enthusiastically sharing what and how our children are learning, and what they can do with what they are learning.

The library magnifies the world outside, but also reflects the culture inside, curating collections of learner-produced media products.

As already mentioned, a school that practices learning-literacy cultivates a digital footprint, along with its learners. One outcome of preparing children for an unpredictable future is that they are learning things that their parents didn't know. When those parents visit their schools' web sites, it should not be merely to learn about their children, but also to learn things that they didn't know, to be astounded, to spark new conversations for their families and to redefine teachers as master learners, not simply learned.

Since children are not merely learning, but also doing with what they learn, then they are in constant production, working knowledge, like raw material, into refined and valuable information products. The school's library becomes the repository for these products and the librarian, its archivalist.

Learners will visit the library not merely to find what's available from outside, but also from inside, to find work that previous students have done, and perhaps even improve on that work. After thousands of years of civilization, almost nothing starts from scratch.

Where learners learn, teachers model learning, and the school teaches the community.

I later rephrased this one to "In a school that practices learning-literacy, teachers model learning, students learn to teach themselves, and schools educate the community." This sentence, with its three principles, says it all for me.
Teachers Model Learning
Students Learn to Teach Themselves
Schools Educate the Community
* I'll be preaching for years to come – just not quite so frequently.
** A quote often attributed to Alvin Tofler, but actually his paraphrasing of Herbert Gerjuoy's "Tomorrow's illiterate will not be the man who can't read; he will be the man who has not learned how to learn."
(1913). Webster's revised unabridged diction. Merriam-Webster.
(1928). Webster's revised unabridged diction. Merriam-Webster.
Bowker LLC, (2010). Bowker reports traditional u.s. book production flat in 2009. Retrieved from website: http://www.bowker.com/en-US/aboutus/press_room/2010/pr_04142010.shtml
Warlick, D. (2012, October 22). [Web log message]. Retrieved from http://davidwarlick.com/2cents/?p=3733
keep looking »