I've been doing a lot of deep digging while working on my book about the history of technology in education – as I've seen it.  This afternoon, I happened upon some online handouts for one of my first keynotes and its slidedeck.  The address was called, "The Three Ts of Teaching in the Twenty-First Century."  It appears to have been delivered in November of 2000.
On one of the opening slides, I had listed the ten most searched for terms of that month.  As a comparison, I found the top ten searches on Google in 2014, and have listed them as well.
November 2000
 
2014
10
Pokemon
 
10
Sochi Olympics
91
Napster
 
91
Frozen
81
Playstation 2
 
81
ISIS
71
NFL
 
7
Conchita Wurst
6
Florida Recount
 
6
Flappy Bird
5
Britney Spears
 
5
ALS Ice Bucket Challenge
4
Thanksgiving
 
4
Malaysia Airlines
3
Dragonball
 
3
Ebola
2
Election 2000
 
2
World Cup
1
Christmas
 
1
Robin Williams
I was actually surprised how little it's changed?  We have video games, sports, entertainment with a peppering of world-shaping issues.
Here is the 8th installment of a short story I wrote as the 1st chapter of Redefining Literacy in the 21st Century, written in 2004. The setting is 2014. It starts here.
Copyright © 2004 by Linworth Publishing, Inc.Reprinted with permission from ABC-CLIO, publisher of Redefining Literacy 2.0
Ms. Crabtree is drawn back to the presentation as Alf rises and walks to the front of the room. As he turns to face the audience, he nods to Desmone, who begins the multimedia presentation. Sally could tell from the expression on her face that Desmone is nervous about controlling the presentation since she had not yet seen it.
The large screen goes black again, but in rising volume, music begins to play, a very slow and eerie piece with cellos, wooden blocks, and low flutes. A citation surfaces into view at the bottom of the screen in white, crediting the music to Alf Greeley. Ms. Crabtree's eyebrow rises as she acknowledges a new talent for this young man.
As the citation fades away again, a map of the world returns with a timeline to the right that covers a three thousand year range. The timeline pointer moves up the centuries and more splotches of red began to expand out becoming opaque, and then receding back into transparency. As the visuals proceed and the music fades back, Alf begins to speak, casually walking across the front of the room, identifying various periods of social turmoil and listing the number of people killed in violence as the labels and numbers impose themselves over the splotches.
As the timeline marker enters the later part of the second millennium, Alf describes the Protestant Reformation, The Inquisition, the Fall of Imperialism, American Civil Rights Movement, American War on Drugs. Alf finally says, "And the war on…" He stops abruptly.
Surfacing on top of the world map, a video clip materializes and shows the beating of Rodney King in 1992. Other videoed examples of violence by the police or military surface, play, and fade out of view, and as this occurs, Alf finishes his sentence, "…daring! Daring to be different, daring to resist, daring to celebrate or to mourn. Daring to be yourself in a world where fitting makes things run smoother, but makes people run cold."
Then he stops, and walks back to his seat. The room is silent, even Desmone remains motionless, until she smiles to herself and then turns and smiles at Alf. It was a powerful presentation, and there was also the provocation of Alf's video clips. There would be much discussion of this presentation from the community, and many opportunities for the team to defend their work.
The story continues here.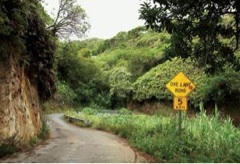 I found this photo on the Internet. I was to scared to stop and take a picture.
I do not believe I have ever, EVER been as frightened as I was yesterday driving between Kahului and Kapalua on the Kahelili Highway. It was mostly one lane, mostly on the side of the mountain and mostly unmaintained – no guard rails. There were yield signs all along the road, but no intersections.
When you encountered traffic, and could find room to let them pass, the wave you got from the driver was that of sweat-on-the-brow relief, especially from folks who appeared to live in the area. What surprised me were the venders tucked back in the hollows, in brightly painted old panel trucks, selling fresh vegetables, fruit and probably industrial grade sedatives.
I got about a quarter of the way to Kapalua, where the rational side of my brain yelled, "Turn back!" But the terrified, knuckles clawing at the lava rock walls said, "Hell No! I'm not going through that again, no matter how far I have left to go." Fortunately, about a third of the way there, it turned back to two lane.
Now that I've read up on the road, I count my self partly lucky and mostly stupid!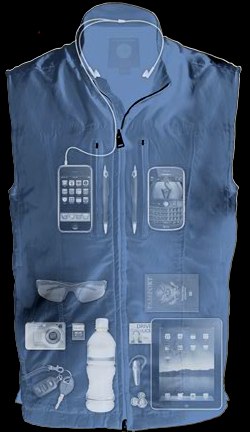 X-Ray View of the Scottevest.
One of the most continuous and vexing conversations that I have with myself is about how I am going to pack for this trip? I learned many years ago not to check luggage. It introduces an uncontrolled variable into the success of my work and an unnecessary addition to the stress of navigating my way from home to job and back.
But what I end out with is an airline compliant roller-board that is so densely packed and heavy that I'm constantly deal with strained elbow from whipping it up onto the conveyor belt at security, and a continuous (and person) quest for the perfect computer bag — one that facilitates the necessities of work and connectedness, yet prevents me from packing the erroneous and weighty devices that I want to take but never get around to using.
I may have found the solution, the ScotteVest. Those who've seen me present may have seen my poking fun at wearable computing — the clear plastic computer jacket from MIT and cell phone that you wear on your fingers. But this may actually be practical, a 22 pocket vest that will carry — well watch the first video.
What's more, it's iPad compatible.
Here are some videos that illustrate the many features of the Scottevest:
So what might we see as the definitive fashion statement at ISTE this year?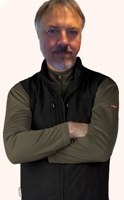 Added later: Evidently, Scott Jordan, of ScotteVest is fairly social media-concious. I started following some of the video links, clicked back to the web site, and found a fairly rich web of social connections, including Facebook, a Blog with associated vlog, a YouTube channel, twitter, LinkedIn, a Flickr site, and MySpace.
What was especially interesting was a video conversation he had with Apple. Jordan upload a video to YouTube demonstrating some of the problems he was having with his iPad. Shortly after he posted it and received a number of comments from viewers who were having the same problem, he was contacted by a tech person at Apple who walked through a few things, and then excused himself saying that he would have to schedule a time to get back and go through the issues in more detail — and would Jordan mind making his video private. He did did, thanking the tech and praising Apple for its responsiveness. He got an email back from the tech guy saying he was having difficulty in scheduling a time and to be patient — and then nothing. Jordan put the video back up along with a followup video bringing us put to date.
I did not follow the thread any further, but it's simply another example of the drama of social media and customer relations that are (and I don't use the term very often) transparent.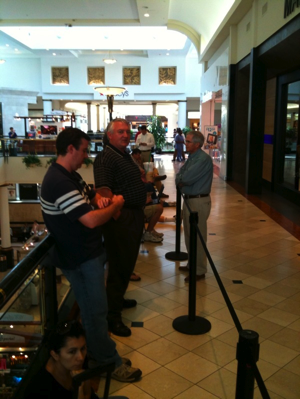 Waiting in line for the iPad 3G
I'm multitasking big time, sitting on the tiled floor of Crabtree Mall, number 5 in line for an iPad 3G. I'm monitoring twitter a bit, eying folks walking by, and chatting with the young man next to me, who stood in line for a WiFi, only to take it back because he wasn't satisfied with the apparent network deficiencies. He said it wouldn't pick up WiFi in places he knew it was available. So 3G hopefully will be the answer.
I'm also going through my new book, newly back from the editors. She delete about 200 commas in the first 18 pages. Sheesh! Plus, she's deleted about 29 extra Gs in Gary Stagger's name… We might get this thing down to less than a hundred pages after all.
I have to admit that I'm not sure why I'm buying this iPad thing. People are actually gawking at us. I suspect, if pushed, that I can come up with two reasons — besides the obvious geek-cool factor.
First of all, the iPad (and the many 'Pads that are on the way) is remarkably similar to an information device that I described in the first edition of "Redefining Literacy." That particular chapter was re-written and published in Library Media Connection. You can read it here. It was a personal device, used by teachers and learners, that could be connected to keyboards and larger displays for group work. You could also listen to podcasts, audio books, watch movies, and collaborate with learning teams.
The second reason has more to do with practicality — admitting fully that I do not yet know how practical this thing will be. I've gotten enormous use out of my netbook (Acer running Linux), mostly using it for writing at Starbucks, note-taking at conferences, and putting final touches on my online handouts when my MacBook Pro is already set up for a presentation.
The problem with the netbook is the boot up time, uncertainty about WiFi (though my AT&T broadband card works flawlessly on it), the occasional need to work it while standing up, and the inevitable frustrations of fixing things on Linux when you do updates (mostly due to the WiFi card in this particular ACER).
In addition, I've found myself using my iPhone as an information device (text entry and web research) a whole lot more than I'd thought I would, becoming something of a nimble thumb'er. More gawking!
I wish I'd brought a lounge chair, like the guy next to me. Hey, I'm number five in line. I'm not complaining.
Apple store just closed. One more hour to wait…
TEDxBANFF, from the stage, about an hour before the kickoff. For some reason, I didn't think to get my camera out, once things got started
I think I made a respectable, if a bit shaky, performance yesterday. After I was off the stage, I felt the same way that I always feel when I've done something for the first time — wishing I'd done things a different way and knowing that I will the next time.
I was fallowed by two other men (no women in the TEDxBANFF lineup) who talked about the future of schools and the magic of empowering unsuccessful classroom learners, and another talking about wind energy and energy literacy (Oh Gawd! Another literacy). They were all excellent presi-performances.
But! We were all blown out of the water by the 18 year old guitar player. Calum Graham has been playing guitar for four years, which was perhaps the most surprising thing that I learned about the young man, who's performance epitomized surprise.
I had a conversation with the Calum before the TEDx about guitars — and I asked him, as one must, "What kind of music do you play?" He compared his style to Chet Atkins, I suppose because I looked like a Chet Atkins guy from his 18 year old perspective. I then told him how much I liked Leo Kottke, and he replied that he was probably somewhere between the country tone of Atkins and the folkiness of Kottke. After finally listening to Graham, I knew how uncomfortable he must have been with my question.
I do not know this for a fact, but I suspect, as a guitar player myself, that no one taught him how to play guitar. I doubt, also, that he spent a lot of time trying to sound like James Taylor or even Mason Williams (though he does a mean Calum'ized version of "Classical Gas").
As I lay awake earlier this morning, trying to figure out what I'm going to talk about today in St. Albert and tomorrow back in Banff, and kept coming back to Calums performance, it finally dawned on me that he was playing the guitar. He was playing beautifully crafted and polished assembly of wood and strings. It was a mistake for me to try to think of guitar players I'd seen when I saw him on the lineup, because it was not trying to be a guitar player. He was playing the guitar..
..like he invented it!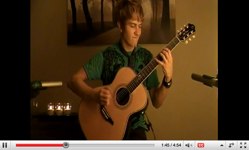 You see, I was wrong yesterday, when I said that you had to have a goal in mind, a problem to solve, or product to sell, in order to be creative. I doubt very seriously that as Calum began teaching himself to play guitar, that he had any specific outcome in mind except the joy of making music. It was him and the instrument, and he taught himself how to get music out of the thing.
His hours of practice and experimenting for the joy of the effort, led to a performance and CDs that I know bring great pleasure to many people, and that joy seems to have led to a truly inventive (creative) way of playing the guitar.
It's like I said to him, before he went on stage, "Surprise me!"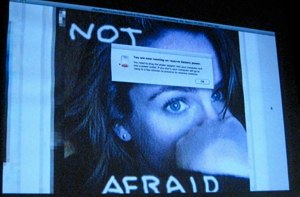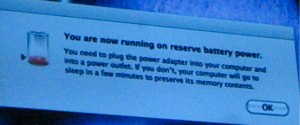 The warning popped up as people were leaving and the BOCES Communications Director was taking some pictures of the presenter and other
Ok!  So you know you are becoming too much of a AV geek, when you spend nearly a half hour making sure that the audio and video for your computer are just right and that all of the web sites you need to load are not blocked — and then you forget to plug your computer into the electrical socket.  Here's what popped up, luckily, just after my keynote for the Erie 2 BOCES professional development conference in Freedonia, New York a few days ago.  Sadly, this isn't the first time this happened.  At least with my solid body Macbook Pro, I have enough battery life to get away with it.
From there I flew to Newark, New Jersey, took the NJ Transit across the river to the city, where I met Brenda, who'd taken Amtrak up from Raleigh.  We had a nice night's rest at the Courtyard Manhattan (Marriott can be relied on for the best mattresses in the industry), followed by a walk for several blocks to breakfast at the Tick Tock Dinner, next to Penn Station.  They even served grits.
My brother Dennis, who lives in Manhattan, met us there, and then took us on a whirl-wind walking tour up as high up as 79th street, and down to something called The High Line. The High Line [tagged flickr photos] was actually envisioned and lead by two friends of my brother, who found private funding to turn sections of unused elevated train track a into a greenway — of sorts.  It was crowded (first Spring day of NYC 2010), but it was interesting to be walking along a path about fifty feet above the city's bustle. [photos here]
Then it was a sandwich at a pub in The Village, back up to the hotel on 40th street, a shower, and a car out to JFK, where I had to finesse a visa that I didn't know I needed to enter Australia — and now approaching (I hope) Sidney.
I'll be speaking at a South Western Sydney Regional ICT Conference on Wednesday.  It's my first time in Australia and I look forward to learning where they are with education reform.  From my web-based interactions, they seem to be very much where we are in the U.S., though I'd have to admit that there seems to be more innovation going on there at the local level.
I also look forward to spending a little time with Stephen Heppell, the opening Keynote speaker.  He and I keynoted a library conference in Toronto a couple of years ago, and I was deeply impressed with and influenced by his message, and especially by what he is contributing through his consulting services with schools in underdeveloped countries.
Along the way, I'm starting to read Linda Darling-Hammonds new book, The Flat World and Education.  So far, it's a lot of the same statistics that I've already heard, read, and used, that paint a picture of an American schooling system that is virtually standing still (and deteriorating in some respects) compared to some other locations that are making a concerted and nationally lead effort to restructure their schools, curriculum, and learning methods for a knowledge-based economy.  I look forward to reading more about Darling-Hammonds vision for moving the U.S. forward.
From someplace over the South Pacific and probably your tomorrow, this is David Warlick signing off.
Powered by Qumana
Most of this entry was written while flying to the iCTLT event in Singapore.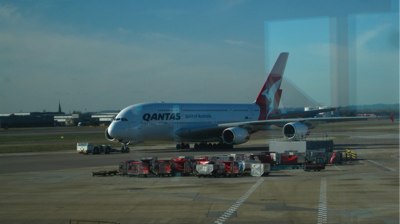 After about an hour's delay in London, we enjoyed an amazing take-off bound for Singapore and the iCTLT (International Conference for Teaching and Learning with Technology). The take-off amazed me because of the size of this jet, an Airbus a380. Unlike the Boeing 747′s signature second floor hump in the front, the A380 is two floors all the way to the back of the plane. I am just behind the wing on the top floor sitting in a premium version of coach class (thanks, Brenda). It's not business class or first class, but there's gobs of room.
According to the Quantas magazine, the A380 is only slightly longer than the B747, but sports a wing span just two first downs short of a football field and it can carry up to 450 passengers. The crew was meeting in the gate area just before the jet arrived and they would not have all fit in most of the jets I typically ride in.
Days later, I'm back in the U.S. and working to get ready for a Webinar for Linworth on Thursday, some work here in North Carolina, and then up to New York before heading to set foot, at last, on Australia.  Cool!
Powered by Qumana
I woke up to the BUZZ, this morning, Google's new social networking tool. The first person I saw was Sharon Peters (other than Brenda, elbowing me about my phone making some noise in my office). What impresses me about BUZZ is how well it integrates into the rest of the Google community of apps, making it almost unavoidable. But my mind keeps telling me…
Too many channels!
Too dang many channels!
Barcode of my Name
Single Dimensional

QR Code of my web site
Two-Dimensional
I spent most of yesterday afternoon tinkering with matrix codes, which are two-dimensional scan codes — as opposed to the single-dimensional bar codes (see right). I was especially interested in QR Codes with which you can express a wide range of information, to be picked up by scanners. QRStuff includes an online tool that will generate printable codes that hold: text, website URLs, a telephone number, SMS message, contact details (VCARD), Google map location, or Facebook and MySpace profiles. Then, you can have QRStuff print it on a T-shirt for you for only $19.95.
What makes these things so potentially useful is the wild range of smartphone apps that will scan these things with the phone's camera. So I might walk up to a restaurant, with a matrix code by the door, scan it with my iPhone, and receive the establishment's web page with menu, reviews, and dress code. Or, I might include one at the opening of my presentation Prezi™, that the audience might scan with their smartphones to load my online handouts or backchannel site — heads up you guys in Brevard County, Florida.
I also see this being played in some geospacial mystery or scavenger hunt-style games, which may be the potential of Kaywa's DokoDar. But beyond that, I can only feel that there might be other ways that this sort of real/digital life connectivity might be used.
If I had a classroom, I'd ask my students?
What do you think? What do your students think?
Powered by ScribeFire.
I've seen things you people wouldn't believe. Attack ships on fire off the shoulder of Orion. I watched C-beams glitter in the darkness at Tannhäuser Gate. All those moments will be lost in time like tears in rain. Time to die. ((Fancher, Hampton, and David Webb Peoples, Script. Blade Runner. Dir. Ridley Scott." Perf. Hauer, Rutger. 1982, Film.))

Blade Runner, 1982
Some times I feel like Roy, the dying replicant (robot), lamenting the loss of one soul's experiences — what sites he's seen. We've been witness to some pretty amazing sites in just the last few years, and they have been both tumultuous and exhilarating.
We have been a part of a dizzying array of advances — and yet, change has been just slow enough that we do not see it nor do we think that much about it — amongst our every day endeavors. Of course, this paradox shouldn't surprise us considering that as my country works hard to overhaul its healthcare system, and the world grapples in Copenhagen, to rein in global warming, what holds our attention is the infidelities of a professional golfer.
That said, I feel it is important that we, during this holiday season, be reminded that in the year 2000
You were probably still running Windows 98 on your PC, or OS 8 or 9 on your Mac — on which you were still using Hypercard.
If you used a laptop, you had to plug it into the Internet — and often through a telephone.
E-mail was still THE killer app because there was no MySpace.
To twitter was "to make high-pitched sounds, as of birds."
There was no Firefox, no Flickr, and no Facebook.
The hottest thing going was Napster and the hottest MP3 player was the RIO, from Diamond Multimedia, with 32Mb of audio storage to brag about.  (that's 1/2000 that of today's iPod Touch)
Some of what's happened since 2000 has not been that noticeable, such as genetically engineered corn and applications of nanotechnology.
Some of it, we should have noticed more, such as our exploration of the Saturnian system, and skid marks left on the surface of Mars — and most of our textbooks still call Pluto a planet.
The software that you used came in a box with a paper manual — and you most likely paid for it.
PDAs had a stylus.
No one had a Blackberry or iPhone, and
If you owned a mobile phone — it was just a phone.
You weren't blogging and if you maintained a web page, it was with Dreamweaver or Microsoft Frontpage.
ISTE was NECC and NECC was in Atlanta, and we don't know what was hot, because we weren't blogging it.
We were not worried about China and India, and we'd just gotten through Y2K with hardly a hitch — thanks to people from China and India.
Yahoo! looked like this

CNN.com looked like this

My web site looked like this

..and Google pretty much looked the same that it does now.
Wireless Internet, iPhones, and traffic-displaying GPS would, to many, have seemed "indistinguishable from magic."

What, that we would call astounding (magical) today, may we take for granted ten years from now — and how prepared will the students attending our classrooms today be for that future?

If you were teaching in 2000, then you remember a sense of professional pride, which has been stripped away for political gain.

In 2000, society's most critical endeavor, education, had not yet been usurped by amateurs in Washington, and driven decades in the wrong direction by people who saw no further than the industry-modeled classrooms they'd attended decades ago.
What will 2010 bring? In the next few days, I'll tell you…
keep looking »