Circuite Scribe
If you are a follower of this blog, then you're aware that I am employing both of my children to curate their own teacher resource blogs (Infographic-A-Day & Vid-A-Day), and that I syndicate them into 2¢ Worth.
One, posted by Martin the other day, really caught my attention (Circuit Scribe, the new way to teach and use circuits). It's an ink, developed at the university of Illinois, through which electrical current can be carried. Their (electroninks) intent is an innovative way to help youngsters come to understand circuits. They doodle their circuit ideas with Circuit Scribe pens, lay components on their drawings, and throw the switch.
Part of what intrigued me about the project was our education community's growing interest in helping students learn by making things – with tools, wires and code. This product is such a threshold-free approach to learning circuit design.
The other thing that provoked me to comment here is my son – and I hope that Martin doesn't mind my bringing his personal experience into this. You see, Martin is incredibly talented at becoming an expert in areas that interest him. Many of you know that he is a celebrated master musician. But he constantly surprises us when he suddenly can talk with us about that never seemed of interest to him before, such as some old movie we've just seen.  He's telling us about the director, actors, academy award nominations, related works and stories about its production. He's especially fond of the Coen brothers and Wes Anderson.
He can also tell you almost anything about the NBA and is currently learning a lot about the NFL, via his fantasy football league. He is definitely not the athletic jock type (band geeks were big on campus in his high school) and has never expressed any interest in sports until recently.
To the point of this writing, I find it interesting that my son zoomed in on this video about Circuit Scribe. You see Martin dropped out of the computer science program of one of our state universities, because he hated programming – and I think I know why. They were not teaching him to doodle. I don't mean literally draw his programs with conductive ink. They weren't helping him learn to code the way I learned to code. He was being made to learn programming in the same way that I was taught grammar. It was about memorizing proper syntax, instead of learning to make computers do interesting and useful things.
My children will both find their intersections of play, purpose and passion, and it will (hopefully) be something they can make a living at.
..and they'll do it in spite of the "test-prep" curriculum that dominated their childhoods.
Note: Ramble and snark quotients: +99
When I was a student, I was taught to scratch paper. I scratched lines and loops and did it well or poorly, properly or improperly. I hide all of my scratched paper in my notebooks until it was time to give it to my teachers, who measured its correctness by marking what was incorrect.  If there was no incorrectness, then a got a 100 or an "A" ––––– 100 what? "A" what?
The hope was that if it was ever necessary for me to write, in order to communicate across time or space, I would remember enough correct scratching to be coherent and compelling.
When I graduated from high school, writing was still a "just in case" skill.  A sizable portion of my class went to work in one of the local textile mills, planning never to ever have to scratch anything again that was any more important than a shopping list.  
This is an profoundly inefficient and disrespectful way to educate free people.
To say, "One day you'll need to know this," is to admit appalling lack of commitment and creativity.  This is especially true when insult to injury is what's not said, "You'll need to know this for the government test in May."
What conjured this internal conversation in me was a brief exchange in the backchannel transcript from a National Science Teachers Association conference in Charlotte a couple of weeks ago.  Diane Johnson tweeted:
..to which I commented in the transcript wiki,
Stop Integrating technology. Instead, integrate networked, digital and abundant information. It changes what it means to be literate, and it empowers learning. Empowered learners are better than engaged learners. - dfw
That last sentence came from something that David Jakes said at ISTE last year in San Antonio.  He said,
"We need to shift from a focus on'Engagement' to focusing on 'Empowerment.'" (Jakes, 2013)
I, in my schooling, was neither engaged nor empowered, as I learned to scratch paper.  Of course, there were those who were engaged, or acted engaged.  They scratched eagerly and more correctly than I did, because they received more 100s and As.  I don't know how their scratching was better than mine, because I never saw it.  I couldn't learn from their example, because their scratches were hidden in notebooks as well.  It had no more value or power than mine did.
I don't scratch any more.  I write.  I put words to paper or to screen, and clarify their meaning with punctuation and capitalization, because I am writing to someone for some purpose.  
I'm still learning to write better. I question what I write and I Google things like, "proper placement of commas in sentences" or "italics quotation marks  and titles." I also use an array of digital tools to help me spell and choose the best words – tool that my teachers, 50 years ago, could not have imagined.  Their notions of our future needs and opportunities did not reach much further than cotton mills and the college that the "engaged" would attend – as well as a few of us who were not "engaged."
Today, engagement has become one of our most earnest pursuits, because we're teaching children who are accustomed to being engaged. 
  ..and we continually ask, "How do I measure engagement?" 
You can't, at least in any way that even suggests the quality of learned.
But empowerment can be measured.  You do it the same way that our value is measured after we leave classrooms, teachers and textbooks behind.  Learners demonstrate what they've learned, by what they're empowered to do with it – what they produce, the problems they solve, the goals they accomplish.  Look at a produced video, crafted animation, clear and compelling article, or a creatively designed and marketed bird house, and you can see what was learned.
It's not clean.  It's not clinical.  But what does precision grading mean when the names of state capitals, the chemical symbol for magnesium and the proper placement of the comma can all be Googled.  Why are we so pressured to test our children's ability to live without Google.
Lets face it.  The only ones who want this for our children are those who would politicize and monetize education.
Jakes, D. (2013, June). In Steve Hargadon (Chair). an unconference discussion. A conversation that was part of Hack Education Iste 2013, San Antonio, TX. 
Yesterday, Tim Holt wrote "Why I am At a Science Conference," describing his work at this week's Conference for the Advancement of Science Teaching (CAST), and why it is so important that we edubloggers and techspeakers should be sharing our messages into other communities of interest, science teachers for instance. I agree. I've tried, for years, to get into social studies conferences. When I succeed, it's to do a concurrent session, and only 12 teachers showed up. It's part of the nature of the profession, that we owe our professional identity to our particular area of specialty.
I have keynoted foreign language conferences, library conferences, administrator, and even book publisher, real-estate developer and farmer conferences. Perhaps the most receptive to my particular message are school boards conferences. But Tim is right. Little of this actually makes it into classrooms, especially the "Common Core" classrooms.
Part of my Kerbal Space Program Diary
One of my early attempts into orbit, achieving a spectacular fall after a 35 meter ascent.
At about 26 Kilometers, my Kerban pilot decided to do a space walk. Alas he locked his keys in the capsule and burned up during the descent.
These three Kerbans made it into an orbit whose apogee was around 1.4 million kilometers and perigee was somebody's basement on the far side of Kerbal.
Holt referred to the fact that I too will also be speaking to Science teachers this week, in Charlotte, at one of the regional conferences of the National Science Teachers Association – and my efforts to tailor my presentation to that audience. I admit some concern about speaking to science teachers, because I taught social studies, and my examples tend to be more social studies oriented – though I would maintain that any good social studies teacher is also teaching science, math, health, literature, and everything else. It's all societal.
Tim mentioned me because of a string of posts I made to Facebook and Twitter yesterday, reporting my progress in playing with Kerbal Space Program, a sandbox-style game that has the player designing, building, and flying space craft, on missions from the planet Kerbal. It's been fun, regardless of my immigrant clumsiness with video games – though I am experiencing some pride in finally getting a manned (well a Kerban-piloted) space craft into orbit. It cost the lives of 12 fellow kerbans and several billion $kerbols worth of hardware.
Holt writes,
And although (David's) message is VERY general, it is at least a start. He is trying to tailor the message to the audience by demoing the Kerbal Space Program online game (https://kerbalspaceprogram.com) so good for him. But those opportunities are few and far between.
These opportunities rare and priceless. ..and forgive me if I seem overly sensitive and even defensive, but there is nothing general about this. The message is singular and it is revolutionary. It has nothing to do with, "Look, here's something that you can do in your classroom with technology." It is,
"Look, here's what many of your students are doing outside your classroom. It's fun, but it's work. It's hard work. And it is entirely about learning. The energy of our students' youth culture is not based on how high you can jump or fast you can run. It is neither wit nor the appealing symmetry of your face. The energy of their culture is the ability to skillfully and resourcefully learn and to inventively employ that learning."
My message is that children are entering our classrooms with learning skills that, although based on long understood pedagogies, they are skills that we are too often ignoring and sometimes even handicapping. When I say that we "chop their tentacles off," it's not about cutting them off from technology. We're amputating their access to the learning skills that they are so effectively developing outside our classrooms – their avenues to personally meaningful accomplishment.
Perhaps those of us who have chosen to pursue education technology or have been seduced by its potentials are in a unique position to notice our children's 'native' learning skills – more so than science or social studies teachers. But we all must be careful to shed the glow of tech, and get right down to the point of being educated in this time of rapid change.
It's not about being taught.
It's about becoming a learner.
National Science Teachers Association
The National Science Teachers Association (NSTA) will be holding a conference this week in Charlotte, The Queen City of North Carolina. It is both ironic and opportune for science teachers, from around the country, to converge on my state to celebrate science education and to learn more about their chosen passion and techniques conveying it to their students.
I had planned to explain this event's importance as part of my address to the audience. But, alas, I'll have only 45 minutes, so will be getting right to business. Instead, I'll explain it all here, sitting in a Raleigh coffee shop, and proud to be a citizen of this state that owes so much of its recent success to science and education – and a state that desperately needs to be snapped out of its stupor.
Dazed by $80,000,000 worth of campaigning in 2012 ("Follow the money," 2012), we have witnessed an arrogant government, in effect, vilify science and education. Helping to spur this backward thinking is John Droz, a retired real-estate investor and fellow with the American Tradition Institute (which is tied to fossil fuel interests). In a recent presentation [a Droz slidedeck] to the General Assembly, he called smart meters "fascism in a box" and environmentalism a "new world religion backed by the United Nations." Among his cited sources were,
Whistleblower, the monthly magazine companion of WorldNetDaily a website that promotes conspiracy theories about topics such as President Obama's citizenship; Quadrant, a conservative Australian magazine that was involved in a scandal over publishing fraudulent science and the Institute for Creation Research a Texas outfit that rejects evolution and promotes Biblical creationism and the notion that "All things in the universe were created and made by God in the six literal days of the Creation Week." (Surgis, 2013)
Also carrying some influence is John Skvarla, the newly appointed Secretary for the state's Department of the Environment and Natural Resources. He apparently believes that oil is a renewable resource, saying "The Russians for instance have always drilled oil as if it's a renewable resource, and so far they haven't been proven wrong."
And then there are the legislators of 20 coastal counties, where developers have been stifled by the notion of sea level rise. So to make things better for developers, They introduced a bill that outlaws the rise of the sea, or at least how it's measured. From House Bill 819, Section 2.
10 (e) The Division of Coastal Management shall be the only State agency authorized to
11 develop rates of sea-level rise and shall do so only at the request of the Commission.
12 These rates shall only be determined using historical data, and these data shall be
13 limited to the time period following the year 1900. Rates of sea-level rise may be
14 extrapolated linearly to estimate future rates of rise but shall not include scenarios
15 of accelerated rates of sea-level rise. Rates of sea-level rise shall not be one rate
16 for the entire coast but, rather, the Division shall consider separately oceanfront and
17 estuarine shorelines. ("Coastal management policies," 2011)
This whole business prompted comedian, Stephen Colbert to say on the air, "If your science gives you a result you don't like, pass a law saying the result is illegal. Problem solved."
The dramatic decline in Tobacco farming in North Carolina, illustrated in this graphic (North Carolina Department of Agriculture), has meant an enormous hardship for rural NC. As part of Raleigh's efforts to find a new cash crop, the Biofuels Center of North Carolina was established five years ago, researching, developing and testing a variety of crops biomass crops.
The now defunct Biofuels Center of North Carolina web site
The center closed its doors last week. The General Assembly cut the center's entire $4.3 million budget. In the words of Steven Burke, the centers CEO,
"The center, a growing biofuels community statewide, and companies considering new facilities here share dismay that North Carolina has visibly pulled back from the nation's lead state biofuels agency and from long-term commitment to comprehensive biofuels development." "No longer pursuing advanced biofuels with a focused, comprehensive strategy will lessen opportunity to create rural jobs, strengthen agriculture, and create an enormous biofuels and biomaterials sector."
There's not much that a few thousand science teachers can do, except to be mindful that science is neither fact nor theology. It's a way of looking at the world, observing, hypothesizing, predicting, testing, evaluating and adapting. It is both personal and social, and following someone else's standards for what's to know (to be taught) is as repudiating to what science is as outlawing the results.
I look forward to seeing many of you at the NSTA conference this week in Charlotte. I'll be in Convention Center, Ballrooms C&D at 2:00 on Friday afternoon.
Follow the money. (2012). Retrieved from http://www.followthemoney.org/database/state_overview.phtml?s=NC&y=2012
Surgis, S. (2013, February 7). Climate conspiracy theorist returns to NC legislature, warns of threat from science 'elite'. [Web log message]. Retrieved from http://www.southernstudies.org/2013/02/climate-conspiracy-theorist-returns-to-nc-legislature-warns-of-threat-from-science-elite.htm
(2011). Coastal management policies (House Bill 819). Retrieved from North Carolina General Assembly website: http://www.nccoast.org/uploads/documents/CRO/2012-5/SLR-bill.pdf
North Carolina Department of Agriculture & Consumer Services, North Carolina Agricultural Statistics. (n.d.). Crops: Highs & lows, stocks & storage, biotech, varieties, floriculture, county estimates, fruits & vegetables. Retrieved from website: http://www.ncagr.gov/stats/2012AgStat/Page061_098.pdf
My daughter texted me yesterday morning, wanting to meet at the coffee shop to talk about an article she'd just discovered. She texted me the URL, http://goo.gl/pFc39Z. It's not a recent article and is actually one of Valerie Strauss' (The Answer Sheet) reprints of a blog article [link/pdf], written by Marion Brady (veteran teacher, administrator, curriculum designer and author).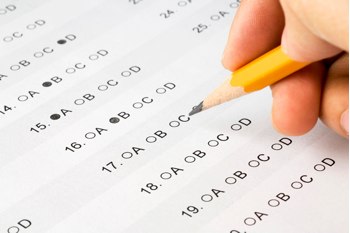 The article concerned a forth-term Florida district school board member, a friend of Marion's, who had taken a version of the Florida Comprehensive Assessment Test (FCAT) for 10th graders.  After taking the test, the board member called Brady, and this repeatedly re-elected board member, who helps to oversee 22,000 employees and a $3 billion budget and claims to be "able to make sense of complex data related to those responsibilities," said that he "hadn't done well."
He confessed that he wasn't confident about any of the 60 math questions, "but managed to guess ten out of the 60 correctly."  On the reading test, he got 62% of the questions right.  In an email to Brady, his friend wrote,
It might be argued that I've been out of school too long, that if I'd actually been in the 10th grade prior to taking the test, the material would have been fresh. But doesn't that miss the point? A test that can determine a student's future life chances should surely relate in some practical way to the requirements of (that) life. I can't see how that could possibly be true of the test I took.
Strauss later identified and interviewed the school board member, and reported on that interview in "Revealed: School Board member who took standardized test."
My daughter, who is certified to teach elementary grades and high school history, but has given up finding a teaching job (2008 recession followed by recent school staff cuts imposed by our state General Assembly [see]), expressed outrage.  She is currently struggling to score well enough on the GRE to get into the graduate school of her choice.
That Florida school board member's experience suggests a question that we are still not asking in any substantive way.  We eagerly, actively, and obsessively ask,
"What kind of teaching best practices lead to higher standardized test scores?"
We are not asking,
"How do higher scores on high-stakes standardized tests lead to satisfying, successful and productive lives and a better world?"
Brady says that decisions about how we assess teaching are,
..shaped not by knowledge or understanding of educating, but by ideology, politics, hubris, greed, ignorance, the conventional wisdom, and various combinations thereof. And then they're sold to the public by the rich and powerful.
How many of us, productive and successful adults, would willingly and confidently take our state's high-stakes standardized test, especially if our freedom to move forward was based on passing those tests?  
What would our legislative bodies look like, if a requirement for serving elected office was to pass the same tests that they impose on their 15 year old children?
This article has also been written about here:
Actor, Joseph Gordon-Levitt also posted a link to the article 
here
.
I was scanning through one of my favorite Infographics blogs a feed of infographic-related tweets this morning, taking quick peeks at a variety of projects for design ideas, when I hit this one, "20 Resume Power Words." There was nothing about the design that caught my eye, so I swiped on to the next one. But then, about three graphics later, my mind finally registered on some of the words, and I backed up to look a little more closely.
Conceptualized
Trained
Built
Introduced
Strengthened
Directed
Persuaded
Forecasted
Projected
Assessed
Set goals
Promoted
Oversaw
Improved
Adapted
Solved
Initiated
Planned
Managed
Increased

On second glance, I realized that there was not a one of these words that any good teacher couldn't "use in a sentence" to describe what he or she can do or has accomplished.
If this list can truly energize your resume, then you can get a better job!
Ok, there is no better job than teaching.  There is no more exciting profession, and it's going to – trust me – get a lot better.  But there are jobs that will, right now, earn you more respect, more support, more hours for lunch, more chances to travel, less stress, less emotional chaos, and in many states, a lot more money.
Ask any sales rep, engineer, plant manager, product designer, or copy writer to conceptualize for, train, build for, introduce to, strengthen, direct, persuade, forecast and project for, assess, set goals for, promote, oversee, improve, adapt to, solve for, initiate, plan for, manage and increase the performance of
Twenty-five 13 year-olds.
'nough said!
A couple of weeks ago, I delivered several presentations to a school district in the mid-west, one of the numerous August back-to-school gigs I'm doing fewer of each year. It was a rewarding day, more so than many. Keeping the attention of hundreds of teachers, just back from vacation, catching up with friends, weighing in the politics of new leadership, and desperately needing to be in their classrooms makes this a pretty tough gig. Not so on this day.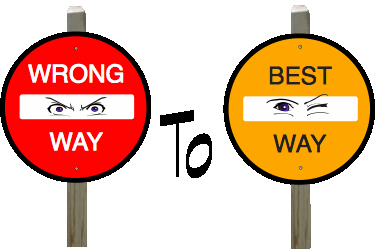 After a presentations about expanding our notions of literacy, a teacher came up asking, "But what's to be done about students accessing all the information on the Internet that is simply not true."
I reminded him that I had just made the point that it isn't just the Internet we need to be worried about. Then I gave him one of my usual responses,
If I was still teaching history, and my students turned in a paper, they would be waiting for the challenge. It happens every time. It's part of the ongoing classroom conversation.
Placing a student's paper on his desk and pointing to one paragraph, I ask, "How do you know that's true?" If the student can't answer the question, he's going to lose points. Even if the paragraph is true, he's going to lose points. My students would be responsible for their information's appropriateness and the evidence that supports its appropriateness.
I wonder now if this response makes sense only to me, a figment of a private fantasy. So I thought I'd spend some bits trying to unpack this approach into something that better distinguishes a "new way" from an "old way."
The difference is in what we call attention to. Our tendency, as teachers, is to address the problem by focusing on the mistakes, red-penning what's not accurate, not reliable, not valid, doesn't make sense. It's logical because whats not true is a fundamental problem to education. We work to keep wrong information out of our textbooks, whiteboards, libraries and lectures. We foster a learning environment where we can all take comfort in the assumption that the information is "true."
Our position, as teachers, is based on this assumption.
For the problems caused by the Internet, we create checklists to identify the breakage in information.
[ ] Is the author's name included in the page & can he be contacted?
[ ] Are the author's qualifications available?
[ ] Is the publisher an educational institution or other reputable organization?
[ ] Is the information fact or opinion? Is there bias?
[ ] Is the URL domain among the trusted (edu, gov, org)?
If you can check all of the above, then you can use the information.
We teach research and writing as a practice in avoiding problems,
..but not as a practice in solving them.
If we teach our learners to research and communicate in order to solve a problem, then we entirely change the approach. We assess their work through conversations about the "best way" rather than the "wrong way," and learners become active defenders rather than passive accepters of judgement. The classroom conversation changes. Students become more active, empowered and invested. They become stakeholders in their learning, and ultimately, responsible to an authentic context/audience.
They own what they write, present or make, because they did the work and defended it. They're accountable.
They own the learning.
Brenda (my wife) and I are having a continuing "conversation" about photography.  She's a purist, a once passionate photographer in the age of film.  Like many things, she set aside her passion for picture-taking for motherhood.  Yet, she continues to have an opinion about what's good photography and what's…
Bottom line, digital processing of photos is not photography.  She wants the photos to look like photos and the other stuff can be enjoyed by people who enjoy.. well, "other stuff."
I've been trying to figure out how to explain to her the joy I have playing with the photos that I take, using a variety of computer applications, to continue to make the picture – and I think I've found an angle.
It started a while back when I was watching a photography podcast, a session about HDR (High Dynamic Range) (see this previous article). The speaker said that,
"HDR enables the photographer to capture what it was that inspired the taking of the picture."
The more I thought about it, the more sense this statement made.  You see, when I look up this mountain, the house, and the distinct cloud formations above it, I'm struck by both the distance and the closeness, the sheer quantity of ground, covered by giant spruce trees standing before me and the changing hues that all seem eager to claim their place, I am overwhelmed by the awesomeness of it – and I aim and snap.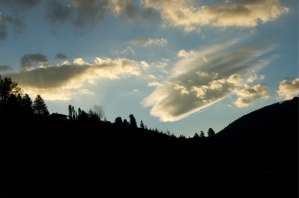 The original photo, where the brightness of the sky and clouds darkens the mountain-scape
Two more exposures, an over exposure (light) and an underexposure (dark)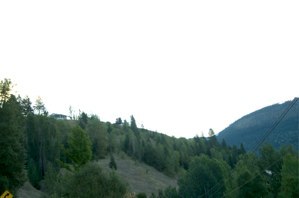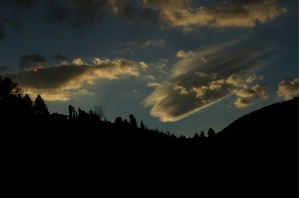 The software combines the three photos, and enables me to bring through the qualities of each that recapture what it was that inspired me to snap the photo.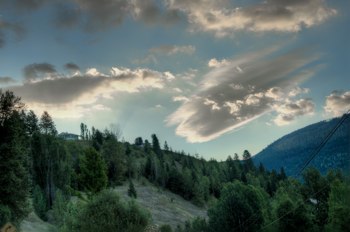 I can even push some of the qualities beyond their reality to make a picture even more interesting, and perhaps more inspiring.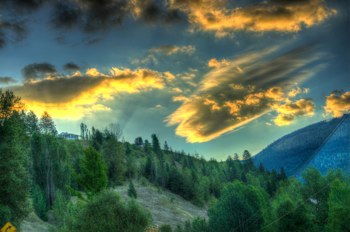 But, when I finally display the photo on my computer screen, it comes out pretty much as it was, though not as I saw it. My mind, you see, saw more than my eyes did.  It saw the multiple distances, the sunlight swimming through millions of spruce needles, the warmth in the clouds and coolness in the mountains' shadows.  My mind amplified the vibrant colors and registered that the scene was only part of a 360º panorama of sameness and diversity.  
My brain made the vision something that no camera could adequately capture, both functionally and technically.
But, when I take three different photos of the scene, at three different exposures, and load them all into my HDR software (Photomatix), I can bring out specific qualities of each exposure, overlap them, bleed them through and accentuate, approaching the vibrance and space that inspired me to aim and snap.  I can also exaggerate qualities creating a surreal version of the image, perhaps making interesting something that simply wasn't to start with.
Now, there's a reason why I tell this story here.  I use to have a bulletin board in my classroom that read, "This classroom is a lens through which you can see the rest of the world," and I meant it.  But there was only so much of the world that I could show my students through 5+ year old textbooks, a 1948 world map, and three cracked chalk boards.  To be sure, there was not a lot more I could have done with more recent textbooks, a brand new map and shiny new white boards.  The purist would say that I was doing my job, and perhaps doing it well.  I was playing my role – educating my students and teaching them skills.
It was also during those first years of teaching that I started paying attention: to the news, to people who weren't students or teachers, to science (became fascinated by quantum physics), to geography (we owned the book, Europe on $10 a Day (now Europe on $85 a Day) and dreamed of summers, vagabonding across the old continent).  I came to realize just how exciting and mysterious and vibrant the world really was, and was inspired to become a better teacher and better lens for my students.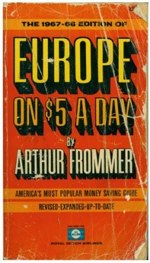 Closest that I could come. It's so hard to find pictures of things that predate the World Wide Web.
But, I couldn't do it.  I went back to the classroom, continuing my traditional role as teacher, expecting my students to sit still, pay attention, and remember.  My passion as a lecturer wasn't nearly enough.
Here we are today, with a new kind of classroom.  Our personal learning devices give us access to networked, digital and overwhelmingly abundant information.  We are no longer teaching from information scarcity.
Are we now teaching in a time when we can HDR our classrooms.  Might we finally capture and share what it was about our world experience, that inspired us to teach.  Might we even exaggerate hues and contrasts and blend colors in weird ways.  Can we make knowledge flow and glow and grow and cause learning to energize our children – rather than steal it from them.
Can we push reality into our classrooms and inspire our learners to become members, participants, and shapers of their future? – and ours?
Scaling down the travel part of my work has provided me with weeks at home instead of days or hours. This leaves me with time to play/learn more about some tools I've only been tinkering with in the past. In addition to that, it's given me time to pay more attention to some topics that I've ignored for way to long – politics. I've especially become interested in the politics of my state, North Carolina, as has much of the rest of the country and parts of the world. I've already written a bit about it here (Will Public Education in North Carolina Rest In Peace?) and here (In Defense of Liberal Arts – Sort'a).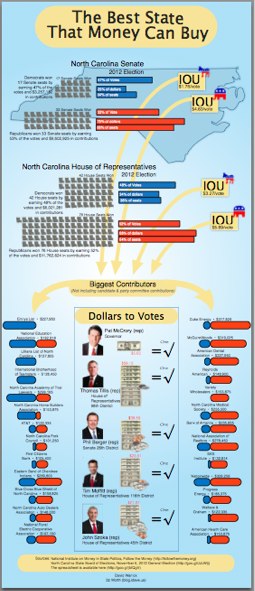 Click here to download the large PDF version.  The spreadsheet can be seen here.
As many of you know, my daughter has been contributing semi-regular blog posts here, featuring selected infographics and some data visualizations.  It's of particular interest to me and one of the few topics I continue to present on in conferences – and with the benefit of time, I'm learning more about working with vector graphics.  
Making an infographic is fairly easy.  Making one that effectively conveys a message is hard.  As an IT guy at a local CityCamp said, "Don't try this on your own."  Well that's the kind of challenge that inspires me, not to mention the message that our state has been hijacked by corporate concerns, masquerading as social knee-jerk issues.
For this project I dug into the North Carolina election results for 2012, the year that it happened.  I created a spreadsheet that tied the election results (North Carolina Board State of Elections) in with the costs of the campaigns (Follow the Money) for our governor and General Assembly elections.  It revealed some pretty interesting facts about who elected who, how much it cost and who paid for it.  See full size infographic here.
Of note:
All fifty seats of the North Carolina Senate were up for election. Democratic candidates received 1,854,358 or 47.22% of the votes cast. Republicans received 2,072,984 or 52.78% of the votes cast. Yet, Democrats won only 17 seats compared to 33 seats to Republicans. I'd like to know what math we teach in schools that reconciles that.
Even though Republicans won 76 seats to only 42 seats going to the Democrats, 48% (1,842,541) of the state's votes were cast blue while only 52% (1,998,155) cast red.  Again, an interesting Algebra project.
Democratic Senate campaigns spent $3,257,182 (25% of total spending) while Republican campaigns spent $9,602,925 (75% of total spending).  In the House, Democratic campaigns spent $6,021,281 (34% of total spending) compared to $11,762,624 (66% of total spending).  There seems to be a closer correlation between dollars and who governs than votes.  How did this happen?
What surprised me was the money spent on campaigns compared to the number of votes.  In the state Senate races, each vote cast for a Democratic candidate cost $1.76 in campaign spending.  Republicans spent $4.63 for each vote cast for their candidates.
For the House races, Democrats owe somebody $3.27 a vote while Republicans own somebody $5.89 per vote.
I've listed the top contributors to both parties, not including candidate and party committees.  These are organizations that contributed more than $100,000 dollars.  The red bar shows the portion going to Republican candidates and the blue indicates investments in Democrats.  As you can see, most contributed to both parties, though most gave most of their money to Republicans.
Looking at specific campaigns, it was a shock to me how much money some of our democratically elected representatives paid for their campaigns.  Pat McCrory paid $5.00 ($12,202,756) for each of his 2,440,707 votes.  Walter Dalton, the Democratic candidate paid $2.09 ($4,044,750) for each of his 1,931,580 votes.
The obscenity is in some of the General Assembly campaigns.  Thomas Tillis (Rep), the Speaker of the House, paid $59,15 for each of his 27,971 votes. Phil Berger (Rep), the Senate's president pro tem, paid $38.59 for each of his 58,276 votes. Tim Moffitt (Rep) spent $23.61 for each of his 21,291 votes and John Szoka (Rep) paid $21.87 for each of his 16,208 votes. To be sure, the Republicans were not the only ones spending obscene amounts of money for their votes. William H. Battermann (Dem) spent $61.30 per vote, getting only 38% of the vote. Rick Glazier (Dem) won, spending $14.47 for each of his 17,266 votes. Jane Whilden (Dem) spent $13.84 per vote, trying to defeat Tim Moffitt (Rep).
My question is, "How are they earning that money?"
Downloads: Infographic (http://goo.gl/He1ICB) • Spreadsheet: (http://goo.gl/60MqZw)
Brenda and I had to pleasure of attending a send-off event for area (Raleigh, Durham, Chapel Hill) high school graduates who will be entering their first years at our alma mater, Western Carolina University. The whole "going off to college" thing has certainly changed, since my day of packing my clothes in a backpack and tossing it and a wooden crate of books into the back of my Fiat and hoping that it makes it up the mountains to Cullowhee. (Point in fact, I attended the local community college for two years, and one and a half years at East Caroline University before going to WCU.)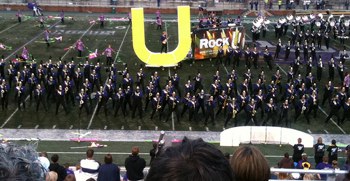 Unfortunately, none of the youngsters there were familiar with Western Carolina's celebrated and accomplished 300+ instrument marching band
We were there last night to congratulate the youngsters, 15,000 applicants and just less than 1,500 admitted, and wish them luck, since only 35.1% of incoming freshmen at North Carolina public universities graduate in four years. It is encouraging, though not comforting to parents, that 59.1% gradate within six years ("College completion," 2012).
The second reason that I attend these things is to count the number of alum who graduated before I did.  I counted one, by six years.  admittedly, It did take me six years to get my four year degree – for a wild variety of reasons.
At the beginning of the organized part of the event, led by WCU admissions and alumni officials, the youngsters were asked to introduce themselves, name the high schools they graduated from and their majors.  All graduated from Raleigh, Chapel Hill and Durham high schools, plus one from a school in up-state New York and one from somewhere in Florida.  Surprisingly, only two said, "Undecided" when reporting their majors, with a majority aiming for carriers in criminal justice, psychology, broadcasting, and one sociology.
Out of about 30 entering WCU freshmen from the Research Triangle of North Carolina, not a single one hopes to become a teacher.
Even though I am outraged, I am not surprised.
College completion. (2012, March). The Chronicle of Higher Education, Retrieved from http://collegecompletion.chronicle.com/college-stats/
keep looking »