Note: Ramble and snark quotients: +99
When I was a student, I was taught to scratch paper. I scratched lines and loops and did it well or poorly, properly or improperly. I hide all of my scratched paper in my notebooks until it was time to give it to my teachers, who measured its correctness by marking what was incorrect.  If there was no incorrectness, then a got a 100 or an "A" ––––– 100 what? "A" what?
The hope was that if it was ever necessary for me to write, in order to communicate across time or space, I would remember enough correct scratching to be coherent and compelling.
When I graduated from high school, writing was still a "just in case" skill.  A sizable portion of my class went to work in one of the local textile mills, planning never to ever have to scratch anything again that was any more important than a shopping list.  
This is an profoundly inefficient and disrespectful way to educate free people.
To say, "One day you'll need to know this," is to admit appalling lack of commitment and creativity.  This is especially true when insult to injury is what's not said, "You'll need to know this for the government test in May."
What conjured this internal conversation in me was a brief exchange in the backchannel transcript from a National Science Teachers Association conference in Charlotte a couple of weeks ago.  Diane Johnson tweeted:
..to which I commented in the transcript wiki,
Stop Integrating technology. Instead, integrate networked, digital and abundant information. It changes what it means to be literate, and it empowers learning. Empowered learners are better than engaged learners. - dfw
That last sentence came from something that David Jakes said at ISTE last year in San Antonio.  He said,
"We need to shift from a focus on'Engagement' to focusing on 'Empowerment.'" (Jakes, 2013)
I, in my schooling, was neither engaged nor empowered, as I learned to scratch paper.  Of course, there were those who were engaged, or acted engaged.  They scratched eagerly and more correctly than I did, because they received more 100s and As.  I don't know how their scratching was better than mine, because I never saw it.  I couldn't learn from their example, because their scratches were hidden in notebooks as well.  It had no more value or power than mine did.
I don't scratch any more.  I write.  I put words to paper or to screen, and clarify their meaning with punctuation and capitalization, because I am writing to someone for some purpose.  
I'm still learning to write better. I question what I write and I Google things like, "proper placement of commas in sentences" or "italics quotation marks  and titles." I also use an array of digital tools to help me spell and choose the best words – tool that my teachers, 50 years ago, could not have imagined.  Their notions of our future needs and opportunities did not reach much further than cotton mills and the college that the "engaged" would attend – as well as a few of us who were not "engaged."
Today, engagement has become one of our most earnest pursuits, because we're teaching children who are accustomed to being engaged. 
  ..and we continually ask, "How do I measure engagement?" 
You can't, at least in any way that even suggests the quality of learned.
But empowerment can be measured.  You do it the same way that our value is measured after we leave classrooms, teachers and textbooks behind.  Learners demonstrate what they've learned, by what they're empowered to do with it – what they produce, the problems they solve, the goals they accomplish.  Look at a produced video, crafted animation, clear and compelling article, or a creatively designed and marketed bird house, and you can see what was learned.
It's not clean.  It's not clinical.  But what does precision grading mean when the names of state capitals, the chemical symbol for magnesium and the proper placement of the comma can all be Googled.  Why are we so pressured to test our children's ability to live without Google.
Lets face it.  The only ones who want this for our children are those who would politicize and monetize education.
Jakes, D. (2013, June). In Steve Hargadon (Chair). an unconference discussion. A conversation that was part of Hack Education Iste 2013, San Antonio, TX. 
National Science Teachers Association
The National Science Teachers Association (NSTA) will be holding a conference this week in Charlotte, The Queen City of North Carolina. It is both ironic and opportune for science teachers, from around the country, to converge on my state to celebrate science education and to learn more about their chosen passion and techniques conveying it to their students.
I had planned to explain this event's importance as part of my address to the audience. But, alas, I'll have only 45 minutes, so will be getting right to business. Instead, I'll explain it all here, sitting in a Raleigh coffee shop, and proud to be a citizen of this state that owes so much of its recent success to science and education – and a state that desperately needs to be snapped out of its stupor.
Dazed by $80,000,000 worth of campaigning in 2012 ("Follow the money," 2012), we have witnessed an arrogant government, in effect, vilify science and education. Helping to spur this backward thinking is John Droz, a retired real-estate investor and fellow with the American Tradition Institute (which is tied to fossil fuel interests). In a recent presentation [a Droz slidedeck] to the General Assembly, he called smart meters "fascism in a box" and environmentalism a "new world religion backed by the United Nations." Among his cited sources were,
Whistleblower, the monthly magazine companion of WorldNetDaily a website that promotes conspiracy theories about topics such as President Obama's citizenship; Quadrant, a conservative Australian magazine that was involved in a scandal over publishing fraudulent science and the Institute for Creation Research a Texas outfit that rejects evolution and promotes Biblical creationism and the notion that "All things in the universe were created and made by God in the six literal days of the Creation Week." (Surgis, 2013)
Also carrying some influence is John Skvarla, the newly appointed Secretary for the state's Department of the Environment and Natural Resources. He apparently believes that oil is a renewable resource, saying "The Russians for instance have always drilled oil as if it's a renewable resource, and so far they haven't been proven wrong."
And then there are the legislators of 20 coastal counties, where developers have been stifled by the notion of sea level rise. So to make things better for developers, They introduced a bill that outlaws the rise of the sea, or at least how it's measured. From House Bill 819, Section 2.
10 (e) The Division of Coastal Management shall be the only State agency authorized to
11 develop rates of sea-level rise and shall do so only at the request of the Commission.
12 These rates shall only be determined using historical data, and these data shall be
13 limited to the time period following the year 1900. Rates of sea-level rise may be
14 extrapolated linearly to estimate future rates of rise but shall not include scenarios
15 of accelerated rates of sea-level rise. Rates of sea-level rise shall not be one rate
16 for the entire coast but, rather, the Division shall consider separately oceanfront and
17 estuarine shorelines. ("Coastal management policies," 2011)
This whole business prompted comedian, Stephen Colbert to say on the air, "If your science gives you a result you don't like, pass a law saying the result is illegal. Problem solved."
The dramatic decline in Tobacco farming in North Carolina, illustrated in this graphic (North Carolina Department of Agriculture), has meant an enormous hardship for rural NC. As part of Raleigh's efforts to find a new cash crop, the Biofuels Center of North Carolina was established five years ago, researching, developing and testing a variety of crops biomass crops.
The now defunct Biofuels Center of North Carolina web site
The center closed its doors last week. The General Assembly cut the center's entire $4.3 million budget. In the words of Steven Burke, the centers CEO,
"The center, a growing biofuels community statewide, and companies considering new facilities here share dismay that North Carolina has visibly pulled back from the nation's lead state biofuels agency and from long-term commitment to comprehensive biofuels development." "No longer pursuing advanced biofuels with a focused, comprehensive strategy will lessen opportunity to create rural jobs, strengthen agriculture, and create an enormous biofuels and biomaterials sector."
There's not much that a few thousand science teachers can do, except to be mindful that science is neither fact nor theology. It's a way of looking at the world, observing, hypothesizing, predicting, testing, evaluating and adapting. It is both personal and social, and following someone else's standards for what's to know (to be taught) is as repudiating to what science is as outlawing the results.
I look forward to seeing many of you at the NSTA conference this week in Charlotte. I'll be in Convention Center, Ballrooms C&D at 2:00 on Friday afternoon.
Follow the money. (2012). Retrieved from http://www.followthemoney.org/database/state_overview.phtml?s=NC&y=2012
Surgis, S. (2013, February 7). Climate conspiracy theorist returns to NC legislature, warns of threat from science 'elite'. [Web log message]. Retrieved from http://www.southernstudies.org/2013/02/climate-conspiracy-theorist-returns-to-nc-legislature-warns-of-threat-from-science-elite.htm
(2011). Coastal management policies (House Bill 819). Retrieved from North Carolina General Assembly website: http://www.nccoast.org/uploads/documents/CRO/2012-5/SLR-bill.pdf
North Carolina Department of Agriculture & Consumer Services, North Carolina Agricultural Statistics. (n.d.). Crops: Highs & lows, stocks & storage, biotech, varieties, floriculture, county estimates, fruits & vegetables. Retrieved from website: http://www.ncagr.gov/stats/2012AgStat/Page061_098.pdf
We know why we became teachers. If it wasn't the reason, then it's why we remained teachers. It's..
Seeing the light bulb go off. I think that's why any teacher gets into teaching, because that's the best feeling, seeing them so interested and engaged and finally getting it … and knowing that you made a difference. (Stancill, 2013)
"Seeing the light bulb go off."
That's how Haley Brown describes it. She's a seven-year elementary school teacher in Raleigh, who has just accepted an administrative position – with a homebuilder. According to the October 24 Raleigh News & Observer article, Haley says that testing has not only robbed her of her emotional and professional energy, but also robbed her students of meaningful learning. Teacher assistants have been laid-off (state legislation), the workload keeps growing, and she has received only one raise and a 1% cost of living increase in her seven years.
It's not an uncommon story, but one that has gained traction because of the note her husband, Matt, handed her, when she'd made her decision. Haley was so thankful for her husband's support that she posted the note on her blog, earning 1,200 likes on Facebook. As the letter continued to resonate with some many people, Matt sent it to the N&O, and they published it as an opinion piece. As of this week, it is the most popular story page on the paper's web site for 2013. It's been read more than a half million times.
Does this really matter. Is anyone noticing? North Carolina is a right-to-work state, so there's no teachers union and teachers don't strike. They just slip away. Who cares?
There is a new story out there. It's made up of lots of characters, plots and sub-plots, but it's not been assembled yet.
This weekend, I'll be attending the ReinventEd Unconference at Black Mountain SOLE, in Black Mountain, North Carolina. It's going to be one of those learning events that's driven by questions, not authorities, and no small part of its appeal comes from the fact that its organizer is Steve Hargadon.
My greatest wish is for a new narrative about education – a new and complete story that will resonate not only with passionate educators, but also with anyone else,
..who's willing to listen.
Stancill, J. (2013, October 23). A husband's support for his teacher wife becomes a viral sensation.Raleigh News & Observer. Retrieved from http://www.newsobserver.com/2013/10/23/3306958/a-husbands-support-for-his-teacher.html
In early 2012, Public Policy Polling ran a national survey to determine the favorability of each state in the union. Not surprisingly, Hawaii was number one with 54% of those polled giving it a favorable rating and only 10% an unfavorable. Southern states, North Carolina and south, generally did not fair well in popularity. Exceptions were my state (NC) and Tennessee, both landing among the top ten. All others, except for Florida, were in the bottom half, four of them in the bottom 10.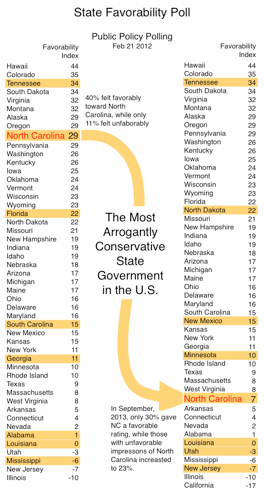 Later that year a new government took control in North Carolina, Republicans winning 65% of the seats in the General Assembly based on only 52% of the citizens' votes (see the Best State that Money can Buy).  Since then, this arrogantly conservative body has?
Denied access to federal emergency unemployment benefits
Blocked access to federal Affordable Care Act health care benefits
Increased taxes for low-wage workers
Lowered taxes for millionaires
Did away with 5,200 teacher positions and 4,580 teacher assistants
Canceled salary incentive for educators to become more educated
Are giving away $10 million in public funds to private schools
Closed 15 of the state's 16 abortion clinics
Suppressed voting rights
Enacted policies policies that make millionaires more important to candidates and voters less
And the word is out thanks to the New York Times (here and here) and even the Colbert Report, here (starting at 4:10).
On September 5, PPP reported a re-assessment of the states' favorability and wrote,
North Carolina's national image has seen a strong shift in a negative direction since that time. Its favorability has dropped from 40% to 30%, while the share of voters with an unfavorable opinion of it has more than doubled from 11% to 23%. Its +7 favorability rating would have ranked it 40th in our national study of state popularity in 2011, rather than its top 10 popularity at that time.
 I fail to see how this points to improved economy, more good jobs, safer and healthier citizens, more tourists or new businesses.
My daughter texted me yesterday morning, wanting to meet at the coffee shop to talk about an article she'd just discovered. She texted me the URL, http://goo.gl/pFc39Z. It's not a recent article and is actually one of Valerie Strauss' (The Answer Sheet) reprints of a blog article [link/pdf], written by Marion Brady (veteran teacher, administrator, curriculum designer and author).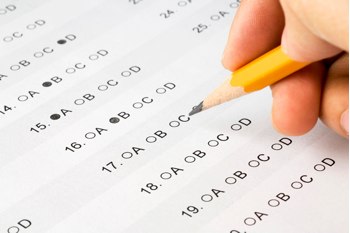 The article concerned a forth-term Florida district school board member, a friend of Marion's, who had taken a version of the Florida Comprehensive Assessment Test (FCAT) for 10th graders.  After taking the test, the board member called Brady, and this repeatedly re-elected board member, who helps to oversee 22,000 employees and a $3 billion budget and claims to be "able to make sense of complex data related to those responsibilities," said that he "hadn't done well."
He confessed that he wasn't confident about any of the 60 math questions, "but managed to guess ten out of the 60 correctly."  On the reading test, he got 62% of the questions right.  In an email to Brady, his friend wrote,
It might be argued that I've been out of school too long, that if I'd actually been in the 10th grade prior to taking the test, the material would have been fresh. But doesn't that miss the point? A test that can determine a student's future life chances should surely relate in some practical way to the requirements of (that) life. I can't see how that could possibly be true of the test I took.
Strauss later identified and interviewed the school board member, and reported on that interview in "Revealed: School Board member who took standardized test."
My daughter, who is certified to teach elementary grades and high school history, but has given up finding a teaching job (2008 recession followed by recent school staff cuts imposed by our state General Assembly [see]), expressed outrage.  She is currently struggling to score well enough on the GRE to get into the graduate school of her choice.
That Florida school board member's experience suggests a question that we are still not asking in any substantive way.  We eagerly, actively, and obsessively ask,
"What kind of teaching best practices lead to higher standardized test scores?"
We are not asking,
"How do higher scores on high-stakes standardized tests lead to satisfying, successful and productive lives and a better world?"
Brady says that decisions about how we assess teaching are,
..shaped not by knowledge or understanding of educating, but by ideology, politics, hubris, greed, ignorance, the conventional wisdom, and various combinations thereof. And then they're sold to the public by the rich and powerful.
How many of us, productive and successful adults, would willingly and confidently take our state's high-stakes standardized test, especially if our freedom to move forward was based on passing those tests?  
What would our legislative bodies look like, if a requirement for serving elected office was to pass the same tests that they impose on their 15 year old children?
This article has also been written about here:
Actor, Joseph Gordon-Levitt also posted a link to the article 
here
.
Scaling down the travel part of my work has provided me with weeks at home instead of days or hours. This leaves me with time to play/learn more about some tools I've only been tinkering with in the past. In addition to that, it's given me time to pay more attention to some topics that I've ignored for way to long – politics. I've especially become interested in the politics of my state, North Carolina, as has much of the rest of the country and parts of the world. I've already written a bit about it here (Will Public Education in North Carolina Rest In Peace?) and here (In Defense of Liberal Arts – Sort'a).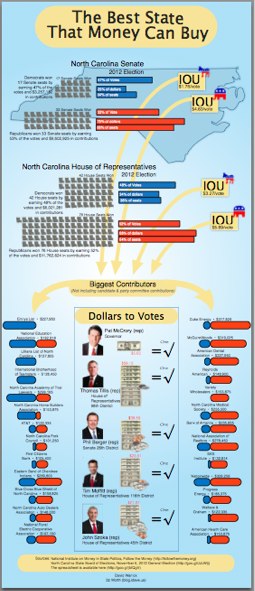 Click here to download the large PDF version.  The spreadsheet can be seen here.
As many of you know, my daughter has been contributing semi-regular blog posts here, featuring selected infographics and some data visualizations.  It's of particular interest to me and one of the few topics I continue to present on in conferences – and with the benefit of time, I'm learning more about working with vector graphics.  
Making an infographic is fairly easy.  Making one that effectively conveys a message is hard.  As an IT guy at a local CityCamp said, "Don't try this on your own."  Well that's the kind of challenge that inspires me, not to mention the message that our state has been hijacked by corporate concerns, masquerading as social knee-jerk issues.
For this project I dug into the North Carolina election results for 2012, the year that it happened.  I created a spreadsheet that tied the election results (North Carolina Board State of Elections) in with the costs of the campaigns (Follow the Money) for our governor and General Assembly elections.  It revealed some pretty interesting facts about who elected who, how much it cost and who paid for it.  See full size infographic here.
Of note:
All fifty seats of the North Carolina Senate were up for election. Democratic candidates received 1,854,358 or 47.22% of the votes cast. Republicans received 2,072,984 or 52.78% of the votes cast. Yet, Democrats won only 17 seats compared to 33 seats to Republicans. I'd like to know what math we teach in schools that reconciles that.
Even though Republicans won 76 seats to only 42 seats going to the Democrats, 48% (1,842,541) of the state's votes were cast blue while only 52% (1,998,155) cast red.  Again, an interesting Algebra project.
Democratic Senate campaigns spent $3,257,182 (25% of total spending) while Republican campaigns spent $9,602,925 (75% of total spending).  In the House, Democratic campaigns spent $6,021,281 (34% of total spending) compared to $11,762,624 (66% of total spending).  There seems to be a closer correlation between dollars and who governs than votes.  How did this happen?
What surprised me was the money spent on campaigns compared to the number of votes.  In the state Senate races, each vote cast for a Democratic candidate cost $1.76 in campaign spending.  Republicans spent $4.63 for each vote cast for their candidates.
For the House races, Democrats owe somebody $3.27 a vote while Republicans own somebody $5.89 per vote.
I've listed the top contributors to both parties, not including candidate and party committees.  These are organizations that contributed more than $100,000 dollars.  The red bar shows the portion going to Republican candidates and the blue indicates investments in Democrats.  As you can see, most contributed to both parties, though most gave most of their money to Republicans.
Looking at specific campaigns, it was a shock to me how much money some of our democratically elected representatives paid for their campaigns.  Pat McCrory paid $5.00 ($12,202,756) for each of his 2,440,707 votes.  Walter Dalton, the Democratic candidate paid $2.09 ($4,044,750) for each of his 1,931,580 votes.
The obscenity is in some of the General Assembly campaigns.  Thomas Tillis (Rep), the Speaker of the House, paid $59,15 for each of his 27,971 votes. Phil Berger (Rep), the Senate's president pro tem, paid $38.59 for each of his 58,276 votes. Tim Moffitt (Rep) spent $23.61 for each of his 21,291 votes and John Szoka (Rep) paid $21.87 for each of his 16,208 votes. To be sure, the Republicans were not the only ones spending obscene amounts of money for their votes. William H. Battermann (Dem) spent $61.30 per vote, getting only 38% of the vote. Rick Glazier (Dem) won, spending $14.47 for each of his 17,266 votes. Jane Whilden (Dem) spent $13.84 per vote, trying to defeat Tim Moffitt (Rep).
My question is, "How are they earning that money?"
Downloads: Infographic (http://goo.gl/He1ICB) • Spreadsheet: (http://goo.gl/60MqZw)
You may see more politically-focused writing from me in the near future. Though I'll continue to write about education, certain developments here in North Carolina and in the United States have me concerned about the future of public schools and the future of democracy.
Communication:
Suffered from the decline of tobacco and cotton, and local manufacturing, the town of Wilson (pop 50,000) decided to reposition itself for the emerging digital economy. With a long history of investment in local infrastructure and utilities, the town built Greenlight, a municipally owned and operated fiber-to-the-home optic communication network. The decision and its subsequent implementation earned the town recognition and praise and, according to a recent ILSR paper, "
People and businesses have moved to Wilson to take advantage of the new network and even some who initially opposed it are now strongly supportive.
One of its most avid and vocal supports has been Branch Bank & Trust (BB&T), a major employer in the town.
Wilson had long been frustrated by the poor service provided by CenturyLink and Time Warner and tried for years to work with the incumbent providers to improve the town's and county's broadband service. CenturyLink (then EMBARQ) worked with the city for a time, but then backed out. Time Warner had literally laughed at the idea. (O'Boyle, 2001)
By 2011, customers of Greenlight were the first in the state to enjoy 100 Mbps home service. Businesses could purchase up to 1 Gbps with existing equipment and even higher speeds could be accommodated. The price for home service was less than what families in neighboring communities were paying for a tenth of the speed. (O'Boyle & Mitchell 2012)
That same year, North Carolina's legislature, which had just won Republican control for the first time since reconstruction, passed House Bill 129, called "Level Playing Field/Local Gov't Competition." The law effectively stops local governments from competing with telcos by preventing them from establishing their own common-good broadband services. Backed by Time Warner, AT&T, CenturyLink and the North Carolina Cable Television Association (NCCTA), and more than a million dollars ($1,159,930) that they donated to state legislative campaigns – and supported by the American Legislative Exchange Council (ALEC) (O'Boyle & Mitchell 2013), the law follows a disturbing trend in this state – the legislative takeover of local governments' authorities to implement taxes, enact environmental regulation and manage their own landfills, water infrastructures and airports, to mention only a few.
Education:
On another front, our General Assembly, further empowered by the obscenely funded 2012 elections (infographic to come) that resulted in a Republican Governor and more conservative ALEC influenced legislators, has set about what I can best describe as the systematic discrediting and disassembly of public education in North Carolina.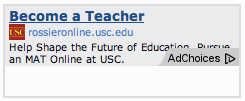 Ironically, the Fayetteville newspaper web page cited here also displayed this Google ad urging readers to consider becoming school teachers.
They have dramatically cut funding and vital programs, eliminated class-size caps, phased out teacher tenure, eliminated higher pay for teachers who earn graduate degrees and eliminated more than 5,000 teaching positions and nearly 4,000 teacher assistants. (Hasty, 2013)
During the same legislative session, state law makers, seeking to save deserving children from our "failing public schools," appropriated $10,000,000 of taxpayer money to award $4,200 vouchers to families so that their children can attend private schools. The program grows to $40,000,000 the second year. Portrayed as a "way out" for low performing public school children, a fiscal note that accompanied the original bill (House Bill 944) showed that 30% of the children receiving the vouchers were going to be attending private schools, even without the vouchers.
Conclusion?
If we might follow the purpose and practice of this regressive regime down a few more legislative sessions, it may not be too extreme to envision a law that prohibits local towns and counties from providing public schooling for their children.
The tax which will be paid for [the] purpose [of education] is not more than the thousandth part of what will be paid to kings, priests and nobles who will rise up among us if we leave the people in ignorance.
–Thomas Jefferson to George Wythe, 1786. (Coates)
Coates, E. R. (n.d.). Favorite jefferson quotes: From the writings of thomas jefferson. Retrieved from http://www.famguardian.org/Subjects/Politics/ThomasJefferson/jeff5.htm
Hasty, K. (2013, July 26). Partnership for children luncheon: Governor's education advisor says there's hope for n.c. schools. The Fayetteville Observer. Retrieved from http://fayobserver.com/articles/2013/07/26/1272034
O'Boyle, T., & Mitchell, C. (2013). How national cable and dsl companies banned the competition in north carolina. Retrieved from Institute for Local Self-Reliance website: http://www.ilsr.org/wp-content/uploads/2013/01/nc-killing-competition.pdf
O'Boyle, T. (2001, April 19). Interview by Grant Goings
O'Boyle, T., & Mitchell, C. (2012). Wilson gives greenlight to fast internet. Retrieved from Institute for Local Self-Reliance website: http://www.ilsr.org/wp-content/uploads/2012/12/wilson-greenlight.pdf
I appreciate all of the valuable feedback so many people gave me regarding the initial posting of "The Game of School," my first animation with a message. I've decided to post it on the original blog article and re-date it to the present. The original blog text follows.
As I ease into retirement (over the next five to ten years), I'm giving myself permission to learn some new skills that I always wanted to try my hand at, but never made the time. One is learning to create animations.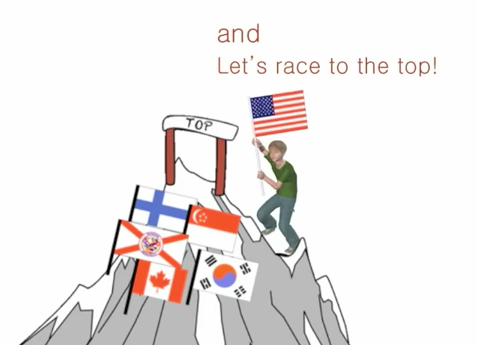 Here is my first attempt at an animation with a message. Its message is based on a blog post I wrote for Smart Blogs a few months ago but never got around to reposting here. This is version 4.1 5.0 of the video, which has been edited and re-rendered MANY times and will likely be rendered many more times.
I'm learning!
To create this video, I used Apple Keynote for the text flow, Poser Debut for the character animation, iMovie 11 for the video editing and iSequence on the iPad to produce the music.
Enjoy! ..and let me know what you think…
We hear it just about everywhere and every time we turn around –– STEM. The country (USA) desperately needs more scientists, Technologists, Engineers and Mathematicians. It's our way of securing our superiority and prosperity and ramping up S, T, E & M instruction in our schools is the way to succeed.
In preparing for a talk to parents in suburban Edmonton, Alberta this week, I searched for data on Canadian college graduates and the degrees conferred to them. In the process, I ran across a report from the U.S. Institute of Education Sciences.* I copied a data table called Bachelor's degrees conferred by degree-granting institutions, by field of study, and converted it to an Open Office Spreadsheet (ODS) file to see what I might learn from the data.
The table offered the number of graduates receiving degrees from 32 fields of study, from selected years between 1970 and 2010. I devised and ran formulas that calculated the percent of change in the number of degrees by decade. I also created an additional set of rows that calculated the percent of each years total graduates receiving specific degrees to factor out the effects of changes in the total number of graduates. When sorting the degrees by the percent of increase from 2000 to 2010, the rank was somewhat surprising.
At the bottom of the list, the fields showing the least growth, was Computer and Information Sciences. Though the 1970s saw an impressive increase in computer science degrees (469%), the increase dropped to 42% during the 80s, 33% in the 90s, and then a decline (-32%) during the first decade of the 21st century.
Other fields suffering declines were education, and english and literature/letters, both bested slightly by Engineering technologies, which fell only 17% (-17% change). Falling less than that were agriculture, architecture, liberal arts, sciences, general studies and humanities, topped by engineering, with a 6% (-6% change) decline. Just better than engineering was theology and religious vocations (-5% change).
Enjoying substantial increases in degree from 2000-2010, from high to low, were communication technologies; military technologies; legal professions; parks, recreation, leisure and fitness; homeland security, law enforcement and firefighting; library sciences; and visual and performing arts. (see graph)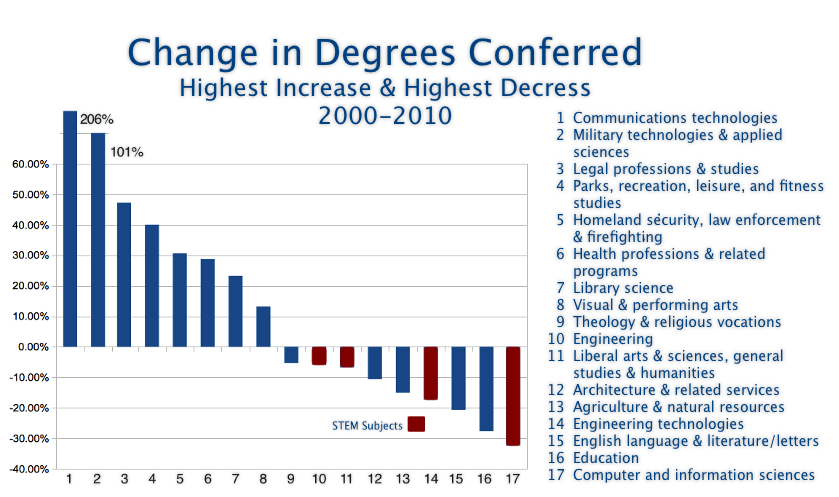 Click Graph for Larger Version
This was a fairly startling discovery to me, considering the funding, resources, and time invested in STEM education and its cost to other subject areas, not to mention the political capital gained from reciting the mantra to constituents and voters.
It the results were such a surprise that and I've questioned my math several times, checking and rechecking the formulas.  I invite you to double check my spreadsheet [here].
If this is, indeed, an indication of our students' interests in science, technology, engineering and mathematics during the early 21st century, then is STEM education doing what its suppose to do –– even if test scores are rising?
Please double and triple check my spreadsheet. and if you find problems with my formulas, please post them in my comments.
* United States. Institute of Education Sciences. Bachelor's degrees conferred by degree-granting institutions, by field of study. Washington, 2011. Web. <http://nces.ed.gov/programs/digest/d11/tables/dt11_286.asp>.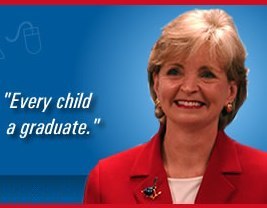 June Atkinson
My state, North Carolina, has a decision to make in November – and it's not a hard one, in my opinion.
It's the race for state superintendent of schools. We elect our state superintendents, unlike many states, and from the time that I graduated from High School until I joined the NC Department of Public Instruction (NCDPI) 20 years later, my state's education system was lead through the election and continued re-election (five terms) of Dr. Craig Phillips, a professional educator. Since he left office, we have elected a number of different superintendents.
For the last eight years, Dr. June Atkinson has held the position. Dr. Atkinson is a professional educator, having served leadership roles at NCDPI since 1976. When I was at the department, I attended several meetings with Dr. Atkinson, who was heading up business education, and observed the respect she had earned from everyone else I knew. Shortly after I left, the morale at the department was boosted when June became Director of the Division of Instructional Services.
Dr. Atkinson was elected to the office of State Superintendent in 2004 and then re-elected in 2008.  During this time we have seen North Carolina's graduation rate rise from 68.3% to 80.2%.
Challenging Atkinson in November is Tea Party darling, John Tedesco. He is not an educator, but he has held a variety of positions –– admirably, several of them have been with charitable organizations. Mr. Tedesco was elected to the Wake (Raleigh) County Board of Education in 2008 and is still serving his first term, a tumultuous four years characterized by secret planning meetings and an often riotous board room. The Wake School Board lost its conservative majority during the 2011 election.
My message is simple. In this time when education is challenged to serve a new generation of learners, within a new information environment and for a future we can not clearly describe…
It is a time for Professionals!
Not for amateurs with an agenda.
Please Support Dr. June Atkinson for North Carolina State Superintendent.
keep looking »