Some of the comments that my last two blog posts have incited lead me to write one more thing about Bobby. I have no issue with anything that has been said in those comments. I feel, though, that a big part of the point of my story has been overlooked.
I will say here that I became a teacher because I wanted to help children and watch them grow and become more capable, compassionate and respectful of the culture and society of their community and their world. That said, I believe that teaching has become way to clinical. In our misguided efforts to establish success by being able to measure learning, we have fabricated a system of complex and rigid classifications with symptoms, diagnoses and prescribed treatments.  We have tried to make teaching a science, and it is not.  Teaching is an art.
In the early days of NCLB, being an educator was compared to being a pharmacist, where less than successful learners could be treated with scientifically proven best practices and the application of big data.  
Of course this clinical approach does describe part of what it is to teach.  I call this the teacher-technician.  However, what Bobby'd learned, that enabled him to diagnose my car's problem from the telling of my entertaining story, did not result from an elaborate construct of scientifically proven best practices.  It happened because of a family or close-knit community that talked about cars; what made them work and what made them work better.  They valued good cars that could be made faster than they were off the showroom floor, and they valued the folks who could accomplish it.  They worked on cars.  They fixed them. ..and sometimes it didn't work, and they talked about it – and they learned from what went wrong.
Bobby's story is not  meant to promote classrooms that are shaped by established and described differentiations and toolboxes of prescribed remedies.  What I would rather see are teacher-philosophers who are skilled, knowledgeable and can facilitate a learning community that:
Values what is being learned
Respects the learning that comes from success
Respects the learning that comes from failure and
Celebrates what learners can do with what they have learned.
It is a classroom where students can turn around and look back at the concrete and public results of their learning.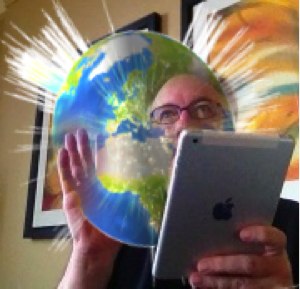 So, continuing from my last blog article, if the answers to our questions are changing and they are constantly available to us, and helping our children learn to find, validate and use valuable information/media has become a central defining component of literacy, then of what use are textbooks.  If stripped of the content – the right answers to questions – then what is left and to what purpose.
In my opinion, quite a bit is left.  I took one of those remedial classes in my first year of community college, something like "Improve Your Study Skills."  I remember the professor telling us what to do upon receiving our textbooks each semester.  We should scan through and register key items and sequence of ideas in the table of contents and also scan the index, looking for names, words and phrases that stand out.  Each of these textbook elements provided anchor points within the content, giving it shape and meaning.
If the teacher or learner is starting without a packaged and provided collection of content, then a locally maintained table of contents (outline) and index (list of essential terms) become something quite different.  Instead of anchor points, they provide idea magnets, serving to help draw together the most contextually relevant and defensible information in a sequence and shape that provides the deepest meaning to the content.  It is, in a sense, a skeleton that gives shape to what might otherwise be an ugly bag of mostly water. (I always wanted to use that phrase – Geurs, Sanchez & Sabarof, 1988)
I had originally written a long technical examination of metadata here, but it would be one of many avenues to this sort of learning tool, and who am I to suggest how this might technically work.  But what comes closest to being my personal and professional textbook today is Flipboard, a magazine-forming social network aggregator for both iOS and Android.  I'll be attending the upcoming Educon at Philadelphia's Science Leadership Academy this week.  In preparation, I've configured Flipboard to grab all tweets that are hashtagged with #educon, as well as the resources that are shared by those tweets.  The effect is a new chapter to my textbook, capturing content from others who will also be attending or simply paying attention to the event via the social network.  My textbook (Flipboard) is a carefully arranged, personal and constantly evolving set of information magnets, that attract the content that I need or want to see.
Might the day come, when a subject to be taught, is conveyed as a flexible outline of tags (so to speak).  The job of the teacher would be to locate (or cause to be located) and attach content (both open-source and/or commercial), in any appropriate format, to that arrangement of scope and sequence-forming tags and constantly filter and refine that content based on changing conditions and newly available content?
What might this process look like as an integral part of teacher education?  Might the act of starting their own flexible digital textbooks be a part of learning to teach.  (Is "Flexbook" trademarked?  How about "flexibook?")
My point is that we have every reason to conclude that learning tools that assume a static, centralized and standard arrangement of content is irrelevant to the needs of today's learners – and that today's prevailing information environment provides for us some pretty compelling opportunities.
That teachers can easily construct and refine learning tools based on local and universal conditions and individualized to the circumstances of specific learners.
That learners can personalize their learning tools based on their self-discovered learning styles and their evolving personal interests.
That these learning tools need not be turned in at the end of the course, but carried on, edited, adapted and grown.
That learners can graduate with more than a paper diploma – that they might take with them a personalized digital library or network of content that they continue to maintain and evolve based on their continuing needs and interests.
That this action of personal curation can become an integral part of formal education, further shifting it from
Something that is done to children
  to
Something that we learn to do for ourselves.
Geurs, K. (Writer), Sanchez, R. (Writer), & Sabarof, R. (Writer) (1988). Home soil [Television series episode]. In Roddenberry, G. (Executive Producer), Star Trek: The Next Generation. CBS Television Distribution. 
I've been struggling over the past few weeks with a complete redesign of my PLN presentation. I am keeping the title (A Gardener's Approach to Learning), since that's what I called it for my ISTE proposal, some distant months ago — and for other more obvious reasons. I've delivered versions of the upgrade at other conferences recently, and, well, it's not ready yet.
One element I would like to add is pruning your PLN or learning garden. The best I have done so far is to suggest some philosophical guide lines, but little of practical value. So I spent much of yesterday searching for tools that enable us to more scientifically analyze our learning networks, specifically our Twitter communities (or megalopolises). I was starting to get rather depressed at failing to find what I was looking for — and inspired. You see, when I'm looking for a technical solution to a problem, and I can't find it, then I start wanting to build one. This is not good, because I am desperately trying to simplify my life here/now at the tail end of my career.
But building a new tool? Wow! What fun that would be.
Anyway, I found the right search expressions this morning (4:00AM). It's amazing how much a good four and a half hours of sleep can do for the old noggin. Of course, this serge of cognitive magnificence will last for only about an hour and a half.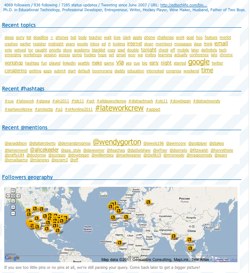 So here are a few of the interesting tools I found. To start with, let's say that you've run across a blog entry that's caught your interest and you are considering a click of his Follow Me link. You have to wonder if this educator actually limits his work thoughts to his blog, and reads and tweets for his favorite Twitterlebrities. To see, just paste his screen name into foller. You are rewarded with the blogger's basic specs (number of friends, followers, status updates, etc.), a word cloud of most tweeted words, recent hashtags and mentions. You can also view a map indicating his geographic reach (see right).
Another tool for measuring the potential of a new deep thinker is Klout. Probably more of a vanity oriented tool, Klout does do a nice job of breaking down a person's influence by topic.
Another tool with a potential to help us cultuvate our learning gardens is Twolo, which allows you to enter keywords of interest and receive a list of Tweople you might want to follow. There is a fee after four days, which is not surprising considering how important social media has become to the marketing industry. No worries. Twitter has recently incorporated the same service with Who To Follow.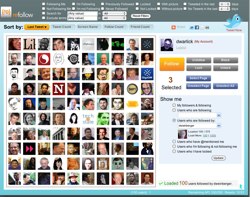 Of course adding new members to your network is not pruning, is it? One of the most interesting tools that I happened upon was refollow. When you link in with your Twitter account, you get a wallpaper of the deep thinkers whom you follow. To cut back your network, you can sort the layout of avatars by their last tweet, tweet count, follow count, and friend count. It's reasonable to assume (though not always appropriate) that the people who are most paid attention to, or are paying attention to other deep thinkers , are the most useful for your own learning. This is certainly not always true, but it is a measurable aspect of one's networking. I found that I was following eight people who hadn't chirped a single tweet and several who'd not tweeted for 8, 10, and 15 months. There's more that you can do, but to actually act on your community (follow or unfollow) there is a fee — reasonable if I were engaged in marketing an important brand.
If gaining and keeping a following is important, then TweetEffect might be useful. Essentially, you enter your Twitter screen name and it scans your most recent tweets and aligns them with your follower activity. In other words, which tweets seem to have attracted people, and which made them turn tail and run. I learned that in my last 195 status updates, I lost followers seven times and found new one eleven times. It seems that my announcement that I was finally adding Oklahoma (48) to the state's I've worked in, compelled eleven people to leave my friend list. Still trying to figure that one out.
- Posted using BlogsyApp from my iPad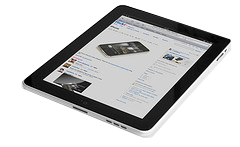 A Learning Commons ((Lower Columbia College. "Learning Commons." Flickr. 19 Feb 2009. Web. 19 Jan 2010. <http://www.flickr.com/photos/lowercolumbiacollege/3293381635/>.))
On the 14th, I wrote a blog post (Applying PLN — a Continuing Question for Me), questioning some of my own assumptions about expecting educators to embrace learning practices — cultivating personal learning networks.  I wrote about my feeling stumped by administrators in Colorado last week, wishing that I had the answers to their questions about promoting more relevant learning in their classrooms. In truth, like most of the rest of the session, some excellent ideas came out of the conversation that erupted, after it was revealed that I had no easy answer.  The thrust of the discussion was the culture of the school, and the expectations that the culture places on its members.
So, what does that culture look like?  What do we see in the school and classroom where learning lifestyle pops to mind?  I think that we see is conversation — and not just conversations between teachers and students.  There is a much broader conversation that permiates the entire building and beyond, about new learning and about learning new things.  It is a school that says, out loud,
"We go beyond the basics."
"Standards are the starting place for what's exciting here, not the end goal."
"This is where learners of all ages are not just memeorizing facts and mastering skills — but working with new knowledge, constructing new knowledge, and impacting others through their work.
Here are just a few suggestions for administrators for promoting these conversations:
Hire learners. Ask prospective employees, "Tell me about something that you have learned lately." "How did you learn it?" "What are you seeking to learn more about right now?"
Open your faculty meetings with something that you've just learned – and how you learned it.  It does not have to be about school, instruction, education managements, or the latest theories of learning.
Make frequent mention of your Twitter stream, RSS reader, specific bloggers you read.  Again, this should not be limited to job specific topics.
Share links to specific TED talks or other mini-lectures by interesting and smart people, then share and ask for reactions during faculty meetings, in the halls, or during casual conversations with employees and parents just before the PTO meeting.
Include in the daily announcements, something new and interesting (Did you know that a California power utility has just gotten permission to start buying electricity from outer space?).
Ask students in the halls what they've just learned. Ask them what their teachers have just learned.
Ask teachers and other staff to write reports on their latest vacation, sharing what they learned – and publish them for public consumption.
Ask teachers to devote one of their classroom bulletin boards to what they are learning, related or unrelated to the classroom.
Include short articles in the schools newsletter and/or web site about research being conducted by the teachers – again, related or unrelated to the classroom.
Learn what the parents of your students are passionately learning about, and ask them to report (text, video, Skype conversation, or in person to be recorded).
—————————————-

added later

————————————–
Find ways to be playful at your school — and perhaps feel less grown-up. (see Do Grown-ups Learning?)