I launched Class Blogmeister in 2004, realizing that there were a lot of teachers who needed a blogging platform for their students, one that was designed for the classroom.  I anticipated that the service would live for a couple of years, after which other more skillfully constructed and professionally supported services would be available.  They were available, but teachers wanted to keep using CB and I wanted to keep learning from their inventive ideas and add features as they were requested.
Now, 12 years later, I have mostly retired from speaking and writing, and my wife and I are spending much of our time in the foothills of North Carolina, helping and enjoying our aging parents.
So, sadly, I will be closing Class Blogmeister around the middle of June this year.  It's seen a pretty good run, serving over 300,000 teachers and students from 90 countries, who have written nearly 1.5 million blog articles – and I have been the real beneficiary, learning from this amazing community.
I want to commend everyone who has used Class Blogmeister for your adventurous nature and your steadfast adherence to the idea that teaching is an art.  Student blogging requires courageous teachers – and I believe that "courage" is one of the central defining qualities of all good teachers.
I thank you for your loyalty and patience, and especially for being a good teacher.  I can think of no better compliment to pay.
I've been working through a major overhaul of Class Blogmeister and as a matter of reference, just pulled up its Google Analytics report.  There were few surprises, such as a decline in its use over the years — which I was actually encouraging for a time.
What did surprise me was a review of the operating systems that were accessing the 10 year old classroom blogging site (see below).  Windows continues to hold a substantial lead with 57.33% of the hits.  But second and third are what caught my eye.  
iOS has overtaken Macintosh OS for the number two spot.
..and then there was a not-to-be-ignored 6% for Android.
I guess what truly strikes me is that CB is essentially a data-entry activity, if I might be forgiven for using such an archaic term.  It's about typing.  What sorts of subtle biological evolutions are going on, that our children can type so much on an often hand-held glass surface?
Google Analytics for Class Blogmeister, Visits by OS for the past month
Added Later: There are great teachers out there today, who could be greater. There is only a thin line between a good teacher and a great teacher.
There is a growing percentage of America's teachers, who have never taught in classrooms without the intimidation of high-stakes testing. My daughter student-taught under a supervising teacher whose short career had been dominated by the pressures of preparing her students for the North Carolina End-of-Course Test. It's why she, like thousands of other graduates from NC's schools of education, choose not to enter one of our classrooms, because it's not the teacher she wanted to become. (Silberman A1)
Every year, there are fewer teachers who have known the experience of confidently entering their classrooms with creativity, passion and the freedom to replace their textbooks with learning experiences that are unique, personal, powerful and authentic. The rest have only known themselves as teacher-technicians, checking off standards and managing instruction by crunching data.
I was reminded of it this morning, while scanning through Class Blogmeister (see note 1) correspondence, and learning that Mark Ahlness has retired. Mark was among the first teacher-users of CB, posting his first blog entry in July of 2005. He continued, over the following years, to empower his learners by making them authors, sharing his creative techniques with other educations and being one of the chief leaders and supporters of the CB community.
I told him that I feel a pretty deep sense of sadness at his retirement, and explained that I too am retiring – though, I am stretching it out over the next several years. But I do this believing that I am leaving education in the hands of courageously passionate and creative teachers.
The classrooms of Seattle, Washington are now making due with one less such teacher – and formal education will be a little less interesting without Mark.
We must kill high-stakes testing before we do not have anyone left, who remembers how to be a teacher-philosopher.
Great luck to Mark Ahlness on all his future endeavors.
Note 1: Class Blogmeister is a blogging platform that I built and launched in late 2004. I created it because there were no blogging services at the time that were designed for the classroom. It continues to live, but I do not promote it, recommending other services instead, when I am asked.
Note 2: My semiretirement has begun, though I will continue to work for a good number of years to come. I'll simply be pursuing other interests in between a declining number of speaking engagements.
Silberman, Todd. "Not Enough Teachers." Raleigh News & Observer 1 May 2002, A1. Print
I learned, via Hack Education, about a survey from the Institute of Educational Technology (The Open University). Announced by Alice Bell in her blog, the study is based on work they did last year exploring brain bloggers (early data).
Go here to get and complete the survey, and do it now – because today's the deadline.
Here are my answers…
Blog URL: http://davidwarlick.com/2cents or http://blog.idave.us
What do you blog about?
Teaching and learning, and how their practice and purpose have evolved as a result of contemporary and emerging information and communication technologies and more specifically the effects of these technologies on the nature of information and literacy.
Are you paid to blog?
No!
What do you do professionally (other than blog)?
I usually describe myself as an author, programmer, public speaker, entrepreneur and 35 year educator. My income comes mostly from book sales, public speaking and ad revenue from one of my web sites.  I am currently in the "slowly retiring" phase of my career.
How long have you been blogging at this site?
Since November of 2004
Do you write in other platforms? (e.g. in a print magazine?)
I have written four books, three of them self-published (Lulu) and one via a traditional publisher. I've also written chapters for other books, most recently the foreword for What School Leaders Need to Know About Digital Technologies and Social Media, (2011) by Scott McLeod and Chris Lehmann. I have also written numerous magazine articles, but not in a long time. If asked to write one today, I would probably decline. It makes little sense, today, to carefully write a timely piece, only to have it published 9 months later.
Can you remember why you started blogging?
Initially (2004), I started blogging because it seemed the thing for a progressive and tech-savvy educator to be doing, sharing my knowledge with my readership. However, I very quickly realized that blogging was really a conversation, between the bloggers I read, what I wrote, the commenters who read and wrote on my blog site, and the bloggers who reflected on my ideas. Blogging is a learning experience for me. I blog to learn.
I learn because blogging requires me to organize and refine my own ideas. I also learn from the commenters and response blog posts.
What keeps you blogging?
To continue to learn.
Do you have any idea of the size or character if your audience? How?
I suspect that I have a fairly large audience, but only from the personal contacts I have with educators at conferences and also from the almost daily requests I receive from PR firms asking me to blog about their clients. I do have 15.7K followers on Twitter.
What's your attitude to/ relationship with people who comment on your blog?
I deeply appreciate comments and have never deleted a comment (to my knowledge) unless it was obviously spam. I learn from commenters, and that is often especially true from comments that disagree with what I have written. The number of comments has declined, since much of that conversation has moved to Twitter. This disappoints me, since 140 characters is often not enough space to deeply explore any issue about education.
Do you feel as if you fit into any particular community, network or genre of blogging? (e.g. schools, science, education, museums, technology)
Yes, though this was probably more true before so many edubloggers started moving to Twitter as their primary means of engaging the community. But I suspect that I would be part of the edtech blogger community, though I rarely write specifically about technology.
If so, what does that community give you?
What I learn from this community, which spans the blogosphere, twitterverse and F2F connections at conferences.  I learn about new technologies and applications. But more importantly, I learn new stories and new language for talking about retooling classrooms.
What do you think are the advantages of blogging? What are its disadvantages/ limitations?
This is easy. The advantage is the space to more deeply examine issues of contemporary teaching and learning practices. The disadvantage is the space required to deeply examine issues. Busy educators have little time to read. It's why Twitter and status updates have become so prominant in the education and edtech conversation. The key is learning to link the two together.
But in a broader sense, blogging empowers us to share, engage and build new knowledge.
Do you tell people you know offline that you're a blogger? (e.g. your grandmother, your boss)
Yes, though people who do not already know that I am a blogger, probably do not know what a blogger is.
Is there anything else you want to tell me about I haven't asked?
There may not be a direct correlation, but invitations for public speaking engagements dramatically increased when I started blogging – which was good since my children were starting college at that time.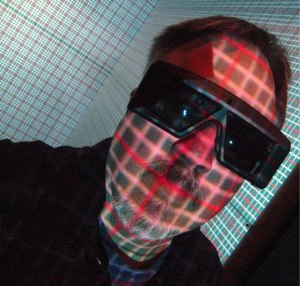 Someone took this picture of me in The Cave, a virtual reality space at Duke University. It was part of ScienceOnline2008.
With tightening (and disappearing) budgets, especially for professional development, making it to conferences that are not core education events has become difficult. Yet, it is these field-oriented PD opportunities that teachers, intent on transforming their classrooms, need to be attending — Real World.
One such is ScienceOnline2012. I attended some of the earliest of these conferences which seemed to be spinoffs from the earlier BloggerCons of a half decade ago. The desire was to explore how the work of scientists and science journalists could benefit from the World Wide Web 2.0. They were fascinating conferences, because they were at their essence, about literacy, (accessing, working, and communicating information) within a context that is real, important, and huge!  From their web site:
Every January since 2007, the Research Triangle area of North Carolina has hosted scientists, students, educators, physicians, journalists, librarians, bloggers, programmers and others interested in the way the World Wide Web is changing the way science is communicated, taught and done.
The focus of the conference has broadened substantially beyond blogs, wikis, and podcasting.  This year will include presentations from leaders in the fields of infographics, data visualization, and how gaming is being used to conduct science research.
There's not much that's better, for this confirmed and long-time nerd, than being in a room filled with scientists. Teachers and students should feel this thrill as well.
This years ScienceOnline will be held at the McKimmon Center on the campus of North Carolina State University, January 19-21, 2012. Links to the agenda, program, and registration are in the box to the right.
Organizers have always wanted to bring precollege educators to the conference, and especially teacher-student pairs.  Event sponsors are providing for scholarships for just such attendees, and you can apply for one of these opportunities here.  In the box at the bottom of the form, include your name, the name of the student, grade, and subject(s) taught.
I sure hope I can talk Brenda into sponsoring me
I'm sitting at Starbucks right now, working on "A Gardener's Approach to Learning," and I happened to glance at my Tweetdeck for inspiration — and boy! Illinois educator, Greg Noack says,
Why is it that, the more I learn and meditate on HOW kids learn, not what they learn. The less I have in common with other teachers. ((Noack, Greg. Twitter. 19 Dec 2009 08:11. Web. 19 Dec 2009.))
I immediately agreed and was inspired, as I usually am, when someone puts into words (140 characters) something that's, until that point, been little more than fleeting thought.
But then, it occurred to me that an important and interesting question is, "Why?" Why is Greg and why are so many of us asking the question, "How do our students learn?"  Certainly good teachers do that as an ongoing part of differentiating their classroom learning experiences.  ..and it may simply be because we are talking a lot more and a lot more loudly about our professional reflections.
But if we are asking those questions more today, then why?  Why today?  ..when supposedly the purpose of my university experiences, my degrees, was to teach me how my students learn.
I'd like to suggest just a few possible reasons, and then let you have at it, while I continue my book writing.
We are recognizing that our students will be moving from their formal education into a world that we can hardly imagine.  We are paying a lot more attention — and that's us learning.  How do I do it better?  How might my students do it better, as a lifestyle rather than just something to do at school.
We are teaching within a rapidly changing information environment, and the technologies that facilitate the information's flow are advancing — just about every day.  We either learn it or ignore it — and many of us believe that ignoring it is professional malpractice.
And I have to wonder if working, playing, socializing, and dreaming within such a responsive environment literally turns us into a learning species — not that we weren't before.  But learning, in this kind of information environment, is just about as common as breathing.
Learning is at the core of teaching today — and just about everything else.  So we're thinking about it more.
What do you think?
A bridge is a sticky connector only if people need to get to the other side (( Leszczynski, Janusz. "Alexandria Bridge." Janusz L's Photostream. 28 Aug 2009. Flickr, Web. 23 Nov 2009. <http://www.flickr.com/photos/januszbc/3865004558/>. ))
It appears to have started with a Facebook status update from Science Leadership Academy Principal, Chris Lehmann.

When having audience is no longer novel, simply having one is no longer motivating. We still must help kids have something powerful to say.
Saskatchewan educator, Dean Shareski, continues the point in a blog post, Why Audience Matters, followed by fellow Canadian (Snow Lake, Manitoba), Clarence Fisher in his post, Those Formerly Known as the Audience. Finally, it all came to my attention, when Jeff Utecht tweeted a link to his installment on the conversation, Audience as Community. I strongly recommend you read all three of these blog posts because, together, they cover a wide range of reasons why audience is important to student learners.
My immediate response to the whole issue was a mild disagreement with Chris' initial post. He may be right, and he's certainly in a better position than me to see it first hand. But I've had numerous Class Blogmeister teachers say that "classroom" as audience seems to be just about as motivating as arranging for people around the world read and respond.
I suspect that the world-reach thrill of blogging might be novel and might wear off. But it occurs to me that the true power of working within an audience, as opposed to performing in front of an audience (writing to the teacher, what you thing the teacher wants to read), is the power of conversation. It's knowing that somebody (even the guy in the next row) is reading what you are writing (not measuring it), and that the reader may respond to what you've written, pushing you to rethink and respond back.
It's the potential of adding something valuable to somebody else's thinking — the potential of becoming valuable.
I usually mention three qualities of personal learning networks when I do presentations on the subject — that PLNs are:
Personal — They're shape and function is completely up to the the ongoing needs of the learner.
Both Spontaneous and Directed — Some learning experiences can result from careful cultivation of the network, and some simply happen because you are connected.
Connective — The network of people and sources are held together not by wires, routers, and HTML links. It is a network of ideas.
It's this last one, connectiveness, that I think may be pertinent to this conversation. There has to be something between the network nodes besides the concept of audience. There has to be something sticky there, something that helps, something that offers value, an intrinsic reason for the conversation. If you are connecting your class to another class in Scotland, then there needs to be something in the perspective or experience of those Scottish students that helps your students accomplish their goals, and it must be a goal that is more than academic or schoolie. It has to be a goal your students identify with — that they want to accomplish.
This network of ideas is one of my favorite aspects of personal learning networks. The people I am connected to are not part of my network because we look the same, speak the same native language, follow the same religous doctrine, or share identical cultural traits. We connect through our ideas, because what we do provokes us to share those ideas, and we all benefit. Even the photo that I include at the top of this post comes from a temporary PLN connection with Janusz Leszczynski, simple because he (she) once took a picture of a bridge and labeled it bridge and I, months later, was looking for a picture of a bridge to symbolize connection. The ideas were experienced at different times, but the ideas' stickness lasted on.
Powered by ScribeFire.
Interestingly, each computer has something different on the screen. This is probably fine. Students should be free to use their machines as a thought extensions, utilizing the tools in ways that make sense to them, to help them make sense of what's being taught. (( Richbourg, Smyth. "What I Do." Flickr. 23 Apr 2005. Web. 7 Nov 2009. <http://www.flickr.com/photos/tsmyther/10599159/>. ))
My week is over, with gigs in Raleigh, Long Island, and three full days around Edmonton, Canada. I take the elevator down in about ten minutes to grab a cab for the Edmonton airport, landing in Raleigh at about 4:40 PM. So I have ten minutes, and its the first ten minutes I've had in a week to think about blogging.
So I decided to check for comments on 2¢ Worth that needed moderating, and was surprised to find a number of them. Alas, I haven't gotten anywhere, because the first one grabbed my attention, a comment from Susi, a teacher in Bangkok. It was a response to my blog post on the difference between Computer Applications and Computer Application (minus the ending "s"), and she implied that to learn a language, such as Japanese, and to become fluent in the language to any degree, it takes more than just teaching it. It has to become a tool for the learning.

Students who become fluent in reading, do so because they read, not because they were taught the basic reading skills. Of course, it wouldn't have happened without having been taught the basic reading skills. But they become fluent because they are required to read for the rest of their formal education and beyond.
If we expect students to become fluent in the broader and equally critical information and technology skills of being literate in a networked, digital, and abundant (contemporary) information environment, then they should be required to use those skills in all of their formal education, just like reading. Reading, for education, is a learning literacy. Reading, processing, and expressing knowledge in a networked, digital, and abundant information landscape are equally important learning skills — learning literacies.
Our stated goal, right now, in every school and school district, should be for every student to walk into their classrooms with a computer (literacy machine, not a handheld) under their arm. It's no long a matter of "if" — it's "when."
..because literacy skills are meaningless until they become literacy habits.
Powered by ScribeFire.
It's one of those ideas that has occurred to me during those moments when a perfect example presents itself, but then loses itself in the stack of other ideas of similar birth and death. But here, at the beginning of the school year (at least in the Northern Hemisphere), it seems like a good time to suggest Blog Worthy Topics. I'm thinking specifically of learner blogs, classrooms where both teacher-learner and student-learner are blogging, and sometimes looking for topics for writing, sharing, and engaging about.
So I want to suggest a Twitter hash tag, #bwtopic. I just did a search of bwtopic in Twitter and it appears to be a unique string.. So, as you encounter a newspaper or magazine article, blog post, speech, YouTube or TED video, or whatever, that seems like an appetizing topic for learners to explore and build on, then Tweet it with the hash tag #bwtopic.
We can follow the suggestions via RSS. Here is the feed (Atom) for a Twitter search for #bwtopic.
http://search.twitter.com/search.atom?q=bwtopic
I'll be posting this feed on the Class Blogmeister Ning network, so that teachers there will have ready access to the latest topics.
Powered by ScribeFire.
I crave routine.  For the past week and a half, I have started my morning with a bowl of Cream of Wheat (It's better than grits) followed by a mile walk to the local Starbucks, a bag (above) over my shoulder.  Unpacked, I have my mobile office — Acer Netbook with Ubuntu waiting for login, a wireless mouse, and a mug of Cafè Americano.  I'm writing a new book about network professional development — how learning is like gardening
Tim Holt recently wrote an interesting entry (Do I Trust the System Enough) in his blog, Intended Consequences.  In it, Tim describes his plans to write a book for administrators about a particular type of professional development.  He is planning to follow my example of self-publishing the book, hopeful that "..enough people purchase it so that (he) can put (his) kids through college."  My experience with self-publishing has been almost entirely positive and fruitful.  I'll never make a living at it, and I'm still working on my son's tuition, but writing for yourself is a true pleasure.
His central question, however, is an interesting one — a "test of faith."
I talk a lot about collaborative work. I talk a lot about sharing. I talk a lot about using professional networks to enhance learning and your professional work. So here is a perfect example of something that I can put "out there" for my PLN to critique, add to, subtract from, tell me I am full of it, or give me a pat on the back. I want folks to work with me through the process, to share, to be part of the product. Everyone would get credit.
There are a number of notable examples of books written publicly on wikis or in similar environments.  I'm not absolutely sure, but it seems that one or more of Lawrence Lessig's books were written publicly, as was Chris Anderson's The Long Tail, through his blog.
But Tim is concerned.
..I just hesitate putting it out there because I keep thinking that it is going to be ripped-off before it is done and someone will take my idea and run with it.
I'll say here that I have been working on a short (hopefully) book about networked professional development for a little over a week now, trying to take advantage of an almost three week stint with no traveling.  I explained a little more about the project in my comment on Tim's blog.
But that asside, I also tell a story where several years ago someone (I do not recall who) sent me a package with a note asking if I was aware of this.  The note indicated the page number, in a paperback book enclosed in the packaging, for a chapter which was, word for word, an article I had written a few years earlier and published through a now defunct online journal.  I was furious and immediately shot off an e-mail to the publishers, who were in India.  There was never a reply to that e-mail. I quickly settled down, realizing that there was nothing I could do that would be worth the expense, and I forgot about the whole episode until now.
Things are different now, aren't they? India is not nearly so far away.  I would probably have no more success with the publishers.  But today, I have a blog.  And many of the readers of my blog have their own blogs.  And we could fill the edu-blogosphere with our indignation about an instructional technology book that so blatantly plagiarizes the work of another.
I think that Tim has a valid concern.  He is talking about investing a lot of work into a project — A LOT OF WORK, and he has a right to be concerned about the property that will result.  But our community is so much more transparent today that if I were considering writing my book publicly, fear of theft probably wouldn't stop me.
Powered by ScribeFire.
keep looking »