A couple of weeks ago, I delivered several presentations to a school district in the mid-west, one of the numerous August back-to-school gigs I'm doing fewer of each year. It was a rewarding day, more so than many. Keeping the attention of hundreds of teachers, just back from vacation, catching up with friends, weighing in the politics of new leadership, and desperately needing to be in their classrooms makes this a pretty tough gig. Not so on this day.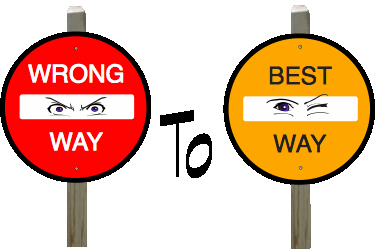 After a presentations about expanding our notions of literacy, a teacher came up asking, "But what's to be done about students accessing all the information on the Internet that is simply not true."
I reminded him that I had just made the point that it isn't just the Internet we need to be worried about. Then I gave him one of my usual responses,
If I was still teaching history, and my students turned in a paper, they would be waiting for the challenge. It happens every time. It's part of the ongoing classroom conversation.
Placing a student's paper on his desk and pointing to one paragraph, I ask, "How do you know that's true?" If the student can't answer the question, he's going to lose points. Even if the paragraph is true, he's going to lose points. My students would be responsible for their information's appropriateness and the evidence that supports its appropriateness.
I wonder now if this response makes sense only to me, a figment of a private fantasy. So I thought I'd spend some bits trying to unpack this approach into something that better distinguishes a "new way" from an "old way."
The difference is in what we call attention to. Our tendency, as teachers, is to address the problem by focusing on the mistakes, red-penning what's not accurate, not reliable, not valid, doesn't make sense. It's logical because whats not true is a fundamental problem to education. We work to keep wrong information out of our textbooks, whiteboards, libraries and lectures. We foster a learning environment where we can all take comfort in the assumption that the information is "true."
Our position, as teachers, is based on this assumption.
For the problems caused by the Internet, we create checklists to identify the breakage in information.
[ ] Is the author's name included in the page & can he be contacted?
[ ] Are the author's qualifications available?
[ ] Is the publisher an educational institution or other reputable organization?
[ ] Is the information fact or opinion? Is there bias?
[ ] Is the URL domain among the trusted (edu, gov, org)?
If you can check all of the above, then you can use the information.
We teach research and writing as a practice in avoiding problems,
..but not as a practice in solving them.
If we teach our learners to research and communicate in order to solve a problem, then we entirely change the approach. We assess their work through conversations about the "best way" rather than the "wrong way," and learners become active defenders rather than passive accepters of judgement. The classroom conversation changes. Students become more active, empowered and invested. They become stakeholders in their learning, and ultimately, responsible to an authentic context/audience.
They own what they write, present or make, because they did the work and defended it. They're accountable.
They own the learning.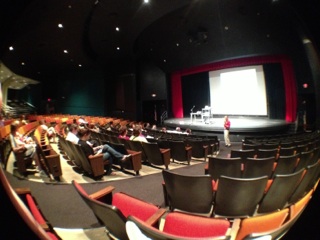 One of several sessions conducted that day (and the day before) by the high school principal for parents about the 1:1 program
I am home from a grueling couple of days in Eldridge, Iowa, where I spoke to parents and community members of the North-Scott School District and then to the faculties of the junior and high schools. North-Scott is implementing a one to one program for secondary schools, and the superintendent and school board members thought it might help for me to deliver a couple of kickoff presentations. They'd seen me at the Iowa Association of School Boards conference a few months earlier. I must have been in the zone that day, because I'm spending a good bit of time in Iowa in the next few months. No other explanation.
First of all, the community session enjoyed an excellent turnout. Too often, when I volunteer to do these things, I'll get only a dozen or fewer parents show up. Just too much else going on. But the seventy-some people who showed up were engaged and put me through rich and progressive Q&A afterward. There was a lot of concern about how teachers were going to learn to implement the devices and how they were going to keep up.
The next day, the principals and ed tech staff did something that I haven't seen before. They ran and EdCamp-style event between the two presentations I delivered, three sets of concurrent sessions, which the teachers defined in the auditorium and one of the principals typed into a Google Doc schedule. Then they all walked up, took pictures of the schedule with the phones and set out to learn from each other.
I have to confess that I was a little skeptical about this experiment. Most EdCamps are attended by teachers who are already pretty Web 2.0 savvy and committed to the whole value-of-the-audience thing. But I've never known of this type of unconference PD being imposed on a group of teachers. These guys surprised me. I spent some time in about a third of the conversations, and they were active, rich with questions and answers, entirely focused on learning, and most had at least a couple of people who had experience with the topic at hand. All of the teachers were engaged and seemed truly appreciative.
I have spoken to lots of faculties, who were told to be there and I often get the sense that my goal is to get the clueless to get one, a clue. But lately, that whole thing seems to have changed. The clueless seem to be very much in the minority, and they are paying attention to their colleagues who have knowledge and attitude.
It was a hard couple of days for me, but incredibly rewarding and encouraging.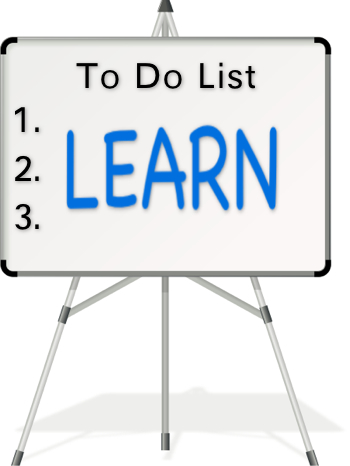 Many months ago I spoke at a leadership conference in Vancouver. When the event was over, officials with the British Columbia Principals and Vice Principals Association, held an invitational gathering of school leaders from throughout the province to create a new document establishing leadership standards for principals and vice principals.
To help them prepare for the upcoming conversations, seven relevantly accomplished professionals were invited to spend eight minutes each sharing their insights about school leadership and culture. They included a former superintendent, international educator, a director of education for a large Canadian school district, a developmental psychologist, executive director of the (Canadian) National Staff Development Council, president of a large chain of grocery stores, a professor of sociology ––– and me.
As I explained here (Warlick, 2012), I was fortunate to have been the last to speak – addressing literacy and learning-literacy. It was one of those singular learning experiences for me, sitting on the stage, listening to these really smart people, and changing the outline of my short talk with just about every idea set forth. I watched as my own presentation morphed into something different, articulate, and –– awesome.
So, with the 2013-2014 school year gearing up, and my own education career spinning down*, I thought I would spend some bits here expanding on each of the items that seemed to spontaneously appear on my iPad that afternoon.
A school that practices learning-literacy is a school where:
The distinctions between teacher and student begin to blur.

In a time of rapid change, when new jobs emerge and fade faster than any education institution can respond and lifestyles change with a globally connected cross-cultural conversation, literacy becomes something bigger. It no longer seeks to make readers. It makes master learners, people who can successfully learn, unlearn, and relearn. **

In this environment innovation becomes a commodity, the ability to resourcefully learn becomes the defining foundation of literacy, and the principal goal of formal education is to produce learners. In this environment pedagogies shift from best teaching practices to best learning practices.

Of course teaching does not go away and neither does a good lecture. but no teacher will deny that we all learned what we teach better, after we started teaching it, than we did as students in the classroom. Teaching is a potent learning skill. Therefore, perhaps one of the best ways that we can help our children to become skilled learners is to practice learning in front of them, and one of the best ways for children to learn, is to teach.

This means, for instance, becoming comfortable using technologies in your classroom, with which you are not comfortable. Demonstrating and talking about your process for figuring it out, or even asking for help from students becomes a life-size illustration of adapting to change – being a master learner.

There is less reliance on textbooks and authority, and more reliance on the work of learning.

Our information landscape has changed: in what it looks like, what we look at to view it, how we find it, where we go to find it, what we can do with it, and how we communicate it. We all engage in content generating conversations through blogs, twitter, YouTube, and what ever is to come. We can no longer believe it, simply because it was written down. We are more than information consumers today. We are participants.

I learned to assume the authority of the information that I encountered. I was taught with approved textbook, in academically managed libraries and by teachers whose position was based on their learnedness. Questioning the information that I encountered was not encouraged. It was unnecessary.

Today, habitually questioning content is required. It is a foundation of being literate. To become literate, students should learn within an information environment that exemplifies today's information landscape, where discussions of an idea's validity become part of learning the idea. We must learn to be responsible participants.

There is a natural convergence between the rich information skills of literacy and numeracy, and the information and data that define the content areas.

Information is increasingly networked, digital and abundant (overwhelming). Each of the qualities are new and they expand what it means to be literate. If you agree that learning is at least a major part of why we become literate today, then knowing how to employ these new qualities, in order to learn, are basic literacy skills.

At this writing, I am creating an infographic that tells a story about how today's North Carolina General Assembly came to be and what it cost. Because information is networked, I am able to find, evaluate and select information about campaign spending and its sources that would not have been practically available to me in the past.

Because that information was digital, I can capture that information, translate, organize, manipulate and interpret it using tools that didn't exist when I graduated from high school.

Because information is abundant (we are all overwhelmed by it), I am using graphic design and publishing tools that didn't exist when I left classroom teaching, trying the practically convey my findings in a visually clear and compelling message.

There is a physics to today's information landscape and accomplishing goals relies, in no small way, to the ability to harness these laws of digital behavior to invent solutions to brand new problems.

Teachers teach from new learning, as master learners.

When my grandfather was in college, molecules were defined as, "The smallest part of any substance which possesses the characteristic properties and qualities of that substance, and which can exist alone in a free state." (Webster's revised unabridged, 1913) By the time my father was in school, atoms were defined as "A particle of matter so minute as to admit of no division. Atoms are conceived to be the first principles or component parts of all bodies." (Webster's revised unabridged, 1928) I learned about electrons, protons and neutrons while my children learned about quarks and other strange particles. Today, we're reading about future computers that will operate on the behaviors of quanta.

The answers to the test questions are changing.

According to a 2010 Bowker report, 2009 saw 1,829 new books published in the U.S. about agriculture. 5,131 new books were published about computers, approximately 9,000 each about business and education. 14,281 brand new books were published about history – new knowledge about history. As we gain more access to information and to each other, the new knowledge that we generate as a society not only astounds us, but it is forcing us to redefine what it means to be educated. We have rapidly moved from a world of information scarcity to information abundance, and an education is no longer measured by what you can remember, but what you can learn and what you can do with what you've learned.

Teachers, who teach solely from their university experience do a disservice to their learners. Teachers should model themselves as habitual and resourceful learners, and skilled artisans of what they've learned. We must walk into our classrooms out of today, not from the day that they graduated.

Digital Footprints become a central part of the school's culture, building evolving personal and school identities based on learning and "doing" with the learning.

When I built the nation's first state department of education website, there were probably less than 100 parents in the entire state who could access it. But today, institutions are identified by their web sites. Some sites have become institutions unto themselves – Wikipedia, Amazon.com and Google.

When most of our children's parents think about the institutions that support them in their daily endeavors, they recall URLs instead of building facades. They expect to interact with their world through the World Wide Web. They expect to have the same digital access to the schools their children attend and the teachers who manage their classrooms. It has evolved from the exception to an expectation.

This is an enormous opportunity for education, to be able to communicate with and even educate the communities that they serve. We can distinguish ourselves, present ourselves for judgement and tell new stories about education, teaching and learning not through bureaucratic methods of measurement, but by enthusiastically sharing what and how our children are learning, and what they can do with what they are learning.

The library magnifies the world outside, but also reflects the culture inside, curating collections of learner-produced media products.

As already mentioned, a school that practices learning-literacy cultivates a digital footprint, along with its learners. One outcome of preparing children for an unpredictable future is that they are learning things that their parents didn't know. When those parents visit their schools' web sites, it should not be merely to learn about their children, but also to learn things that they didn't know, to be astounded, to spark new conversations for their families and to redefine teachers as master learners, not simply learned.

Since children are not merely learning, but also doing with what they learn, then they are in constant production, working knowledge, like raw material, into refined and valuable information products. The school's library becomes the repository for these products and the librarian, its archivalist.

Learners will visit the library not merely to find what's available from outside, but also from inside, to find work that previous students have done, and perhaps even improve on that work. After thousands of years of civilization, almost nothing starts from scratch.

Where learners learn, teachers model learning, and the school teaches the community.

I later rephrased this one to "In a school that practices learning-literacy, teachers model learning, students learn to teach themselves, and schools educate the community." This sentence, with its three principles, says it all for me.
Teachers Model Learning
Students Learn to Teach Themselves
Schools Educate the Community
* I'll be preaching for years to come – just not quite so frequently.
** A quote often attributed to Alvin Tofler, but actually his paraphrasing of Herbert Gerjuoy's "Tomorrow's illiterate will not be the man who can't read; he will be the man who has not learned how to learn."
(1913). Webster's revised unabridged diction. Merriam-Webster.
(1928). Webster's revised unabridged diction. Merriam-Webster.
Bowker LLC, (2010). Bowker reports traditional u.s. book production flat in 2009. Retrieved from website: http://www.bowker.com/en-US/aboutus/press_room/2010/pr_04142010.shtml
Warlick, D. (2012, October 22). [Web log message]. Retrieved from http://davidwarlick.com/2cents/?p=3733
I'm doing something right now that I have only gotten to do a good handful of times during my career as an educator. I am starting a brand new presentation slide deck. What fun! Understand that when I left the classroom as a teacher, the standard for technology in the classroom was the TRS-80, and the venerable Apple IIe had only just launched. Persuasion, PowerPoint and Keynote were hardly in our imaginations.
Since I started delivering keynote addresses at conferences, I've had about five standard talks. They have afforded me basic structures, reasonable frameworks, about which I could tell stories that provoked new ideas about teaching and learning. Today I am starting a new one – and probably my last one.
A compelling speaker needs a gimmick, an idea or object that is familiar, but can be turned inside out in such a way as to provoke a shakabuku, "..a swift, spiritual kick to the head that alters your reality forever," if I might be so bold. 1
For this presentation, I've decided to use the school bookbag. One of the stabling blocks of promoting new ways to think about education is vocabulary. The biggie? "What do you call a textbook that's not a book?"
If it's not a book, then what do you put in your school bookbag? I have some ideas…
But what do you think?
If students continue to bring bookbags to school in 2018, then what will be in them?
Please comment or Tweet (#bookbag2018).
Thanks!
Added Later
One thing that I do know is that a Bookbag, filled with 20 pounds of books, indicates a school based on standards — and such a school does not teach literacy nearly so much as it teaches compliance.
1Driver, M. (Performer) (1997). Grosse pointe blank [DVD]. Available from http://www.imdb.com/title/tt0119229/?ref_=sr_1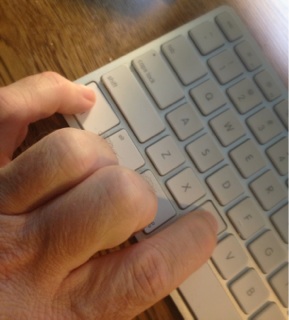 When I started teaching myself to program computers, I had to have a book. Radio Shack had a great book that came with their TRS-80 micro-computers (they were called micro-computers back then). It was simple, well sequenced and funny. Apple IIes came with a book, but not so good. Learning PHP and MySQL also required books –– really thick ones.
It's different today. Anything I'm trying to get a computer or a web site to do, someone else has already tried and succeeded, and with the help of others who have already tried and succeeded. Today, you simply tap into the conversations that they had, and you learn as well. The result has been an expansion of knowledge about coding and an explosion of ideas for how to use that coding.
Anyway, I've been working for a number of months on one possible feature for Citation Machine that I suspect could greatly improve its functionality. I've seen it before on other sites, but could not figure it out in such a way that it would work on all major browsers and both platforms (haven't tested Linux yet).
It may sound trivial, but if all you had to do is submit a citation form and then simply press CTRL-C to copy the citation, and then CTRL-V to paste it into your document – well I think that's huge. Until now, you had to click into the box for the citation, and then double click or triple click to select/highlight the entire citation, and then CTRL-C and CTRL-V to move it into your document.
Now, thanks to the conversations of dozens of programmers who are better than me, you just submit the form and CTRL-C for the bibliographic citation. To get the footnote you can double or triple click there, or click the [Select] button beneath it to have it selected/highlighted so that you can CTRL-C. Same with the parenthetical citation.
Please comment if this causes any problems for you.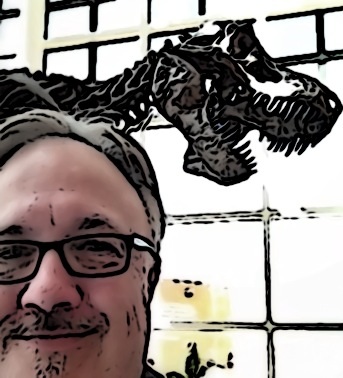 OK! This was Wyoming. So there were dinosaur skeletons everywhere.  Tyrannosaurus on the right and Warlickosaurus on the left.
During my presentation, Finding 'It' on the Net, at the WyTECC conference the other day, someone asked in the backchannel,
"How do we get educators to understand that students (should) have the freedom of using the Net during class?"
It's what I love about being able to visit the chat transcript and comment on the attendee's observations and questions. It extends the conversation and broadens the learning – including my own.
I seems that one way to convince reluctant teachers might be to ask that they imagine their classrooms with really smart students, and imagine the energy that they would generate – and then help them to understand how the Internet is becoming an extension of our/their own brains. Ask them to think of the things that they do today, that they aren't smart enough to do without the Net. I'd have no trouble doing that.
If students can lookup and evaluate information on the Net and on the fly during classroom work and classroom discussions, extending their own brains, then it may elevate the class, not to mention empower the learners.
Contemporary literacy is a subject I've not written about in a while. In fact, I've not been asked to talk about it at a conference in a number of months. Is it a message that's been received? I don't think so. I continue to read comments on my blog promoting the integration of technology, like tech is the goal, rather than an essential tool for accomplishing the goal of contemporary learning-literacy.
One element of this literacy is, in nature, ethical. In a 2007 2¢ Worth blog post, I wrote
..it is now our ethical responsibility, as information consumers, to assure that the information you are using is accurate, reliable, valid, and appropriate to what we are trying the achieve.
And then,
It is equally our responsibility to assure and document that the information we are producing is accurate, reliable, valid, and appropriate. 1
In another time, we were mere consumers of content. Today we are full participants in the information economy and this compels us to accept new responsibilities that have, in my opinion, become a part of what it is to be literate today – contemporary literacy. We are no long held only to the value of the information we consume, but also to the information that we pass on or produce.
This is what came to mind when I was browsing through my copy of MLA Handbook for Writers of Research Papers: Seventh Edition.
Hey, you've got to find excitement where you can.
I found a section with descriptions for formatting parenthetical notes (endnotes or footnotes) about cited sources. It describes two kinds of notes for documenting sources.
Content notes offering the reader comment, explanation, or information that the text cannot accommodate
Bibliographic notes containing either several sources or evaluative comments on sources2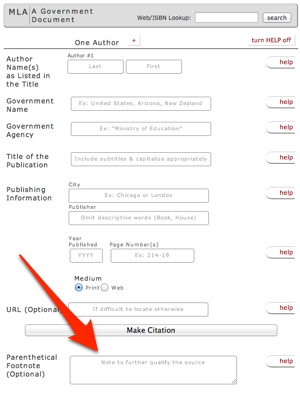 I added the footnotes form element just beneath the "Make Citation" button, so that it would not interrupt the normal flow of CM use.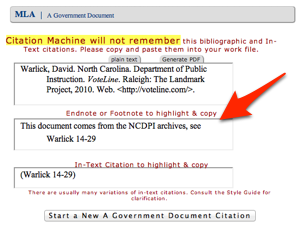 If a parenthetical footnote is provided, then the footnotes box will appear here between the bibliographic and the in-text citations.
It seems that when we are all overwhelmed by information, much of it from other people like us, it is note merely a courtesy to cite our sources, but it is a practical measure to justify and invite readers to judge our sources' accuracy, reliability and validity. We should make it easy for our readers to check its appropriateness to the message of our writing.
With these MLA documentation notes (footnotes or endnotes), we can provide that justification where the comment does not really fit into the prose of the document.
All of this leads up to a new feature on Citation Machine. My plan is to add a textbox to all of the forms, where you have the option of typing in some "comment, explanation or information." Citation will formate the comment, along with proper reference to the source, into a footnote/endnote.
Thus far, I have only added the feature to MLA Government Publications. It seems that when ever I make any type of change to CM, a few people get disoriented, not to mention madder than a mule chewing on bumble bees.
I understand this. What sets Citation Machine apart from most of the other citation generating sites is its simplicity and speed. Change does not simplify.
So I thought I'd take this slow. Look at the Government Publication form and try it out. The note text shows up in a box just like the bibliographic and in-text citations. Feel free to comment on this blog post and concerns or recommendations.
1 Warlick, David. "Ethics Challenges & Information." 2¢ Worth. The Landmark Project, 26 Jan 2007. Web. Web. 18 Mar. 2013. <http://davidwarlick.com/2cents/?p=858>.
2MLA Handbook for Writers of Research Papers: Seventh Edition. 7th. New York: Modern Language Association of America, 2009. 230. Print.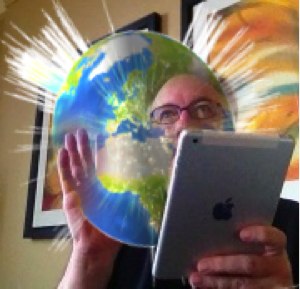 I do not think that holograms are on the near horizon, but one can wish
So, continuing from my last blog article, if the answers to our questions are changing and they are constantly available to us, and helping our children learn to find, validate and use valuable information/media has become a central defining component of literacy, then of what use are textbooks.  If stripped of the content – the right answers to questions – then what is left and to what purpose.
In my opinion, quite a bit is left.  I took one of those remedial classes in my first year of community college, something like "Improve Your Study Skills."  I remember the professor telling us what to do upon receiving our textbooks each semester.  We should scan through and register key items and sequence of ideas in the table of contents and also scan the index, looking for names, words and phrases that stand out.  Each of these textbook elements provided anchor points within the content, giving it shape and meaning.
If the teacher or learner is starting without a packaged and provided collection of content, then a locally maintained table of contents (outline) and index (list of essential terms) become something quite different.  Instead of anchor points, they provide idea magnets, serving to help draw together the most contextually relevant and defensible information in a sequence and shape that provides the deepest meaning to the content.  It is, in a sense, a skeleton that gives shape to what might otherwise be an ugly bag of mostly water. (I always wanted to use that phrase – Geurs, Sanchez & Sabarof, 1988)
I had originally written a long technical examination of metadata here, but it would be one of many avenues to this sort of learning tool, and who am I to suggest how this might technically work.  But what comes closest to being my personal and professional textbook today is Flipboard, a magazine-forming social network aggregator for both iOS and Android.  I'll be attending the upcoming Educon at Philadelphia's Science Leadership Academy this week.  In preparation, I've configured Flipboard to grab all tweets that are hashtagged with #educon, as well as the resources that are shared by those tweets.  The effect is a new chapter to my textbook, capturing content from others who will also be attending or simply paying attention to the event via the social network.  My textbook (Flipboard) is a carefully arranged, personal and constantly evolving set of information magnets, that attract the content that I need or want to see.
Might the day come, when a subject to be taught, is conveyed as a flexible outline of tags (so to speak).  The job of the teacher would be to locate (or cause to be located) and attach content (both open-source and/or commercial), in any appropriate format, to that arrangement of scope and sequence-forming tags and constantly filter and refine that content based on changing conditions and newly available content?
What might this process look like as an integral part of teacher education?  Might the act of starting their own flexible digital textbooks be a part of learning to teach.  (Is "Flexbook" trademarked?  How about "flexibook?")
My point is that we have every reason to conclude that learning tools that assume a static, centralized and standard arrangement of content is irrelevant to the needs of today's learners – and that today's prevailing information environment provides for us some pretty compelling opportunities.
That teachers can easily construct and refine learning tools based on local and universal conditions and individualized to the circumstances of specific learners.
That learners can personalize their learning tools based on their self-discovered learning styles and their evolving personal interests.
That these learning tools need not be turned in at the end of the course, but carried on, edited, adapted and grown.
That learners can graduate with more than a paper diploma – that they might take with them a personalized digital library or network of content that they continue to maintain and evolve based on their continuing needs and interests.
That this action of personal curation can become an integral part of formal education, further shifting it from
Something that is done to children
  to
Something that we learn to do for ourselves.
Geurs, K. (Writer), Sanchez, R. (Writer), & Sabarof, R. (Writer) (1988). Home soil [Television series episode]. In Roddenberry, G. (Executive Producer), Star Trek: The Next Generation. CBS Television Distribution.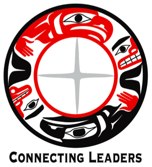 I had the pleasure and good fortune of speaking at the Connecting Leaders conference this weekend in Vancouver. Organized by the British Columbia Principals and Vice Principals Association, the conference consisted of two days of keynotes, breakouts and meetings.  I keynoted the second morning (Saturday), delivered a breakout and the closing remarks around 11:30.  Pretty standard fair.
After the conference adjourned, the association held an Educational Leadership Forum to assist in revising their Leadership Standards for Principals and Vice-Principals in British Columbia.  Eight panelist were invited to deliver 7 to 8 minute talks, exploring specified topics that are relevant to school leadership.  I was panelist number seven and was asked to talk about literacy.
The panelists were:
Taken before the event

Dr. Bruce Beairsto — Former Superintendent of Schools with the Richmond School District in British Columbia
Dr. Avis Glaze — International educator, speaker and former administrator with the Ontario Ministry of Education
Julie MacRae — Director of Education/CEO of Regina Public Schools, Saskatchewan
Dr. Kim Schonert-Reichl — an Applied Developmental Psychologist and Associate Professor at the University of British Columbia
Dennis Sparks — Emeritus Executive Director of the National Staff Development Council
Robert C. Kidd – President of Overwaitea Foods
Dr. Charles Underleider — Professor of the Sociology of Education at The University of British Columbia
David Warlick – In high cotton
The event was brilliantly organized with eight round tables in the room, each devoted to two of the addressed topics.  Around each table were invited and distinguished principals, vice-principals, district administrators, university folks, and representatives from the BC Ministry of Education.  Four of the panelists spoke on their topics and then the eight of us dispersed to our assigned tables where we discussed our first assigned topic.  Then the remaining four returned to the stage to address our topics.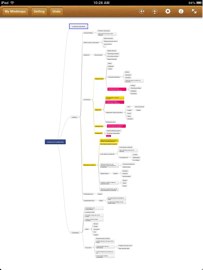 My note-taking app of choice is Mindo
I wanted to share some ideas about an expanded vision of literacy that reflects today's prevailing information environment –– my standard respelling the 3Rs with a healthy sprinkling of ethics.  A recent teenage suicide in BC, resulting from cyber bullying, was a fairly pervasive backdrop throughout the conference.  But I wanted to go beyond my standard 3Es and try to describe what I would expect to see in a school that practices contemporary literacy (learning-literacy).
What really helped was being able to listen to six of my stagemates share their perspectives before I had to speak, each of them provoking a new twist on one or more of the qualities I had listed.  I certainly hope that the frequent tweaking of my notes (see above & right), on my iPad, at my end of the stage, didn't distract anyone.
So, a school that practices learning-literacy will be a school where
The distinctions between teacher and student begin to blur.
There is less reliance on textbooks and authority, and more reliance on the work of learning.
There is a natural convergence between the rich information skills of literacy and numeracy and the information and data that define the content areas.
Teachers teach from new learning, as master learners.
Digital Footprints become a central part of the school's culture, building evolving personal and school identities based on learning and "doing" with the learning.
The library magnifies the world outside, but also reflects the culture inside, curating collections of learner produced media products.
Where learners learn, teachers model learning, and the school teaches the community.
How does this ring for you?
I spent Wednesday morning at the "Every Teacher Every Learner" conference in College Park Georgia. The event was organized by Woodward Academy and mostly for private school teachers from the area. I talked about contemporary literacy (learning-literacy) and about new pedagogies.
In reviewing and commenting on the backchannel transcript this morning, I ran across a comment/question that deserves a little more exploration here. The question was:
"Should the tools and environment drive the learning or vice versa?"
It's a common question in the greater edtech conversation that begs the answer, "No! the learning drives the tools." My answer, which I inserted into the backchannel, was "Both!"
One of the mistakes that I believe we make is believing that the principle purpose of these information and communication technologies is to enhance education – as we've known it. This is a reasonable assumption and the way that we have all promoted technology for education since the early '80s.
However, personal computers and the Internet are the pencil and paper of our time.  Like pencil and paper, the productive use of these technologies will not end at graduation.  We continue to use them as we continue with our lives and work.  They are our prevailing tools of accomplishment.
But perhaps even more important to this discussion is the fact that we are preparing our students for life-long learning.  Many, if not most of the students I graduated high school with (more than 40 years ago) went to work in the textile mills of my hometown, fully expecting to spend the next 35 years doing pretty much the same job – a job that required almost no continued learning.  Of course, those jobs have moved thousands of miles south and west – and my former classmates who continue to be employed accomplished it by learning new skills, and learning to continue learning new skills.  
It is a defining quality of a time of rapid change, that you live a lifestyle of learning.
The readers of this blog live that lifestyle, and we know that information and communication technologies have changed the way that we learn.  We learn from large and small networks that we create and cultivate with machines that we carry under our arms and in our pockets.
If it is a learning lifestyle that we should be preparing our students for, and if these tools are a principle mechanism for that lifestyle, then to that degree the tools should drive the how and even what our children are learning in school.
keep looking »