For the last several years, I have been opening my keynote addresses by describing something that I've learning in the last 24 hours. It was usually something that I'd run across on my iPad (Flipboard), or a conversation I'd had, or some other striking something that caught my eye.  Today, it would likely be the Olkaria IV Geothermal Power Plant just brought on line in Kenya with the assistance of Germany's continued development of green energies.  I first learned about the plant from the Kenyan cab driver who took me from the St. Louis airport to my hotel yesterday.
But no story today.  The first reason is trivial though not insubstantial.  It's time.  I'll only have 45 minutes for my opening talk.  It's usually closer to an hour.
The second reason is more important.  It is my audience; school librarians, students of library science, and supporters and administrators of school library programs.  I'm not launching into a demonstration of personal learning because librarians and their libraries are almost entirely about person learning.  Their patrons explore, examine, experiment and discover – in much the same ways that we all conduct our essential learning outside of school.
These authentic learning experiences are way to rare in the classrooms of our schools, and this is due not to the best intentions, reflections and inventiveness of our teachers.  It is my country's continue obsession with market motivated and industrial methodology of public education.
Chris Lehmann challenged us (EduBloggers) last week to join the conversation about the police shooting of an 18 year old African-American man in Ferguson, Missouri and militarized posturing of law enforcement against the resulting protests. To be honest, I was not fully aware of the situation, too focused on getting my daughter ready to return to college and establishing a second residence to be closer to my and my wife's parents.
I'll agree wholeheartedly with all of Chris' sentiments here, here and here, and would expound on them if I could. But, as a white, anglo saxon, protestant, eighth generation American, whose grandfather's grandfather probably owned slaves, I honestly do not feel worthy to ardently express righteous sympathy with what I would characterize as second Americans. White man's guilt?
I would like to ask a different question, though – and not as an attempt to distract us from a conversation about the unfulfilled promises (myths) of the American Dream. I ask this alternate question because I believe that there is another struggle happening here, one that possibly goes back to the beginnings of this country.
Looking at the picture to the right, I do not see how anyone could disagree with calling this a militarized police presence. But where did all that military hardware come from? Who bought it? ..and why? ..and Who got paid for it?
If we agree that one reason for learning (being taught) history is to avoid making its mistakes1, then here might be a useful starting question, "What were the historical mistakes that led to the situation of this picture?"
This could go almost anywhere in human history, of course, and why should formal learning experiences be limited (by testable standards)? But that's a different issue — maybe.
We might, for instance, go no further than a little more than a decade ago, when 19 mostly Saudi Arabian terrorists, attacked the United States at it's heart, New York City. Those 19 mostly Saudi Arabian men, using our own technology against us, were effective nearly beyond anyone's imagination.
Our response was to make war in Afghanistan and Iraq and declare war on terror, establishing the Department of Homeland Security.  Although little else happened here, local police forces still find themselves armed for terror both from without and within. ..And you know what they say about a hammer.2
I would suggest that we responsibly and effectively teach history to avoid its mistakes, but also as a guard against having history re-written for us.
I will close here by suggesting that we ask students utilize contemporary literacy skills and do what Deep Throat3 said, "Follow the Money."
1 A paraphrasing of George Santayana's quote, "Those who cannot remember the past are condemned to repeat it."Santayana, G. (1905). The life of reason. Project Gutenberg. Retrieved from http://www.gutenberg.org/ebooks/15000
2 The Law of the Instrument, or as Abraham Maslow said in 1966, "I suppose it is tempting, if the only tool you have is a hammer, to treat everything as if it were a nail."
3 Deep Throat is the pseudonym given to the secret informant who provided information toBob Woodward and Carl Bernstein of The Washington Post in 1972 about the involvement of United States President Richard Nixon's administration in what came to be known as the Watergate scandal.
Two 2×4 Lego bricks, of the same color, can be put together in 24 different ways.  Three can be connected 1,060 different ways.  Six can be combined in 915,103,765 different ways.  ..and, of course, children (and adults) have enthusiastically assembled them in nearly as many.  It's when useful and reliable resources can be used in so many ways that creativity is invited.1
The best use of Legos, in my humble opinion, never involved lessons or even instructions.  You do not sit down and teach children how to creatively make stuff by clicking Lego bricks together.  You simply given them the bricks and let them play.
Might we achieve more inventive-minded students, if we could redesign curriculum to simply give our children the prescribed resources of mind, and then encourage and free them to play, construct and learn.  One example occurs to me, something that I witnessed in Fredericton, New Brunswick, Canada many years ago.
In early 2007, I participated in a provincial conference there and in addition had an opportunity to visit some of the area schools with my friend and NB educator, Jeff Whipple. At the time, the entire province was engaged in some pretty innovative initiatives.  I wrote about that visit here and here.
I was overwhelmingly impressed with everything that I saw in the schools around Fredericton, but the visit that came to mind as I started thinking about Legos was Chad Ball's civics class.  He had decided to approach it in an entirely different way that year, based on a summer morning brainstorm.  Rather than present the content to his students in teacher mode, he simply made it available to them, the vocabulary and concepts of Canadian government, mostly through a wiki.
Students were then assigned to work in groups, to create a new political party.  They were to develop a platform, write speeches and even establish a mascot and logo – and required to appropriately and effectively utilize every vocabulary word and every concept of Canadian government in the process.  Chad taught in consultant mode, though he reported that he api;d often refer students to classmates who seemed to have a handle on the concept or practice. 
On the day of our visit, Mr. Ball had asked, on the class wiki, if there might be ways to extend the project.  Even though the posting initially evoked complaints from some of the students, within a half hour there were 102 comments on his posting, mostly suggesting ways that they might take their political parties to the next level.2
This style of teaching and learning is about empowerment, not compliance,
because learners are given access to building blocks,
..and invited to build something.
1 (2014). Brick by Brick: Inside Lego [Television series episode]. In Inside.Bloomberg TV.
2 Warlick, D. (2007, March 23). A Day of being Overwhelmed. . Retrieved July 21, 2014, from http://2cents.onlearning.us/?p=946
Brenda (my wife) and I are having a continuing "conversation" about photography.  She's a purist, a once passionate photographer in the age of film.  Like many things, she set aside her passion for picture-taking for motherhood.  Yet, she continues to have an opinion about what's good photography and what's…
Bottom line, digital processing of photos is not photography.  She wants the photos to look like photos and the other stuff can be enjoyed by people who enjoy.. well, "other stuff."
I've been trying to figure out how to explain to her the joy I have playing with the photos that I take, using a variety of computer applications, to continue to make the picture – and I think I've found an angle.
It started a while back when I was watching a photography podcast, a session about HDR (High Dynamic Range) (see this previous article). The speaker said that,
"HDR enables the photographer to capture what it was that inspired the taking of the picture."
The more I thought about it, the more sense this statement made.  You see, when I look up this mountain, the house, and the distinct cloud formations above it, I'm struck by both the distance and the closeness, the sheer quantity of ground, covered by giant spruce trees standing before me and the changing hues that all seem eager to claim their place, I am overwhelmed by the awesomeness of it – and I aim and snap.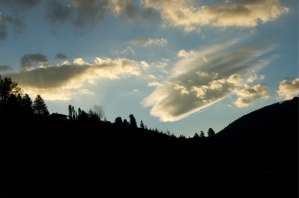 The original photo, where the brightness of the sky and clouds darkens the mountain-scape
Two more exposures, an over exposure (light) and an underexposure (dark)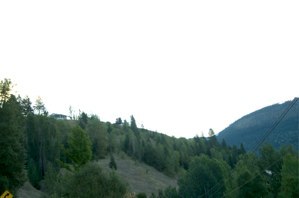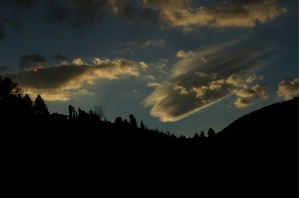 The software combines the three photos, and enables me to bring through the qualities of each that recapture what it was that inspired me to snap the photo.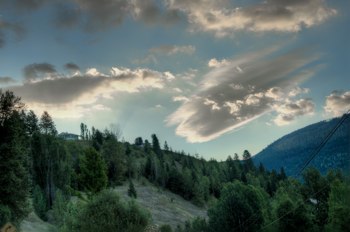 I can even push some of the qualities beyond their reality to make a picture even more interesting, and perhaps more inspiring.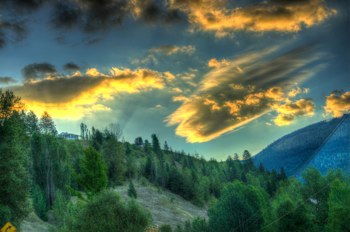 But, when I finally display the photo on my computer screen, it comes out pretty much as it was, though not as I saw it. My mind, you see, saw more than my eyes did.  It saw the multiple distances, the sunlight swimming through millions of spruce needles, the warmth in the clouds and coolness in the mountains' shadows.  My mind amplified the vibrant colors and registered that the scene was only part of a 360º panorama of sameness and diversity.  
My brain made the vision something that no camera could adequately capture, both functionally and technically.
But, when I take three different photos of the scene, at three different exposures, and load them all into my HDR software (Photomatix), I can bring out specific qualities of each exposure, overlap them, bleed them through and accentuate, approaching the vibrance and space that inspired me to aim and snap.  I can also exaggerate qualities creating a surreal version of the image, perhaps making interesting something that simply wasn't to start with.
Now, there's a reason why I tell this story here.  I use to have a bulletin board in my classroom that read, "This classroom is a lens through which you can see the rest of the world," and I meant it.  But there was only so much of the world that I could show my students through 5+ year old textbooks, a 1948 world map, and three cracked chalk boards.  To be sure, there was not a lot more I could have done with more recent textbooks, a brand new map and shiny new white boards.  The purist would say that I was doing my job, and perhaps doing it well.  I was playing my role – educating my students and teaching them skills.
It was also during those first years of teaching that I started paying attention: to the news, to people who weren't students or teachers, to science (became fascinated by quantum physics), to geography (we owned the book, Europe on $10 a Day (now Europe on $85 a Day) and dreamed of summers, vagabonding across the old continent).  I came to realize just how exciting and mysterious and vibrant the world really was, and was inspired to become a better teacher and better lens for my students.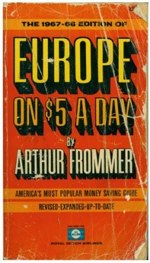 Closest that I could come. It's so hard to find pictures of things that predate the World Wide Web.
But, I couldn't do it.  I went back to the classroom, continuing my traditional role as teacher, expecting my students to sit still, pay attention, and remember.  My passion as a lecturer wasn't nearly enough.
Here we are today, with a new kind of classroom.  Our personal learning devices give us access to networked, digital and overwhelmingly abundant information.  We are no longer teaching from information scarcity.
Are we now teaching in a time when we can HDR our classrooms.  Might we finally capture and share what it was about our world experience, that inspired us to teach.  Might we even exaggerate hues and contrasts and blend colors in weird ways.  Can we make knowledge flow and glow and grow and cause learning to energize our children – rather than steal it from them.
Can we push reality into our classrooms and inspire our learners to become members, participants, and shapers of their future? – and ours?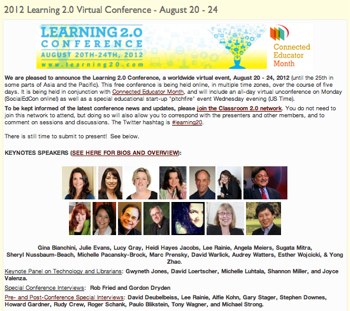 2012 Learning 2.0 Virtual Conference
Several weeks ago
Steve Hargadon
invited me to deliver a keynote address for his
Learning 2.0 Virtual conference
, which he has been planning for
Connected Educator month
(August). I confess that I neglected to respond for some time, because, frankly, I do not enjoy these things and consider them a poor substitute to an actual face-to-face conference. It's the old and old-fashioned teacher in me that feels that way. But, because I respect Steve enormously I finally agreed do a session, dreading its approach. However, I always, ALWAYS, end out enjoying the experience, feeling good about my contribution, and I've watched and learned from a number of the other presentations and keynote throughout the conference.  As my friend, Peggy George, said,
This is such an incredible opportunity for us to be able to learn and connect virtually wherever we are!
..and it was free.
Since I assembled my talk, "The Memory Lane of a 30-Year Connected Teacher and Learner," specifically for this event, I did not have any online handouts, and since I ended out taking exactly my allotted hour and leaving no time for questions, I thought I would take this opportunity to scan through the chat archive and respond here to any questions or comments that strike a nerve.
First of all, this was not a "Here's how you do this" sort of presentation nor did I tour through cool web sites or suggest cool  ways to use iPads. There were and will be plenty of presentations that fill that niche. My uniqueness right now is my age and range of experiences, and so I reverted back to my Southern heritage and shared some stories "..about some of the critical and revelatory moments of (my) long career." You can revisit my talk here, as Steve is archiving all (?) of the presentations.
First of all, I was impressed by the number of learning20 hash-tagged (#learning20) postings on Twitter that were not in english.  In fact, I see now that some of the names in my chat archive included letters that are not among the 26 character Roman alphabet – more evidence of the increasing globalization of education.
Here are some links posted during my talk:
One of the really cool things about these virtual events, and about being part of the backchannel at face-to-face events is when people share URLs related to what I am talking about – and often they are web pages, of which I was not aware.  In a sense, the online handouts just happen. ..because learners are also teachers.
One point I'd like to double-click on is the WIRED magazine issue I'm reading on my iPad, the magazine's first issue, published in 1993, and now available for the WIRED iPad app.  I love scanning through these old magazines because of the advertisements, seeing the sorts of technologies that were emerging 20 years ago, how big they were, and how much they cost.  There was a Sony GPS that gave you the coordinates of you current location at a cost of only $1,195 (USD).  20 years ago, that was fantastic. Imagine being able to know, at any time, your exact location in relation to the Equator and Prime Meridian. Fantastic!  Yet, I just bought a Garmin app for my iPhone that operates exactly like the Garmin GPS that I drive with, and it only cost 99¢.
We are preparing our children for THE FANTASTIC.
Do we truly grok the implications of this?
I have to delight at the recognition several members of the audience registered for the Radio Shack Tandy computers I talked about and their further references to the Sinclair, TI-99, VIC-20 (I had one) and Atari 400 computers, machines that all helped to define personal computing today.  It made me feel "not so old."  I guess I'll be old when I have to explain what a cassette tape is to my audience
In contrast, someone mentioned the current tech-du-jour, Arduino and Raspberry Pi – off-the-shelf computer circuit boards that people ("makers") are using to create all sorts of intelligent objects.  This is something I want to learn about and play with.  Someone recommended the Raspberry Pi.
Another participant asked about the old computer magazines that featured BASIC programs that you could type into your Atari or VIC-20.  "Compute!" was one of them and it was published out of Greensboro, North Carolina.  Orson Scott Card worked for them at the time – and some of you know him as the author of "Ender's Game," one of the best science fiction books ever written.
I told the story of a librarian friend of mine, Cynthia Wilson, who, back in the '80s got some at-risk 7th graders to write children's books using Apple IIe computers and FrEdWriter, and then emailed them to first graders down the street using FrEdMail (There really needs to be a Wikipedia article about FrEdMail). The First graders read the books, illustrated the them, and then brought their prizes back up to the middle school where the 7th graders did a book signing.  It's a concept that has continued as the chat perked up at that point, with lots of ways that teachers and librarians are continuing to empower learners by making them authors. (see links above)
During several of my stories, which involved teachers and learners connecting to the real world, there was some conversation about teachers who are reluctant to allow their students to share their work outside of their classrooms.  I believe that it comes from a lack of confidence, and this is not wholly our fault.  It's part of what I talked about at the end, how the empowerment that comes from "connected" teachers and learners has to come from somewhere, and that somewhere is the various social, political, and commercial interests who have traditionally enjoyed and employed that power – and have a need to exert more. I believe that causing communities to lose confidence in public education has been an explicit part of the school privatization movement that may well have begun with No Child Left Behind.
Someone commented, "Why can't we have developers of apps working in our schools with our students on projects they are working on?"  I think this is a fabulous idea, and I remember reading about a school in New York that hires game developers to work with teachers and learners.  That has always seemed a brilliant thing to do.  But I wonder if this "developer" needs to be an adult, or if it could be one of, or a team of students.
Again, I thoroughly enjoyed presenting to the conference, from my home office, and am actually getting accustomed to teaching to that little green light at the top of my laptop display that marks the position of the camera.
I also want to take this opportunity to thank Steve Hargadon for this and all of the "connections" that he creates and facilitates for educators around the world.  All the wires and cables that circle our globe come to nothing if there is not a community of interest, and that community doesn't happen without an architect.  Thanks to Steve Hargadon for bringing us all together so many days of the year!
I have felt bad about not blogging lately. It's partly because of travel, but mostly because of three projects that have drawn most of my attention lately. One of those has been preparation for the NCTIES conference later this week. It's a special event for me because NCTIES is the ISTE affiliate for my home state and also because it is an especially successful conference. This year's featured speakers include Richard Byrne, Patrick Crispen (regular), Rushton Hurley, Peggy Sheehy, Kathy Schrock (regular) and Tammy Worcester, with a kickoff keynote by Ken Shelton.
One of my presentations will explore instructional potentials of data visualization and infographics and in preparing for this session, I found one of the coolest things I've seen in a while.  I ran across the link via Nathan Yau's Flowing Data blog, where he quoted Jeffrey Winter…
There was an idea floating around that continuously following the first link of any Wikipedia article will eventually lead to "Philosophy." This sounded like a reasonable assertion, one that makes a certain amount of sense in retrospect: any description of something will typically use more general terms. Following that idea will eventually lead… somewhere.
Winter's explanation of how he accomplished a test for this idea made it sound easier than I'm sure it was.  But the outcome was an intriguing mashup where you can type in a word or numerous words separated by comas, and his app will thread through the first link in each linked-to article until it reaches Philosophy.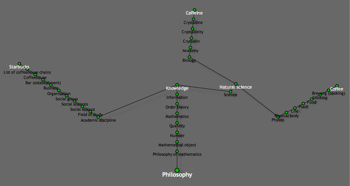 Sitting in Starbucks, I looked for logical connections between Starbucks, coffee and caffeine. (click img to enlarge)
What struck me as I played with this data visualization, was how this operation meshes with our notions of curriculum and of libraries.
When information is scarce and education is defined by knowledge delivery, then the job of curriculum and of libraries is to package content into subjects and units and dewey decimal classifications.
When I watch seemly unrelated topics threading their way to a common subject and re-examine Boyack, Klavans and Palen's Map of Science, which shows how various disciplines are interconnected by citations, it seems clear to me how schools and libraries need to become more like learning-literacy playgrounds than managed corals.
But that's me!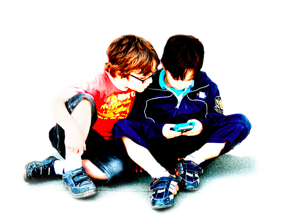 Theme photo from the presentation…
I'm in Eden Prairie Minnesota today opening up a conference whose principal question is, "How do we create a culture of learners that thrive in the 21st century?" I will be doing an adapted version of a presentation that is most often called, "Cracking the 'Native' Information Experience," where I identify and illustrate a number of qualities of our children's outside-the-classroom information experiences. Those qualities are,
That the experience is responsive,
It provokes conversation,
It inspires personal investment, and
It's guided by safely-made mistakes.
This presentation culminates with a set of transformative questions that might guide teachers (librarians and administrators) in creating learning experiences and environments that are more relevant to our learners 'native' information experiences and skills.
I may have posted these before, but I've come to the conclusion that it is perfectly ok to repeat yourself in your own blog.
Classroom Teachers:
How might I alter this assignment or project so that it "Responds" to the learner? How can the experience "Talk Back?"
How might I plant barriers within the assignment that force learners to "Question" their way through — to value the "questions" not just for "answers?"
How can I ban silence in my classroom, provoking "Conversation" with my assignments and projects, expecting learners to exchange ideas and knowledge?
How can I make their learning worth "Investing" in? How might the outcomes of their learning be of value to themselves and to others?
How am I daring my students to make the "Mistakes" that feed the learning dialog?
Teacher Librarians:
How can I make my library "Respond?" How can I make it "Talk Back?"
How might it become a place that evokes "Questions" — not just answers?
How can I ban silence, provoke "Conversation," and expect patrons to explicitly exchange knowledge?
How can I make this library a place that inspires "personal Invest"?
How am I daring my students to make the "Mistakes" that feed the learning dialog — expanding and enriching the information experience?
Administrators:
How does the learning here "Respond" to the learner? How does the learning "Talk Back" to the learner and to the community?
Have my classrooms banned silence? Do the learning experiences "Provoke Conversation" by expecting learners to exchange knowledge?
Are my classrooms places that student "Questions" as much as their answers?
How do the learning environments in my school inspire learners to invest their time and skills for something larger?
How are learners being dared to make the "Mistakes" that feed the learning dialog and how am I a part of that dialog?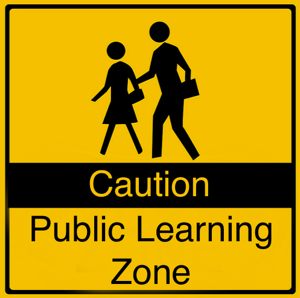 A learning culture requires a learning community
The education world, as defined in 2011, is driven by core standards. In my opinion, this is an unfortunate result of a newly-realized awareness of our precarious position within a global economy — and a healthy decline in our sense of entitlement. It is not that I object to standards. To be collaborative, creative and all of the other 'ives of "21st century skills," we must have a common core of context through which we can connect with our world and with each other.
It seems unfortunate to me because increased pressures to assure the highest student achievement of rigorous standards have made teaching a far more technical endeavor than it use to be. It has become more scientific and less philosophical. Because of this, what we like to call the "learning culture" of our schools has become a teaching culture, where conversations involve best practices and measured student achievement instead of empowered learning.
This concerns me for several reasons that become more obvious almost every day. We live in a time of rapid change owing to accelerated technological advancement, increased globalization, power shifts on almost every societal level, and the changing nature of information. We are preparing our children for a future of frightening uncertainty, but astounding opportunity, and to prosper within that future, our children must become skilled, resourceful, and habitual learners — not just lifelong learners but adopting a learning lifestyle.
Here are several suggestions for promoting a learning culture in your school(s). It's a list that I have adapted and republished a number of times and I hope that you find them helpful as you continue to craft your learning environment(s).
Fill your school(s) with learners. When interviewing prospective teachers, ask "Tell me about something that you have learned lately." "How did you learn it?" "What are you seeking to learn more about right now that is not related to your teaching – and how?" Find out how proficient they are at network learning.
Be a public learner. Open your faculty meetings with something that you've just learned – and how you learned it. Include in the daily announcements some piece of interesting knowledge that is obviously new. "Did you know that a California power utility has just gotten permission to sell electricity from outer space? Make frequent mention of what you've learned from your Twitter stream, RSS reader, specific bloggers you read. This should not be limited to job specific topics.
Introduce new ideas that are not necessarily related to school. Share links to thought-provoking TED talks or other mini-lectures presented by interesting and smart people. Ask for reactions during faculty meetings, in the halls, or during casual conversations with employees and parents.
Make students' outside-school-learning part of the conversation. Find out what their passions are and ask them what they've just learned about it. Suggest that they write something up about it for the school web site or annual research publication. ((Using on-demand publishing services like Lulu, you can easily compile, format, and publish quite professional anthologies of student essays and research that you can add to the school library and the community can purchase online.))
Make your school a curiosity lab. Plant around the school (especially in the library) intriguing questions that might provoke curiosity in learners (How many steps does a centipede have to take to travel a foot? Who was the youngest person to sail around the world?). Reward students who answer them and video their explanations of how they found the answers for the school's web site. With the help of creative teachers, invent a mystery for your school and plant clues around the school. Require student-participants to research the clues they have discovered in order to find their way to the next clue.
Make all school stakeholders public learners. Ask members of your staff to write essays about their latest vacations or hobbies and publish them on the school web site or annual research publication. Ask teachers to devote one of their classroom bulletin boards to information about a personal passion of theirs, sharing their latest gained knowledge and achievements. Suggest that they produce TED style multimedia presentations about a topic they are especially interested in and post them on the school's web site or perform them at PTA meetings. Learn about the hobbies and travels of the parents of your students and ask them to share what they are learning and how they are learning it through essays, videos, Skyped-in conversations, etc.
Other versions of this list can be found here and here.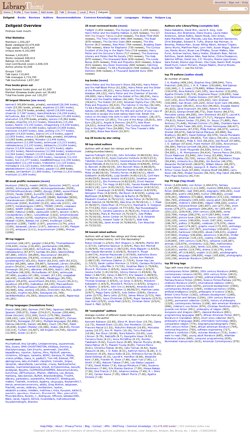 That's my opinion — and by It I mean BOOKS.
On Saturday, I'll be attending EduBloggerCon in Philadelphia, where the sessions will be of an unconference style. This means that the expert will not he standing in front of the group. Instead, the expertise is expected to come from the group. The facilatator is tasked with generating the conversations that draw that expertise out while minimizing the venting that sometimes erupts.
One issue that frequently comes up is their almost exclusive exposure our learners, in their native info experiences, have to short and independently focused media messages and the highly abbreviated messages that they share with each other. The concern is that millennials are not prepared and are disinclined to tough out longer stories or thoroughly explore deep and complex issues. I have run across research that seems to support these concerns – and I share them.
But BOOKS?
When I think of my own experiences and my deep love of reading, the idea of the novel's decline seems so incredibly unlikely that I fear it not even a little. I'm not an addictive personality, but I am addicted to stories. I love and crave long, deep, rich, wet, stories. I hate when they end. I particularly like series. At any time, I have two fictions going, one in audio and the other in print. It's why I walk two to four miles a day, so I can pick up on my story.
I haven't always been that way! Have you? I hated to read when I was young. Reading books was work and there was no joy in it. I was not, nor am I now, a strong reader. It's still work for me. But a good and richly told story, or an intriguing new way of thinking about something (currently reading Visualizing Data by Ben Fry), is more than worth the work, because I grow in the process
Before my Junior year of college, I prefered the pampering delivery of content and stories by network television. But in college, friends and more open-minded teachers introduced me to books that were not on standardized recommended reading list. I discovered the great stories of Arthur C.Clark, Robert Heinlein, Kurt Vonnegut, Herman Hesse, and many others and cannot think of a time since when I did not have at least one book with a bookmark in it.


Members 1,362,317




Books cataloged 63,624,266




Reviews 1,435,175




Works reviewed 499,922




User-contributed covers 2,519,293




Author photos 42,548




Talk topics 110,843




Talk messages 2,719,795



Now, what got me going down this path this morning (when I should be working on slide deck for ISTE) was my wife's desire to have a way to easily record the books she is reading along with short personal reviews. I showed her a couple of library services, spending more time on Library Thing, my favorite. Then I started digging a little deeper — further procrastinating my upcoming presentation — and found their Zeitgeist page. It features the fifty largest libraries maintained by readers, fifty most prolific reviewers, twenty-five most reviewed books, seventy-five top authors, and much more — all based on the data generated by users' use of the service. You can see of their vital statistics to the right. When I look at this, at the people who are not only reading, but wanting to share their reading — well I feel fairly secure in the continuing validity of the bookcases in our home.
- Posted using BlogsyApp from my iPad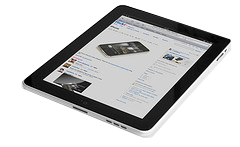 One of the upcoming events I especially look forward to is the Texas Library Association Conference in Austin. I'll be part of a series of presentations for administrators about libraries and their evolving and increasing importance in a mouse-click world.
One component of my message came to me about a week ago during a conversation with someone who works with librarians across the country. I did not know her before this conversation, and so, do not remember her name now. It takes two meetings for me to remember someone's name. No stickiness left in my brain.
During that conversation she said something to me that did stick. She suggested that for high school students, who are going on to college, the school librarian is perhaps the most important teacher they will have. I think that this was a gross understatement.
We talk hard about life-long learning, but I do not believe that it is figuring in to the procedures, policies, and pedagogies of formal education nearly as much as it should. Today, with everything changing so fast, the ability and proclivity to learn is as critical as the basic literacies were in my time.  Perhaps they should be the same thing — learning and literacy.
I often ask people, especially non-educators, "How much of what you do in your job or profession, did you learn in high school?" "..in college?"  "In the last five years?"  "In the last month?" How much of living and working today is significantly dependent on our ability to learn? Imagine education focusing less on what's been taught, and much much more on skilled, curious, resourceful, and habitual learning. Imagine a generation of super-charged learners embracing a day and time when almost anything is possible.
Coming back around, what educator in today's schools, holds, as an explicit part of their mission, helping children learn to teach themselves. Why it's librarians, those educators who are too often among the first to be laid off in order to balance budgets.
Such a sad and tragic lack of vision.
keep looking »