Will these wires be used to impose teaching or empower learning?
I'm happy about Obama's ConnectED plan and the Broadband initiative, doubling e-rate funding.  Working in other countries, I know how uniquely special E-Rate is.  
However, I remain skeptical as to whether this program and its associated teacher-training will result in transforming education into the learning that's relevant to preparing a new generation of learners, within a new information environment for a future we can not clearly describe.
If it happens, it will be because of what determined, creative and compliance-free classroom teachers do, not because of an emerging education industry.
After finishing up the last episode of Breaking Bad  Brenda and I applied ourselves to finding another moderate to long-running TV series to binge-watch, two episodes a night.  We were looking for another character-based crime drama, though nothing so emotionally stressful as BB.  Martin suggested The Wire and we gave it a try.  If it had been just me, I would have nixed the show after the first episode.
"What's going on?"  
"What did he say?"
But, as is often the case, three episodes in to this series created by author and former police reporter, David Simon, and we were hooked.  Essentially, the show is about life, death, business and politics in neighborhoods that the rest of America would rather pretend aren't there.  In the show, they are "the projects," "the towers," "the vacants," "the east side," "the west side."
One of the aspects of The Wire that most impresses me is its portrayal of both good and bad, wisdom and near-sightedness, compassion and cruelty, loyalty and treachery on both sides of the criminal code.
But mostly, it's about thriving in economically depressed Baltimore in the first years of the 21st century, facing drugs, disease, murder and gangster politics.
And, in season 4, a new evil threat emerges from Eric Overmyer's scripts, reaffirming the futility of trying to rise out of the streets of east and west Baltimore.  You guessed it.  It's the effects of high-stakes testing on the lives of children and their teachers.
I find it interesting that a major network, even if it's a limited-view premium network like HBO, has placed, along side violence, disease, and dysfunctional government, the debilitating effects of an education system, based increasingly on bubble-sheet compliance.
Yesterday, Tim Holt wrote "Why I am At a Science Conference," describing his work at this week's Conference for the Advancement of Science Teaching (CAST), and why it is so important that we edubloggers and techspeakers should be sharing our messages into other communities of interest, science teachers for instance. I agree. I've tried, for years, to get into social studies conferences. When I succeed, it's to do a concurrent session, and only 12 teachers showed up. It's part of the nature of the profession, that we owe our professional identity to our particular area of specialty.
I have keynoted foreign language conferences, library conferences, administrator, and even book publisher, real-estate developer and farmer conferences. Perhaps the most receptive to my particular message are school boards conferences. But Tim is right. Little of this actually makes it into classrooms, especially the "Common Core" classrooms.
Part of my Kerbal Space Program Diary
One of my early attempts into orbit, achieving a spectacular fall after a 35 meter ascent.
At about 26 Kilometers, my Kerban pilot decided to do a space walk. Alas he locked his keys in the capsule and burned up during the descent.
These three Kerbans made it into an orbit whose apogee was around 1.4 million kilometers and perigee was somebody's basement on the far side of Kerbal.
Holt referred to the fact that I too will also be speaking to Science teachers this week, in Charlotte, at one of the regional conferences of the National Science Teachers Association – and my efforts to tailor my presentation to that audience. I admit some concern about speaking to science teachers, because I taught social studies, and my examples tend to be more social studies oriented – though I would maintain that any good social studies teacher is also teaching science, math, health, literature, and everything else. It's all societal.
Tim mentioned me because of a string of posts I made to Facebook and Twitter yesterday, reporting my progress in playing with Kerbal Space Program, a sandbox-style game that has the player designing, building, and flying space craft, on missions from the planet Kerbal. It's been fun, regardless of my immigrant clumsiness with video games – though I am experiencing some pride in finally getting a manned (well a Kerban-piloted) space craft into orbit. It cost the lives of 12 fellow kerbans and several billion $kerbols worth of hardware.
Holt writes,
And although (David's) message is VERY general, it is at least a start. He is trying to tailor the message to the audience by demoing the Kerbal Space Program online game (https://kerbalspaceprogram.com) so good for him. But those opportunities are few and far between.
These opportunities rare and priceless. ..and forgive me if I seem overly sensitive and even defensive, but there is nothing general about this. The message is singular and it is revolutionary. It has nothing to do with, "Look, here's something that you can do in your classroom with technology." It is,
"Look, here's what many of your students are doing outside your classroom. It's fun, but it's work. It's hard work. And it is entirely about learning. The energy of our students' youth culture is not based on how high you can jump or fast you can run. It is neither wit nor the appealing symmetry of your face. The energy of their culture is the ability to skillfully and resourcefully learn and to inventively employ that learning."
My message is that children are entering our classrooms with learning skills that, although based on long understood pedagogies, they are skills that we are too often ignoring and sometimes even handicapping. When I say that we "chop their tentacles off," it's not about cutting them off from technology. We're amputating their access to the learning skills that they are so effectively developing outside our classrooms – their avenues to personally meaningful accomplishment.
Perhaps those of us who have chosen to pursue education technology or have been seduced by its potentials are in a unique position to notice our children's 'native' learning skills – more so than science or social studies teachers. But we all must be careful to shed the glow of tech, and get right down to the point of being educated in this time of rapid change.
It's not about being taught.
It's about becoming a learner.
We know why we became teachers. If it wasn't the reason, then it's why we remained teachers. It's..
Seeing the light bulb go off. I think that's why any teacher gets into teaching, because that's the best feeling, seeing them so interested and engaged and finally getting it … and knowing that you made a difference. (Stancill, 2013)
"Seeing the light bulb go off."
That's how Haley Brown describes it. She's a seven-year elementary school teacher in Raleigh, who has just accepted an administrative position – with a homebuilder. According to the October 24 Raleigh News & Observer article, Haley says that testing has not only robbed her of her emotional and professional energy, but also robbed her students of meaningful learning. Teacher assistants have been laid-off (state legislation), the workload keeps growing, and she has received only one raise and a 1% cost of living increase in her seven years.
It's not an uncommon story, but one that has gained traction because of the note her husband, Matt, handed her, when she'd made her decision. Haley was so thankful for her husband's support that she posted the note on her blog, earning 1,200 likes on Facebook. As the letter continued to resonate with some many people, Matt sent it to the N&O, and they published it as an opinion piece. As of this week, it is the most popular story page on the paper's web site for 2013. It's been read more than a half million times.
Does this really matter. Is anyone noticing? North Carolina is a right-to-work state, so there's no teachers union and teachers don't strike. They just slip away. Who cares?
There is a new story out there. It's made up of lots of characters, plots and sub-plots, but it's not been assembled yet.
This weekend, I'll be attending the ReinventEd Unconference at Black Mountain SOLE, in Black Mountain, North Carolina. It's going to be one of those learning events that's driven by questions, not authorities, and no small part of its appeal comes from the fact that its organizer is Steve Hargadon.
My greatest wish is for a new narrative about education – a new and complete story that will resonate not only with passionate educators, but also with anyone else,
..who's willing to listen.
Stancill, J. (2013, October 23). A husband's support for his teacher wife becomes a viral sensation.Raleigh News & Observer. Retrieved from http://www.newsobserver.com/2013/10/23/3306958/a-husbands-support-for-his-teacher.html
In early 2012, Public Policy Polling ran a national survey to determine the favorability of each state in the union. Not surprisingly, Hawaii was number one with 54% of those polled giving it a favorable rating and only 10% an unfavorable. Southern states, North Carolina and south, generally did not fair well in popularity. Exceptions were my state (NC) and Tennessee, both landing among the top ten. All others, except for Florida, were in the bottom half, four of them in the bottom 10.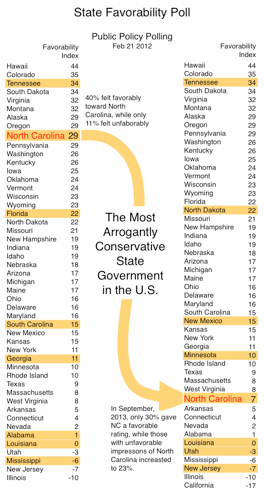 Later that year a new government took control in North Carolina, Republicans winning 65% of the seats in the General Assembly based on only 52% of the citizens' votes (see the Best State that Money can Buy).  Since then, this arrogantly conservative body has?
Denied access to federal emergency unemployment benefits
Blocked access to federal Affordable Care Act health care benefits
Increased taxes for low-wage workers
Lowered taxes for millionaires
Did away with 5,200 teacher positions and 4,580 teacher assistants
Canceled salary incentive for educators to become more educated
Are giving away $10 million in public funds to private schools
Closed 15 of the state's 16 abortion clinics
Suppressed voting rights
Enacted policies policies that make millionaires more important to candidates and voters less
And the word is out thanks to the New York Times (here and here) and even the Colbert Report, here (starting at 4:10).
On September 5, PPP reported a re-assessment of the states' favorability and wrote,
North Carolina's national image has seen a strong shift in a negative direction since that time. Its favorability has dropped from 40% to 30%, while the share of voters with an unfavorable opinion of it has more than doubled from 11% to 23%. Its +7 favorability rating would have ranked it 40th in our national study of state popularity in 2011, rather than its top 10 popularity at that time.
 I fail to see how this points to improved economy, more good jobs, safer and healthier citizens, more tourists or new businesses.
My daughter texted me yesterday morning, wanting to meet at the coffee shop to talk about an article she'd just discovered. She texted me the URL, http://goo.gl/pFc39Z. It's not a recent article and is actually one of Valerie Strauss' (The Answer Sheet) reprints of a blog article [link/pdf], written by Marion Brady (veteran teacher, administrator, curriculum designer and author).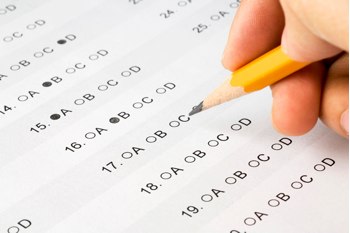 The article concerned a forth-term Florida district school board member, a friend of Marion's, who had taken a version of the Florida Comprehensive Assessment Test (FCAT) for 10th graders.  After taking the test, the board member called Brady, and this repeatedly re-elected board member, who helps to oversee 22,000 employees and a $3 billion budget and claims to be "able to make sense of complex data related to those responsibilities," said that he "hadn't done well."
He confessed that he wasn't confident about any of the 60 math questions, "but managed to guess ten out of the 60 correctly."  On the reading test, he got 62% of the questions right.  In an email to Brady, his friend wrote,
It might be argued that I've been out of school too long, that if I'd actually been in the 10th grade prior to taking the test, the material would have been fresh. But doesn't that miss the point? A test that can determine a student's future life chances should surely relate in some practical way to the requirements of (that) life. I can't see how that could possibly be true of the test I took.
Strauss later identified and interviewed the school board member, and reported on that interview in "Revealed: School Board member who took standardized test."
My daughter, who is certified to teach elementary grades and high school history, but has given up finding a teaching job (2008 recession followed by recent school staff cuts imposed by our state General Assembly [see]), expressed outrage.  She is currently struggling to score well enough on the GRE to get into the graduate school of her choice.
That Florida school board member's experience suggests a question that we are still not asking in any substantive way.  We eagerly, actively, and obsessively ask,
"What kind of teaching best practices lead to higher standardized test scores?"
We are not asking,
"How do higher scores on high-stakes standardized tests lead to satisfying, successful and productive lives and a better world?"
Brady says that decisions about how we assess teaching are,
..shaped not by knowledge or understanding of educating, but by ideology, politics, hubris, greed, ignorance, the conventional wisdom, and various combinations thereof. And then they're sold to the public by the rich and powerful.
How many of us, productive and successful adults, would willingly and confidently take our state's high-stakes standardized test, especially if our freedom to move forward was based on passing those tests?  
What would our legislative bodies look like, if a requirement for serving elected office was to pass the same tests that they impose on their 15 year old children?
This article has also been written about here:
Actor, Joseph Gordon-Levitt also posted a link to the article 
here
.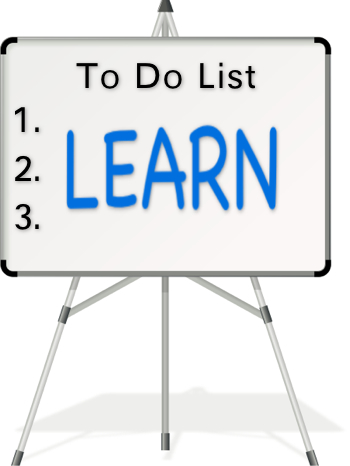 Many months ago I spoke at a leadership conference in Vancouver. When the event was over, officials with the British Columbia Principals and Vice Principals Association, held an invitational gathering of school leaders from throughout the province to create a new document establishing leadership standards for principals and vice principals.
To help them prepare for the upcoming conversations, seven relevantly accomplished professionals were invited to spend eight minutes each sharing their insights about school leadership and culture. They included a former superintendent, international educator, a director of education for a large Canadian school district, a developmental psychologist, executive director of the (Canadian) National Staff Development Council, president of a large chain of grocery stores, a professor of sociology ––– and me.
As I explained here (Warlick, 2012), I was fortunate to have been the last to speak – addressing literacy and learning-literacy. It was one of those singular learning experiences for me, sitting on the stage, listening to these really smart people, and changing the outline of my short talk with just about every idea set forth. I watched as my own presentation morphed into something different, articulate, and –– awesome.
So, with the 2013-2014 school year gearing up, and my own education career spinning down*, I thought I would spend some bits here expanding on each of the items that seemed to spontaneously appear on my iPad that afternoon.
A school that practices learning-literacy is a school where:
The distinctions between teacher and student begin to blur.

In a time of rapid change, when new jobs emerge and fade faster than any education institution can respond and lifestyles change with a globally connected cross-cultural conversation, literacy becomes something bigger. It no longer seeks to make readers. It makes master learners, people who can successfully learn, unlearn, and relearn. **

In this environment innovation becomes a commodity, the ability to resourcefully learn becomes the defining foundation of literacy, and the principal goal of formal education is to produce learners. In this environment pedagogies shift from best teaching practices to best learning practices.

Of course teaching does not go away and neither does a good lecture. but no teacher will deny that we all learned what we teach better, after we started teaching it, than we did as students in the classroom. Teaching is a potent learning skill. Therefore, perhaps one of the best ways that we can help our children to become skilled learners is to practice learning in front of them, and one of the best ways for children to learn, is to teach.

This means, for instance, becoming comfortable using technologies in your classroom, with which you are not comfortable. Demonstrating and talking about your process for figuring it out, or even asking for help from students becomes a life-size illustration of adapting to change – being a master learner.

There is less reliance on textbooks and authority, and more reliance on the work of learning.

Our information landscape has changed: in what it looks like, what we look at to view it, how we find it, where we go to find it, what we can do with it, and how we communicate it. We all engage in content generating conversations through blogs, twitter, YouTube, and what ever is to come. We can no longer believe it, simply because it was written down. We are more than information consumers today. We are participants.

I learned to assume the authority of the information that I encountered. I was taught with approved textbook, in academically managed libraries and by teachers whose position was based on their learnedness. Questioning the information that I encountered was not encouraged. It was unnecessary.

Today, habitually questioning content is required. It is a foundation of being literate. To become literate, students should learn within an information environment that exemplifies today's information landscape, where discussions of an idea's validity become part of learning the idea. We must learn to be responsible participants.

There is a natural convergence between the rich information skills of literacy and numeracy, and the information and data that define the content areas.

Information is increasingly networked, digital and abundant (overwhelming). Each of the qualities are new and they expand what it means to be literate. If you agree that learning is at least a major part of why we become literate today, then knowing how to employ these new qualities, in order to learn, are basic literacy skills.

At this writing, I am creating an infographic that tells a story about how today's North Carolina General Assembly came to be and what it cost. Because information is networked, I am able to find, evaluate and select information about campaign spending and its sources that would not have been practically available to me in the past.

Because that information was digital, I can capture that information, translate, organize, manipulate and interpret it using tools that didn't exist when I graduated from high school.

Because information is abundant (we are all overwhelmed by it), I am using graphic design and publishing tools that didn't exist when I left classroom teaching, trying the practically convey my findings in a visually clear and compelling message.

There is a physics to today's information landscape and accomplishing goals relies, in no small way, to the ability to harness these laws of digital behavior to invent solutions to brand new problems.

Teachers teach from new learning, as master learners.

When my grandfather was in college, molecules were defined as, "The smallest part of any substance which possesses the characteristic properties and qualities of that substance, and which can exist alone in a free state." (Webster's revised unabridged, 1913) By the time my father was in school, atoms were defined as "A particle of matter so minute as to admit of no division. Atoms are conceived to be the first principles or component parts of all bodies." (Webster's revised unabridged, 1928) I learned about electrons, protons and neutrons while my children learned about quarks and other strange particles. Today, we're reading about future computers that will operate on the behaviors of quanta.

The answers to the test questions are changing.

According to a 2010 Bowker report, 2009 saw 1,829 new books published in the U.S. about agriculture. 5,131 new books were published about computers, approximately 9,000 each about business and education. 14,281 brand new books were published about history – new knowledge about history. As we gain more access to information and to each other, the new knowledge that we generate as a society not only astounds us, but it is forcing us to redefine what it means to be educated. We have rapidly moved from a world of information scarcity to information abundance, and an education is no longer measured by what you can remember, but what you can learn and what you can do with what you've learned.

Teachers, who teach solely from their university experience do a disservice to their learners. Teachers should model themselves as habitual and resourceful learners, and skilled artisans of what they've learned. We must walk into our classrooms out of today, not from the day that they graduated.

Digital Footprints become a central part of the school's culture, building evolving personal and school identities based on learning and "doing" with the learning.

When I built the nation's first state department of education website, there were probably less than 100 parents in the entire state who could access it. But today, institutions are identified by their web sites. Some sites have become institutions unto themselves – Wikipedia, Amazon.com and Google.

When most of our children's parents think about the institutions that support them in their daily endeavors, they recall URLs instead of building facades. They expect to interact with their world through the World Wide Web. They expect to have the same digital access to the schools their children attend and the teachers who manage their classrooms. It has evolved from the exception to an expectation.

This is an enormous opportunity for education, to be able to communicate with and even educate the communities that they serve. We can distinguish ourselves, present ourselves for judgement and tell new stories about education, teaching and learning not through bureaucratic methods of measurement, but by enthusiastically sharing what and how our children are learning, and what they can do with what they are learning.

The library magnifies the world outside, but also reflects the culture inside, curating collections of learner-produced media products.

As already mentioned, a school that practices learning-literacy cultivates a digital footprint, along with its learners. One outcome of preparing children for an unpredictable future is that they are learning things that their parents didn't know. When those parents visit their schools' web sites, it should not be merely to learn about their children, but also to learn things that they didn't know, to be astounded, to spark new conversations for their families and to redefine teachers as master learners, not simply learned.

Since children are not merely learning, but also doing with what they learn, then they are in constant production, working knowledge, like raw material, into refined and valuable information products. The school's library becomes the repository for these products and the librarian, its archivalist.

Learners will visit the library not merely to find what's available from outside, but also from inside, to find work that previous students have done, and perhaps even improve on that work. After thousands of years of civilization, almost nothing starts from scratch.

Where learners learn, teachers model learning, and the school teaches the community.

I later rephrased this one to "In a school that practices learning-literacy, teachers model learning, students learn to teach themselves, and schools educate the community." This sentence, with its three principles, says it all for me.
Teachers Model Learning
Students Learn to Teach Themselves
Schools Educate the Community
* I'll be preaching for years to come – just not quite so frequently.
** A quote often attributed to Alvin Tofler, but actually his paraphrasing of Herbert Gerjuoy's "Tomorrow's illiterate will not be the man who can't read; he will be the man who has not learned how to learn."
(1913). Webster's revised unabridged diction. Merriam-Webster.
(1928). Webster's revised unabridged diction. Merriam-Webster.
Bowker LLC, (2010). Bowker reports traditional u.s. book production flat in 2009. Retrieved from website: http://www.bowker.com/en-US/aboutus/press_room/2010/pr_04142010.shtml
Warlick, D. (2012, October 22). [Web log message]. Retrieved from http://davidwarlick.com/2cents/?p=3733
My reflections & reactions are in red and italics
I thought I would take some time to go through the notes I took at ISTE last week and include here some of the ideas that struck me – for what ever reason. This will probably consist of short observations of new ideas and new twists on old ones. As I've probably written before, I attend these conferences for the language, new ways of thinking and talking about modernizing education.  With 30 years in ed tech, new technologies are usually a surprise.
While at the conference, a number of people, glancing over my shoulder, asked how I was taking notes. I was using GoodNotes, which I like using because I'm actually writing the notes with a stylus, and I find that I'm process ideas differently in long-hand than when I type them. Also, I can import or take photos with the iPad, such as shots of presenter slides or of the presenter — on top of which I can write down notes or comments. Below is an example notes page. I took a photo of this Hack Education conversation to anchor the notes to a specific place and time.
ISTE, for me, started with Hack Education, formerly known as the "EduBloggerCon." The first impression that hit me, not long after the first conversation began, was how difficult it is to truly visualize, in general terms, the changes we were talking about – and how do you promote School 2.0, when it can't easily be seen. If you can't point to it, how do you describe it to non-educators? As I wrote in a previous blog, I suspect that an answer might be to focus more on "Student 2.0," someone we can point to – and then design education around that.
Another barrier to retooling classrooms, that became even more apparent to me last week was the lack of consistency in leadership. Some of the most interesting schools that I have seen, have recently had their innovative programs squelched by new leadership – leaving the innovators little choice but to move on.
I think that one of the great brain-wrinklers of the day came from David Jakes, who said,
"We need to shift from a focus on'Engagement' to focusing on 'Empowerment.'"
I'll jump ahead here to another hacker quote quote. I do not remember who said it, but,
"The person who does the work is the person who does the learning."
If working is what leads to learning, then learners need tools that empower them to accomplish that work.
Someone else said,
"We're actually looking for a rebirth of old ideas! "
So true and something that we too often forget.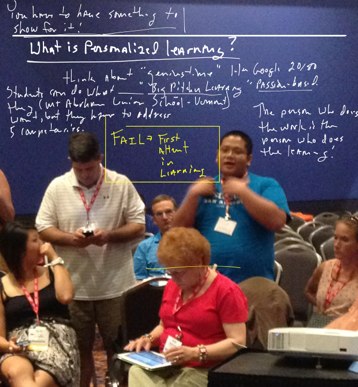 There was some discussion about our use of the word "FAIL" in conversations about education, as we promote the value of failure in learning. Common notions about failure, after all, are entirely contrary to this positive spin. But I feel that if we can get people, adults, to think about the learning that they've done since leaving classrooms, and how that learning was accomplished, they will come to see that failure is an essential part of learning. I thought that this was an interesting acronymic arrangement for failure.
| | | |
| --- | --- | --- |
| F | - | First |
| A | - | Attempt |
| I | - | In |
| L | - | Learning |
I jotted down a number of apps mentioned during the Tech Smackdown – and many thanks to Steve Hargadon for his attempts to keep the self-promoting venders out of the fray. I've not had a chance to look at all of these, but here are a few that I made note of.
Somebody asked whether "gamification" was just a marketing scheme? This got me to thinking and I concluded that if we do not understand how games help us to learn, the mechanisms that provoke learning, then marketing is probably a pretty accurate description of our attempts to "gamily" (See my reflections of Jane McGonigal's Keynote). The comment probably came from a conversation about using badges for motivation. Someone said that if all you're using is badges, then that's not gamification. It's badgification.
There was much conversation about why and how you would plant the awarding of badges in the classroom. I suggested that some badges needed to be hidden, a surprise that students happen upon — the reward for doing something productive that was not an expressed outcome – the learning along the way. Also, badges should not just be something that you wear. Badges should also be a passport to doing things or going places that you couldn't before — new powers, so to speak.
McGonigal said that "reality is broken." She said that a billion gamers around the world are using a connected device to play a game during any given hour. The game-nation is a network.
People spend 400,000 years playing Angry Birds a day.
92% of 2 year olds play video games (what are they going to think when we give them a textbook?)
Gamers spend 80% of their time failing.
McGonigal said that,
"The opposite of play is not work. The opposite of play is depression!"
That called to mind a quote by George Bernard Shaw,
"We don't stop playing because we grow old; we grow old because we stop playing."
One of the most interesting learning scenarios that I heard of at the conference was relayed by Cheryl Lemke. In a literature class, the students were reading Hamlet. The teacher created Twitter accounts for each of the main characters, and then assigned students to the accounts. They were encouraged to comment on the play, as they were reading it, in the voices of the characters. Very cool!
Lemke also said, "Give students non-googlable assignments!" I'm not sure that is entirely accurate. I'd say,
"Don't test with questions that Google can answer."
Will Richardson said, "The path to becoming a better teacher is becoming a better learner!" I agree with that entirely – and I believe that part of the key here is becoming a more self-aware learner, not just learning but reflecting on how you are learning. Here's another quote shared by Richardson:
"We can't be creative if we refuse to be confused. Change always starts with confusion."

– Margaret Wheatley
Richardson then had us talk with each other about what confused us, and during that conversation it occurred to me that if you're not confused, then you're not paying attention – and
I regret that too many educators are not paying attention.
There is too much momentum behind making schools better. They don't need to be better nearly as much as they need to be different. It's a different world and school is not a "right of passage." It's a right of vantage. Its the right to be positioned in true relevance to yourself, your environment, your time, your culture, your economy and your world and the skills to participate.
He suggested that we are shifting from an institutionally controlled world to a world that is becoming self-organized. There are three starting points, according to Will Richardson:
"Knowmatic" learning – Self-organized learning based on passions and I would add "on impending needs"
Design thinking
The maker movement
I think that there is a lot to think about in this list. Self-organized learning is not only a movement, but it is a necessity. It's the self-organized learner that will succeed in a rapidly changing and flattening world – and it is entirely counter to the desires of the global education reform movement (GERM).
Design thinking is also a necessity, in that we're all going to be solving problems and improving conditions, not just the engineers. Designing solutions with elegance, well, that is its own reward.
The maker movement is both solution and symptom. Its one more clue to a rapidly flattening world. Old institutional structures no longer support us and our individual needs. I am also starting to question our economic structures, but that's for a different conversation.
Gary Stager was a perfect follow-up with his emphasis on the maker movement. He suggests
Three Game Changers
Fabrication
Physical Computing (intelligent objects)
Programming
The real game change, he continued, is that shop and academics merge.
Too cool!
I do not clearly remember the context, but one of Stager's slides stated that, "A good prompt is worth 1,000 words." Good prompts have…
Three Qualities
Brevity
Ambiguity
Immunity to assessment
Here is my interpretation of Stager's list. A prompt must be clear and concise. It must be cloudless, as cloudless as a person's own personal unarticulated observation of a problem. It should also NOT, in any way, suggest the solution. The learner has free reign to design and execute a personally-designed plan. Finally, if the end product can be assessed by any prior-established assessment routine, then the task was not about innovation. It was about compliance. I would suggest that there may be assessment methods that might work, but they wouldn't be multiple choice, they would not question the designers – and institutional assessment isn't part of the (learning) process anyway.
The School 2.0 unconference session, facilitated by Steve Hargadon, served to further refine my notions that it isn't School 2.0 that we need to focus on, but student 2.0. That's not my term, and I don't particularly like it. We need a more descriptive term that does not dishonor the old teaching styles, which had their place in their time.
Sylvia Martinez put the icing on the cake of Gary Stagers presentation. Tinkering as pedagogy makes the best sense to me. Its how I learn. No-one could ever have taught me to program. Playing with code is the only way I could learn, and I would suggest, the best way to learn. She suggested that
"Many of the best programmers were, at some point in their lives, told that they were not good a math."
I think that doing math to numbers and using math to work numbers are two entirely different things.
Qualities of the Tinkering Mindset
Bricolage, playfulness, soft mastery
Time
Lower risk/stakes, imperfect data
Trust the process, serendipity
Expertise available (and not just the teacher)
Does not mean unguided "discovery"
In many ways of thinking, Jason Ohler was the high point of my conference experience. It was a spotlight session in a large hall, so the atmosphere was that of a keynote, and his presentation exceed in quality and content any of the other "keynotes" of the conference. It's been a long time since I saw Ohler present, but I don't remember it being anything like this.
He used the phrase, "trends that bent," and suggested that the three trends that are influencing education are
Critical Thinking – he added in creativity, and made the term creatical thinking.
New LIteracy
Digital Citizenship
The trends that he included in the conference program were
Augmented Reality – Think virtual field trip. I wear my Google Glass to a museum and project my experience back to my students. Of course there are all kinds of ethical issues. There's a bar that have already outlawed Google Glass because of privacy issues. Where do kids talk about this stuff. Also, this is not the only kind of augmented reality.
Semantic Web – You search the web and it returned what it thinks you are looking for. A bit problematic, though, because it depends on who "it" is. Ohler also suggested Web 4.0, which is the web of things. "Everything holds an app!"
Transmedia Storytelling – Where the audience becomes part of the cast, so to speak. It's about fan involvement. I wonder, to what degree, is education fan involved. How do we make that happen?
Multisensory Projection –

Left out in the presentation!

Smart Clothes –

Left out in the presentation!
Ohler added in
XTreme BYOD, suggesting that using your own devices is what might turn us into personal learners. Hmmmm!
and Big Data suggesting that the tension point might be
Predictive Anticipation
Vs.
Choice and Breadth
Ohler went on to suggest we watch http://www.kurzweilai.net for evidence of new trends. It's in my Flipboard now.
About Adam Bellow's keynote. I have to say that if the conference had opened with that presentation, I would have been a bit disappointed. But as a closing keynote, Bellow nailed it. He honored ISTE, the learning, the tech and our continuing struggles to make formal education as close to real life as possible.
Over the past couple of years, Adam's presentation style, his confidence on stage, and his content have improved many fold. He's one of those unique individuals who has been a teacher, but also understands today's emerging information and communications technologies – as a builder. He's a programmer and a communicator, and that combination is a rare jewel.
You can see my entire set of notes [here].
Added Later: There are great teachers out there today, who could be greater. There is only a thin line between a good teacher and a great teacher.
There is a growing percentage of America's teachers, who have never taught in classrooms without the intimidation of high-stakes testing. My daughter student-taught under a supervising teacher whose short career had been dominated by the pressures of preparing her students for the North Carolina End-of-Course Test. It's why she, like thousands of other graduates from NC's schools of education, choose not to enter one of our classrooms, because it's not the teacher she wanted to become. (Silberman A1)
Every year, there are fewer teachers who have known the experience of confidently entering their classrooms with creativity, passion and the freedom to replace their textbooks with learning experiences that are unique, personal, powerful and authentic. The rest have only known themselves as teacher-technicians, checking off standards and managing instruction by crunching data.
Mark Ahlness' CB Logo
I was reminded of it this morning, while scanning through Class Blogmeister
(see note 1)
correspondence, and learning that Mark Ahlness has retired. Mark was among the first teacher-users of CB, posting his first blog entry in July of 2005. He continued, over the following years, to empower his learners by making them authors, sharing his creative techniques with other educations and being one of the chief leaders and supporters of the CB community.
I told him that I feel a pretty deep sense of sadness at his retirement, and explained that I too am retiring – though, I am stretching it out over the next several years. But I do this believing that I am leaving education in the hands of courageously passionate and creative teachers.
The classrooms of Seattle, Washington are now making due with one less such teacher – and formal education will be a little less interesting without Mark.
We must kill high-stakes testing before we do not have anyone left, who remembers how to be a teacher-philosopher.
Great luck to Mark Ahlness on all his future endeavors.
Note 1: Class Blogmeister is a blogging platform that I built and launched in late 2004. I created it because there were no blogging services at the time that were designed for the classroom. It continues to live, but I do not promote it, recommending other services instead, when I am asked.
Note 2: My semiretirement has begun, though I will continue to work for a good number of years to come. I'll simply be pursuing other interests in between a declining number of speaking engagements.
Silberman, Todd. "Not Enough Teachers." Raleigh News & Observer 1 May 2002, A1. Print
Educon 2013 is over and I'm on my way home, the Carolinian, Train number 79, on time with a passable WiFi connection. During this year's conversations, I tried a new app and technique for taking notes. The App is GoodNotes, which is like a couple of dozen other stylus-based note-taking apps. What I like about this particular one is your ability to connect it with the iPad's camera and integrate pictures into your notes.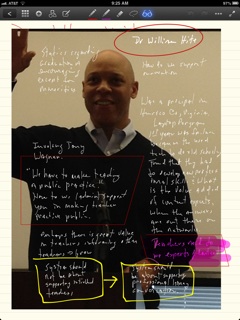 Superintendent of Philadelphia Schools, Dr. William Hite
This, I believe, would be extremely valuable when attending presentations that relied heavily on diagrams and other visual media. It wasn't ideal for Educon, who's conversations were less dependent on slides, but I did include pictures of the presenters as a reminder, when reviewing the notes.
(see right)
I typically use a mind-mapping program, so that I can organize ideas in relation to others. But I've always missed the freedom of a blank page. Writing notes with a stylus has all sorts of disadvantages, but I can already see that I am going back to review my notes much more frequently than I have ever scanned my mind maps.
I confessed to a number of people yesterday, that I attend these things, not so much for new knowledge as for new language. I do not manage a school or classroom, so I am not looking for solutions. I need new ways of talking about education in the age of opportunity – which is often counter-intuitive to the my audiences' vision of classrooms. New angles, phrases or new stories help to produce shakabuku. They sneak up on the listener and surprise them with new realizations.
The first thing I think, when seeing a panel for educators made up of non-educators is, "Why do we assume that business inherently does it better?" I have to confess that after the panel discussion was over and and I was trudging back up to my hotel (why's going home always up hill?) through the (more slippery than it looked) snow, I asked myself that question – probably out loud.
But rehashing parts of it early the next morning and reviewing my notes, I see lots of ideas that, when unpacked, apply wonderfully to teaching, learning, and classrooms. Here are some phrases from Jeff Pulver, an entrepreneur and venture capitalist.
Teachers should model entrepreneurship! I include this statement only because It comes up frequently during unconference sessions on education and entrepreneurship. If we want our children to be creative, then we need to practice creativity in front of them.
Voice is an application! I'm still trying to wrap my mind around this one, but according to Wikipedia, "an 'app' is computer software designed to help the user to perform specific tasks." One could say that giving voice to learning helps learners to accomplish something with what they've learned.
The fuel for disruption is passion! This one makes a lot of sense to me. Disruptive technologies, techniques and processes change nothing unless someone is passionate enough to audaciously and heroically use them. Learning is disruptive. If it wasn't, what would be the point?

Are we fueling our students' learning?

Be willing to break the rules! I keep playing around with the idea that rules, in school, are designed to contain the learning. However, in the real world, rules are a way of mapping the perceived constraints of reality. Those who accomplish goals creatively do so by rewriting the rules – reshaping the confines of reality. Personally, I prefer "changing the rules" or "re-writing the rules" to "breaking the rules."
Find People who don't know it can't be done! Is this an overlooked value of new teachers. I keep thinking that there is great potential to pairing experienced teachers with new teachers, when solving education problems – so long as each is willing to learn from the other.
Make exercise fun! This one hit hard. It's one of my regrets, as I approach the end of my career, that I have not thought enough or talked enough about our children's physical education. I think that Pulver, from his own recent experiences in losing so many pounds, was spot-on, that "Exercise should be fun."

But, for many, it's not. I've never gotten anything from endorphins, though my wife use to claim an addiction to her afternoon jogs. Perhaps its an A.D.D. thing, because the only effect I feel from the (prescribed) stimulants I sometimes take is that I can suddenly express myself in a little more linear fashion. But no other physical sensation.

Some people don't like sports. I was good at baseball and football, and played on school teams. But I never took the whole winning/losing thing very seriously – and never had fun playing with people who did.

Some people aren't good at sports. One of my brothers could run faster than anyone in four blocks. But he never learned to catch a ball gracefully.

How do you make exercise fun? Here are a few thoughts.

Sports should not be limited to those who are good at it and only for the good of the school. Invite everyone to play and celebrate the play. Playing is fun. Winning requires losers.

1987 Infinity Recumbent

Find new ways to ride. I've been a bicycle rider since college, although not like some. But now, I find riding to be painful to my wrists, hands, knees, and, well, the obvious places. So I've recently purchased a used (1987) recumbent bike, which is fun for me because it's a new way to ride, and because I'm having fun learning how to ride it

(and keep my feet on the peddles)

.
Find new human-powered routes. Greenways are huge in large cities, and I'm starting so see them in smaller cities. There are also some instances of walking and biking trails that connect towns, which is something I noticed a lot of in Germany. I believe that there's a trail between Richmond, Virginia and the shore. Go to TrailLink to find trails in your state and community.
Find new places to walk to. Just walking or biking is often not compelling enough. There need to be reasons to be on those trails, places to go, reasons to be on your feet. Making your community more bicycle and pedestrian friendly is essential. But how do you make them desirable or fashionable to use. Ask students to invest in them by devising solutions. Take a picture of your downtown and ask students to edit the picture, adding features for the self-propelled. Ask a Maker class to design and build bicycle racks for your community and work with stores and municipal establishments to install them. Get creative. Get going on your own two feed.
keep looking »