In early 2012, Public Policy Polling ran a national survey to determine the favorability of each state in the union. Not surprisingly, Hawaii was number one with 54% of those polled giving it a favorable rating and only 10% an unfavorable. Southern states, North Carolina and south, generally did not fair well in popularity. Exceptions were my state (NC) and Tennessee, both landing among the top ten. All others, except for Florida, were in the bottom half, four of them in the bottom 10.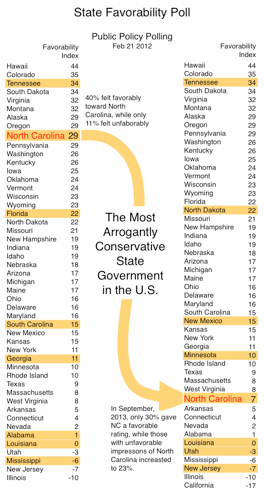 Later that year a new government took control in North Carolina, Republicans winning 65% of the seats in the General Assembly based on only 52% of the citizens' votes (see the Best State that Money can Buy).  Since then, this arrogantly conservative body has?
Denied access to federal emergency unemployment benefits
Blocked access to federal Affordable Care Act health care benefits
Increased taxes for low-wage workers
Lowered taxes for millionaires
Did away with 5,200 teacher positions and 4,580 teacher assistants
Canceled salary incentive for educators to become more educated
Are giving away $10 million in public funds to private schools
Closed 15 of the state's 16 abortion clinics
Suppressed voting rights
Enacted policies policies that make millionaires more important to candidates and voters less
And the word is out thanks to the New York Times (here and here) and even the Colbert Report, here (starting at 4:10).
On September 5, PPP reported a re-assessment of the states' favorability and wrote,
North Carolina's national image has seen a strong shift in a negative direction since that time. Its favorability has dropped from 40% to 30%, while the share of voters with an unfavorable opinion of it has more than doubled from 11% to 23%. Its +7 favorability rating would have ranked it 40th in our national study of state popularity in 2011, rather than its top 10 popularity at that time.
 I fail to see how this points to improved economy, more good jobs, safer and healthier citizens, more tourists or new businesses.
A couple of weeks ago, I delivered several presentations to a school district in the mid-west, one of the numerous August back-to-school gigs I'm doing fewer of each year. It was a rewarding day, more so than many. Keeping the attention of hundreds of teachers, just back from vacation, catching up with friends, weighing in the politics of new leadership, and desperately needing to be in their classrooms makes this a pretty tough gig. Not so on this day.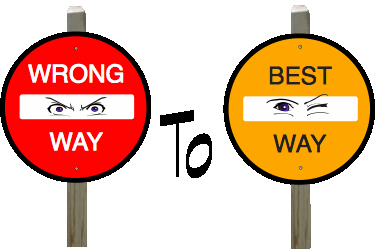 After a presentations about expanding our notions of literacy, a teacher came up asking, "But what's to be done about students accessing all the information on the Internet that is simply not true."
I reminded him that I had just made the point that it isn't just the Internet we need to be worried about. Then I gave him one of my usual responses,
If I was still teaching history, and my students turned in a paper, they would be waiting for the challenge. It happens every time. It's part of the ongoing classroom conversation.
Placing a student's paper on his desk and pointing to one paragraph, I ask, "How do you know that's true?" If the student can't answer the question, he's going to lose points. Even if the paragraph is true, he's going to lose points. My students would be responsible for their information's appropriateness and the evidence that supports its appropriateness.
I wonder now if this response makes sense only to me, a figment of a private fantasy. So I thought I'd spend some bits trying to unpack this approach into something that better distinguishes a "new way" from an "old way."
The difference is in what we call attention to. Our tendency, as teachers, is to address the problem by focusing on the mistakes, red-penning what's not accurate, not reliable, not valid, doesn't make sense. It's logical because whats not true is a fundamental problem to education. We work to keep wrong information out of our textbooks, whiteboards, libraries and lectures. We foster a learning environment where we can all take comfort in the assumption that the information is "true."
Our position, as teachers, is based on this assumption.
For the problems caused by the Internet, we create checklists to identify the breakage in information.
[ ] Is the author's name included in the page & can he be contacted?
[ ] Are the author's qualifications available?
[ ] Is the publisher an educational institution or other reputable organization?
[ ] Is the information fact or opinion? Is there bias?
[ ] Is the URL domain among the trusted (edu, gov, org)?
If you can check all of the above, then you can use the information.
We teach research and writing as a practice in avoiding problems,
..but not as a practice in solving them.
If we teach our learners to research and communicate in order to solve a problem, then we entirely change the approach. We assess their work through conversations about the "best way" rather than the "wrong way," and learners become active defenders rather than passive accepters of judgement. The classroom conversation changes. Students become more active, empowered and invested. They become stakeholders in their learning, and ultimately, responsible to an authentic context/audience.
They own what they write, present or make, because they did the work and defended it. They're accountable.
They own the learning.
Brenda (my wife) and I are having a continuing "conversation" about photography.  She's a purist, a once passionate photographer in the age of film.  Like many things, she set aside her passion for picture-taking for motherhood.  Yet, she continues to have an opinion about what's good photography and what's…
Bottom line, digital processing of photos is not photography.  She wants the photos to look like photos and the other stuff can be enjoyed by people who enjoy.. well, "other stuff."
I've been trying to figure out how to explain to her the joy I have playing with the photos that I take, using a variety of computer applications, to continue to make the picture – and I think I've found an angle.
It started a while back when I was watching a photography podcast, a session about HDR (High Dynamic Range) (see this previous article). The speaker said that,
"HDR enables the photographer to capture what it was that inspired the taking of the picture."
The more I thought about it, the more sense this statement made.  You see, when I look up this mountain, the house, and the distinct cloud formations above it, I'm struck by both the distance and the closeness, the sheer quantity of ground, covered by giant spruce trees standing before me and the changing hues that all seem eager to claim their place, I am overwhelmed by the awesomeness of it – and I aim and snap.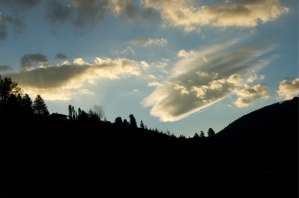 The original photo, where the brightness of the sky and clouds darkens the mountain-scape
Two more exposures, an over exposure (light) and an underexposure (dark)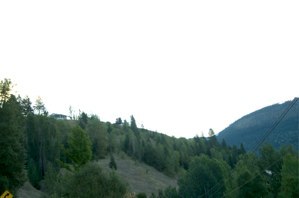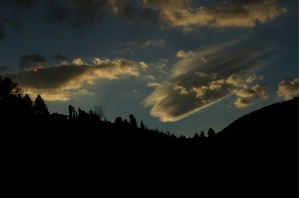 The software combines the three photos, and enables me to bring through the qualities of each that recapture what it was that inspired me to snap the photo.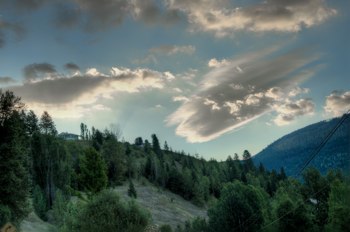 I can even push some of the qualities beyond their reality to make a picture even more interesting, and perhaps more inspiring.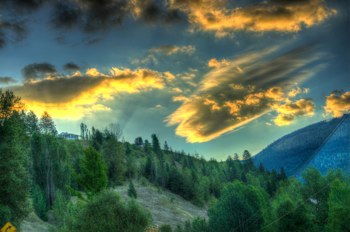 But, when I finally display the photo on my computer screen, it comes out pretty much as it was, though not as I saw it. My mind, you see, saw more than my eyes did.  It saw the multiple distances, the sunlight swimming through millions of spruce needles, the warmth in the clouds and coolness in the mountains' shadows.  My mind amplified the vibrant colors and registered that the scene was only part of a 360º panorama of sameness and diversity.  
My brain made the vision something that no camera could adequately capture, both functionally and technically.
But, when I take three different photos of the scene, at three different exposures, and load them all into my HDR software (Photomatix), I can bring out specific qualities of each exposure, overlap them, bleed them through and accentuate, approaching the vibrance and space that inspired me to aim and snap.  I can also exaggerate qualities creating a surreal version of the image, perhaps making interesting something that simply wasn't to start with.
Now, there's a reason why I tell this story here.  I use to have a bulletin board in my classroom that read, "This classroom is a lens through which you can see the rest of the world," and I meant it.  But there was only so much of the world that I could show my students through 5+ year old textbooks, a 1948 world map, and three cracked chalk boards.  To be sure, there was not a lot more I could have done with more recent textbooks, a brand new map and shiny new white boards.  The purist would say that I was doing my job, and perhaps doing it well.  I was playing my role – educating my students and teaching them skills.
It was also during those first years of teaching that I started paying attention: to the news, to people who weren't students or teachers, to science (became fascinated by quantum physics), to geography (we owned the book, Europe on $10 a Day (now Europe on $85 a Day) and dreamed of summers, vagabonding across the old continent).  I came to realize just how exciting and mysterious and vibrant the world really was, and was inspired to become a better teacher and better lens for my students.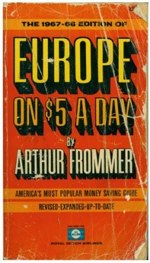 Closest that I could come. It's so hard to find pictures of things that predate the World Wide Web.
But, I couldn't do it.  I went back to the classroom, continuing my traditional role as teacher, expecting my students to sit still, pay attention, and remember.  My passion as a lecturer wasn't nearly enough.
Here we are today, with a new kind of classroom.  Our personal learning devices give us access to networked, digital and overwhelmingly abundant information.  We are no longer teaching from information scarcity.
Are we now teaching in a time when we can HDR our classrooms.  Might we finally capture and share what it was about our world experience, that inspired us to teach.  Might we even exaggerate hues and contrasts and blend colors in weird ways.  Can we make knowledge flow and glow and grow and cause learning to energize our children – rather than steal it from them.
Can we push reality into our classrooms and inspire our learners to become members, participants, and shapers of their future? – and ours?
My reflections & reactions are in red and italics
I thought I would take some time to go through the notes I took at ISTE last week and include here some of the ideas that struck me – for what ever reason. This will probably consist of short observations of new ideas and new twists on old ones. As I've probably written before, I attend these conferences for the language, new ways of thinking and talking about modernizing education.  With 30 years in ed tech, new technologies are usually a surprise.
While at the conference, a number of people, glancing over my shoulder, asked how I was taking notes. I was using GoodNotes, which I like using because I'm actually writing the notes with a stylus, and I find that I'm process ideas differently in long-hand than when I type them. Also, I can import or take photos with the iPad, such as shots of presenter slides or of the presenter — on top of which I can write down notes or comments. Below is an example notes page. I took a photo of this Hack Education conversation to anchor the notes to a specific place and time.
ISTE, for me, started with Hack Education, formerly known as the "EduBloggerCon." The first impression that hit me, not long after the first conversation began, was how difficult it is to truly visualize, in general terms, the changes we were talking about – and how do you promote School 2.0, when it can't easily be seen. If you can't point to it, how do you describe it to non-educators? As I wrote in a previous blog, I suspect that an answer might be to focus more on "Student 2.0," someone we can point to – and then design education around that.
Another barrier to retooling classrooms, that became even more apparent to me last week was the lack of consistency in leadership. Some of the most interesting schools that I have seen, have recently had their innovative programs squelched by new leadership – leaving the innovators little choice but to move on.
I think that one of the great brain-wrinklers of the day came from David Jakes, who said,
"We need to shift from a focus on'Engagement' to focusing on 'Empowerment.'"
I'll jump ahead here to another hacker quote quote. I do not remember who said it, but,
"The person who does the work is the person who does the learning."
If working is what leads to learning, then learners need tools that empower them to accomplish that work.
Someone else said,
"We're actually looking for a rebirth of old ideas! "
So true and something that we too often forget.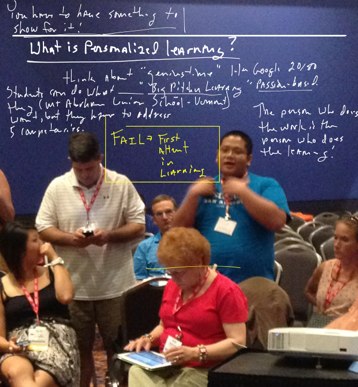 There was some discussion about our use of the word "FAIL" in conversations about education, as we promote the value of failure in learning. Common notions about failure, after all, are entirely contrary to this positive spin. But I feel that if we can get people, adults, to think about the learning that they've done since leaving classrooms, and how that learning was accomplished, they will come to see that failure is an essential part of learning. I thought that this was an interesting acronymic arrangement for failure.
| | | |
| --- | --- | --- |
| F | - | First |
| A | - | Attempt |
| I | - | In |
| L | - | Learning |
I jotted down a number of apps mentioned during the Tech Smackdown – and many thanks to Steve Hargadon for his attempts to keep the self-promoting venders out of the fray. I've not had a chance to look at all of these, but here are a few that I made note of.
Somebody asked whether "gamification" was just a marketing scheme? This got me to thinking and I concluded that if we do not understand how games help us to learn, the mechanisms that provoke learning, then marketing is probably a pretty accurate description of our attempts to "gamily" (See my reflections of Jane McGonigal's Keynote). The comment probably came from a conversation about using badges for motivation. Someone said that if all you're using is badges, then that's not gamification. It's badgification.
There was much conversation about why and how you would plant the awarding of badges in the classroom. I suggested that some badges needed to be hidden, a surprise that students happen upon — the reward for doing something productive that was not an expressed outcome – the learning along the way. Also, badges should not just be something that you wear. Badges should also be a passport to doing things or going places that you couldn't before — new powers, so to speak.
McGonigal said that "reality is broken." She said that a billion gamers around the world are using a connected device to play a game during any given hour. The game-nation is a network.
People spend 400,000 years playing Angry Birds a day.
92% of 2 year olds play video games (what are they going to think when we give them a textbook?)
Gamers spend 80% of their time failing.
McGonigal said that,
"The opposite of play is not work. The opposite of play is depression!"
That called to mind a quote by George Bernard Shaw,
"We don't stop playing because we grow old; we grow old because we stop playing."
One of the most interesting learning scenarios that I heard of at the conference was relayed by Cheryl Lemke. In a literature class, the students were reading Hamlet. The teacher created Twitter accounts for each of the main characters, and then assigned students to the accounts. They were encouraged to comment on the play, as they were reading it, in the voices of the characters. Very cool!
Lemke also said, "Give students non-googlable assignments!" I'm not sure that is entirely accurate. I'd say,
"Don't test with questions that Google can answer."
Will Richardson said, "The path to becoming a better teacher is becoming a better learner!" I agree with that entirely – and I believe that part of the key here is becoming a more self-aware learner, not just learning but reflecting on how you are learning. Here's another quote shared by Richardson:
"We can't be creative if we refuse to be confused. Change always starts with confusion."

– Margaret Wheatley
Richardson then had us talk with each other about what confused us, and during that conversation it occurred to me that if you're not confused, then you're not paying attention – and
I regret that too many educators are not paying attention.
There is too much momentum behind making schools better. They don't need to be better nearly as much as they need to be different. It's a different world and school is not a "right of passage." It's a right of vantage. Its the right to be positioned in true relevance to yourself, your environment, your time, your culture, your economy and your world and the skills to participate.
He suggested that we are shifting from an institutionally controlled world to a world that is becoming self-organized. There are three starting points, according to Will Richardson:
"Knowmatic" learning – Self-organized learning based on passions and I would add "on impending needs"
Design thinking
The maker movement
I think that there is a lot to think about in this list. Self-organized learning is not only a movement, but it is a necessity. It's the self-organized learner that will succeed in a rapidly changing and flattening world – and it is entirely counter to the desires of the global education reform movement (GERM).
Design thinking is also a necessity, in that we're all going to be solving problems and improving conditions, not just the engineers. Designing solutions with elegance, well, that is its own reward.
The maker movement is both solution and symptom. Its one more clue to a rapidly flattening world. Old institutional structures no longer support us and our individual needs. I am also starting to question our economic structures, but that's for a different conversation.
Gary Stager was a perfect follow-up with his emphasis on the maker movement. He suggests
Three Game Changers
Fabrication
Physical Computing (intelligent objects)
Programming
The real game change, he continued, is that shop and academics merge.
Too cool!
I do not clearly remember the context, but one of Stager's slides stated that, "A good prompt is worth 1,000 words." Good prompts have…
Three Qualities
Brevity
Ambiguity
Immunity to assessment
Here is my interpretation of Stager's list. A prompt must be clear and concise. It must be cloudless, as cloudless as a person's own personal unarticulated observation of a problem. It should also NOT, in any way, suggest the solution. The learner has free reign to design and execute a personally-designed plan. Finally, if the end product can be assessed by any prior-established assessment routine, then the task was not about innovation. It was about compliance. I would suggest that there may be assessment methods that might work, but they wouldn't be multiple choice, they would not question the designers – and institutional assessment isn't part of the (learning) process anyway.
The School 2.0 unconference session, facilitated by Steve Hargadon, served to further refine my notions that it isn't School 2.0 that we need to focus on, but student 2.0. That's not my term, and I don't particularly like it. We need a more descriptive term that does not dishonor the old teaching styles, which had their place in their time.
Sylvia Martinez put the icing on the cake of Gary Stagers presentation. Tinkering as pedagogy makes the best sense to me. Its how I learn. No-one could ever have taught me to program. Playing with code is the only way I could learn, and I would suggest, the best way to learn. She suggested that
"Many of the best programmers were, at some point in their lives, told that they were not good a math."
I think that doing math to numbers and using math to work numbers are two entirely different things.
Qualities of the Tinkering Mindset
Bricolage, playfulness, soft mastery
Time
Lower risk/stakes, imperfect data
Trust the process, serendipity
Expertise available (and not just the teacher)
Does not mean unguided "discovery"
In many ways of thinking, Jason Ohler was the high point of my conference experience. It was a spotlight session in a large hall, so the atmosphere was that of a keynote, and his presentation exceed in quality and content any of the other "keynotes" of the conference. It's been a long time since I saw Ohler present, but I don't remember it being anything like this.
He used the phrase, "trends that bent," and suggested that the three trends that are influencing education are
Critical Thinking – he added in creativity, and made the term creatical thinking.
New LIteracy
Digital Citizenship
The trends that he included in the conference program were
Augmented Reality – Think virtual field trip. I wear my Google Glass to a museum and project my experience back to my students. Of course there are all kinds of ethical issues. There's a bar that have already outlawed Google Glass because of privacy issues. Where do kids talk about this stuff. Also, this is not the only kind of augmented reality.
Semantic Web – You search the web and it returned what it thinks you are looking for. A bit problematic, though, because it depends on who "it" is. Ohler also suggested Web 4.0, which is the web of things. "Everything holds an app!"
Transmedia Storytelling – Where the audience becomes part of the cast, so to speak. It's about fan involvement. I wonder, to what degree, is education fan involved. How do we make that happen?
Multisensory Projection –

Left out in the presentation!

Smart Clothes –

Left out in the presentation!
Ohler added in
XTreme BYOD, suggesting that using your own devices is what might turn us into personal learners. Hmmmm!
and Big Data suggesting that the tension point might be
Predictive Anticipation
Vs.
Choice and Breadth
Ohler went on to suggest we watch http://www.kurzweilai.net for evidence of new trends. It's in my Flipboard now.
About Adam Bellow's keynote. I have to say that if the conference had opened with that presentation, I would have been a bit disappointed. But as a closing keynote, Bellow nailed it. He honored ISTE, the learning, the tech and our continuing struggles to make formal education as close to real life as possible.
Over the past couple of years, Adam's presentation style, his confidence on stage, and his content have improved many fold. He's one of those unique individuals who has been a teacher, but also understands today's emerging information and communications technologies – as a builder. He's a programmer and a communicator, and that combination is a rare jewel.
You can see my entire set of notes [here].
Yesterday (or several days ago) I wrote about success as the element of learning that trumps lazy. By success, I mean learning that accomplishes a meaningful goal, as opposed to one that achieves an external and often symbolic outcome. This morning, I thought of a classic example.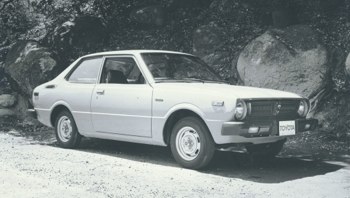 1977 Toyota Corolla
After my first year of teaching, I traded in my aging Fiat station wagon for a brand new 1977 Toyota Corolla. It cost $2,700 and was a wonderful car; drivetrain, chassis, body and four wheels – basic transportation that I kept tuned myself. It cranked every time and never failed to get me to work or to Arizona or wherever I was going. Until four years later.
The starter motor would turn, but the engine simply would not engage. However, if I left it alone for about a half hour, it would start right up. This didn't happen every time I used the car, but each time it did, the pattern was the same. I took it to a number of auto repair establishments, but, as is always the case, it would start flawlessly.
I remember as if it was today, a rather short stocky fellow, slipping his Exxon cap off as he leaned under the hood and with grease- and tobacco-stained fingers, flipped open a plastic box that was mounted to the wheel well. Seated into a circuit board were several microchips. He said, "That's your problem. I don't know what that is, but that's your problem."
The car cranked right up and I drove back home. It was the next day that I was telling this story to a teacher friend, outside our rooms, during class change. Several students were lingering close by, including a young man we'll call Bobby.
I can picture him today; a good looking kid, tall, straight as an arrow, curly back hair and day-old stubble (before it was cool), and the broadening chest and shoulders that come to some boys as early as 15. ..and he was still in the 7th grade.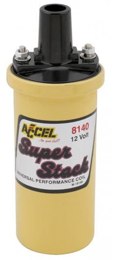 Ignition Coil for a 1977 Toyota Corolla
From the other side of the radiator he said something that I didn't understand. My teacher friend asked him to repeat and he said almost clearly, "h'it's yer cule mista Warlick."
After engaging him in something similar to a conversation, I got that my coil was the problem. An ignition coil is "an induction coil in an automobile's ignition system which transforms the battery's low voltage to the thousands of volts needed to create an electric spark in the spark plugs to ignite the fuel."1
This was better advice I'd gotten from any of the trained and experienced auto mechanics I'd consulted, so that afternoon I stopped off at Advance Auto, bought an ignition coil for a Corolla, installed it myself, and the car ran without fail until I sold it a couple of years and 95 thousand miles later for $2,300.
I'd never taught Bobby, but I knew that the teachers liked him, one of those guys they didn't mind holding back year after year. I told the story to another friend, whom I respected deeply, a woman who'd taught Bobby for all of these years, and she said,
"Don't worry about Bobby. His Dad owns a trucking company that hauls trees to the pulp wood plant. He's a millionaire, though you'd never know if you saw him. Bobby's going to go work for his Dad when he turns 16 and he'll inherit the business. He's not dumb, he's just lazy, and he always will be when it comes to learning."
I don't know what happened to Bobby. I do know that pulp wood played out in the region, and Bobby's business either folded, or he found some way to repurpose his assets into another line of business.
What I do know is that Bobby was not a lazy learner. That he was able to diagnose the problem with my car, just from the telling of my story, convinces me that he engaged in deep and powerful learning experiences that taught him not only fundamentals, but how to apply those fundamentals for solving real problems.
They were learning experiences that were qualified by
SUCCESS,
not by a SCORE.
Ignition coil. (2013, March 15). In Wikipedia, The Free Encyclopedia. Retrieved 11:16, May 17, 2013, from http://en.wikipedia.org/w/index.php?title=Ignition_coil&oldid=544257271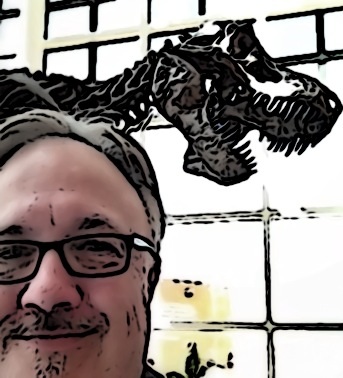 OK! This was Wyoming. So there were dinosaur skeletons everywhere.  Tyrannosaurus on the right and Warlickosaurus on the left.
During my presentation, Finding 'It' on the Net, at the WyTECC conference the other day, someone asked in the backchannel,
"How do we get educators to understand that students (should) have the freedom of using the Net during class?"
It's what I love about being able to visit the chat transcript and comment on the attendee's observations and questions. It extends the conversation and broadens the learning – including my own.
I seems that one way to convince reluctant teachers might be to ask that they imagine their classrooms with really smart students, and imagine the energy that they would generate – and then help them to understand how the Internet is becoming an extension of our/their own brains. Ask them to think of the things that they do today, that they aren't smart enough to do without the Net. I'd have no trouble doing that.
If students can lookup and evaluate information on the Net and on the fly during classroom work and classroom discussions, extending their own brains, then it may elevate the class, not to mention empower the learners.
As a matter of disclosure, Ethan Warlick, whose comment I am responding to here, is my nephew. He will be graduating from the University of North Carolina in Wilmington next month and moving on to the real world of work and learning by joining a social media startup. I'm not sure if this is why I've elevated my response to full blog-status, or because of the story he tells, that..
..one of my roommates recently received a failing grade on a paper for "plagiarism." Whether it was or wasn't, he says he "missed a quotation mark," I think that it will be interesting to learn new ways to deal with plagiarism from the summit! Especially from a collegiate perspective, as I hear about issues on campus constantly.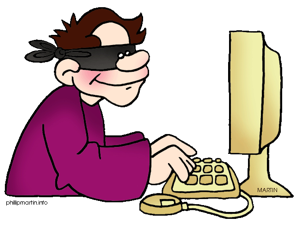 I scanned through a number of definitions of plagiarism from a number of sources and the most inclusive one came from Wiktionary, "The act of plagiarizing: the copying of another person's ideas, text or other creative work, and presenting it as one's own, especially without permission."(Plagiarism, 2013)
There seem to be three parts here, or three questions. Did he copy the work of another person? Did he present the work as his own? ..and Did he get permission to use the work? Considering these three questions, I would have to read the offending paper to determine if he committed plagiarism. But in my own work, attributing the expressed ideas of another person is more than just punctuation.
When I write (or draw, paint, compose, etc.) something, I am presenting it as my work — a representation of my ideas. When the expressed ideas of another adds value to my work, and I include the expression of those ideas, then it is my responsibility to credit the creator of that expression; and that is not simply a matter of punctuation.
Quotation marks simply, "..set off and represent exact language (either spoken or written) that has come from somebody else." ("Purdue online writing") They indicate ownership, but they do not attribute the owner. To avoid plagiarism, I must identify the creator and do so in a way that the reader will not fail to recognize the information's source and the roll that it plays within my work. That credit best falls within the text along with some form of assistance to the reader who wants to validate its accuracy, reliability and validity. If Ethan's roommate credited the work with a phrase such as, "John Battelle recently said in a lecture.." or "Berkman Center fellow, David Weinberger wrote in …" Well, the writer isn't presenting the work as his own, and is not plagiarizing.
So, if the roommate was simply careless in his punctuation, then was the failing grade fair? From a student's point of view — that is to say, academically — then perhaps it was not fair. However, from a learner's point of view, especially if the learner is preparing himself for endeavors that will rely on written communication, then I might consider it a fair, if not authentic, response.
When we finish school and begin to work (and continue to learn), we can still fail by leaving out a quotation mark. A potential client, customer, or employer can, and often does decide to choose another provider because it appears that I have used the words of another as my own. In my opinion, the concept of intellectual property should be an integral part of our basic notions of literacy — receiving, perhaps, even more attention than it already does.
But that said, I'll let you in on a little secret; something that my teachers never shared. In the world, after formal schooling, we almost never do anything, that's important, alone. It was one of my surprises when I left the solitude of classroom teaching to work more directly with other educators (district office). Those other professional educators were constantly asking me and each other to read their writing before they sent it; and I adopted the habit myself, when what I needed to say was important. Almost every day Brenda and I ask each other to read our emails before we hit the send button, and we usually catch each other's careless mistakes. When the conveyance of an idea is important, then it takes more than one head to effectively construct its expression.
This leads me to wonder, are your school writings important enough that instructors encourage you to read each other's work? ..or are they just grammar?
Plagiarism. In (2013). Wiktionary. Wikimedia. Retrieved from http://en.wiktionary.org/wiki/plagiarism
Purdue online writing lab: How to use quotation marks. (n.d.). Retrieved from http://owl.english.purdue.edu/owl/resource/577/01/
Clipart, curtesy of http://internet.phillipmartin.info
It's a great question, that, like so many things, deserves a good answer and acknowledgement that the answer will be complicated. We too often treat plagiarism like many labels, red neck, communist, democrat, republican – black or white, right or wrong.  Gray areas complicate teaching, doesn't it. But life happens in gray areas as do the ways that we use information.
American Copy Editors Society
Associated Press Media Editors
Society of Professional Journalists
Online News Association
American Society of News Editors
Canadian Association of Journalists
Radio-Television Digital News Association
Local Independent Online News Publishers
A cluster of media organizations (see right) are organizing the National Summit on Plagiarism and Fabrication, which will begin April 5.  The participants, invited by the American Copy Editors Society, will be conducting research aimed at producing a practical set of recommendations for combating and dealing with plagiarism and fabrication.  Their conclusions will be presented at the ACES conference in St. Louis that begins on April 4.
It is hard to predict what will come out of the summit, but the conversations have already begun, much of it aimed at bringing some sanity to how we treat the practice. Roy Peter Clark tried to describe the difference between plagiarism and carelessness in a Poynter blog post,
A classic case of overcharging occurred in 2007 when journalism teachers at the University of Missouri condemned a colleague of plagiarism after he used quotes from a student newspaper in an opinion piece without attribution. I argued then that while the practice may have been sloppy, to call it plagiarism was like "shooting a fly with a bazooka."
Clark goes on to suggest four books on the subject:
Contemporary literacy is a subject I've not written about in a while. In fact, I've not been asked to talk about it at a conference in a number of months. Is it a message that's been received? I don't think so. I continue to read comments on my blog promoting the integration of technology, like tech is the goal, rather than an essential tool for accomplishing the goal of contemporary learning-literacy.
One element of this literacy is, in nature, ethical. In a 2007 2¢ Worth blog post, I wrote
..it is now our ethical responsibility, as information consumers, to assure that the information you are using is accurate, reliable, valid, and appropriate to what we are trying the achieve.
And then,
It is equally our responsibility to assure and document that the information we are producing is accurate, reliable, valid, and appropriate. 1
In another time, we were mere consumers of content. Today we are full participants in the information economy and this compels us to accept new responsibilities that have, in my opinion, become a part of what it is to be literate today – contemporary literacy. We are no long held only to the value of the information we consume, but also to the information that we pass on or produce.
This is what came to mind when I was browsing through my copy of MLA Handbook for Writers of Research Papers: Seventh Edition.
Hey, you've got to find excitement where you can.
I found a section with descriptions for formatting parenthetical notes (endnotes or footnotes) about cited sources. It describes two kinds of notes for documenting sources.
Content notes offering the reader comment, explanation, or information that the text cannot accommodate
Bibliographic notes containing either several sources or evaluative comments on sources2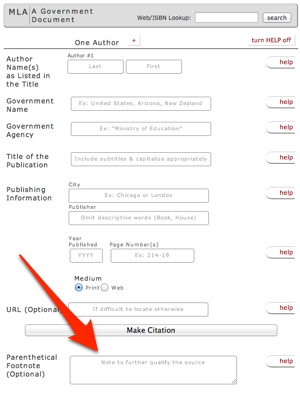 I added the footnotes form element just beneath the "Make Citation" button, so that it would not interrupt the normal flow of CM use.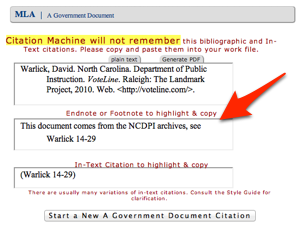 If a parenthetical footnote is provided, then the footnotes box will appear here between the bibliographic and the in-text citations.
It seems that when we are all overwhelmed by information, much of it from other people like us, it is note merely a courtesy to cite our sources, but it is a practical measure to justify and invite readers to judge our sources' accuracy, reliability and validity. We should make it easy for our readers to check its appropriateness to the message of our writing.
With these MLA documentation notes (footnotes or endnotes), we can provide that justification where the comment does not really fit into the prose of the document.
All of this leads up to a new feature on Citation Machine. My plan is to add a textbox to all of the forms, where you have the option of typing in some "comment, explanation or information." Citation will formate the comment, along with proper reference to the source, into a footnote/endnote.
Thus far, I have only added the feature to MLA Government Publications. It seems that when ever I make any type of change to CM, a few people get disoriented, not to mention madder than a mule chewing on bumble bees.
I understand this. What sets Citation Machine apart from most of the other citation generating sites is its simplicity and speed. Change does not simplify.
So I thought I'd take this slow. Look at the Government Publication form and try it out. The note text shows up in a box just like the bibliographic and in-text citations. Feel free to comment on this blog post and concerns or recommendations.
1 Warlick, David. "Ethics Challenges & Information." 2¢ Worth. The Landmark Project, 26 Jan 2007. Web. Web. 18 Mar. 2013. <http://davidwarlick.com/2cents/?p=858>.
2MLA Handbook for Writers of Research Papers: Seventh Edition. 7th. New York: Modern Language Association of America, 2009. 230. Print.

Click the word cloud to enlarge
NCTIES
is my state's
International Society for Technology in Education
affiliate (
ISTE
). It stands for North Carolina Technology In Education Society. They will be holding their annual conference this week at the relatively new Raleigh Convention Center. In the last few years the state capital's downtown has become a descent place to hold a conference. More restaurants, museums, night life and many more people living downtown, making the streets safer.
I finally went through the conference program yesterday and was struck by several trends that seemed apparent during that scan. So I thought I'd spend a few minutes this morning doing a casual frequency analysis.
Number of term mentions in the conference program
Term
2012
2013
Trend
SD
Game, gamilfy, etc.
14
73
3.5
iPad or iPads
34
68
2.1
apps
25
49
1.5
Common Core
15
42
1.6
resources
72
42
-1.8
Web 2
67
34
-2.0
play
6
34
1.7
Professional Development or PD
65
34
-1.9
free
37
33
-.2
engage
33
33
.0
Google
61
32
-1.8
1:1
77
30
-2.9
Apple
8
22
.9
Collaboration or Collaborate
24
22
-.1
Twitter
10
15
.3
iOS
14
14
0
tablet
5
13
.5
blog
28
11
-1.0
Minecrqaft
0
8
.5
Android
2
1
-.1
laptop
11
1
-.6
In a casual counting, I found 205 concurrent presentations being made during the conference including the student showcases and not including the two keynotes. Of those 205, 51 of them (24.5%) are being delivered, at least in part, by vendors. 35 are being delivered by presenters representing elementary schools, 20 by presenters from middle or intermediate schools, 15 from high schools and 14 from universities. I am especially happy to see so many presenters from five of our state supported universities, two private universities and one community college.
The happening place in North Carolina seems to be Rowan-Salisbury Schools with 14 sessions being facilitated by 33 district educators. Also notable is Union County Schools with 7 sessions and 18 educators.
I'm doing one session. But hopefully, I'll be setting a productive tone for the conference.
I'm looking forward to seeing old friends at NCTIES
Added March 5
I finally found a list of last years presentation descriptions, and searched for the frequency of the terms in this table (above and left). I inserted a column for the 2012 conference and then added a column with arrows to indicate the trending up and down. To quantify the change, I added a final column with the number of standard deviations of the total change. This sounds like I know more about statistics than I really do.
keep looking »