I ran across an incredible web site today. As someone who is interested in politics, and especially its ongoing evolution, this really scratched an itch. It's voteview.com and they record all rollcall votes cast by the U.S. Senate and House of Representatives, going back to the first congress of 1789-1791.
I was looking for data that I could visualize to indicate the degree to which Republicans and Democrats have crossed, implying times of compromise. But I found the following visualization on voteview.com that showed me exactly what I wanted to illustrate.
I have marked the region between 1940, marking the beginning of the Roosevelt/Wallace administration and 1980, marking the beginning of the Reagan/Bush era. You notice a lot of crossover between Republicans and Democrats. The Liberal to Conservative scale was determined by the DW-NOMINATE or Dynamic Weighted NOMINAl Three-step Estimation.  I call that period "the good old days," because it is the period of U.S. political history with which I identify and measure current conditions.
Another interesting application of DW-NOMINATE is the geography data.  You can enter your zip code and you see the ideology of your district's representatives.  The positions of the red or blue bars are based on the NOMINATE index value of your representatives during that particular congress.  Below and left shows the ideologies of representatives from Raleigh, North Carolina going back to my graduation from high school.  The right shows the ideologies of representatives from Cherryville, my home town, going back to high school.  I just think this is cool!
Lewis, Jeffrey B., Keith Poole, Howard Rosenthal, Adam Boche, Aaron Rudkin, and Luke Sonnet (2017). Voteview: Representing places through time. https://voteview.com/
Lewis, Jeffrey B., Keith Poole, Howard Rosenthal, Adam Boche, Aaron Rudkin, and Luke Sonnet (2017). Voteview: Parties Overview . https://voteview.com/
It is with enormous pleasure that I will be part of the American School of Bombay's 2014 Un-Plugged event in Mumbai, India.  It is also an even bigger privilege to be working with International educators again.  I've said many times that if I was in the beginning of my career, this is where I would be, expat'ing in some exotic land, making great friends, teaching great students and growing in educational institutions where innovation is part of the currency of success.
Even though my workshop, on Friday and Saturday, will be about visual literacy, and contemporary literacy will be part of the underlying theme of the day, this workshop will primarily and overwhelmingly be about something that I believe is the
Coolest thing on the Net,
Infographics and Data Visualization
Of course this, and most all of what we do in our classrooms concerns basic literacy, "The skills involved in using one's information environment to learn what you need to know to do what you need to do." (my definition)
As a teaser, here are two word clouds.  The first is taken from the descriptions of ASB Un-Plugged pre conference and hands-on workshops from 2012.  The second comes from the same category of sessions to be held next week in Mumbai.
2012 Preconference & Hands-On Workshop
2014 Preconference & Hands-On Workshop
Of course, this is a small sampling of the themes that are part of the conversations hosted by the American School of Bombay.  However I found a couple of things interesting.  First of all, might it be that we are finally getting over this whole 21st Century craze.  After all, we're good and there.  Also, design seems a little more prominent and create and maker/making have emerged.
I'm so looking forward to next week and counting on the journey being less challenging than last week.
In early 2012, Public Policy Polling ran a national survey to determine the favorability of each state in the union. Not surprisingly, Hawaii was number one with 54% of those polled giving it a favorable rating and only 10% an unfavorable. Southern states, North Carolina and south, generally did not fair well in popularity. Exceptions were my state (NC) and Tennessee, both landing among the top ten. All others, except for Florida, were in the bottom half, four of them in the bottom 10.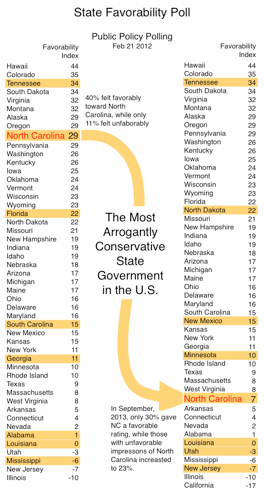 Later that year a new government took control in North Carolina, Republicans winning 65% of the seats in the General Assembly based on only 52% of the citizens' votes (see the Best State that Money can Buy).  Since then, this arrogantly conservative body has?
Denied access to federal emergency unemployment benefits
Blocked access to federal Affordable Care Act health care benefits
Increased taxes for low-wage workers
Lowered taxes for millionaires
Did away with 5,200 teacher positions and 4,580 teacher assistants
Canceled salary incentive for educators to become more educated
Are giving away $10 million in public funds to private schools
Closed 15 of the state's 16 abortion clinics
Suppressed voting rights
Enacted policies policies that make millionaires more important to candidates and voters less
And the word is out thanks to the New York Times (here and here) and even the Colbert Report, here (starting at 4:10).
On September 5, PPP reported a re-assessment of the states' favorability and wrote,
North Carolina's national image has seen a strong shift in a negative direction since that time. Its favorability has dropped from 40% to 30%, while the share of voters with an unfavorable opinion of it has more than doubled from 11% to 23%. Its +7 favorability rating would have ranked it 40th in our national study of state popularity in 2011, rather than its top 10 popularity at that time.
 I fail to see how this points to improved economy, more good jobs, safer and healthier citizens, more tourists or new businesses.
I was scanning through one of my favorite Infographics blogs a feed of infographic-related tweets this morning, taking quick peeks at a variety of projects for design ideas, when I hit this one, "20 Resume Power Words." There was nothing about the design that caught my eye, so I swiped on to the next one. But then, about three graphics later, my mind finally registered on some of the words, and I backed up to look a little more closely.
Conceptualized
Trained
Built
Introduced
Strengthened
Directed
Persuaded
Forecasted
Projected
Assessed
Set goals
Promoted
Oversaw
Improved
Adapted
Solved
Initiated
Planned
Managed
Increased

On second glance, I realized that there was not a one of these words that any good teacher couldn't "use in a sentence" to describe what he or she can do or has accomplished.
If this list can truly energize your resume, then you can get a better job!
Ok, there is no better job than teaching.  There is no more exciting profession, and it's going to – trust me – get a lot better.  But there are jobs that will, right now, earn you more respect, more support, more hours for lunch, more chances to travel, less stress, less emotional chaos, and in many states, a lot more money.
Ask any sales rep, engineer, plant manager, product designer, or copy writer to conceptualize for, train, build for, introduce to, strengthen, direct, persuade, forecast and project for, assess, set goals for, promote, oversee, improve, adapt to, solve for, initiate, plan for, manage and increase the performance of
Twenty-five 13 year-olds.
'nough said!
Scaling down the travel part of my work has provided me with weeks at home instead of days or hours. This leaves me with time to play/learn more about some tools I've only been tinkering with in the past. In addition to that, it's given me time to pay more attention to some topics that I've ignored for way to long – politics. I've especially become interested in the politics of my state, North Carolina, as has much of the rest of the country and parts of the world. I've already written a bit about it here (Will Public Education in North Carolina Rest In Peace?) and here (In Defense of Liberal Arts – Sort'a).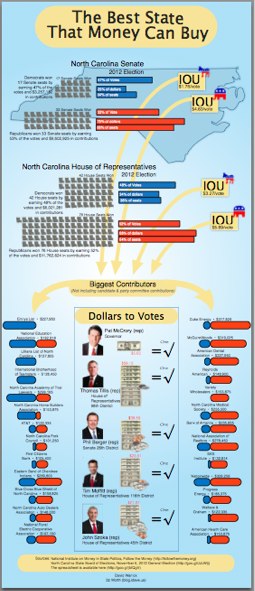 Click here to download the large PDF version.  The spreadsheet can be seen here.
As many of you know, my daughter has been contributing semi-regular blog posts here, featuring selected infographics and some data visualizations.  It's of particular interest to me and one of the few topics I continue to present on in conferences – and with the benefit of time, I'm learning more about working with vector graphics.  
Making an infographic is fairly easy.  Making one that effectively conveys a message is hard.  As an IT guy at a local CityCamp said, "Don't try this on your own."  Well that's the kind of challenge that inspires me, not to mention the message that our state has been hijacked by corporate concerns, masquerading as social knee-jerk issues.
For this project I dug into the North Carolina election results for 2012, the year that it happened.  I created a spreadsheet that tied the election results (North Carolina Board State of Elections) in with the costs of the campaigns (Follow the Money) for our governor and General Assembly elections.  It revealed some pretty interesting facts about who elected who, how much it cost and who paid for it.  See full size infographic here.
Of note:
All fifty seats of the North Carolina Senate were up for election. Democratic candidates received 1,854,358 or 47.22% of the votes cast. Republicans received 2,072,984 or 52.78% of the votes cast. Yet, Democrats won only 17 seats compared to 33 seats to Republicans. I'd like to know what math we teach in schools that reconciles that.
Even though Republicans won 76 seats to only 42 seats going to the Democrats, 48% (1,842,541) of the state's votes were cast blue while only 52% (1,998,155) cast red.  Again, an interesting Algebra project.
Democratic Senate campaigns spent $3,257,182 (25% of total spending) while Republican campaigns spent $9,602,925 (75% of total spending).  In the House, Democratic campaigns spent $6,021,281 (34% of total spending) compared to $11,762,624 (66% of total spending).  There seems to be a closer correlation between dollars and who governs than votes.  How did this happen?
What surprised me was the money spent on campaigns compared to the number of votes.  In the state Senate races, each vote cast for a Democratic candidate cost $1.76 in campaign spending.  Republicans spent $4.63 for each vote cast for their candidates.
For the House races, Democrats owe somebody $3.27 a vote while Republicans own somebody $5.89 per vote.
I've listed the top contributors to both parties, not including candidate and party committees.  These are organizations that contributed more than $100,000 dollars.  The red bar shows the portion going to Republican candidates and the blue indicates investments in Democrats.  As you can see, most contributed to both parties, though most gave most of their money to Republicans.
Looking at specific campaigns, it was a shock to me how much money some of our democratically elected representatives paid for their campaigns.  Pat McCrory paid $5.00 ($12,202,756) for each of his 2,440,707 votes.  Walter Dalton, the Democratic candidate paid $2.09 ($4,044,750) for each of his 1,931,580 votes.
The obscenity is in some of the General Assembly campaigns.  Thomas Tillis (Rep), the Speaker of the House, paid $59,15 for each of his 27,971 votes. Phil Berger (Rep), the Senate's president pro tem, paid $38.59 for each of his 58,276 votes. Tim Moffitt (Rep) spent $23.61 for each of his 21,291 votes and John Szoka (Rep) paid $21.87 for each of his 16,208 votes. To be sure, the Republicans were not the only ones spending obscene amounts of money for their votes. William H. Battermann (Dem) spent $61.30 per vote, getting only 38% of the vote. Rick Glazier (Dem) won, spending $14.47 for each of his 17,266 votes. Jane Whilden (Dem) spent $13.84 per vote, trying to defeat Tim Moffitt (Rep).
My question is, "How are they earning that money?"
Downloads: Infographic (http://goo.gl/He1ICB) • Spreadsheet: (http://goo.gl/60MqZw)
Comparing these two storms is like comparing apples and oranges (and there is an infographic that attempts this). The two storms hit landfall in two very different areas, areas with different natural surroundings, different city developments, and different populations. Hurricanes were expected in the Gulf, and so the areas had some sort of a set up against major storms. The gulf is also populated horizontally, and is on flat land. Meanwhile, the Northeast does not expect major Hurricanes like Sandy, especially not when combined with two other storms. They are much more densely populated per square foot, but fortunately, they are populated vertically. Unfortunately, they are a very technology centered environment, and so they were lost without power.
This infographic compares the storms in other ways. It compares the two as far as power, and its affects. Most of them turned out in favor of Katrina, proving Katrina to be the worst storm. But one has to think about the areas that the two hit. The two storms were nearly equally strong, but if Sandy had hit a primarily horizontal population, things may have been different. Also, the temperature may have been a factor. Snow doesn't cause as many casualties as flooding, and the flooding that did occur can't reach the tops of buildings the buildings in NYC.
Challenge your students to compare other storms and natural disasters, and discuss the differences between the natural disasters that lead to one being presumed worse than the other.
Blog: http://goo.gl/9rgFd
Ask your students what they think about daylight savings time. A change of clocks and a change in the times of when the sun is up is most common, but most people do not fully understand daylight savings time. It was originally created to save energy, moving the times people were awake to the times when the sun was up.
But until the 1950s with the economic boom, as well as the further development of the Interstate system, and further travel of people, one could simply rely on local time. It didn't matter what time it was in the next state over, if they followed daylight savings or not. It wasn't until 1966 that the Federal Government stepped in and enacted a law requiring all of the United State to use Daylight Savings time.
This infographic shows how the time change works. It shows the average sunrise and sunset, as well as actual sunrise and sunset times, and how it changes when we change our clocks. Have your students imagine what it would be like without the time change. What would it be like without the time change. At what times would the sun go up and down. How would that change our lives?
Blog: http://goo.gl/d3FQq
On November 14, 2012, a full solar eclipse could be seen in Australia for two minutes and 14 seconds. This natural phenomenon brought thousands of visitors and millions of dollars in revenue to the area. They occur so infrequently (on average every 18 months, a full eclipse only occurring every 18 years that many wanted to see this.
This infographic does a great job of sharing facts about solar eclipses. It shows what a solar eclipse looks like from Earth, and if one was in space, looking at the Earth, sun and moon. It also shows the different types of of solar eclipses and various facts about past eclipses.
Challenge your students to be able to explain a solar eclipse in their own words, and create one using your students and flashlights to better understand the concept. Also, look into history and discovery how they have affected history. Before the phenomenon was fully explained, what were theories. How did regular people explain them, and how did scientists explain them. How did religion explain them?
Even as a History Major who loves modern Western European History, this is a difficult thing to keep up with. The four separate countries of The British Isles have been considered one sovereign country, and four separate countries throughout history, depending on recent wars and decisions made by the different governments. But this infographic does a good job of showing how they stand today, what to call them, and how they have stood throughout history.
The four separate parts of The British Isles are the main Island. They include England (the main one), Scotland (the Northern part of the main Island and the smaller islands North of it), and Wales (a small portion to the West of England). Ireland is a separate Island.
The United Kingdom includes the British Isles and about a quarter of Ireland. But just because they are a citizen of the United Kingdom, does not mean they are English.
The infographic also does a great job of showing how these have combined and separated over time. They were first all together briefly in the 1600s, then again in the 1800s and 1900s. Most of Ireland is currently separate, and in 2014 Scotland is going to consider becoming independent.
This is a great visual aide when studying the history of the United Kingdom. It shows the information in an easy to read and easy to understand way. There are more details as far as why the countries separated and why they came together.
Hold a discussion with your students as to the benefits of having separate countries and having one single country. Divide students into groups based on sides. and have them research information to support their side. For instance, if the groups believes that they should all be one country, why have them come together at different points in history.
Blog: http://goo.gl/015mn
This infographic is a video about spreading information on the poor conditions, specifically regarding water, that some people live in. People, especially in 3rd world countries in the Southern Hemisphere, suffer from bad water.
This infographic does a great job of showing how poor conditions regarding water can affect people. It shows the places most affected by it, and what these people have to go through in order to get bad water. Children just like your students spend hours walking to get water, hours that could be spent in school, and having fun. But these children have other things to do as well, gather food, and help bring in an income for their families.
This infographic does a great job of sharing why this is a major problem in the world. Challenge your students to research ways to solve the problem, and defend what they think is the best way. Possibly have each student choose a way, and then get in groups to make a presentation on why this is the best way. Also, challenge them to figure out ways to get the word out and raise money to help them problem.
Because this was a video, I couldn't attach an image of it. But also on the blog was a photo of a map from 1854 of a small neighborhood in London. This map shows how Cholera was spread throughout the neighborhood just from a single water source.
Another problem that this infographic doesn't refer to is that it isn't just in 3rd world countries, but it also happens here in America. It has been years, but I saw a video in which families here in America have to travel far just to get drinking water, and just like those in this video, it is tainted water.
Blog: http://goo.gl/xpZB5
keep looking »