Here is the 4th installment of a short story I wrote as the 1st chapter of Redefining Literacy in the 21st Century, written in 2004.  The setting is 2014. It starts here.
Copyright © 2004 by Linworth Publishing, Inc.
Reprinted with permission from ABC-CLIO, publisher of Redefining Literacy 2.0
With the team's customary "Slither, Slither" chant, the room darkens and the front display board goes black, as Johann manipulates icons on his tablet with a glowing stylus. As the room turns dark, the classroom door opens and closes quietly as Mr. Ball walks in and sits in a seat toward the back of the room. From the center of the room, Desmone speaks, "The Institute of Ecosystem Studies' definition of ecology is 'Ecology is the scientific study of the processes influencing the distribution and abundance of organisms, the interactions among organisms, and the interactions between organisms and the transformation and flux of energy and matter.'" White text of the definition gradually brightens into view on the large display with key terms shifting to red. Then the definition gradually fades away into black.
Desmone continues, "There are no guarantees. The world is in flux. Conditions change, and the ecological balance teeters here and there, sponsoring the loss of some species, and the introduction of new ones. Some weaken, and others become stronger…"
While she speaks images of now extinct species surface into view, and then fade again, while in the background and watermarked to about half brightness, two videos impose on each other. One displays a group of cheetahs chasing down a wildebeest that has been taken by surprise. The other shows a pride of lions failing to catch three gazelles that rapidly dart left and right out of reach. Desmone continues to speak describing specific species of both animals and plants that have disappeared or changed dramatically, and the environmental conditions that seem to have caused the change.
To be Continued!
Here is the 4th installment of a short story I wrote as the 1st chapter of Redefining Literacy in the 21st Century, written in 2004.  The setting is 2014. It starts here.
Copyright © 2004 by Linworth Publishing, Inc.
Reprinted with permission from ABC-CLIO, publisher of Redefining Literacy 2.0
Sally returns to her desk, picks up her tablet and glances at the attendance document that automatically appears, indicating that one of her B2 students is not present, but that he is on the campus. Attendance remains a political necessity, but teachers no longer have to call the roll since the campus proximity system knows the location of all students and faculty on campus by their nametag chips.
A series of checks also appear by the student names on her class roll, indicating that they have submitted their class assignments. Some checks indicate initial submission of the work, others indicate that submitted work has been reviewed by the teacher, reworked by the student, and re-submitted. One student name has no check by it, but one suddenly appears as she is scanning the list. She looks up at the youngster, who blushes and returns his attention to his tablet.
She touches with her finger the Send icon at the corner of her information appliance, and the short message, written earlier in the morning, is sent directly to Mr. Ball's pocket tablet.
As Sean, the missing student, walks quickly into the room, shaking Ms. Crabtree's hand distractedly and finds his desk, Sally announces, "As you know, today the Reptiles ("slither, slither" the members murmur at the mention of their team name) will make their presentation. I have to say that I am very excited about this presentation. Johann, Desmone, Alf, and Samuel have all worked very hard on their report, and I think you will learn a great deal from this presentation."
Ms. Crabtree continues, "But before we get started, I want to mention that you have an assignment posted on your calendars. I want you to read a short story written by a teenager from Croatia. A2 read it yesterday, and we had some very interesting discussions about the story today. Mr. Johnson also contacted the author and she sent a video file, in which she explains why she wrote the story. You are welcome to access A2's discussion and Nadia Kaufman's video file from the school's video archive."
"Now, without any further adieu, I introduce to you, the Reptiles."
The story continues here!
Here is the 3rd installment of a short story I wrote as the 1st chapter of Redefining Literacy in the 21st Century, written in 2004.  The setting is 2014. It starts here.
Copyright © 2004 by Linworth Publishing, Inc.
Reprinted with permission from ABC-CLIO, publisher of Redefining Literacy 2.0
At the ring of the bell, Sally rises and walks over to the door, shaking the hand of each student as he or she enters the room. She smiles as she sees Alf walking rapidly down the hall to join the group as it enters her classroom. A tall young man with uncombed curly brown hair, the dark complexion of a boy who spends a lot of time outdoors, and the customary awkwardness of teenagers who are growing too fast, he shakes Ms. Crabtree's hand, but does not look up at her, moving away and toward his seat in the rear of the room.
As she turns to her classroom, she recalls the morning visit from Mr. Ball, their balding and portly principal.
Earlier in the Morning:
Ms. Crabtree looked up in mock irritation as the 31-year educator spun one of the rolling student desks over to her work area and sat heavily in the seat without consideration of his greater than average size. Sally and Mr. Ball had been friends for all of the eight years that he has been the chief administrator of Bacon, both professionally and personally. Their long friendship and professional relationship did not require niceties. He began with the heart of the problem. "Alf Greeley was taken in by the police last night for vandalism," he says.
Sally sighed and replied, "It was probably another fight with his mother. He is still hurting so much from their split, and she simply does not know how her reaction is making things worse for her son."
"All we can do is to try and keep him engaged in his projects and help him in anyway that we can," Mr. Ball says. "I just thought you should know, so that you can handle things accordingly."
"His team, the Reptiles, is making their ecology movement presentation today." Sally finally smiled at her friend and boss. "If you were to casually come in to watch, it would be an encouraging gesture."
Mr. Ball stood and said, "Send me a message when they are getting started and I'll do what I can!"
As the principal shoved the abducted seat back in the direction of the other desks, Sally pulled up her e-mail utility, addressed a message to Mr. Ball, and wrote the note, "Reptiles are starting their presentation! -SC-". She set it for delayed delivery, to be sent directly to his pocket tablet upon her click of a Send icon that suddenly appeared in a corner of her tablet.
The story continues here!
Here is the 2nd installment of a short story I wrote as the 1st chapter of Redefining Literacy in the 21st Century, written in 2004. The setting is 2014. It starts here.
Copyright © 2004 by Linworth Publishing, Inc. Reprinted with permission from ABC-CLIO, publisher of Redefining Literacy 2.0
As the B2 bell rings, Isaac sits at his desk in the media center and touches icons on his tablet causing a white document to appear on the display, a diagram of the Bacon School campus. He then taps with his finger the location on the map corresponding with Ms. Crabtree's classroom. Suddenly a full motion, real-time video of the classroom appears on his tablet, captured by a camera that is mounted in the back of the room near the ceiling.
An additional document slides out of the video window that lists the owners of a few dozen outside computers that are also monitoring that classroom. There are usually five to ten viewers of any one class, usually parents who are monitoring what their children are doing and how they are behaving. Many pop in just to learn. However, when there is going to be a team project presentation, many more parents, other residents of the community, and often teachers and students from other schools drop in to watch. All teams maintain Web sites that represent the progress of their work, including their work logs, considered resources, defenses, and their presentation date.
As the students begin entering Ms. Johnson's classroom, Isaac thinks back to an encounter he had with Desmone this morning just before A2.
Earlier in the Morning
Ms. Shuni, the other Media Center Professional, had just walked into their office area from one of the classrooms, where she had been consulting with a teacher. "Konichiwa," she said as she passed Isaac's desk. It is Japan week.
"Konichiwa, Margaret-san," John replies, with a prayer bow gesture.
The 32 year library media specialist walked over to her desk, fit her tablet into its cradle, and touched the print login surface of her keyboard with her thumb, causing a virtual connection between the two devices through the room's wireless network. As she began typing an e-mail message, a group of students ambled into the media center. Mr. Johnson rose from his desk and strolled out into the larger room to see if he was needed.
Desmone, a member of Sally's Reptiles, said something to the group she was with and then walked over to Isaac. She was visibly anxious. "Mr. Johnson, Alf got in trouble again last night." The young man motioned to a nearby unoccupied work area, and they both walked over and sat. "Have you heard from him? Have you seen him here at school yet? Will he be here for our presentation today?"
Isaac asked the girl for her tablet and then pressed the print login with his index finger so that the information appliance could reconfigure itself for his access. He then pulled up the school's information system, and learned that the boy's nametag has not been registered for the day. "He isn't in the building – yet," said Mr. Johnson.
The library media specialist then accessed the call-in register to see if Alf's mother had called indicating that he will not be in school that day. "His mother hasn't called in. Right now, it looks like he will be here." After a pause, Mr. Johnson says, "Just a minute!"
He pulled up the work folder for the Reptile's project and accessed Alf's video presentation, the part of the project in which he had been most engaged. Mr. Johnson touched the icon for the student's file, then touched the menu bar at the top of the display to select "Info" from the drop down list of options. A small white document appeared with statistical information on the file including its size, type, location and other data. Mr. Johnson touched the word "history" and a second document sprang out. After reading the list of entries there, he looked up at Desmone, smiled, handed the tablet over after touching an icon to erase his configuration, and said, "I think Alf will be here today!"
As she reached for her tablet, Desmone noticed that her friends had gathered their things and were headed out of the room. She quickly thanked the educator, with some uncertainty, and turned to join her friends.
It continues here.
Here is the 1st installment of a short story I wrote as the 1st chapter of Redefining Literacy in the 21st Century, written in 2004. The setting is 2014. It starts here.
Copyright © 2004 by Linworth Publishing, Inc. Reprinted with permission from ABC-CLIO, publisher of Redefining Literacy 2.0
Middle School 2014: A Future Fiction
by David Warlick
Sally Crabtree sits at her desk as her A2 students amble out of her classroom, most talking in pairs and threes, some glancing at their tablets for messages from friends, parents, or project collaborators. Sally crosses her legs, lays her tablet in her lap and begins dragging icons around on the smooth bright surface using the stylus she slides out of the holder on the edge of the information appliance. As she busily works at her device, the information on the large plasma display at the front of the room begins to change, some sections of text and images moving around, new ones appearing, and others disappearing. Blocks of information slide down into view illustrating weather conditions, Web-cams in other parts of the world, and finally Arabic music, care of a Baghdad radio station.
Outside her classroom, students stroll down the halls toward their next class, B2 (B period, 2nd day of the week), or huddle in groups, talking, drawing at their tablet displays with fingers or styluses. Most of the conversations are purely the social exchanges between newly pubescent middle-schoolers. However, a significant number of the interactions are discussions of the class projects in which teams of students are constantly engaged. Projects are the primary activity of Bacon School, and most other schools in 2014.
As she prepares for B2 to begin, Sally thinks back to her drive to school that morning with her young and excitable friend Isaac Johnson, one of the school's media center managers.
Earlier in the Morning:
Sally had just picked Isaac up at his small rental house, almost exactly half way between her family's home and The Bacon School. She had been listening to John Grisham's latest book being read to her in a Mississippi accent by her tablet. She touches the Stop icon on her tablet, as her nearly silent hybrid car glides to the curb in front of the refurbished mill house. Isaac, who has been sitting on the porch scanning the news on his tablet while sipping his customary breakfast cola, drops his tablet into his canvas messenger bag, jumps off of the porch, and slides into the passenger seat. As Sally pulls out onto the road again, their conversation goes directly to Sally's beloved "Reptiles," one of her student teams. Isaac is aware that they will be making their project presentation this morning during B2, since he works intimately with most of the school's teams on a daily basis. She has especially enjoyed the "Reptiles," since the day at the beginning of the year that they chose their name. It was Alf's idea, but each of the other members came up with a particular reason why the name fit.
The team is uniquely diverse in terms of academic characteristics. Two members, Desmone and Johann, are random thinkers and attention deficit. Samuel is a high achiever with an excellent memory and analytical mind. Alf remains emotionally traumatized by the unfortunate and vicious separation and divorce of his parents a year ago. Neither of the parents have much interest in supporting their thirteen year-old son through his turmoil, each too engaged in their own bitterness and adjustment. Regardless of this odd diversity, the team has jelled into an exciting force for producing surprisingly insightful work.
Isaac describes how the team has been working after classes, with Desmone and Samuel completing the text report version of the project and Johann and Alf polishing up their audio/visual. He adds that Alf has just as often been working by himself on another component of the project that remains a mystery.
"Finding the resources for their visuals was not a problem," Isaac said. "But, validating them was a useful challenge. Each of the team members took a section of earth history, and created Web shelves in their personal information libraries with resources that they identified. They shared their Web shelves and used the information as a basis for their evaluation. It was an interesting learning experience for the team. I've asked if components of their shelves might be included in the Media Center Common Shelves.
"It was brilliant requiring Johann to handle the audio/visual editing and telling Samuel that he could only support him verbally," Isaac continued, admiringly. "Frankly, I was afraid that I would be pulled into supporting Johann more than I would like, but I found that he called on Samuel at least as much as he called on me. Also, he grasped the concepts and developed his skill, and he really seems focused on the communication, not technique."
Sally smiled at the reference to her scheme. "Thanks for supporting me on this, Isaac."
Continue here.
Redefining Literacy for the 21st Century, by David Warlick
In 2004, Linworth Publishing Company released Redefining Literacy for the 21st Century.  They had come to me more than a year earlier to write a book about technology for educators, and, being so flattered, I agreed.  However, as I commenced researching and planning the book, I came to realize that it was not technology that was impacting the work of educators nearly so much as the changing nature of information.  What we read was changing in..
What it looked like,
What we looked at to view it,
How we found it,
Where we went to find it,
What we could do with it and
How we communicated it.
Discussing this with my editor, Donna Miller, we concluded that what was needed more than a book about technology, was a book about literacy, and how our notions of literacy are affected by an increasingly digital, networked and information abundant (overwhelming) world.
To set the stage my first chapter was a story, set in a middle school in 2014.  It was perhaps more of a thought experiment for me, imagining the technologies that would almost certainly be available in schools in 10 years and then learning how they might be applied, by telling a story about the school's students, teachers and community.
Here is the story's introduction.
This first chapter is a work of future fiction. I do not call it science fiction, because I have every reason to expect that schools can change this much, and that it could happen during my career. If they do not, it will not be because the technology is not available, but because we did not have the courage or vision to make such dramatic changes in the way that we prepare our students for their future.
Some of what you read in this short story will seem unbelievable. However, if you are aware of the advances in computers and networking over the past ten years, it will not be the technology that surprises you. It will more likely be what learners and educators do while they are engaged in teaching and learning. So let us remove the veil of our own industrial age upbringing for just a few minutes and see one possibility. Welcome to The Bacon School, 2014.1
Continue here.
Copyright © 2004 by Linworth Publishing, Inc.
My next few blog entries will be a serialized version of that story.  I want to thank Marlene Woo-Lun for helping me to get permission from ABC-CLIO to republish this chapter and also for helping in the second edition of this literacy book, Redefining Literacy: 2.0, published in 2008.
Warlick, D. (2004). Redefining literacy for the 21st century. (p. 1). Columbus, OH: Linworth Publishing, Inc.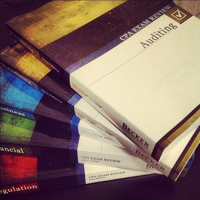 My niece posted an Instagram photo last night of a stack of textbooks. In her description she wrote, "I never thought I would be so happy to receive textbooks."
I commented, "But isn't it all on the Internet?" — mostly in jest. She knows me.
The information is out there on the network, of course. But her need for those textbooks is absolutely critical, regardless of what she can Google and in spite of how she will continue her essential professional learning after her textbooks are digested. You see, my niece is preparing for her CPA — and the right answers for that exam are not on the Internet. You can count on that.
A textbook, as a product of packaged content, is essential when we are tasked to learn the right answers — when we are being certified in some way as having x knowledge or y skills. But in my opinion, based on my own rather peculiar career, this is not education. It's training.
Training is not bad. There are certainly elements of formal education that require training — to learn facts and skills that are both useful and stable. 2 x 2 will always be 4 and 9 x 9 will always be 81. Yet, what it means to be educated changes, when answers shift with a rapidly changing world and when a dynamic global library is accessible to us from our own pockets.
Both of my grandparents had college degrees. But after their degrees were conferred, they prospered in a relatively stable world of information scarcity. Being educated was based on remembered knowledge.
Today, we function within a networked, digital and info-abundant environment, whose conditions are constantly changing. Being educated today is being able to skillfully, resourcefully and responsibly mine and utilize this infoscape within meaningful and reliable contexts to accomplish goals — which often involves learning something new. Using a traditional textbook does little to help students become skillfully, resourceful and responsible learners.
If preparing our children for their future means certifying them based on a measure of their remembered knowledge or certifying schools/teachers based on the measured knowledge of their students, then bring on the books, the bigger the better.
But if it is not a trainable/teachable worker who brings prosperity today, but the imaginative information artisan with a lifestyle of learning, unlearning and relearning, then we need to completely rethink the tools of education.
I will confess here that this is not exactly the article that I sat down to write. But it may lead into a next, and slightly more specific (if not more practical) article about these learning tools.
So check back by!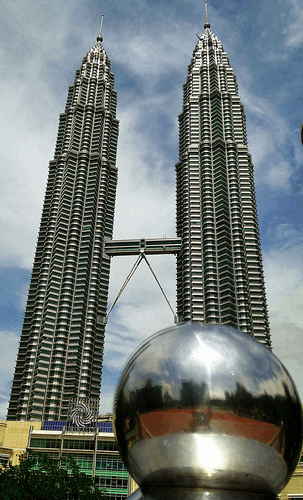 My reflection is fuzzy, but what's up ahead is clearly promising.
It is customary for us bloggers to write a year-end article, announcing our top ten "whatevers" for the year just ending. I've read some good ones written by smarter and more aware people than me. I would point you particularly to the series at Hack Education, written by Audry Waters – who is a true ears to the ground educator/journalist.
Me? Well I just haven't been paying that much attention, applying myself more to specific production projects, including, but not limited to the 2nd edition of Cultivating Your Personal Learning Network (print | Kindle | iPad). Teaching myself to create an interactive iBook has been one of the most authentically enlightening educational experiences I've had in a very long time.
At any rate, at this point in my so-called career, I'm not apologizing for spending my time doing what I feel like doing. So, being less than qualified to list the top ten of anything for 2012, (did I mention this, or this, or this?), I'm going to come at it from a different angle.
Here are my hopes and wishes for 2013!
I hope that we come up with a better target phrase than, "preparing our children for the 21st century." It's so 20th century, and we have, after all, got more than a tenth of the new century behind us.
I hope that we can articulate a clearer distinction between personalized learning and differentiated (individualized) instruction. To often, when I hear people discussing personalized learning, they are actually talking about instruction. One is about becoming and the other is about being done to.
I wish that we would really start using our hands more, that this whole maker subculture, some how, starts to become an integral and defining part of the culture of schools. Let's replace our 30 pounds of textbooks with a tablet computer and a kit of personal hand tools.  
I hope that we learn to bring fun back into learning, by recognizing the learning that happens when we're having fun.
I wish that the institution of education would stop taking itself so seriously. Our efforts to make ourselves more important by introducing complexity into the process just makes teaching less enjoyable — and it irritates the customers.
I hope that teachers and administrators find ways to purposefully learn more and learn more in front of their students. ..to become "public learners."
I hope that we get digital content right and not simply convert it to digital. I wish that we could stop using the term "textbook" and find something less suggestive of a teaching object. What would you call a learning object?
I fervently hope that we find a way to redefine and assess mastery, not by counting right answers, but by observing what students can accomplish by using good answers.
I wish that schools of education could stop preparing prospective teachers for a 30-year career by simply readying them for a typical classroom of today. We need teachers who are ready to adapt and adopt almost any opportunity that arises, willing and able to retool their classrooms every day. The best we can do is to prepare prospective educators for the first five years of their career (at best) and assure that they are skilled in persistent and self-directed professional development.
I wish that we might begin to see that the mission of education should not be our assurance that every student successfully learns the same things. It should be our assistance in helping every student discover and become the best person that he or she can be.
Here's to an enlightened new year!
I've spent the last several days at the EARCOS Education Leadership Conference in Kuala Lumpur. It's been an interesting conference for heads of school and board members of international schools from throughout East Asia.
They've been working me pretty hard, but I have had the opportunity see some friends, make some new ones and attend some sessions. Milton Chen delivered the opening keynote address, my first time seeing him speak. The second day was opened by Alan November, perhaps the best keynote I've seen him deliver. He shared an idea that he had suggested during the pre-conference workshop I facilitated on Wednesday (I think it was Wednesday).  Probably more on that later…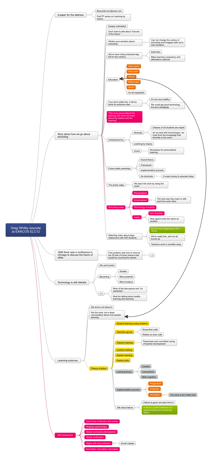 But it was Greg Whitby's keynote on the third day that really spoke the most "truth to stupid" that I've heard in a long time.  The notes I took using Mindo on my iPad are available here (see right).  
Since the Internet access was spotty, at best, throughout the conference, I was not able to tweet statements out that I wanted to.  So I thought I would just tweet them here with a few more than 140 characters of commentary.
We shouldn't be talking about schools of the future.
First of all, we have no way of knowing what schools of the future will look like.  What we need to be addressing is the schools our children need right now.
Whitby, in comparying industrial age schooling with what's more relevant to today's children, he said that we need to..
Make learning compulsory and attendance optional.
It's an excellent shakabuku., but its practice would need to be explained, if possible.  Still, like so much of the conversation I'm witnessing at conferences today, the focus is on the learning.
Whitby also warned that we have to get this right and do so with a compelling narrative.  If we don't, then someone else (Silicon Valley) will step in, and…
What we could get is good technology, but poor pedagogy.
This rang my HackEducation bell and the ongoing reporting of Audrey Waters.  But then he said something that I'm still trying to wrap my brain around.  He said that,
The more personalized the education experience, the more we know about the learner and the quality of the learning.
I'm not sure how this works except that personalized learning may result in more conversation between teachers and individual learners.
Another very simple statement that doesn't need much expiation was that
Schooling today is (1) personalized, (2) de-privatized, (3) technology-invisible and (4) agile.
It was odd, a video that Whitby played during his keynote, about a school in Australia 250 students in one enlarged classroom and several teachers.  You see we were taught about "open learning spaces" when I was in education school more than 35 years ago.  I student-taught in an open space with a team of teachers.  The the problem was that we didn't have a new narrative to attach the concepts to.  It stood no chance.  Today we're trying to write and tell that story –– and we'd better not get it wrong.
We hear it just about everywhere and every time we turn around –– STEM. The country (USA) desperately needs more scientists, Technologists, Engineers and Mathematicians. It's our way of securing our superiority and prosperity and ramping up S, T, E & M instruction in our schools is the way to succeed.
In preparing for a talk to parents in suburban Edmonton, Alberta this week, I searched for data on Canadian college graduates and the degrees conferred to them. In the process, I ran across a report from the U.S. Institute of Education Sciences.* I copied a data table called Bachelor's degrees conferred by degree-granting institutions, by field of study, and converted it to an Open Office Spreadsheet (ODS) file to see what I might learn from the data.
The table offered the number of graduates receiving degrees from 32 fields of study, from selected years between 1970 and 2010. I devised and ran formulas that calculated the percent of change in the number of degrees by decade. I also created an additional set of rows that calculated the percent of each years total graduates receiving specific degrees to factor out the effects of changes in the total number of graduates. When sorting the degrees by the percent of increase from 2000 to 2010, the rank was somewhat surprising.
At the bottom of the list, the fields showing the least growth, was Computer and Information Sciences. Though the 1970s saw an impressive increase in computer science degrees (469%), the increase dropped to 42% during the 80s, 33% in the 90s, and then a decline (-32%) during the first decade of the 21st century.
Other fields suffering declines were education, and english and literature/letters, both bested slightly by Engineering technologies, which fell only 17% (-17% change). Falling less than that were agriculture, architecture, liberal arts, sciences, general studies and humanities, topped by engineering, with a 6% (-6% change) decline. Just better than engineering was theology and religious vocations (-5% change).
Enjoying substantial increases in degree from 2000-2010, from high to low, were communication technologies; military technologies; legal professions; parks, recreation, leisure and fitness; homeland security, law enforcement and firefighting; library sciences; and visual and performing arts. (see graph)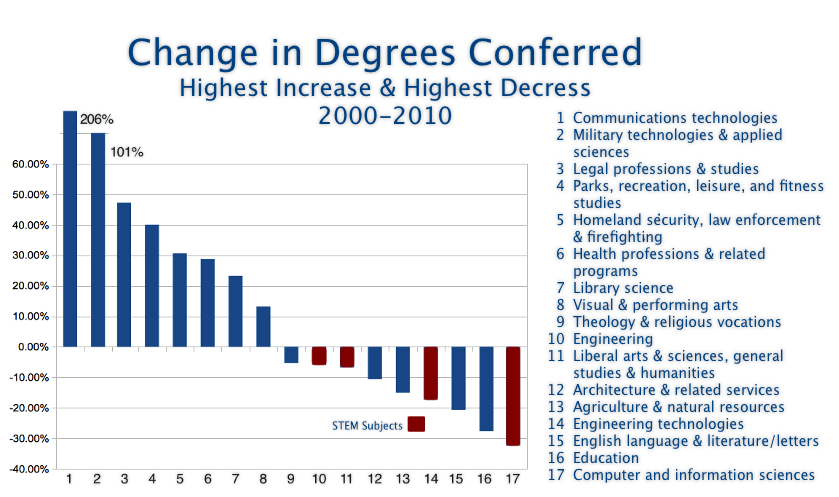 Click Graph for Larger Version
This was a fairly startling discovery to me, considering the funding, resources, and time invested in STEM education and its cost to other subject areas, not to mention the political capital gained from reciting the mantra to constituents and voters.
It the results were such a surprise that and I've questioned my math several times, checking and rechecking the formulas.  I invite you to double check my spreadsheet [here].
If this is, indeed, an indication of our students' interests in science, technology, engineering and mathematics during the early 21st century, then is STEM education doing what its suppose to do –– even if test scores are rising?
Please double and triple check my spreadsheet. and if you find problems with my formulas, please post them in my comments.
* United States. Institute of Education Sciences. Bachelor's degrees conferred by degree-granting institutions, by field of study. Washington, 2011. Web. <http://nces.ed.gov/programs/digest/d11/tables/dt11_286.asp>.
« go back
—
keep looking »