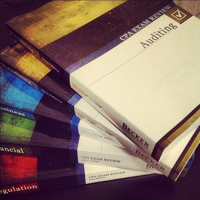 My niece posted an Instagram photo last night of a stack of textbooks. In her description she wrote, "I never thought I would be so happy to receive textbooks."
I commented, "But isn't it all on the Internet?" — mostly in jest. She knows me.
The information is out there on the network, of course. But her need for those textbooks is absolutely critical, regardless of what she can Google and in spite of how she will continue her essential professional learning after her textbooks are digested. You see, my niece is preparing for her CPA — and the right answers for that exam are not on the Internet. You can count on that.
A textbook, as a product of packaged content, is essential when we are tasked to learn the right answers — when we are being certified in some way as having x knowledge or y skills. But in my opinion, based on my own rather peculiar career, this is not education. It's training.
Training is not bad. There are certainly elements of formal education that require training — to learn facts and skills that are both useful and stable. 2 x 2 will always be 4 and 9 x 9 will always be 81. Yet, what it means to be educated changes, when answers shift with a rapidly changing world and when a dynamic global library is accessible to us from our own pockets.
Both of my grandparents had college degrees. But after their degrees were conferred, they prospered in a relatively stable world of information scarcity. Being educated was based on remembered knowledge.
Today, we function within a networked, digital and info-abundant environment, whose conditions are constantly changing. Being educated today is being able to skillfully, resourcefully and responsibly mine and utilize this infoscape within meaningful and reliable contexts to accomplish goals — which often involves learning something new. Using a traditional textbook does little to help students become skillfully, resourceful and responsible learners.
If preparing our children for their future means certifying them based on a measure of their remembered knowledge or certifying schools/teachers based on the measured knowledge of their students, then bring on the books, the bigger the better.
But if it is not a trainable/teachable worker who brings prosperity today, but the imaginative information artisan with a lifestyle of learning, unlearning and relearning, then we need to completely rethink the tools of education.
I will confess here that this is not exactly the article that I sat down to write. But it may lead into a next, and slightly more specific (if not more practical) article about these learning tools.
So check back by!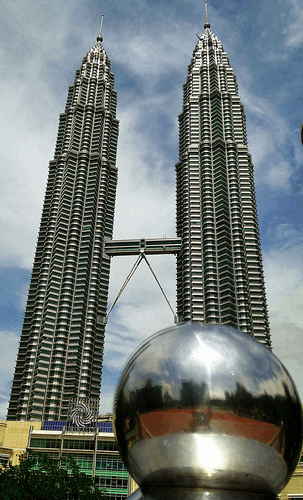 My reflection is fuzzy, but what's up ahead is clearly promising.
It is customary for us bloggers to write a year-end article, announcing our top ten "whatevers" for the year just ending. I've read some good ones written by smarter and more aware people than me. I would point you particularly to the series at Hack Education, written by Audry Waters – who is a true ears to the ground educator/journalist.
Me? Well I just haven't been paying that much attention, applying myself more to specific production projects, including, but not limited to the 2nd edition of Cultivating Your Personal Learning Network (print | Kindle | iPad). Teaching myself to create an interactive iBook has been one of the most authentically enlightening educational experiences I've had in a very long time.
At any rate, at this point in my so-called career, I'm not apologizing for spending my time doing what I feel like doing. So, being less than qualified to list the top ten of anything for 2012, (did I mention this, or this, or this?), I'm going to come at it from a different angle.
Here are my hopes and wishes for 2013!
I hope that we come up with a better target phrase than, "preparing our children for the 21st century." It's so 20th century, and we have, after all, got more than a tenth of the new century behind us.
I hope that we can articulate a clearer distinction between personalized learning and differentiated (individualized) instruction. To often, when I hear people discussing personalized learning, they are actually talking about instruction. One is about becoming and the other is about being done to.
I wish that we would really start using our hands more, that this whole maker subculture, some how, starts to become an integral and defining part of the culture of schools. Let's replace our 30 pounds of textbooks with a tablet computer and a kit of personal hand tools.  
I hope that we learn to bring fun back into learning, by recognizing the learning that happens when we're having fun.
I wish that the institution of education would stop taking itself so seriously. Our efforts to make ourselves more important by introducing complexity into the process just makes teaching less enjoyable — and it irritates the customers.
I hope that teachers and administrators find ways to purposefully learn more and learn more in front of their students. ..to become "public learners."
I hope that we get digital content right and not simply convert it to digital. I wish that we could stop using the term "textbook" and find something less suggestive of a teaching object. What would you call a learning object?
I fervently hope that we find a way to redefine and assess mastery, not by counting right answers, but by observing what students can accomplish by using good answers.
I wish that schools of education could stop preparing prospective teachers for a 30-year career by simply readying them for a typical classroom of today. We need teachers who are ready to adapt and adopt almost any opportunity that arises, willing and able to retool their classrooms every day. The best we can do is to prepare prospective educators for the first five years of their career (at best) and assure that they are skilled in persistent and self-directed professional development.
I wish that we might begin to see that the mission of education should not be our assurance that every student successfully learns the same things. It should be our assistance in helping every student discover and become the best person that he or she can be.
Here's to an enlightened new year!
I've spent the last several days at the EARCOS Education Leadership Conference in Kuala Lumpur. It's been an interesting conference for heads of school and board members of international schools from throughout East Asia.
They've been working me pretty hard, but I have had the opportunity see some friends, make some new ones and attend some sessions. Milton Chen delivered the opening keynote address, my first time seeing him speak. The second day was opened by Alan November, perhaps the best keynote I've seen him deliver. He shared an idea that he had suggested during the pre-conference workshop I facilitated on Wednesday (I think it was Wednesday).  Probably more on that later…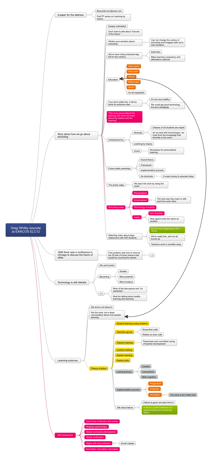 But it was Greg Whitby's keynote on the third day that really spoke the most "truth to stupid" that I've heard in a long time.  The notes I took using Mindo on my iPad are available here (see right).  
Since the Internet access was spotty, at best, throughout the conference, I was not able to tweet statements out that I wanted to.  So I thought I would just tweet them here with a few more than 140 characters of commentary.
We shouldn't be talking about schools of the future.
First of all, we have no way of knowing what schools of the future will look like.  What we need to be addressing is the schools our children need right now.
Whitby, in comparying industrial age schooling with what's more relevant to today's children, he said that we need to..
Make learning compulsory and attendance optional.
It's an excellent shakabuku., but its practice would need to be explained, if possible.  Still, like so much of the conversation I'm witnessing at conferences today, the focus is on the learning.
Whitby also warned that we have to get this right and do so with a compelling narrative.  If we don't, then someone else (Silicon Valley) will step in, and…
What we could get is good technology, but poor pedagogy.
This rang my HackEducation bell and the ongoing reporting of Audrey Waters.  But then he said something that I'm still trying to wrap my brain around.  He said that,
The more personalized the education experience, the more we know about the learner and the quality of the learning.
I'm not sure how this works except that personalized learning may result in more conversation between teachers and individual learners.
Another very simple statement that doesn't need much expiation was that
Schooling today is (1) personalized, (2) de-privatized, (3) technology-invisible and (4) agile.
It was odd, a video that Whitby played during his keynote, about a school in Australia 250 students in one enlarged classroom and several teachers.  You see we were taught about "open learning spaces" when I was in education school more than 35 years ago.  I student-taught in an open space with a team of teachers.  The the problem was that we didn't have a new narrative to attach the concepts to.  It stood no chance.  Today we're trying to write and tell that story –– and we'd better not get it wrong.
We hear it just about everywhere and every time we turn around –– STEM. The country (USA) desperately needs more scientists, Technologists, Engineers and Mathematicians. It's our way of securing our superiority and prosperity and ramping up S, T, E & M instruction in our schools is the way to succeed.
In preparing for a talk to parents in suburban Edmonton, Alberta this week, I searched for data on Canadian college graduates and the degrees conferred to them. In the process, I ran across a report from the U.S. Institute of Education Sciences.* I copied a data table called Bachelor's degrees conferred by degree-granting institutions, by field of study, and converted it to an Open Office Spreadsheet (ODS) file to see what I might learn from the data.
The table offered the number of graduates receiving degrees from 32 fields of study, from selected years between 1970 and 2010. I devised and ran formulas that calculated the percent of change in the number of degrees by decade. I also created an additional set of rows that calculated the percent of each years total graduates receiving specific degrees to factor out the effects of changes in the total number of graduates. When sorting the degrees by the percent of increase from 2000 to 2010, the rank was somewhat surprising.
At the bottom of the list, the fields showing the least growth, was Computer and Information Sciences. Though the 1970s saw an impressive increase in computer science degrees (469%), the increase dropped to 42% during the 80s, 33% in the 90s, and then a decline (-32%) during the first decade of the 21st century.
Other fields suffering declines were education, and english and literature/letters, both bested slightly by Engineering technologies, which fell only 17% (-17% change). Falling less than that were agriculture, architecture, liberal arts, sciences, general studies and humanities, topped by engineering, with a 6% (-6% change) decline. Just better than engineering was theology and religious vocations (-5% change).
Enjoying substantial increases in degree from 2000-2010, from high to low, were communication technologies; military technologies; legal professions; parks, recreation, leisure and fitness; homeland security, law enforcement and firefighting; library sciences; and visual and performing arts. (see graph)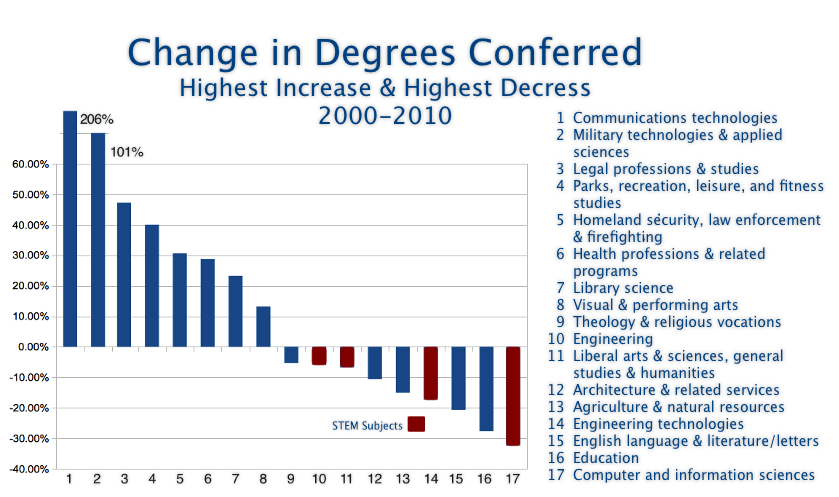 Click Graph for Larger Version
This was a fairly startling discovery to me, considering the funding, resources, and time invested in STEM education and its cost to other subject areas, not to mention the political capital gained from reciting the mantra to constituents and voters.
It the results were such a surprise that and I've questioned my math several times, checking and rechecking the formulas.  I invite you to double check my spreadsheet [here].
If this is, indeed, an indication of our students' interests in science, technology, engineering and mathematics during the early 21st century, then is STEM education doing what its suppose to do –– even if test scores are rising?
Please double and triple check my spreadsheet. and if you find problems with my formulas, please post them in my comments.
* United States. Institute of Education Sciences. Bachelor's degrees conferred by degree-granting institutions, by field of study. Washington, 2011. Web. <http://nces.ed.gov/programs/digest/d11/tables/dt11_286.asp>.
This is a slightly different twist on yesterday's blog post.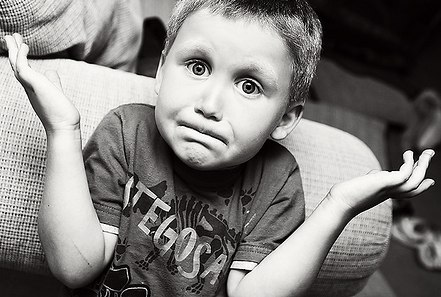 I Dunno, (cc) photo by Marinda Fowler
Yesterday, I was listening to Steve Hargadon's chat with education writer Audry Watters, a weekly podcast conversation on what Watters' has been writing about, recent news stories related to education and the various conferences they have recently attended and worked. I'll put a plug here for Steve's upcoming Hack Your Education tour (the blog entry) to cities across the U.S. I'm hoping to make it to Philly or Washington.
Their (nearly) weekly podcast conversation is an excellent way for me to keep up with happenings and from an angle that I often learn something new from. Hargadon and Watters' takes on things suit my 60s "question authority" sentimentality and the passion I have for the toolbox that computers have become for me.
They both mentioned something yesterday (or during Friday's recording) that I immediately identified with –– but have since turned around in my head. Recently interviewing Education Week's founder and former editor, Ron Wolk, Steve asked if any of the major political candidates were speaking substantively about education. After a moment, Wolk replied, "No!" –– and Steve and Audrey agreed that the script on education was pretty much the same across the parties: accountability, global competition and achievement (as measured by high-stakes testing).
But I got to thinking, "Should we expect to hear substantively conversations about education from political candidates." They're not educators. They do not hold education degrees, earned from schools of education. They do not hold postbaccalaureate degrees of education specialty like half of the teachers in the United States (49.5% in 2007-2008). ((U.S. Department of Education, National Center for Education Statistics. (2012). The condition of education 2012: Characteristics of full-time teachers. Retrieved from website: http://nces.ed.gov/programs/coe/pdf/coe_tsp.pdf))
It's a huge part of our problem today, that education in America has been captured and held political hostage by AMATEURS, whose message on the subject has more to do with the rhetoric that will earn them votes than deep and risk-taking conversations about the nation's problems. What's worse is that part of their message seeks to demonize the very professionals whose leadership we so desperately need. We have lost confidence in ourselves as educators and sometimes even bought into the global education reform movement's (GERM) spittle –– with exceptions (Chicago).
It would make me happy to hear a candidate say,
It's clear that the institution of education in this country is not working for our children and their future. Even where performance is high, are we merely doing a better job of teaching children to take tests.

I don't know what the answer is. It is not my expertise. Formal education, in this time, is perhaps one of the most complex endeavors that a sophisticated society engages in, and it will take foreword thinking professionals to reinvent the institution.

I promise, if elected president (to Congress, the Senate, etc.) to assemble and consult the best and most progressive minds from the profession, to promote, legislate, and pass the best of their ideas, no matter how untraditional, and do all that I personally can do to make every school a point of pride for every community –– not because of the test scores, but because of the quality and creativity of the work produced and shared by its learners and graduates.
Wonder
I've played this card before and do so often in my talks. It's a way of establishing some credibility from a not so surprise corner — my age. I've long believed that part of my appeal as a speaker is that I'm this sixty-year old guy saying these radical things, instead of a thirty-something, representing a new and strange generation. It goes something like this.
"When I entered the classroom, as a history teacher, the personal computer had not been invented. Calculators cost $200 and they were advertised as 'A Gift for a Lifetime.'"
But if it had been suggested to me back then, that within a few short years I would be working with desktop computers, and within as many short decades I'd be typing this on a black slab of metal and glass, on a keyboard that magically appears and responds to my touch — well, it would have seemed FANTASTIC!
Oh readers of mine, there seems little reason to believe that this rate of rapid change will end any time soon. Technological advancement will continue — and more importantly will be the increased opportunities for new ways to work, play, live and love — and perhaps even new reasons to recognize the humanity in all of us.
A few days ago I wrote a blog article about what I was taught in school that I've never needed to know. My intent was to suggest that there is much that we require our children to learn today that they will never need to know.  This challenges us as we try to authoritatively answer their perennial question, "Why do I need to learn this?"
Among the answers I received were, "So you can read a newspaper or instructions at work, write letters to the editor, to friends and family, and make change." I learned so that I could work and participate in a mid-twentieth century democratic community.
What if my teacher had said, "Because one day, you will be writing books." "One day you will be programming computers!" "One day, for just about everything you do, you will need to learn something new." It would have seemed FANTASTIC!
..and this is the critical element that our institutions of education have missed or ignored –– that we are preparing our children for the FANTASTIC!
It's another theme that runs through much of my writing and speaking, that, "We are, for the first time in history, preparing our children for a future that we cannot clearly describe." The conclusion that I usually draw is that, "The best thing we can be teaching our children, is how to teach themselves."
What do we teach them to be prepared for the FANTASTIC?
"We need teach them WONDER!"
It's why so many of my generation have so much difficulty with all this change. We don't have WONDER. ..and without WONDER, we fall back on fear and betrayal.
Yet, our schools are required to teach, under the pressures of short-sighted, government-mandated, high stakes tests, that our children's world is a known place, with few surprises, and fewer unamswered questions. Their school is a place where we provide answers and our children's questions and curiosity are mostly ignored — at best.
You can't test WONDER.
My solution?
Flip the classroom.
But I'm not talking about just flipping when you teach and when you re-enforce. Its more fundamental than that. Ive often questioned the sense of making students learn the math and then giving them the word problems. We should, in almost all disciplines, start with the word problems, and then help our learners develop the skills and habits required to fulfill their wonder. Help them invent the math that solves the problem, invent the grammar that conveys the emotion, explore the geography and history that explains why, discover the science that fulfills the WONDER.
You can't test that.
But I think you'll have graduates who are ready to own their future.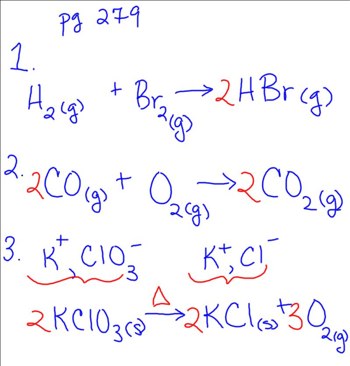 I've never needed to know how to balance a chemical equation. I am glad that I was exposed to the process & it's meaning.
I ran across an interesting Edudemic blog post yesterday, 10 Things Students Won't Need to Know When They Graduate.  I've listed the 10 below, but do go and read the article's explanations.  The author, Bob Dillon, hits on something that is central to the motivation that drives much of my work.  How much of our children's precious childhoods are we wasting teaching them things that they'll never need to know.
Perhaps the most fun that I have in my public speaking is telling stories.  The purpose of most of these stories is to trick the audience into a particular line of thinking and then surprise them with the recognition that they've been here before – but that they've come in through a unfamiliar door and it all looks different from this direction.  My follow-up line is, "Now what do our children need to be learning today to be ready for this?"
10.
How to use a mouse
9.
The difference between bullying and cyberbullying
8.
Memorizing MLA and APA styles requirements

(I'd like to think that I had a hand in that.)

7.
How to find basic reference materials in the library
6.
Developing film, taking the perfect picture
5.
The vocabulary terms land line and dial
4.
The propaganda techniques used in thirty second television commercials
3.
How to read a paper map.
2.
How to place data onto a CD or DVD
1.
How to read the movie listings in the newspaper
(Dillon, 2012)
I had initially planned to invite you to add to Dillon's list of things that students won't need to know.  But the fact is that one reason we, as educators, do not readily recognize this compelling truth and try to make sense of its profound implications is that we can not predict what our children will need to know and not need to know.  It would be nothing more than speculation.
So again, "What do our children need to be learning today?"
Several ideas spring to my mind as I try to unfold this.
Our children need to learn something.
What they need to learn is no longer as important as it use to be.
Increasing the stakes on what they learn does little more than punish our children for our own arrogance.
If what they learn today may not be useful to them tomorrow, then how will they continue to learn what is?
How they learn has become much more important.
Perhaps the most important thing we can help our children learn, is how to teach themselves.
For the fun of it, lets try an experiment.  Rather than speculating on what our children will not need to know, I'd like you to comment on this post with an answer to this question,
What were you taught when you were in school that you have never needed to know?
I'll post a couple of comments to start things off.
Thanks!
Dillon, B. (2012, August 27). [Web log message]. Retrieved from http://edudemic.com/?p=25495
"Future-Ready Students for the 21st Century"
It's the title of the goals document for the North Carolina State Board of Education and it begins with, "..every public school student will graduate from high school, globally competitive for work and postsecondary education and prepared for life in the 21st Century."  I'd love to ask that appointed body, "What does this mean and how does it translate to the "what" and "how" the children of this state are being educated?"
A few mornings ago, I was working in my office on a fairly redundant task, which usually affords me the opportunity to pay attention to a podcast or partial attention to a movie or TV episode, usually playing over the air to my iPhone.  The 3 1/2 inch display provides less distraction than my iPad or computer screen.
On that morning, I was playing 2010, the sequel to Stanley Kubrick's 1968 film "2001: A Space Odyssey. I've enjoyed re-watching 2010 over the years because it has more dialog and slightly more action than the original.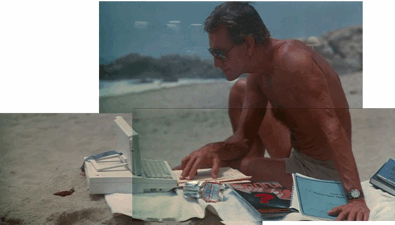 Composite of the scene's camera pan.
What struck me that morning was a scene, where the hero scientist, Dr. Heywood Floyd (Roy Scheider), is sitting on the beach preparing for his upcoming journey to Jupiter, studying reports, an issue of OMNI (which stopped publishing in 1995), and a portable computer (see right & below).
Notice the computer the former chairman of the American space Agency is using and consider that the scene depicts "mobile computing" in the year 2010 – from the perspective of a film produced in 1984.  More than anything else, the computer resembles Apple's forgettable Mac Portable, launched only five years later.  Scheider's 21st century machine perhaps even more closely resembles its more contemporary Apple Iic, with a flat four-inch display and parallel ribbon cable connecting the two.
| | | |
| --- | --- | --- |
| | | |
| Predicted Mobile Computing for 2010 | Apple IIc – 1984-1988 | Mac Portable – 1989-1991 |
It is also worth noting that the 1968 film predicted human spaceflight to Jupiter in a 460 foot spaceship by 2001.  
Discovery I, from 2001: A Space Odessey
These are two fairly unimportant and dramatized examples, but if living through half of the 20th century and a tenth of the 21st has taught me anything, it's that most attempts to accurately describe what we will do, how we live, what's important to know, and what we care about 30, 20, or even 10 years from now, is at best a challenging intellectual exercise, and a worse a gross display of arrogance.  
Yet, isn't this what our institution of education is attempting to authoritatively do, predict what our children need to be taught today to be ready for a future we can not possibly accurately describe.
Tom Whitby addressed this a few days ago in How We Teach Trumps What We Teach.  He questions our concern for content, assessment and data, saying,
Maybe "Content is King" merged with "Data is King" does not add up to a learned individual. Maybe the focus on content, so that education can be easily assessed by Data is really the wrong thing that we should be analyzing. Maybe, how we teach, is a much more important element in learning than what we teach. Maybe the data is totally correct about what it is assessing, but what it is assessing is not what we should be looking at. 
We need to be much more willing and humble enough to say, "Maybe," a lot more than we do in education.  But even Tom, I believe, does not go quite far enough.  He refers to becoming a "learned individual," when Eric Hoffer's famous quote comes much closer to my view, that..
In times of change, learners inherit the earth, while the learned find themselves beautifully equipped to deal with a world that no longer exists. 
How our children learn is critical today, not so much as a point of pedagogy, but for the development of a distinct and most important skill – learning.
The job of education should be to wean children from the teaching, helping them to become, at graduation, independent, skilled, inspired, and responsible learners eager to adopt and adapt to changing conditions, turning uncertainty into opportunity.
Being future ready will not happen because of the rigor of ramped up standards.  It will happen by scaling back the standards as the education years pass, focusing on passion, and providing students with the support, opportunity and facility to learn and to make themselves experts in their shifting fields of interest, fields that educators skillfully usher them through.
At this moment, I'm sitting in my hotel room in Silver Spring, Maryland, and continuing to think #beyondthetextbook. I will likely continue to grow this particular blog entry as the next two days progress at the Discovery Communications Headquarters, just a couple of blocks away.
But right now, I thought I would post some links to blog entries I've written over the past few years on the subject of "what's on the other side of the textbook."
Also, the other day, I asked readers to come up with a simile for the other side of textbooks, "It will be like a…" Here are a few that plucked my imagination.
The TB of the future will be like a..
like a quest
like a production studio
like an extension of our brains
like a reality game
like a video playlist
like swiss army knife
like a personal assistant
like a platform that provokes conversation
like a holodeck
like a choose your own adventure story
like a Palantir
map for a learning journey
like an interaction engine
like a Matrix up-link
like an aggregator that searches and updates content
more like a word problem than a calculation problem
More to come!
One of the most interesting sessions at this year's Educon was facilitated by Chad Sansing and Meenoo Rami, both of them Science Leadership Academy faculty.  The title was Hacking School: the EduCon 2.4 Hackjam.  I didn't know what to expect – and what actually happened was beyond all expectations.
They gave groups of four or five of us, collections of objects (tiny cotton balls, crayons, blocks, etc.) and a complete Monopoly set. We were instructed to play the game, but told that players, as part of taking their turn, were required to change the rules in some way.  On my first turn, I was at such a loss that the best rule I could make was that if you couldn't come up with a rule, then you had to figure out a way of wearing a colorful pipe cleaner.  Someone may have uploaded a photo to Flickr.
The rule I took away from the game was to never play monopoly with anyone more than 40 years younger than you.  None of us took the activity very seriously.
However, as the debriefing began, it became apparent that there was intent behind this exercise.  That follow-up conversation became part of the game.  We continued to change the rules, to hack our own insights – as we exchanged our exceedingly diverse experiences.
Then Sansing and Rami introduced us to Hackasaurus, a tool that enables you to take most any web page, examine it's underlying code, and then hack that code to change the look and content of the page.  Learning about Web coding (HTML & CSS) is the ostensible purpose.  But I kept thinking about the playful learning that might result from asking students to hack particular web pages about their current topic of study in history, science, etc.
Then, what really kicked me in the head was when someone said that..
"..anyone who is not a programmer is part of the program."
The earth trembled under my feet, as I began to parse out the statement's meaning, and my previously held notions about teaching and learning broke down and recombined into something new.
"What is the purpose of education?" It's a frequently asked question these days and I have long said and written that the purpose of education is to prepare our children for their future.  Now I believe that,
The purpose of school is to prepare our children
To Own Their Future!
Are we (educators) making programmers,
or are we just making software?
keep looking »